'No jab, no job' could do more harm than good
We should persuade – not compel – care-home staff to take the vaccine.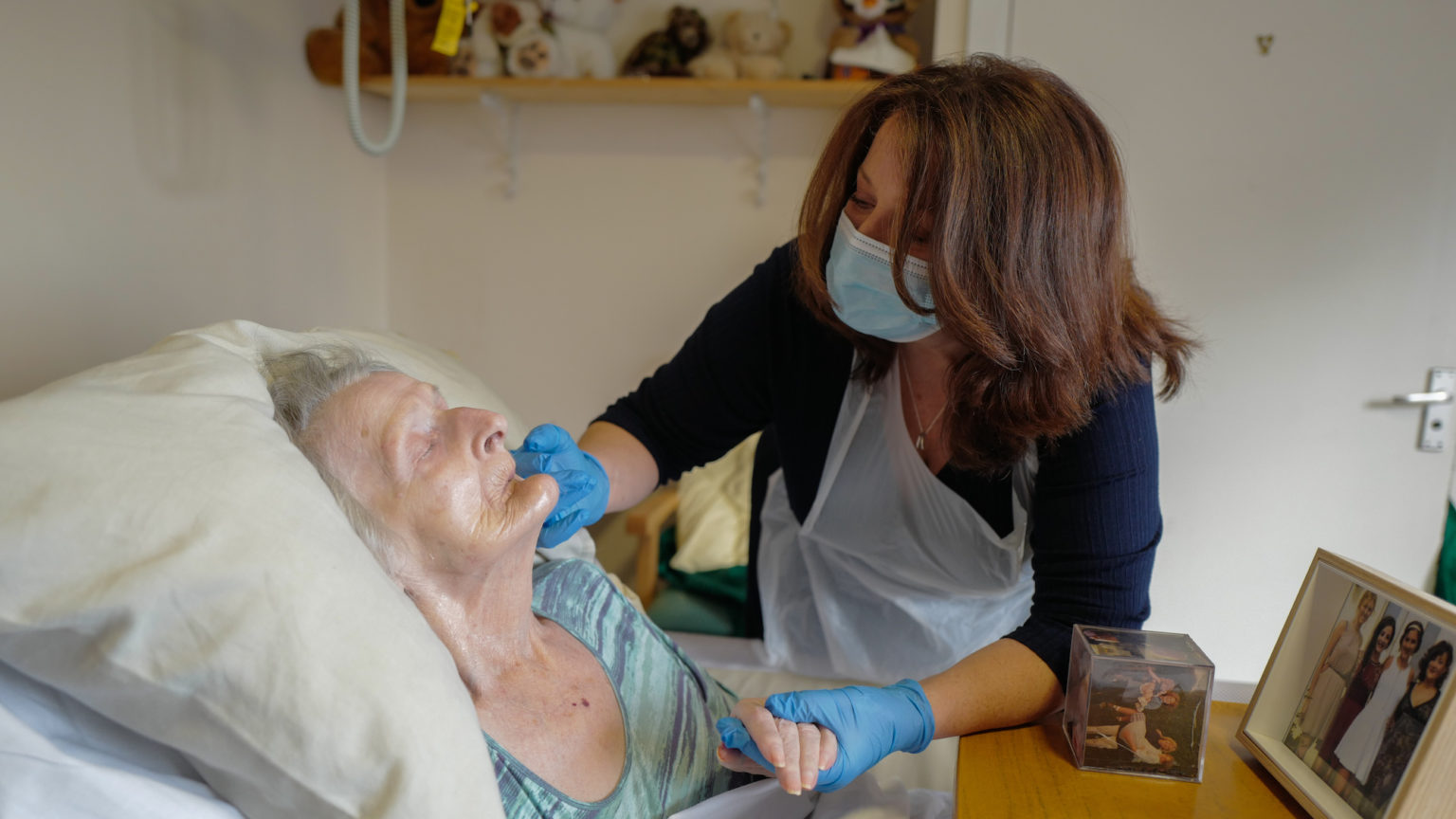 Is the government about to tell care-home staff in England that they must get vaccinated or get fired? That seems to be the message from a paper submitted to the Covid-19 Operations Cabinet sub-committee last week that has been leaked to the Telegraph. On the surface, it might seem like a good idea in the light of the ongoing crisis. But there are a lot of problems.
According to the Telegraph's political editor, Ben Riley-Smith, the government is concerned that too few care homes have met the vaccine target for Covid safety, which is to vaccinate 90 per cent of residents and 80 per cent of staff. In fact, less than a quarter of care homes in London and, at best, half of those outside London have reached that level of vaccination.
Deaths fell heavily on care homes in the first wave. According to analysis by the Nuffield Trust, 'Of the 48,213 Covid deaths registered between mid-March and mid-June, 40 per cent were care-home residents – compared with 26 per cent of the 62,250 deaths registered from 31 October to 5 February'. All told, just over seven per cent of all care-home residents have died from Covid. So a resurgence in cases in care homes is something to be avoided at all costs.
But compulsory vaccination would represent an extraordinary legal change. There is some precedent for compulsory vaccination in the past. As one legal expert, David Sheppard of Capital Law, told the Telegraph, the nearest equivalent is the 1853 Vaccination Act, which introduced compulsory vaccination for smallpox for newborn babies. Acts were also passed in 1861, 1867 and 1871 to enforce that rule with fines. But since the UK signed up to the European Convention on Human Rights (ECHR) in the 1940s, there have been no new laws compelling vaccination. Article 8 of the ECHR states that everyone 'has the right to respect for his private and family life, his home and his correspondence' and there should be 'no interference by a public authority with the exercise of this right' except where necessary for, among other reasons, 'the protection of public health and morals'. So, is the enforcement of vaccinations 'necessary' to protect public health?
The upshot is that if care-home staff refuse the vaccination and are sacked, they could easily make a claim for wrongful dismissal, arguing that compulsion is contrary to their human rights. In any event, common decency would suggest that making a sudden and very important change to the terms of someone's employment should mean they can refuse and walk away with a substantial payout.
If such a policy were to be introduced, it may only be following the lead taken elsewhere by private companies. According to the Guardian, one major care-home provider, Care UK, has said that it only wants to hire new staff who have been vaccinated. Another provider, Barchester, has set a deadline of 23 April for staff to get vaccinated or they will risk not being considered for shifts.
There are strong ethical grounds for health and care staff to do everything they can to protect their patients and residents. Healthcare staff are already strongly advised to be up to date with a variety of vaccinations, and can be excluded from certain tasks if they aren't. But it is also understandable (if wrongheaded, in my view) for younger people to have a degree of scepticism about having medical treatment that probably isn't necessary for their own health.
Then there is the problem of staffing. If there were queues of suitable people wanting to become care-home workers. But the reality is that it is hard, poorly paid work. Compulsory vaccinations could lead to a significant number of staff leaving care work for other jobs. Supermarket work, for example, may well be slightly better paid and considerably less hassle.
Ironically, all this could make care homes less safe in the future. One of the biggest problems in the first wave was that in a period of severe staff shortages – with many care-home staff themselves either sick or self-isolating – there was a lot of demand for agency staff. These staff might do one or two shifts at one care home, and then move to another one. As a result, some might have had a significant role in spreading the disease, perhaps having Covid with no symptoms. In general, the best thing for a safe care home is to have a stable workforce. Compulsory vaccination could make that more difficult.
There is a better way: persuasion. GPs have had to get vaccination rates up in more hesitant groups, particularly ethnic minorities. Their work has shown that vaccine hesitancy can be alleviated by simply talking to people about their reservations and answering their questions. Compulsion is the very opposite of that approach and could lead to greater resistance.
Rather than tear up long-standing principles like the right to refuse medical treatment, with all the potential knock-on effects for employment rights, staffing and recruitment, perhaps the government could devote more resources to making the case for vaccination more directly. It should be a no-brainer. Vaccinations are safe. And just as they will help to protect care-home staff and residents, they'll help to protect care workers' nearest and dearest, too. The government must be pretty useless if it cannot persuade care-home staff to take the vaccine, when the case for vaccination is so good.
Rob Lyons is a spiked columnist.
To enquire about republishing spiked's content, a right to reply or to request a correction, please contact the managing editor, Viv Regan.