The culture wars are turning violent
The mass shooting in Colorado can be seen as a bloody expression of the culture of narcissism.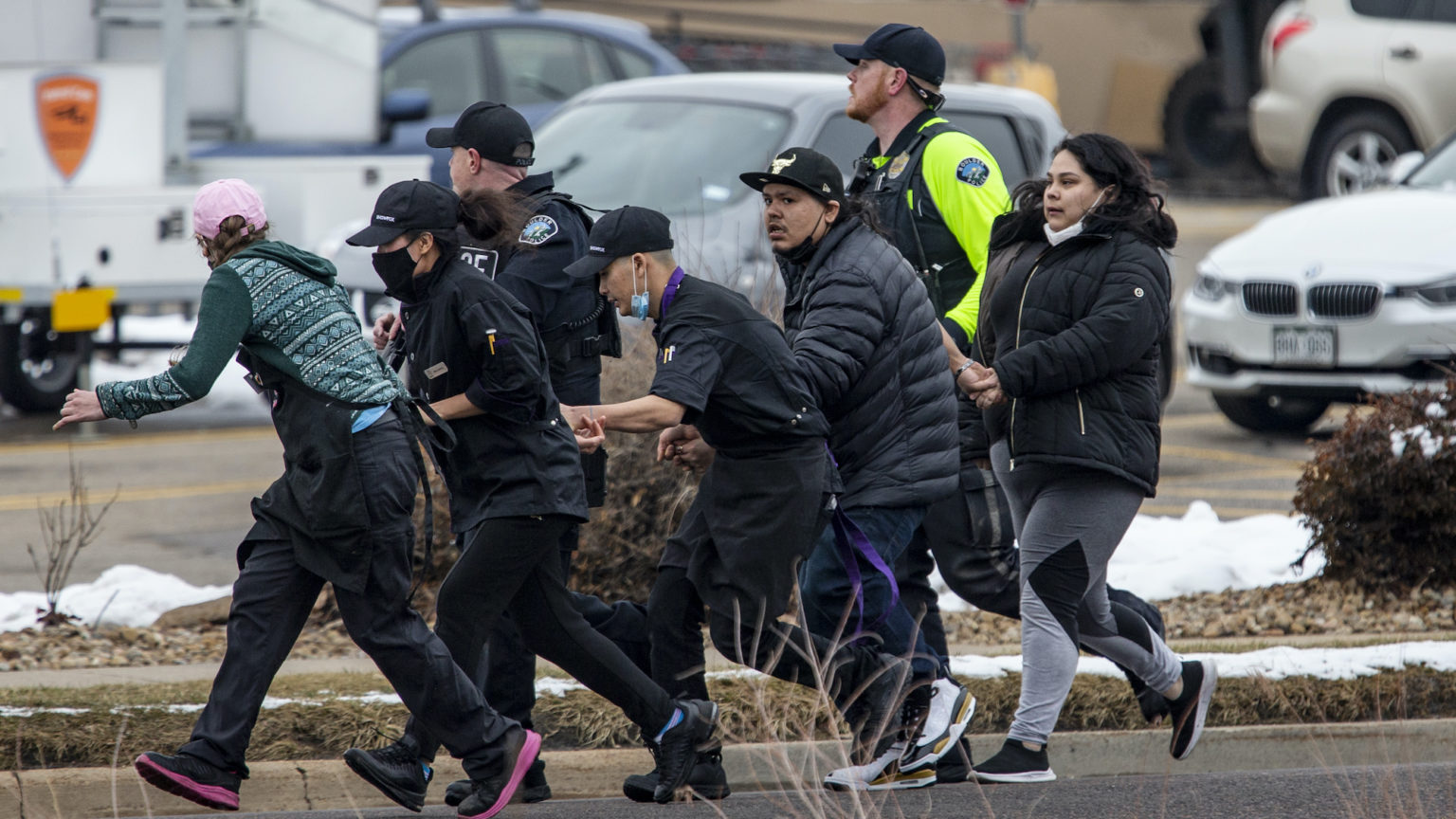 At a Colorado grocery store this week, 10 people were shot dead. Twenty-one-year-old Ahmad Al Aliwi Alissa has been charged with 10 counts of first-degree murder as funeral preparations get underway for his alleged victims, aged between 20 and 65.
The authorities have yet to release any information on a possible motivation for the shooting. However, facts are emerging. First, the suspect entered the King Soopers grocery store with what looked like a rifle and a handgun. In fact, the rifle is likely to be a pistol. Police say he bought a Ruger AR-556 pistol — essentially a shortened version of an AR-15 semiautomatic rifle — six days prior to the event.
As too often has been the way, the bodies were not cold before many claimed them for their own cause. Once the image of a pale-skinned man in shorts being led away by police emerged, many blue-tick celebrities, politicians and journalists targeted 'white supremacy' or 'white domestic terrorism' (they did not mention the fact that all of the 10 victims were white). Meena Harris – vice president Kamala Harris's niece – tweeted: 'Violent white men are the greatest terrorist threat to our country.'
Actress Rosanna Arquette tweeted: 'Call it what it is. White supremacy domestic terrorism.' Journalist CJ Werleman cynically stated: 'Cue "mental issues", "bad day", "parking dispute", or anything else other than what he most likely is — a white domestic terrorist.'
When Alissa's name was announced, however, the rhetoric changed abruptly. Suddenly, many liberals deleted earlier tweets and the words 'white supremacy' disappeared. The fact that Alissa is white – as are all Syrians, according to court rulings at the beginning of the 20th century – no longer counted. He was the wrong kind of white. Instead, the American elites turned their ire away from Alissa to that familiar menace: assault weapons. The National Rifle Association (NRA) became a secondary target.
The great and the good weighed in. Bill Clinton tweeted: 'How many more senseless acts of violence need to happen before we reinstate the assault-weapons ban and the limit on high-capacity magazines and pass universal background checks?' Kamala Harris, appearing on CBS's Good Morning programme, stated: 'There is no reason why we have assault weapons on the streets of a civil society. They are weapons of war.' Legislators – behind barbed wire and lines of armed security guards — passed two gun-control measures.
The problem is that the cry for gun controls in the wake of such a tragedy is often an emotional and irrational response. Colorado already has many of the controls proposed: universal background checks, a red-flag gun-control law, large capacity magazine bans, domestic-violence gun laws, an extended background check period, state database background checks, and gun-free zones. Much has been made of the law struck down by a Colorado judge that prevented the sale of so-called 'assault weapons' in Boulder 10 days ago – Alissa had bought a weapon six days prior to the shooting that would have been illegal.
However, even with two mass shootings in as many weeks, these continue to be rare events. And the 'evil' AR-15 and other assault weapons used in mass killings account for a miniscule number of deaths compared to other weapons. With an average of 13,657 homicides per year between 2007 and 2017, about one-tenth of one per cent of them were caused by mass shootings involving AR-15s.
Why does the elite continue to be horrified by assault weapons? And, though we admit their rarity, why do such mass shootings occur? The two questions may in fact be related. Both express a peevish and narcissistic sense of entitlement, a sense of victimisation, and outrage that the world does not conform to one's vision.
According to the Daily Beast, the suspect's Facebook page, since removed, carried criticism of Trump and messages about Islamophobia. 'The Muslims at the #christchurch mosque were not the victims of a single shooter. They were the victims of the entire Islamophobia industry that vilified them', he said. In July 2019 he complained: 'Yeah if these racist islamophobic people would stop hacking my phone and let me have a normal life I probably could.' His friend from school remembered: 'He would talk about him being Muslim and how if anybody tried anything, he would file a hate crime and say they were making it up.' Alissa's family and friends discussed his paranoia and sense that others were out to get him.
Similarly, liberals feel victimised by outward manifestations of power, demanding to feel safe in all environments. They blame gun culture. As one tweet complained of an open-carry state: 'I never felt comfortable eating at a restaurant when people came in with their guns. Would you?' Another complained: 'I don't go to grocery stores…. My anxiety just won't allow it…. They've robbed me of going out in public. Yet they cry that we are robbing them of their rights?'
Since when does anyone have the right to insist others behave in a way that makes them feel safe? And why should they? Perhaps in the deluded mind of Alissa, the 'racist Islamophobes' threatened his wellbeing. In the recent Atlanta shooting at massage parlours, maybe the mere existence of establishments that did not conform to the shooter's Christian worldview was what made him destroy the lives of eight human beings. Neither seemed to feel safe and secure before they embarked on their murderous attacks.
The events in Boulder weren't terrorism. But perhaps they embody the divisive and dehumanising culture wars in which those who do not share one's worldview are viewed as dangerous obstacles rather than reasoning men and women with their own lives and interests. In encouraging a narcissistic culture of complaint and demanding that others must conform to their sense of existential security, liberals may be unwittingly contributing to massacres in the future.
Kevin Yuill teaches American studies at the University of Sunderland.
To enquire about republishing spiked's content, a right to reply or to request a correction, please contact the managing editor, Viv Regan.