Boris Johnson: bumbling authoritarian
A PM who believes in nothing is a very dangerous thing.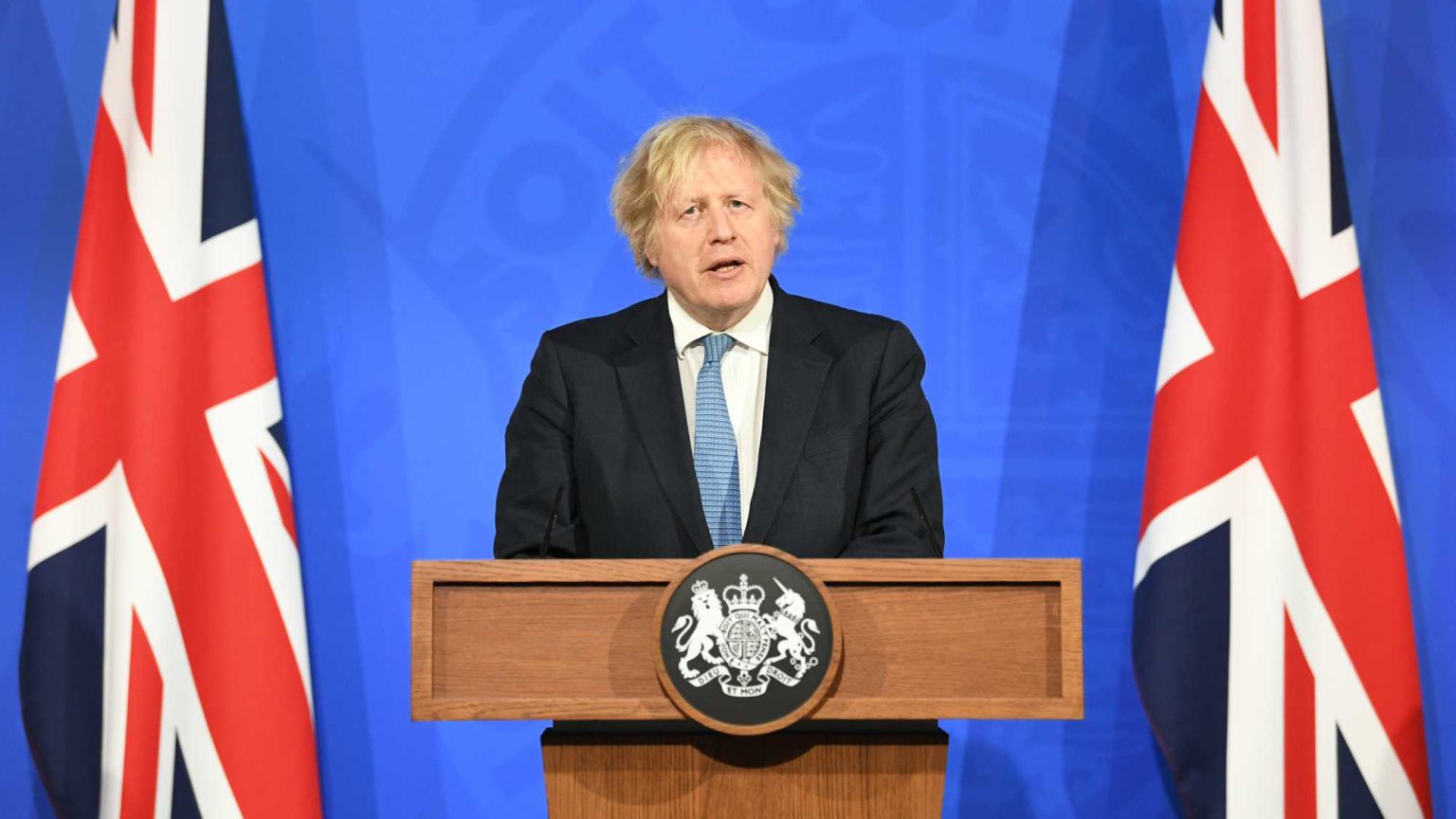 When our three-week lockdown to flatten the curve and protect the NHS was ushered in last March, prime minister Boris Johnson adopted a decidedly pained pose. He may be putting us all under house arrest, his supporters argued, but look: at least this 'liberal' Tory was doing so ruefully, under the exceptional circumstances of a global pandemic. With Boris in charge, went the impossibly optimistic line, lockdown won't last a minute longer than it has to. It is a take that hasn't aged well.
A year into the pandemic – and despite a world-leading vaccine rollout that is de-risking Covid more and more by the day – we are moving glacially out of lockdown. What's more, we are told that social distancing may be here to stay for a long while yet. Even worse, the introduction of domestic vaccine passports – the transformation of Britain into a 'papers, please' society – now seems inevitable.
Parliament hasn't even been guaranteed a vote on them, as Boris, doughty liberal that he is, continues to rule by decree.
For much of the past year, Johnson has enjoyed a compliant House of Commons. That vaccine passports have so touched a nerve – rousing the allegedly Liberal Democrats from their slumber and leading Labour's Keir Starmer to contemplate opposing the government on something – reflects how deeply authoritarian this scheme is.
Even these plums get that a society in which you have to carry an ID card is not a society that can call itself free. The spectre of vaccine passports is the clearest sign yet that lockdown authoritarianism has moved from emergency measures to the dreaded New Normal.
We are told that vaccine passports will 'free' us from lockdown and social distancing. But a freedom license is a contradiction in terms. You would have thought Boris Johnson would understand this, not least because as of a few weeks ago he had his ministers decrying vaccine passports as illiberal and un-British at every available opportunity. Plus, as has been thrown back at him time and again in recent weeks, he wrote an article back in 2004 saying that if New Labour's proposed ID cards were introduced he'd eat his if he were ever asked to produce it.
As he put it in that much-quoted Telegraph article, 'our liberties are being lost because of the intrusiveness and incompetence of the government'. Well, quite. Indeed, the authoritarianism of Johnson's vaccine passports is matched only by their pointlessness. The majority of those likely to die of Covid have already been vaccinated and pretty much everyone else in Britain is desperate to be jabbed, too: Britain enjoys among the lowest levels of vaccine hesitancy in the world.
Twelve months on from the first lockdown, Boris has swapped his reluctant routine for sheer dishonesty. At the No10 press conference yesterday, he rebuffed anyone who mentioned vaccine passports, opting for the more anodyne 'Covid-status certification'. When asked to reassure viewers that they wouldn't need a Covid pass to enjoy a pint, Johnson said only that they wouldn't need one on Monday – when hospitality reopens for outdoor service. (Vaccine passports aren't expected to be introduced until the autumn anyway.)
Despite the government briefing newspapers that pubs and restaurants will be exempt from the scheme, its own review on the subject, published just as the press conference began, leaves the option very much open.
It is often said that the Covid crisis transformed Boris Johnson from a rambunctious libertarian into a nanny-state convert. The truth is that he's never really believed in much at all. Famously, ahead of the Brexit vote, he wrote two articles for the Telegraph, one backing Leave and one backing Remain. He told friends he was 'veering all over the place like a shopping trolley' days before he was announced as the frontman for Vote Leave.
So it is with his attitude to liberty. He is not some authoritarian hell bent on ushering in a tyranny under the cover of Covid. It's almost worse, and certainly more pathetic, than that. His bumbling authoritarianism is the product of a politician with no views of his own to fall back on – no principles to guard against the pressures of governing in times of crisis.
And as this crisis has taught us, a prime minister who believes in nothing is a very dangerous thing.
Tom Slater is deputy editor at spiked. Follow him on Twitter: @Tom_Slater_
To enquire about republishing spiked's content, a right to reply or to request a correction, please contact the managing editor, Viv Regan.