The return of New Labour sleaze
The roots of the Tory lobbying scandal lie in the era of Blair and Mandelson.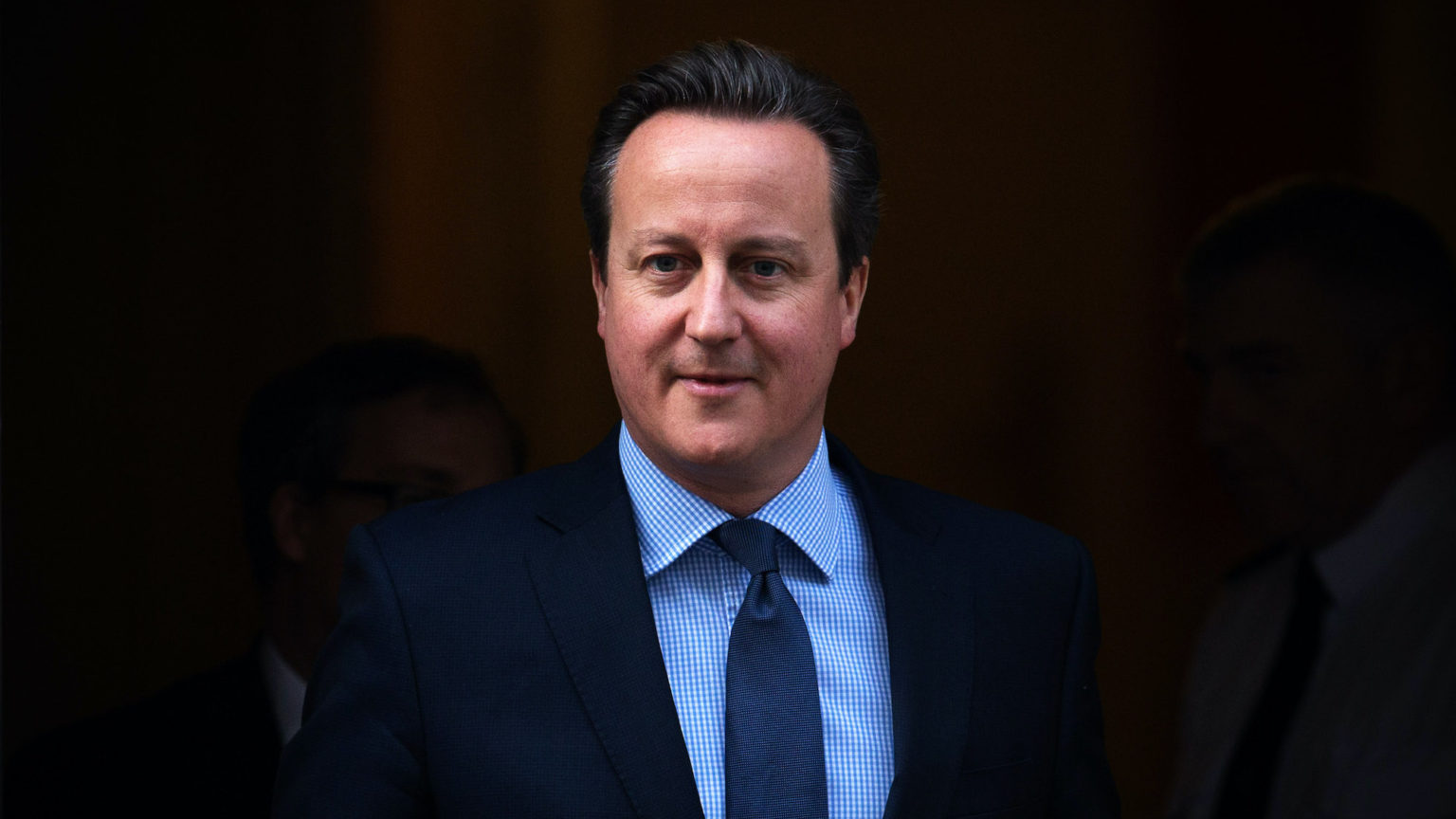 Listening to and reading the office gossip from Westminster this past week, you could be forgiven for thinking the British government had plumbed unparalleled depths of venality.
'Sleaze is at the heart of this Conservative government', said Labour leader Keir Starmer in an attempt to stick his plastic knife in. Activist commentators were similarly excited. 'We are adrift in a sea of corruption', announced Labour cheerleader Paul Mason. '[Boris] Johnson is reviving the old corruption of the 19th century', declared the Observer's Nick Cohen. One New Statesman columnist even sounded a colonial lament: 'I find myself wondering whether I live in a corrupt country of the sort that Britain once regarded with pity and disdain.'
The reports that have emerged over the past week should certainly trouble us, from ex-PM David Cameron's admittedly unsuccessful attempt last spring to lobby for state support for his then employer, the now defunct Greensill Capital, to the revelation that health secretary Matt Hancock had a stake in his sister's company, which recently won potentially lucrative NHS contracts.
But the suggestion that we are now 'adrift in a sea of corruption', that Britain is now an especially 'corrupt country', and that Johnson has 'revived' the bad old, pre-suffrage days of rotten boroughs and aristocratic rule is just bizarre. In fact, it's worse than that. It's borderline hysterical. It is the product of a media and political class whose anti-Brexit anti-Toryism has driven it to distort reality and forget history, so as to conjure up the present government as somehow hellishly worse than anything that has gone before.
How else to explain the historical amnesia? Sure, some now feasting on the current tales of friends and favours do remember the original Tory 'sleaze' scandals of the mid-1990s, from the sexual escapades of ministers Tim Yeo and, in full Chelsea kit, David Mellor, to the financial wrongdoing of MPs Jonathan Aitken and Neil Hamilton. Yet, in their determination to present today's lobbying fiasco and possible conflicts of interest as indicative of something bent in the Tory political gene, they skip over a decade of Labour sleaze
In fact, from the moment New Labour beat John Major's politically and morally exhausted Tories in 1997, partially on the back of being 'anti-sleaze', Tony Blair & Co promptly found themselves embroiled in their own sleaze scandal, when it emerged that Formula One chief Bernie Ecclestone had given Labour a £1million donation. That, at the same time, Labour had exempted Formula One from the ban on tobacco advertising it was then implementing was pure coincidence.
There were plenty more where that came from. The £100,000 donation to Labour from press and porn baron Richard Desmond in 2002. A secretive £600,000 donation from eccentric businessman Richard Abrahams, revealed in 2007. And, like Ecclestone, Desmond and Abrahams weren't dyed-in-the-wool Labourites. They were seeking to influence government policy in their favour.
Then there were 'Tony's cronies', the press's epithet for those supporters and donors Labour attempted to reward for their loyalty and cash with peerages. Indeed, it was Labour's ultimately thwarted attempt to grant access to the upper house for those willing to cough up that led to the cash-for-honours scandal, complete with a police investigation. This, lest one forget, serenaded Blair's exit from government in 2007. As the Observer's Andrew Rawnsley put it at the time: '[Blair] will be seen with John Major as a prime minister whose time in office was punctuated, despoiled and diminished by scandal.'
Then, of course, there was Peter Mandelson, a one-man corruption magnet, whom successive Labour governments couldn't help reappointing. His first resignation, following a dodgy home-buying loan, was small fry compared to what followed. In 2008, The Sunday Times revealed that Mandelson, then Britain's European Commissioner, gave trade concessions worth up to £50million a year to Russia's then richest man Oleg Deripaska after being entertained on his 'superyacht'. 'They had been on holiday in the same area and it was purely a social occasion', said Mandelson's spokesman, to much scepticism. Not that it mattered. That same autumn, prime minister Gordon Brown appointed Mandelson to a cabinet position for the 1,056th time.
Those were the days, eh! Good, clean technocratic management. A time when politicians were politicians, and businessmen were businessmen. And never the twain shall meet.
Except the twain did meet. It seems clear that the relationship between the two, between private-sector interests and the British state, had arguably never been closer than it was under New Labour. With cash in hand, Blair's pals were able to influence policy to an unprecedented degree. Some clearly hoped that, donning the ermine of the Lords, they might even be able to amend policy. As John Major pointed out in 2007, the Tory sleaze scandals of the mid-1990s were characterised by individual misbehaviour, be it sexual or financial. Labour's scandals of the 2000s were different, he said. 'The sleaze has seemed to be systemic since 1997.'
It is also worth noting that the man responsible for bringing Lex Greensill, the founder of Greensill Capital, into close working proximity with the government and civil service was Sir Jeremy Heywood, the permanent cabinet secretary during the New Labour years as well as under Cameron's and Theresa May's Tory governments. 'I depended on him', said Blair of Heywood. Brown went further, saying of Heywood's time in the civil service that 'the country was in good hands.' As Lex Greensill can testify.
What is striking about the current scandals, born as they are from the meshing of public, state interests with those of the private sector, is just how much they owe to the New Labour era of private-finance initiatives, cosy business relationships and informal cash-for-influence schemes. Cameron's lobbying shenanigans, Hancock's sister's NHS contracts and the general blurring of the lines between the civil service and private interests are genuinely murky affairs. But the attempt to foist the blame on to Johnson's administration is not only desperately and narrowly party political. It also ignores the roots of the problem – roots that reach right back into New Labour's seemingly forgotten 13 years in office.
Tim Black is a spiked columnist.
To enquire about republishing spiked's content, a right to reply or to request a correction, please contact the managing editor, Viv Regan.