Tim Scott and the progressive bigots
For saying 'America is not a racist country', Scott has been branded an Uncle Tom.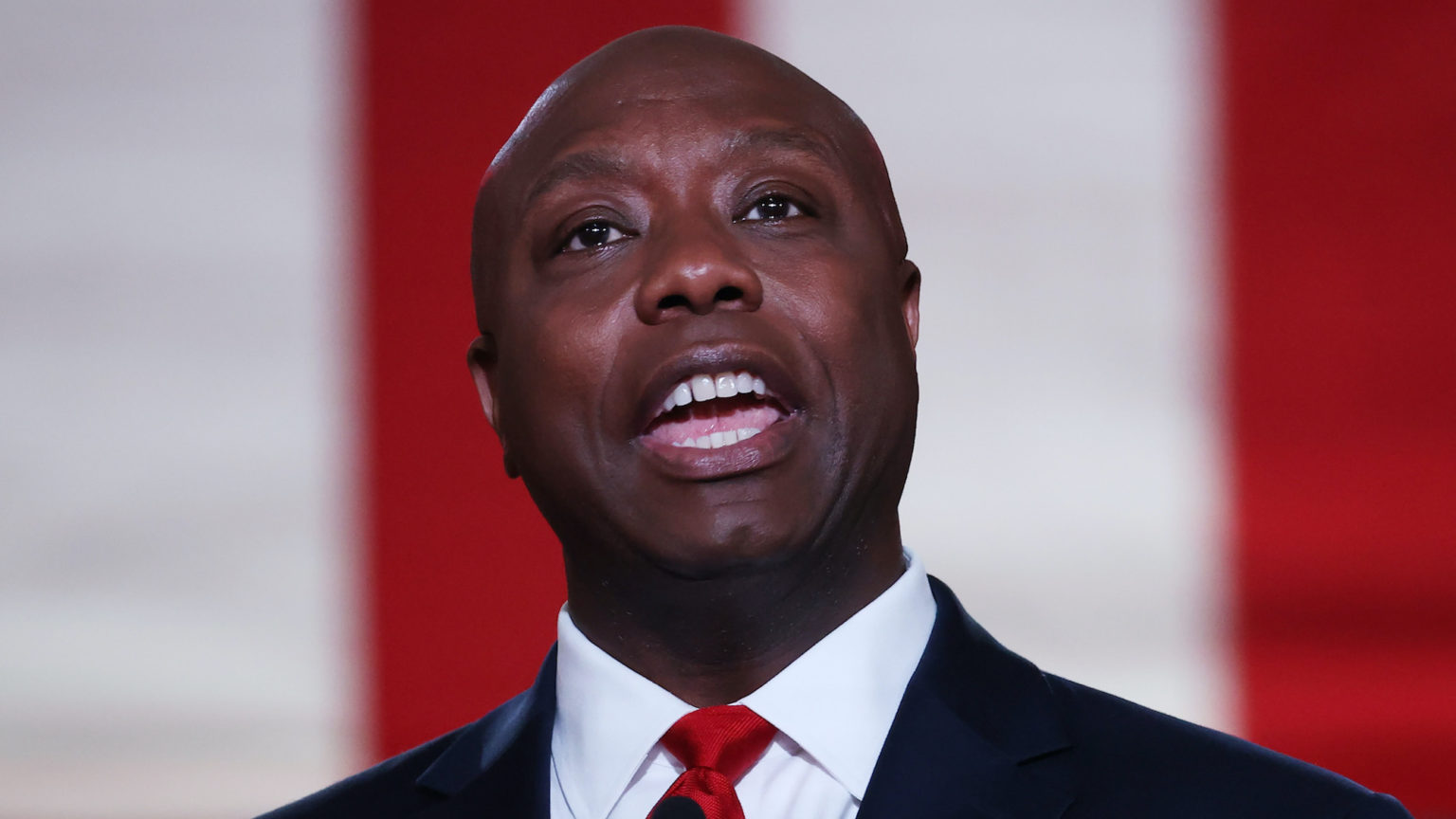 The rebuttal speech to a US president's address to Congress is usually a non-event. Not this year. Republican senator Tim Scott provided a solid, policy-filled response to Joe Biden's speech marking his first 100 days in the White House. But the remarks by Scott, an African-American, on the use of race in American politics are what really set it apart, especially when he declared that 'America is not a racist country'. That simple statement, which in the recent past would have been uncontroversial, led to a deluge of frothing-at-the-mouth outrage from those who are convinced that the US is fundamentally and irredeemably racist.
In his rebuttal speech, Scott acknowledged that racial prejudice can still be found in the US. 'I have experienced the pain of discrimination. I know what it feels like to be pulled over for no reason. To be followed around a store while I'm shopping.' But he said he has also experienced 'a different kind of intolerance': 'I get called "Uncle Tom" and the n-word — by progressives! By liberals!'
And then, in great numbers, progressives and liberals reacted to Scott's speech by calling him an Uncle Tom, the n-word and more. Their reaction was exactly what Scott described, so much so that you wondered if these enraged tweeters and commentators represented some kind of false-flag operation, paid for by the Republican party. Twitter was lit up with 'Uncle Tim'. It was trending until Twitter took it down 12 hours later. TV personality Scott Nevins, who is white, said Scott was 'Uncle Tom'ing it for his life'. Activist Amy Siskind, also white, tweeted: 'Not sure how this man lives with himself.'
The next day, Scott replied to what he called 'stunning' personal attacks on him by his critics. 'The left has doubled down that they are going to, not attack my policies, but they're literally attacking the colour of my skin.' Of course, Scott's policy prescriptions were fair game for criticism. But these condemnations of him were an ugly and perverse spectacle – deploying racial epithets in the name of 'anti-racism'. Unfortunately, they were entirely consistent with today's favoured critical-race-theory ideology, which insists that race defines individuals, and calls on us to be hyper-aware of skin colour.
Listening to Scott's calmly delivered and pointed remarks, you can understand why he upsets Democrats and progressives so much. Scott was, very effectively, calling out the Democrats for their use of race as a political weapon, saying 'it's wrong to try to use our painful past to dishonestly shut down debates in the present'. A case in point is how Democrats have whipped up moral outrage over the recent Georgia election law – a law that expands voter access – by claiming it resurrects the worst of the country's past. 'The president absurdly claims this is worse than Jim Crow', said Scott. He also decried Democrats' exploitation of America's racial history, with an unstated nod to the likes of Ibram X Kendi and Robin DiAngelo: 'From colleges to corporations to our culture, people are making money and gaining power by pretending we haven't made any progress.'
When Scott said 'America is not a racist country' he was not saying that racial discrimination does not exist. Instead, he was arguing that evidence of such discrimination does not add up to defining the country as a whole, nor does it erase the progress that has been made over decades. Clearly, Scott was countering Biden's pessimistic talk about 'systemic racism', which infused his remarks following the conviction of Derek Chauvin for the murder of George Floyd.
Scott also took aim at 'equity', a notion promoted by Biden and vice-president Kamala Harris, arguing that it is directly opposed to the concept of equality. 'It's backwards to fight discrimination with different discrimination', he said. Scott is himself trying to tackle the vestiges of racial discrimination via his legislative efforts, in particular through police reform. In fact, last year Scott put forward a reform bill only to have Democrats block it. Scott exposes that many Democrats prefer that no action is taken on policing, so that it can remain a rhetorical cudgel for them to wield. To his credit, Democratic senator Cory Booker acknowledges Scott's constructive work in this area, citing how they have successfully teamed up on legislation concerning opportunity zones, anti-lynching, historically black colleges and criminal justice reform.
The uproar over Scott's rebuttal speech also unintentionally revealed something that doesn't get enough attention: that white liberals are much more likely than blacks and other minorities to believe the country is racist. Here was Scott giving a balanced presentation, noting the persistence of racism and offering practical steps to address it, while also stressing the good nature of most Americans and expressing a confidence that progress can continue. And the left was having none of it. The fact that Scott is black and so many of his critics are white is a striking contrast. But it backed up research findings. As researcher Zach Goldberg has found, since the emergence of the 'Great Awokening' about five years ago, polling data suggests that white liberals are more 'woke' on racial issues than black Americans.
Scott represents a threat to those who want to argue that the US is thoroughly racist, and thus in need of their authoritarian solutions. Because they have no good arguments, they seek to demean him personally. And these attacks are not limited to the backwaters of Twitter. Just recently the respected Washington Post attempted to discredit Scott, claiming (unconvincingly) that he was a product of privilege, because a relative from generations before him owned land. This was a pathetic attempt at a hit job. Scott grew up in poverty, raised by a single mother in public housing (not that a politician's background should matter that much).
As 'Uncle Tim' was trending on Twitter, some called for the social-media giant to pull it down. But giving Twitter more censorious powers is always a bad idea, even when the trending topic in question is reprehensible. Besides, in the case of Scott, allowing that slur to trend ultimately served a useful purpose. It revealed who the real bigots are.
To enquire about republishing spiked's content, a right to reply or to request a correction, please contact the managing editor, Viv Regan.