The brutal beginnings of South Korea's rise
A coup 60 years ago marked the start of one nation's economic transformation.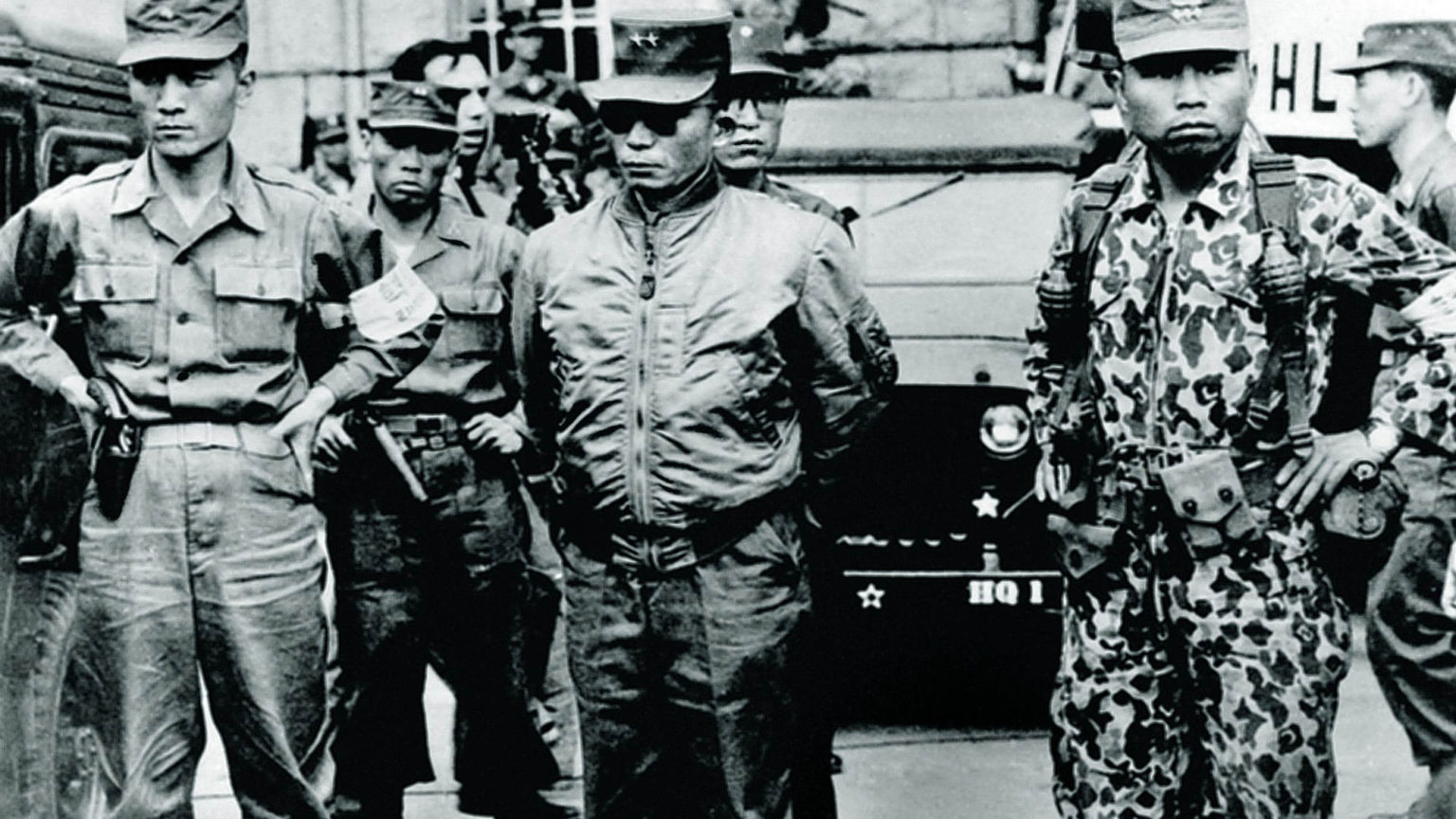 At 3am on 16 May 1961, South Korean soldiers, following the orders of five rogue generals, moved into the capital, Seoul, and launched a coup d'etat. Following some light clashes with forces loyal to the elected government of Yun Posun, the rebel soldiers were soon in the ascendancy. Within a few hours, they had taken control of most other cities in South Korea.
By the end of the day, the coup leaders had established a military junta, called the Military Revolutionary Committee, and shut down the South Korean parliament. And with that, South Korea's brief flirtation with democracy was at an end.
A year prior, It had all looked very different. In April 1960, protests among students and labour organisations across South Korea had forced military dictator Syngman Rhee from power. This was known as the April Revolution. It led to a new constitution and the establishment of the Second Republic. The subsequent legislative elections resulted in a victory for the Democratic Party, and installed Chang Myon as prime minister, and Yun Posun as the presidential figurehead. But the new government was beset with problems from the outset. There was a surge in inflation, food shortages, rising crime and continued political unrest.
It was against this backdrop that the coup plotters stepped in. On the day of the coup, they announced over the official Korean Broadcasting System: 'The fate of the nation and the people cannot be entrusted to the corrupt and incompetent regime and its politicians.' They argued that 'the time has come [for the armed forces] to give direction to our nation, which has gone dangerously astray'.
As far as 20th-century coups go, this one was a fairly tame affair. There were no dramatic gun battles, no bloody massacres in presidential palaces. After some initial disagreements among the new junta, one man emerged as the principal leader: General Park Chung-hee. He would lead South Korea until his assassination in 1979.
General Park, president of South Korea, shaking hands with US President Lyndon B Johnson, on a visit to the United States, Washington DC, 25 May 1965.
The impact of what is now known as the May 16 coup, and Park's subsequent 20 years of rule, was significant. During this period, Park not only launched another coup in 1972 (known as the October Yushin or October Restoration) and made himself president for life; he also oversaw the economic transformation of South Korea.
In 1961, South Korea was one of the poorest places in the world. Its yearly income per person stood at just $82. That was less than half the yearly income per person in Ghana. The US, South Korea's chief benefactor, was not optimistic about South Korea's future. The United States Agency for International Development labelled South Korea, then largely dependent on US handouts, a 'bottomless pit'. A New York Times op-ed from 1961 concluded that 'the poorer half of one of the poorest countries in the world is trying to exist as a nation with too many people and too few resources'. Many Western observers felt its Communist neighbour in the north had better economic prospects.
They could not have been more wrong. South Koreans today are among the wealthiest people in the world. South Korean GDP is roughly on a par with Italy on a per capita basis. Its economy is home to some of the world's leading technology companies and some of the most advanced manufacturers. So swift and rapid has this transformation been that it has been called the 'miracle on the Han River.' And this miracle is inseparable from Park and the coup of 1961.
As Ha Joon-chang's Bad Samaritans (2007) and Joe Studwell's How Asia Works (2013) show, it is no secret how South Korea transformed its economy. Under Park, the state drove South Korea's economic development forward, in the shape of several ambitious 'five-year plans'.
Park sought to protect 'infant industries', using cheap loans and subsidies to manufacturers. However, unlike other similar attempts at 'catch-up industrialisation', his government placed a major emphasis on the eventual ability of these firms to compete on the world market. The state was prepared to back businesses, but only those that would be able to export their output.
Park also backed South Korea's large conglomerates, known as chaebols. Many, such as Samsung, LG and Hyundai, are household names today. As Ha notes: 'The secret of [Park's policy's] success lay in a judicious mix of protection and open trade, with the areas of protection constantly changing as new infant industries were developed and old infant industries became internationally competitive.'
Park was particularly focused on moving Korean manufacturing up the global value chain. When Park came to power, South Korea primarily exported low-value primary commodities such as seafood. Park shifted the focus of South Korea's economy on to high-value commodity production: electronics, machinery, chemicals and other advanced industries. Samsung, for instance, was focused on sugar refining and textiles in the 1950s. Today, of course, it is a global tech leader.
Who was General Park?
Park was born in 1917 in Japanese-occupied Korea. Although his family had aristocratic roots, Park himself grew up in poverty. But, thanks to his intellect, he was able to attend prestigious Japanese-run schools. And, after a brief interlude as a teacher, he joined the Imperial Army and fought for Japan in China towards the end of the Second World War.
Despite his early allegiance to Japan, at some point in the mid-1940s Park became a Korean nationalist. He even joined a minor ragtag army of nationalist exiles while he was briefly stranded in China following Japan's surrender at the end of the Second World War. But his formative years, in Japanese schools and fighting for the empire, appear to have had a major impact on his approach to nation-building.
In particular, the historical experience of Japan's economic development appears to have deeply affected Park. Visiting Japan in 1961, he told its leaders, 'I am pushing for the modernisation of my country as the modernising elite of the Meiji Restoration [in mid-19th-century Japan] did'.
This was hardly a surprise. A product of Japanese colonial education, Park was familiar with Japanese history and economic policy, and, more importantly, he thought in terms of Japanese historical experience. But he also developed his own 'national revolution' ideology, in which the Meiji Restoration was just one of many examples to learn from.
In a chapter of his 1963 book, The Country, the Revolution and I, Park outlined 'various forms of revolution'. Here he sketched out his own understanding of previous revolutions and their economic consequences. He showed a detailed knowledge of such revolutionary nationalists as China's Sun Yat-sen, Turkey's Kemal Atatürk and Egypt's Gamal Abdel Nasser. Like Park, all were military men turned strongmen rulers. And, like Park, they all wanted to industrialise and modernise their nations. But what makes Park and his 'national revolution' so interesting is that it actually worked.
It is in this historical context that we should understand Park – as a modernising dictator committed to the economic transformation of his nation. Asia scholar Ezra F Vogel places Park alongside Ataturk, Singapore's Lee Kuan Yew and China's Deng Xiaoping. As Vogel put it:
'Of the many outstanding leaders in the 20th century, only four who inherited countries in great turmoil modernised their nations by building new systems and initiating very rapid growth causing transformations that continued after them.'
A divisive legacy
Park should not be romanticised, of course. He came to power in a military coup, which strangled South Korea's early attempt at democracy. And his rule was characterised by varying degrees of often brutal repression.
Unsurprisingly, Park remains a divisive figure in modern-day South Korea. While many credit him for South Korea's current prosperity, others revile him for the killings and torture that occurred under his rule. Generally, those on the right of South Korean politics defend Park while liberals and leftists are more hostile.
Nevertheless, there was enough positive feeling towards Park for his daughter Park Geun-hye to be elected as president in 2013. She even explicitly used her father's legacy to gain support. However, a corruption scandal led to her removal from office and imprisonment in 2017. According to Dan Josephson, in his book Tiger Tails and Iron Fists, Geun-hye is now almost universally detested in South Korea due to the scandal – and this may be having a negative effect on public perceptions of her late father.
This does not diminish his significance, however. South Korea's journey from third to first world looms large in the wider story of Asia's economic boom. And Park's role in this is pivotal. When future historians look back at Asia's rise to global pre-eminence, maybe the May 16 military coup should be one of the starting points.
Tom Bailey is a financial writer. Follow him on Twitter: @tBaileyBailey.
Main picture: public domain via wikimedia commons.
Article picture: Getty Images.
To enquire about republishing spiked's content, a right to reply or to request a correction, please contact the managing editor, Viv Regan.