Hartlepool's monkey madness
The local council is worried that its monkey statue looks 'unfriendly to foreigners'.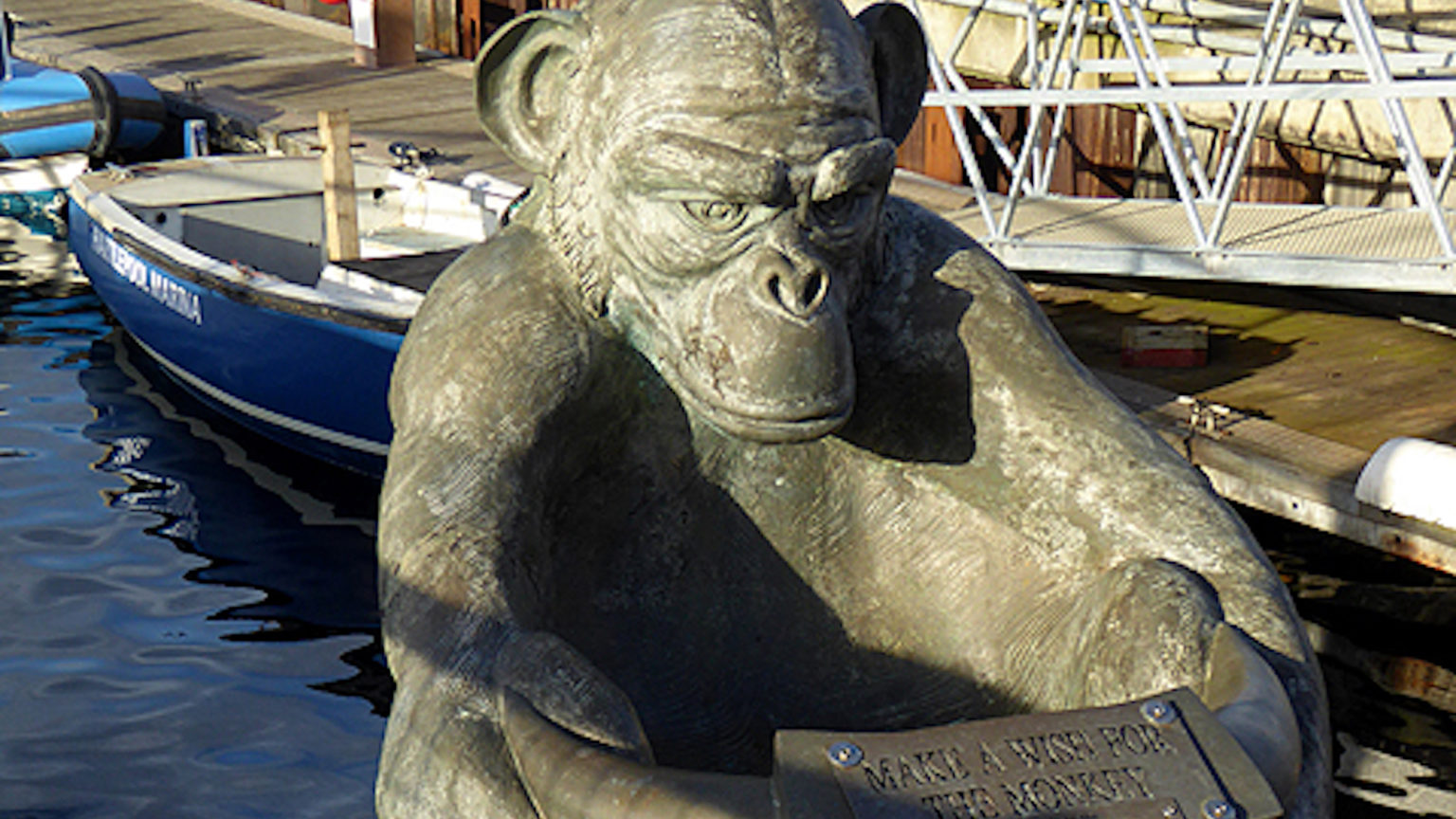 A year on from the toppling of Edward Colston, the statue wars are still raging. But the focus, it seems, has shifted from bad men on the wrong side of history to, er, monkeys – Hartlepool's famed monkey statue, to be precise.
In June 2020, a local-council report, commissioned in response to the Black Lives Matter protests, set out to demonstrate that 'as a town we are united in our opposition to all forms of discrimination and oppression'.
The report highlighted the monkey statue, warning that it could be 'misused by those with differing agendas to portray Hartlepool as unfriendly towards foreigners'. It said a plaque should be attached to the statue, explaining its history. The Telegraph reports that the council is currently working on the wording.
The statue is a monument to a local legend. A monkey is said to have washed ashore in Hartlepool during the Napoleonic Wars, after a French ship was wrecked nearby. Hartlepudlians, who had never seen either a Frenchman or a monkey before, mistook it for a spy and executed it.
The legend has been embraced by the local people. Hartlepool FC has a monkey as a mascot, H'Angus, who also once served as the town's only ever directly elected mayor.
A statue of a monkey in Hartlepool is due to have its origins explained with a new sign amid fears that it could be used to portray the town as "unfriendly to foreigners", after the Black Lives Matter protests.@Craig_Simpson_ reports 👇 https://t.co/KazCTIylWJ

— The Telegraph (@Telegraph) June 7, 2021
Sadly, in these puritanical times, it seems there is less room for local eccentricities. There is no evidence that anyone has ever been offended by the statue or the local legend it reflects. But nowadays the mere possibility of offence is enough to push local busybodies to take action, whether by renaming streets or adding 'explanatory' plaques.
Let's stop this monkey business – and leave that statue alone.
Picture by: Oliver Dixon, published under a creative-commons licence.
To enquire about republishing spiked's content, a right to reply or to request a correction, please contact the managing editor, Viv Regan.