The joylessness of the Covid-secure wedding
Weddings can soon have more guests, but will still be bogged down by reams of absurd rules.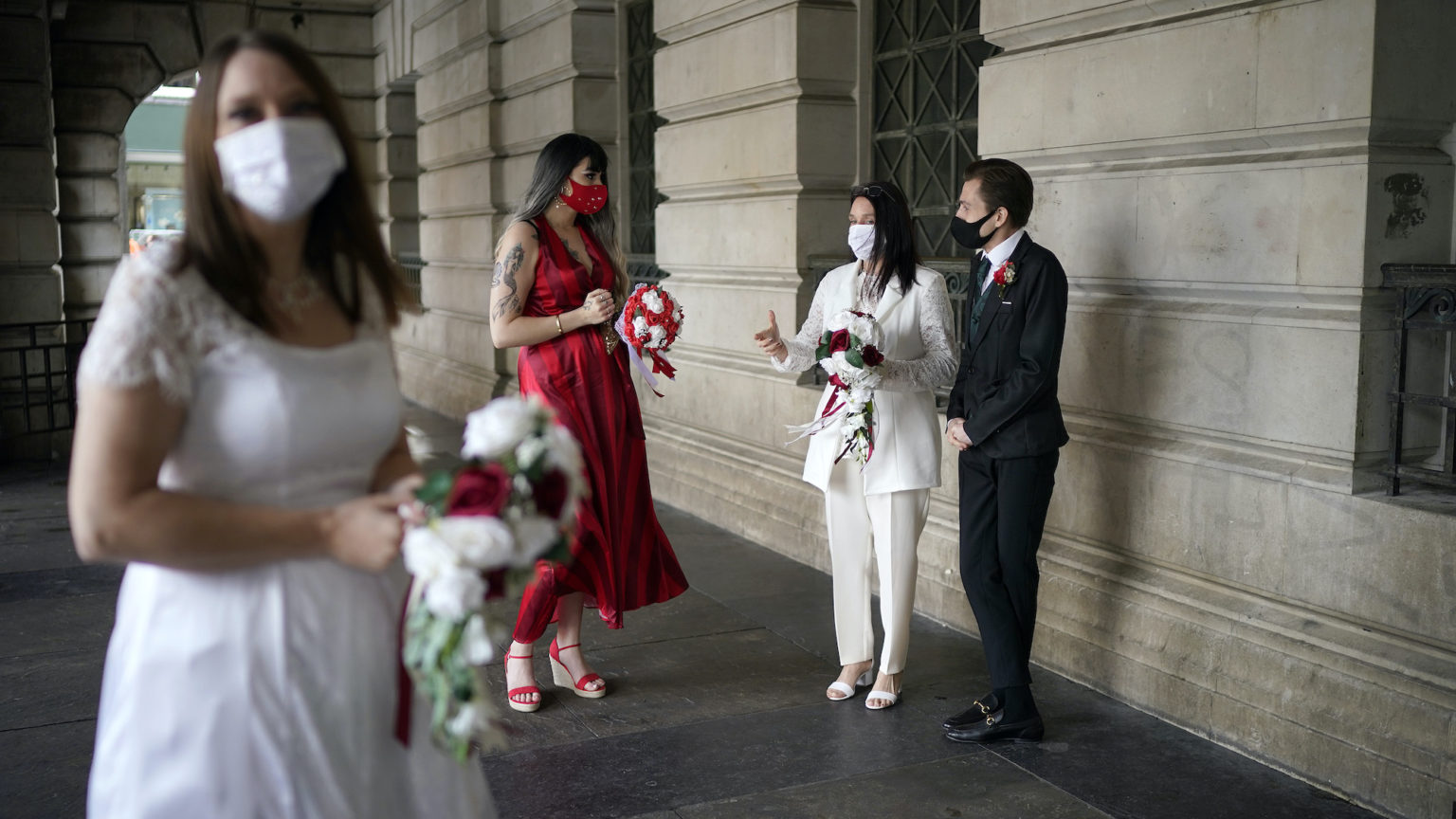 The past 15 months have been severely lacking in joy. It's been a year and half full of death, unemployment and isolation, with no one for company but the cat. Our love lives took a particularly bad knock during lockdown, with weddings, dates and everything in between off the cards.
Even as the threat of the virus subsides, it seems that the return of unregulated joy will still have to wait. The delay to Freedom Day has put a dampener on many people's plans for the summer – with one exception. Perhaps because he feared the wrath of bridezillas desperate to get into their gowns, or because he himself tied the knot during lockdown, Boris Johnson has announced that weddings with over 30 guests can go ahead from Monday. But there are strict conditions to this.
At these government-mandated weddings, the bride and groom must continue to carry out Covid risk assessments and follow reams of nonsensical guidance. Guests can gather to watch the couple cut their wedding cake, but they cannot take a piece – they have to sit down to be handed a piece by a Covid-secure waiter. Guests will be allowed to eat without masks, but only if they are served at the table. 'Limited' dancing will be allowed outside, but not indoors or on a specified or demarcated dancefloor. Envelopes of cash from granny aren't allowed – couples will have to offer up their bank details instead. Speeches are allowed, but only with a microphone, as raised voices could spread viral droplets.
Weddings are allowed, it seems, but only if they aren't too joyful. Reading the official guidance is a stark reminder of just how far the government has overreached in regulating our private lives. The official government statement notes that 'guidance on meeting family and friends has been updated, with a greater emphasis on personal responsibility'. But then it goes on to outline all the occasions when personal responsibility apparently won't do. It even encourages snitching, advising venue managers to 'notify the police and / or local authority' if one too many aunts turns up.
Planning a wedding is stressful enough at the best of times. Many couples will look at the long list of government guidelines and decide that it's best to put off their nuptials for another year. Throwing these hurdles in the way of happiness will be disastrous for the wedding industry. Bridal shops, wedding bands, florists, balloon saleswomen… thousands of people's livelihoods are at stake.
We all understand the need to be sensible when faced with danger, and none of us wants to scupper the hopes we have of coming out of this pandemic for good. But with vaccine take-up looking positive and hospitalisations low, there is no justification for this amount of regulation.
The Covid wedding guidance tells us something important about the lockdown mindset. Banning dancefloors might seem like a silly rule, but what is really being banned here is spontaneity – and all the risk and uncertainty that it can bring. The best weddings end in songs, kisses, sometimes even fights. Weddings allow people to come together to celebrate more than just the couple getting married. Love is supposed to be in the air, as John Paul Young sang in 1977, not in the smell of hand sanitiser.
To enquire about republishing spiked's content, a right to reply or to request a correction, please contact the managing editor, Viv Regan.