Burnham v Sturgeon: battle of the grandstanders
The pandemic really has been a boon to posturing politicians across the UK.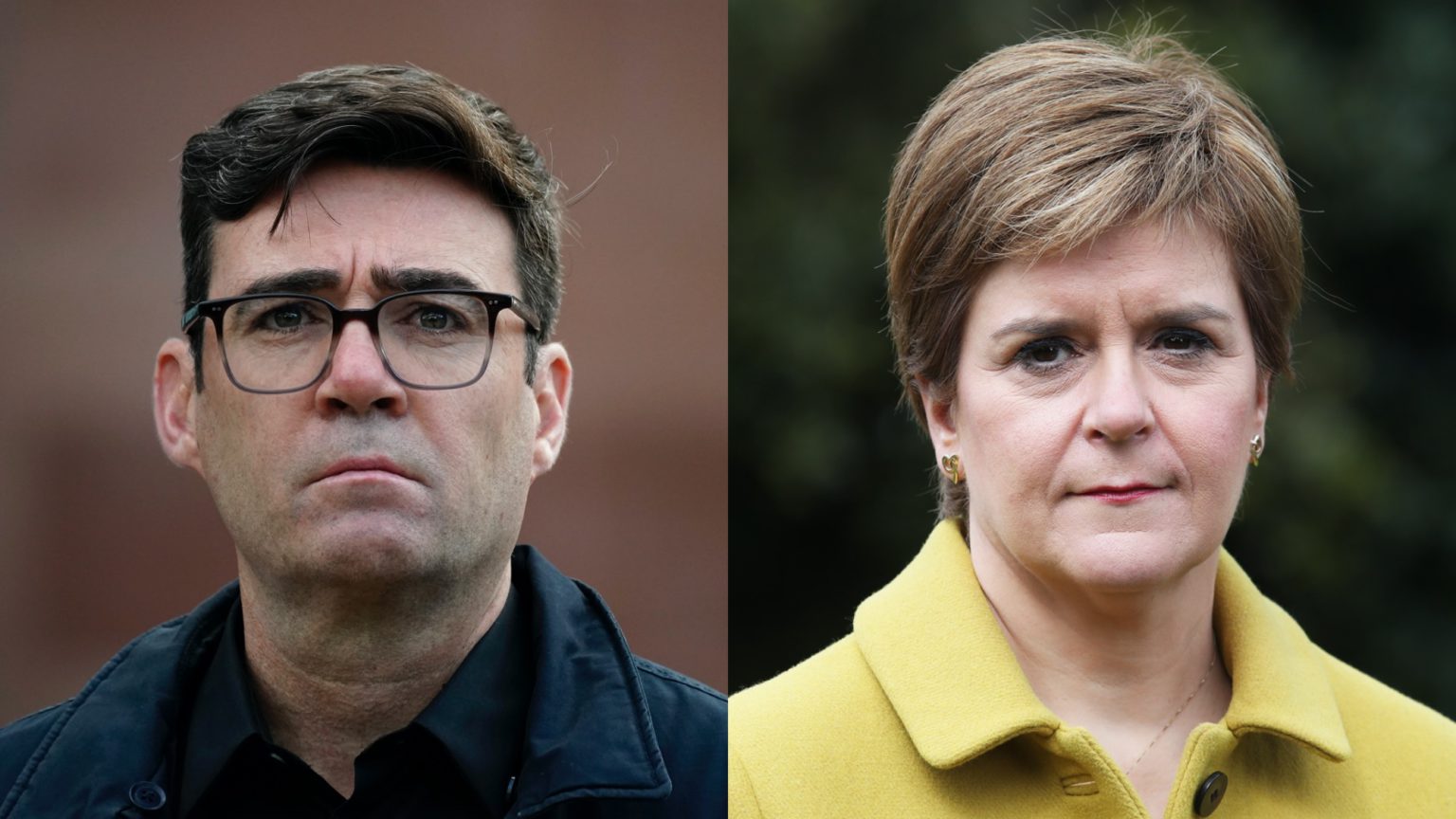 A minor spat has broken out between the heads of two of the UK's devolved administrations. But beneath this internal diplomatic row, there are some significant issues being raised about how the UK handles the Covid pandemic.
On Friday, the Scottish first minister, Nicola Sturgeon, announced a ban on 'non-essential' travel between Scotland and Manchester and Salford, due to high rates of Covid cases. It's not the first time Sturgeon has banned people from travelling between Scotland and specific parts of England. A previous ban relating to Bedford was dropped at the same time as the new Manchester ban was introduced, while restrictions relating to Blackburn and Bolton remain in place.
The bans mean that people from the designated places in England cannot travel to Scotland – a prime place for a holiday at a time when foreign travel is heavily restricted – and Scots cannot come south to visit friends and family. The mere fact that such bans are pretty much unenforceable is besides the point. Many people will go along with them because they don't want to break the law.
The mayor of Greater Manchester, Labour's Andy Burnham, was outraged at the announcement, which he says he only found out about by reading about it in the Guardian. He told the BBC's Andrew Marr Show on Sunday: 'That is exactly what the SNP always accuse the Westminster government of doing – riding roughshod over people. The SNP are treating the north of England with the same contempt in bringing that in without any consultation with us. I just think it's double standards, it's hypocrisy.'
Burnham would be on slightly stronger ground if he had been more vociferous about the earlier ban on travel to Bolton, which is part of his patch, but he is right to feel put out by this lack of communication.
In typical high-handed fashion, Sturgeon responded to Burnham's comments by saying: 'I've always got on well with Andy Burnham and if he wants to have a grown-up conversation he only has to pick up the phone, but if, as I suspect might be the case, this is more about generating a spat with me as part of some positioning in a Labour leadership contest in future, then I'm not interested.' Patronising tone aside, as Burnham noted, how could he 'pick up the phone' if he didn't know it was happening?
There is a lot of political positioning going on here, of course. As with his theatrics over Westminster-imposed restrictions last year, it suits Burnham to play the people's defender over these rule changes – but he's no principled defender of freedom. And Sturgeon is not averse to a bit of political posturing herself. Indeed, 'Blame Westminster' is her political mantra, and she managed to irritate other UK leaders this past year by announcing decisions from joint committees ahead of everyone else. Her daily lunchtime news briefings during the pandemic, placing herself front and centre, left many of us north of the border pining for Bargain Hunt.
But there are two substantive issues that Burnham has raised, quite reasonably. The first is compensation. If governments choose to change rules abruptly, then shouldn't they cough up where people and businesses are out of pocket? Why should the financial burden fall on those caught in the middle rather than shared across society?
Perhaps more importantly, there is the question of transparency, which has bedevilled the policy responses to the crisis. Politicians seem unwilling to tell us what the criteria are for imposing and lifting restrictions. Burnham pointed to the Scottish city of Dundee, which has higher case levels than in Bolton and Blackburn. He asked Sturgeon why Scots were allowed to travel there but not to Greater Manchester. It also doesn't seem very smart, at a time when the Scottish tourism industry could do with all the punters it can get, to reinforce the notion that the English are not welcome in Scotland.
I don't particularly like Burnham or Sturgeon. Both have been perfectly willing to impose or support draconian lockdown measures that have undermined our liberties. It has often been hard to tell during the pandemic whether their complaints about certain Westminster-imposed measures were genuine or simply self-serving.
The sooner we scrap all of these restrictions, and are left to make our own choices again, the better. At least it would give these two one less thing to grandstand about.
Rob Lyons is a spiked columnist.
To enquire about republishing spiked's content, a right to reply or to request a correction, please contact the managing editor, Viv Regan.