The silencing of Hong Kong
Free speech, press freedom and free assembly have been mercilessly crushed.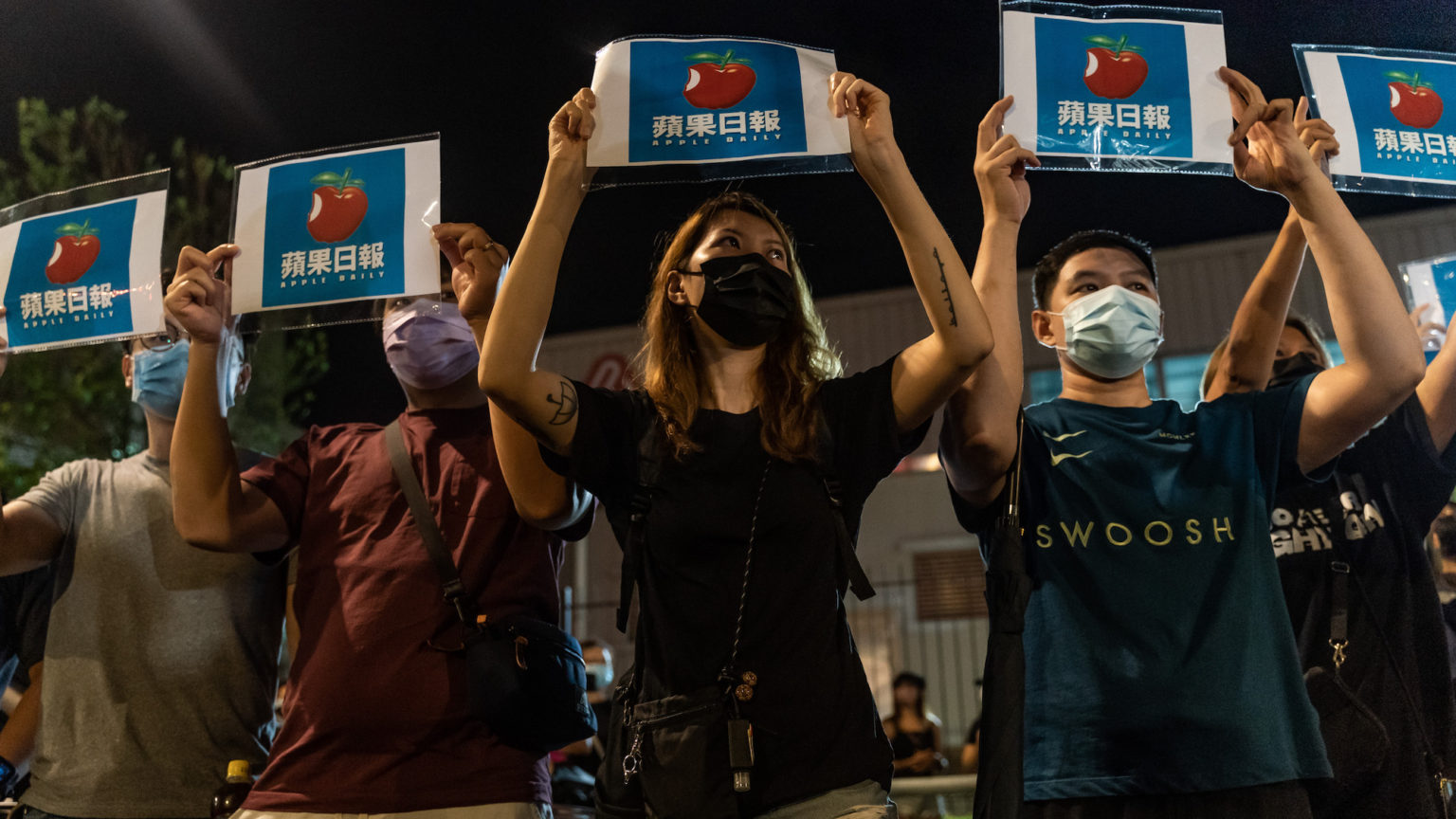 Every year on 1 July, Hong Kong marks Handover Day – the anniversary of the transfer of Hong Kong's sovereignty from Britain to China. Handover Day marches were once a regular feature of Hong Kong life. But for the second year in a row, police have used Covid-19 as a pretext for a ban on marches.
For years, Hong Kong's local elites have been dismantling any semblance of formal democracy in order to appease Beijing. Now their sights are on free speech and freedom of assembly.
Quashing dissent doesn't come cheap. The Hong Kong government has allocated an additional $1 billion to this year's budget for the enforcement of Beijing's authoritarian National Security Law. This comes on top of a 25 per cent increase in the policing budget.
The police are worming their way into the government, too. John Lee, a former police officer, has been promoted to chief secretary – the second most senior role in government. Former police commissioner Chris Tang has joined Carrie Lam's cabinet as secretary for security.
Do the elites worry that Hong Kong is turning into a police state? 'I don't think there's any problem with a police state… If someone from the police discipline can help to govern Hong Kong, can help to maintain law and order in Hong Kong, why not?', said one pro-Beijing lawmaker.
The police are keen to show their muscle, too. Some 500 police officers were sent to raid the pro-democracy newspaper Apple Daily to arrest five of its executives. The police also seized computers and files from journalists and froze $2.3million in assets, leaving staff unpaid. With Apple Daily's founder, Jimmy Lai, already in jail, the remaining free executives of Next Digital, which owns the paper, closed it down six days after the raid. Next Digital is now in the process of selling off its Taiwan operation.
This bullying of the media is a new development. Previously, when one of Hong Kong's two English language newspapers looked likely to close, the government intervened to keep it going. It was worried that it would be bad for Hong Kong's international reputation if the newspaper market shrunk. Now, the government doesn't seem to care about its international reputation. It has even lost interest in defending Hong Kong's status as a financial hub. As Jimmy Lai's assistant, Mark Simon, told Voice of America: 'You cannot have political prisoners, you cannot close down media, you cannot seize private property and be an international finance centre.'
The government line that its attacks on the press are a national-security matter is only convincing to its hardcore fans. The police claim that 30 (unspecified) articles have broken the law as they were examples of collusion with foreign powers. But it is clear to everyone that it is Apple Daily's pro-democracy slant and willingness to publish stories that embarrass the government that has irked the authorities.
The attacks on Apple Daily have gone so far that local authorities are now preventing users from reading it in the archives at public libraries. Librarians have also removed all of Jimmy Lai's books from circulation, including ones that have nothing to do with politics.
The impact on other media outlets has been immediate and devastating. Stand News, a pro-democracy website, has taken down all of its opinion pieces and six of its directors have resigned. The publication's frontline reporters were routinely targeted by police during the pro-democracy demonstrations, so it is probably a question of when rather than if they are next to face arrest.
At state broadcaster RTHK, the government has installed a new pro-regime management team. It is pulling programmes and firing presenters deemed to be critical of its policies, such as Allan Au and Tsang Chi-ho. Veteran presenter Steve Vines has since resigned, stating on air that 'for somebody who is more critical, the time to remain at RTHK has ended'.
This censorious atmosphere has also led the organisers of a film festival to withdraw the screening of a Tawainese LGBT documentary rather than allow it to be edited by the government.
As ever with Hong Kong's elites, with great vindictiveness comes great pettiness. One man has been arrested for sedition for putting a sticker, calling for Hong Kong to be liberated, on his front door. Under a colonial-era law, he faces up to two years in prison or a £465 fine.
Press freedom, free assembly and free speech are now things of the past. Hong Kong has been silenced.
Martin Barraclough is a writer.
To enquire about republishing spiked's content, a right to reply or to request a correction, please contact the managing editor, Viv Regan.