Euros: the soccerati hate us, we don't care
Culture war off the pitch, no defenders on it – and England in the final..?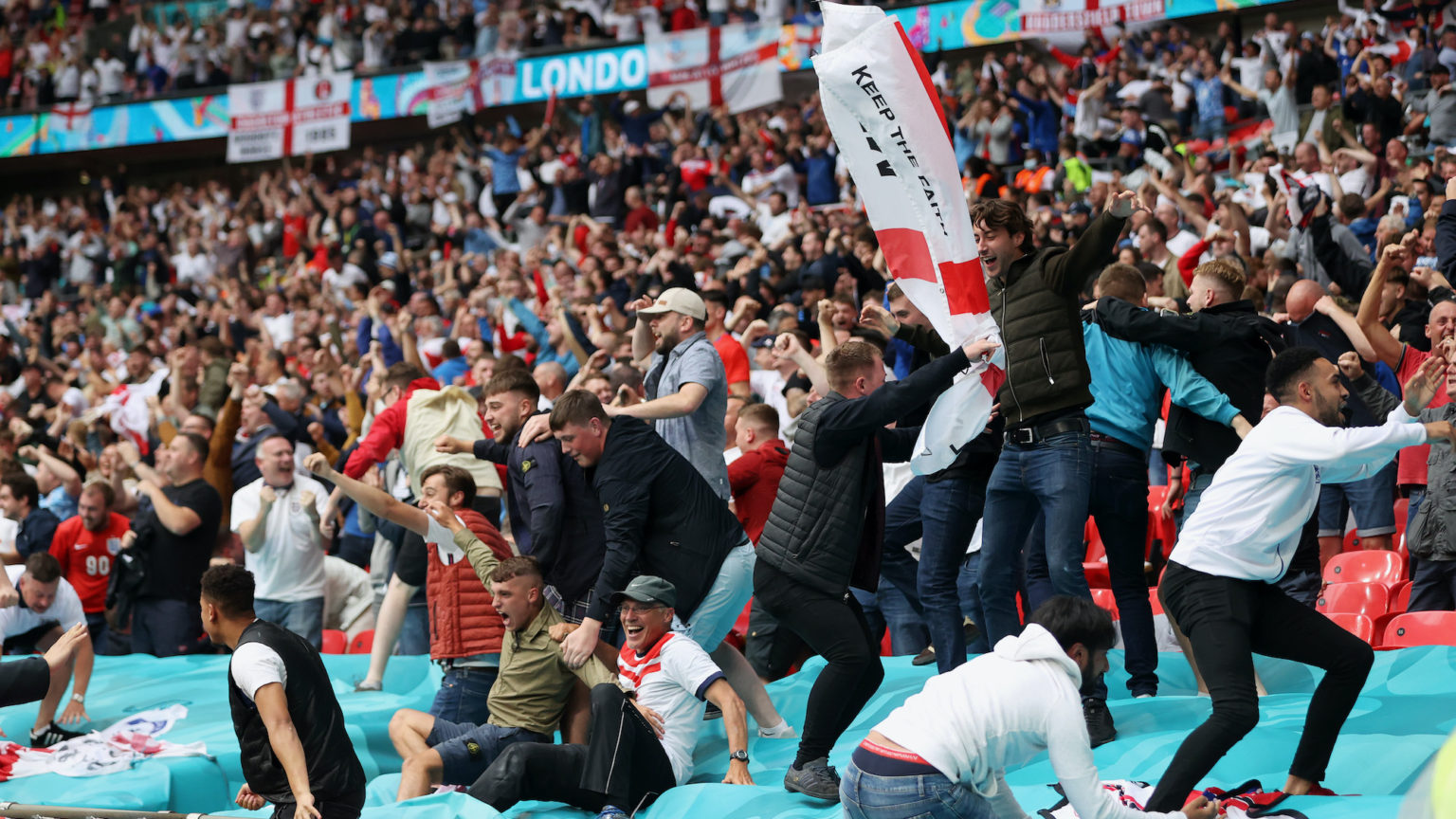 As the English nation gets belatedly excited about our team's progress to the quarter-final of the European championship, many in the media are inevitably getting carried away. There is even talk about how England's victory over Germany has brought 'redemption' and forged a sense of 'national unity' that can somehow overcome all of the bitterness and divisions of recent political battles.
Really? Leaving aside the small matter of the Scottish, Welsh and Northern Ireland fans who are unlikely to feel part of any such 'unity', it seems to some of us that a striking feature of these Euros off the pitch has been the powerful sense of division.
No, not the old-fashioned divide between nations, as claimed by those prigs who ridiculously saw the pantomime booing of the German anthem at Wembley as a declaration of war. The division most clearly on display cuts across national barriers. It is the divide between the mass of football fans and the snobbish, politically correct elites who now run the 'people's game'.
Behind the headline displays of unity, these elitists fear and loathe normal fans, with their naughty songs and beery antics. They look upon the crowds congregating to celebrate the Euros, not just as Covid super-spreaders, but as the carriers of every viral political and cultural prejudice.
That's why they have spent years crusading to sanitise the 'beautiful game' by disinfecting the 'ugly' people who watch it and making the atmosphere less dance party, more dinner party. Football stadiums, long seen as a playground where grown men could behave like adolescents for a couple of hours, have been converted into something more like re-education camps where the proles can be lectured about the evils of racism, homophobia and all other variants of anti-social behaviour.
This long culture war on working-class fans has come to a head around the Euros. Those who objected to virtue-signalling England players taking the knee have been given a thorough kicking as the supposedly racist embodiment of all that is worst in our society. England's coach, Gareth Southgate, even appointed himself the Vicar of Wokely, publishing a long sermon to the nation in which he held up footballers as 'role models' who can show us mere mortals how to live together in peace and harmony.
The NuFootball elites would probably prefer to have matches played without raucous crowds, but with piped expletive-free crowd noises, as they did during lockdown. Or at least to restrict the audience to the celebrities, princes, players' family members, children and attractive young women who the TV cameras homed in on at Wembley, accompanied in the background by the bloody awful England brass band.
And it's not just England fans. Europe's 'socca' elites saved their worst for the thousands of impassioned Hungary fans, who not only reminded us what an unmasked, untamed football crowd should look and sound like, but also turned their Budapest matches into a festival against Western wokeness. It is a wonder that the apoplectic Euro authorities did not try to deport them all to the International Court of Justice at The Hague, for crimes against football correctness.
These are the latest examples of what I have longed called 'soccerism', the attempt by the authorities to turn football into a, well, political football, that can be used to change the world. By contrast, most proper fans understand the difference between football and real life. That was why, when Denmark's Christian Eriksen collapsed on the pitch, opposing fans all came together to chant his name in support and sympathy.
Unlike the preposterous, posturing NuFootball cliques, the mass of fans appreciate that football is just panto for adults. Which is why we intend to try to enjoy the rest of the Euros, regardless of how often our self-appointed guardians tell us to sit down and shut up. They all hate us, we don't care.
So, what's to enjoy about the actual football? Here, too, it seems some have been getting slightly carried away, about both the tournament and the England team. After Monday's matches, in which world champions France drew 3-3 with Switzerland and lost the penalty shoot-out, and Spain prevailed 5-3 over Croatia in extra time, BBC Sport asked: 'Was it the greatest day of the Euros, ever?' Breathless BBC pundit and full-time tweeter Gary Lineker went further, announcing that 'This might be the best day's football I've ever watched'.
Calm down, dear. There have certainly been some exciting matches and cracking goals in this tournament. But there has also been something missing. Where are the defenders?
Those two Monday games produced a total of 14 goals. The previous Wednesday, a record 18 goals were scored across four matches. In the four games that each of them played before being eliminated, Euro giants Germany and France conceded a combined total of 13 goals. Moreover, some of those goals – like the simple, brutish headers scored against France by a Swiss striker even the BBC dubbed 'the carthorse' – might have looked more at home in the English lower leagues than at the top of the European game.
This might sound like brass-band music to the ears of the new breed of soccerati, who just want football to be a family-friendly non-contact sport with lots of goals, like netball. But for many of us old-school fans, the lost art of hard tackling and solid defending is as much a part of the beautiful game as any fancy-dan forward play. That was why, when the Americans staged the World Cup in 1994, we resisted their attempts to make the goals bigger so that everybody could score more. If we want to save real football for future generations, we need to make the case for the defence.
Which brings us (quarter) finally to England. Remarkably, the English team is one of very few in these Euros capable of keeping a clean sheet (so far). Like the Italian masters of old, or the England World Cup winners of 1966, they have progressed deep into the tournament without conceding a single goal. Goalkeeper Jordan Pickford has been inspired, and returning defender Harry Maguire has managed to look like Paolo Maldini compared to his continental counterparts (although, as we Manchester United fans know, Maguire is also a mistake waiting to happen).
Because England's national team can only ever be either world-beaters or the scum of the earth, never just 'all right', their progress has sparked much feverish speculation about football finally 'coming home'. I hope the optimists are right. But…
It is certainly true that, having beaten Germany, England has the simplest potential route to the final that anybody could have imagined, via Saturday's last eight match with Ukraine in Rome and then a Wembley semi-final against either Denmark or the Czech Republic. But that was also true of the World Cup three years ago, when England still managed to lose the semi-final to Croatia. The more mature England team of today does have an outstanding chance of reaching the final. What happens if and when they face Italy or Belgium there is another matter.
Because, alongside their impressive defensive displays, England have so far looked an uninspiring outfit in attack. Southgate has imposed a safety-first system and left much of England's most creative talent on the subs' bench. England have progressed by brilliantly executing his deadly dull strategy. Even that 'historic' victory over Germany was a strange mix of the boring and the enthralling.
Should any of that matter if they keep winning? Maybe not. But England will need more to take the trophy. Either way, let's please hear no more about the Reverend Southgate being a master coach.
To enquire about republishing spiked's content, a right to reply or to request a correction, please contact the managing editor, Viv Regan.