How councils became parallel police forces
Lockdown has sped up the authoritarian transformation of local authorities.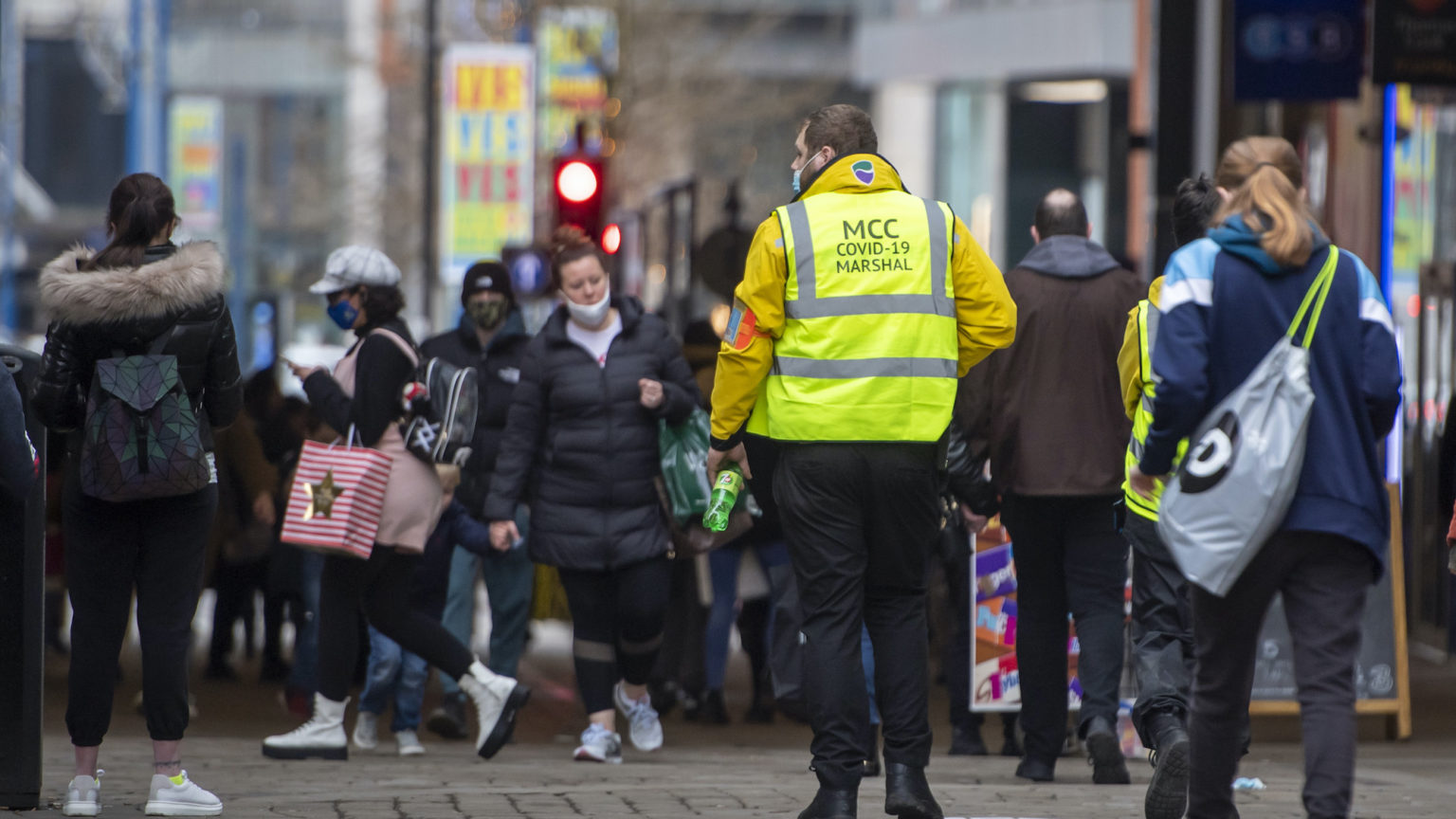 When the modern local authority developed in 19th-century Britain, its role was to provide local amenities, such as gas lighting, sewage disposal or rubbish collection. Local authorities were financed and elected by propertied ratepayers, then by all residents. In 1873, the mayor of Birmingham, Joseph Chamberlain, promised the city would be 'parked, paved, assized, marketed, gas and watered and "improved"'. He proceeded to purchase and reorganise gas and water supplies, clear slums, and instigate a building programme of schools, swimming pools and libraries. The role of the local authority developed as something quite distinct from the newly emerging police forces, which had responsibility for enforcing law and order.
But over the past 20 years, local authorities have started to take a more police-like role. They issue an increasing number of penalties, carry out patrols, and issue new legal orders. This trend has been furthered under Covid, with new powers and funding to issue legal orders and penalties, and a new patrolling role for 'Covid marshals', who ensure businesses and individuals are following social-distancing rules. Over time, local authorities have also been increasingly released from legal and governmental checks on how powers are used, meaning that they now hold remarkable power over the lives of citizens.
Until the late 1980s, only the police could deal with parking offences; now, councils issue millions of on-the-spot parking fines annually through their own officers or private contractors. The local authority used to have to ask the secretary of state if it wanted to introduce a by-law, for example, banning dogs from a local area; now it can bring in a Public Spaces Protection Order banning any activity. This can be authored by a single council officer and enacted as soon as he or she pleases. Central government doesn't even collect data on the numbers or subjects of these orders.
Indeed, we have reached the point where local authorities issue as many if not more on-the-spot penalties than the police. Penalties have risen from about a thousand to several million in a couple of decades. In 1997, local authorities issued only 727 fixed-penalty notices (FPNs) for littering, and 292 for dog fouling. Today, local authorities issue a larger number of penalties for an ever-widening range of offences, including, on average, an annual 250,000 penalties for littering, 4.7million for parking, one million for 'moving traffic offences', and 10,000 for 'anti-social behaviour' offences.
There are also new penalties for handing out leaflets without a licence, putting items in the wrong bin, and violating legal orders issued by the local authority – among a long list of other offences. Worryingly, local authorities retain the income from fines (unlike the police). This creates an opportunity for corruption and the potential for 'fines harvesting' to become a business. One can already see this happening, with many local authorities employing private companies to issue penalties. Local-authority departments (particularly transport and environment) are now heavily dependent on fines for their income.
Covid restrictions have boosted the number of penalties still further. Local authorities have issued 1,201 penalties to businesses for violating Covid business restrictions – these amounted to £1,076,820. Three London councils (Redbridge, Hounslow and Newham) issued over £300,000 in fines between them (Newham issued 242 penalties and Redbridge issued 137). This included penalties for failing to prevent mingling, violations of the 'rule of six', and people dining in mixed-household groups. Hillingdon fined businesses £1,000 for failure to maintain distance between tables, and failure to prevent household mixing, while Havering issued £1,000 penalties for allowing dancing on the premises. Hammersmith and Fulham fined someone £1,000 because a customer was allowed to browse and make a purchase inside a shop, while Leeds issued a £4,000 penalty for failure to display a QR code.
While police fixed-penalty notices have been rightly subject to scrutiny, these petty local authority fines (the consequences of statutory instruments) have not been reported and are not even collected by the government. This is a legal black hole, where powers are given but not checked or even monitored. We never get to ask if £1,000 is a suitable penalty for someone dancing or entering a shop.
Local authorities' power to issue legal orders has also grown steadily over the past two decades. In the 2000s, they gained powers to restrict public drinking, dogs and leafleting, and the powers to issue anti-social behaviour orders (ASBOs) through a court. In 2014, they gained the powers to issue personal legal orders to individuals (Community Protection Notices and Warnings), as well as public legal orders (Public Spaces Protection Orders), without going through a court or any formal democratic / legal procedures. In 2019-20, local authorities issued 32,170 CPNs and CPWs, and there are now hundreds of PSPOs in place.
Local authorities have also moved into a community-policing role, a process beginning in 2000 with neighbourhood-warden schemes, which are funded by central government. Councils currently employ 898 neighbourhood wardens. They issue penalty notices, carry out patrols, and pass on intelligence to police and council officers for enforcement. These have now been joined by 1,867 Covid marshals, some of whom wear body cameras and report incidents to the council / police for enforcement. This means the growth of a shady 'semi-police', who claim to be advising and representing the public, but are in fact spying on them and passing on intelligence to police and council agents for enforcement.
The increasing blurring of distinctions between local authorities, police and private companies means that the distinctive mission of the local authority – the provision of local public services and the representation of people locally – is undermined. There is a growth of a 'policing complex', where a variety of state bodies collaborate as 'partners' in monitoring and issuing penalties to the public. Legal powers are used in ways that make a mockery of due process and proportionality, with the public on the receiving end of a 'postcode lottery', where the type of enforcement depends on the whim of council officialdom in your area rather than any comprehensible national standards.
The more this process continues, the more the local authority will lose its public claim to legitimacy. Criminal justice should not become little more than a tool used for the profit of officialdom, existing outside of legal checks and even outside of basic reporting and transparency.
To enquire about republishing spiked's content, a right to reply or to request a correction, please contact the managing editor, Viv Regan.