Come on you boring, woke whites!
Despite the PC propaganda and Southgate's 'Lockdown Football', we're all still cheering for England.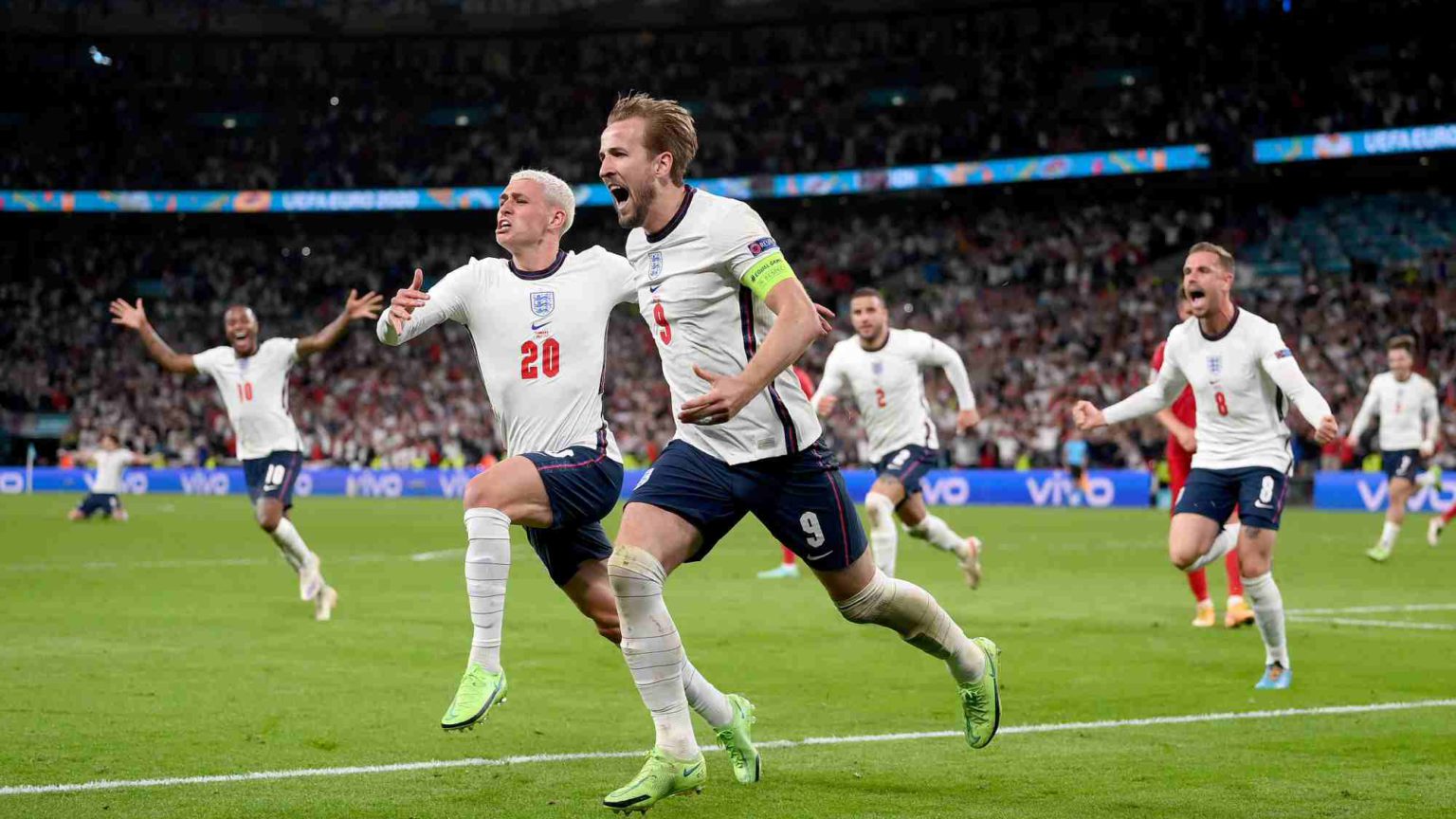 As the final whistle sounded last night, my local pub in north-east London united in a joyful singalong chorus of the traditional English anthem, 'Vindaloo' by Fat Les. (They don't do inoffensive crap like 'Sweet Caroline' in Walthamstow.) Having edged the Euros semi-final, England were in our first major football final for 55 years and the feeling was, in the words of Margaret Thatcher when Britain won the Falklands War, 'Just rejoice at that news!'.
But I confess to waking up slightly queasy this morning, with more mixed feelings about it all, and not only because of the beer consumed the night before.
Unlike some lefty miserabilists, I have no problem at all with the outburst of 'tribal' flag-waving patriotism suddenly surrounding the England team. That's all part of the adult panto of football. There are other things about the 'It's coming home' carnival, however, that make me feel less like singing 'good times never felt so good'.
Partly it's the mob of Janet-and-Johnny-Come-Latelys, from Boris and Carrie downwards, who know nothing and care less about football yet overnight have somehow become the most ardent England supporters and symbols of national unity. Media reports of fan celebrations inevitably focus on attractive young women rather than fat Les bursting out of his replica shirt, alongside articles by swooning columnists who admit they've always hated pleb-ball, but now really love 'the footie' and fancy Gareth Southgate.
These squealing blow-ins will also inevitably be the ones pictured in tears if England lose the final to Italy on Sunday. Fans who have endured lifetimes of 'hurt' with club and country tend to be more phlegmatic about football, understanding that ultimately it's only a game, an irrelevance, albeit the most meaningful irrelevance around.
Worse is the woke propaganda now surrounding football in general and the England team in particular, which spiked has highlighted for some time and which has come to a head around these Euros. Coach Southgate has been appointed Vicar of Wokeley, backed by a choir of pundits all singing from the same sanctimonious hymn sheet, issuing sermons to the nation about our sinful attitudes. Meanwhile, desperate bandwagon-jumping corporate sponsors assure us that the Euros are 'Hope United' and that 'Hate Will Not Win' if we learn to be 'Our Best Selves Online'.
The patronising message is that, in order to qualify as England supporters and gain admittance to the church, football fans have to cease being the racist mob of woke horror fantasies and take the knee to all of the new political and cultural orthodoxies. As an old mate texted me, it's almost enough to make you wish Big Sam Allardyce was still England manager – the football would still be dull, but at least we might be spared the PC lectures.
Ah yes, the actual football. This is the other big reason for my mixed feelings. Despite the Thursday headlines about 'Fairytale football', England have been contenders for the most boring team in the Euros. Southgate has got them playing what we might call 'Lockdown Football', based on the same safety-first precautionary principles that have dominated British politics and society throughout the Covid crisis. Like the government, even when Southgate allows a chink of freedom, he quickly wants to slam the door again – as when he finally brought on fans' favourite Jack Grealish against Denmark, then hooked the creative substitute off again after only half an hour.
So far, England have brilliantly executed Southgate's deadly dull strategy. It has worked, so why should anybody worry about us old moaners? But it is spirit-crushing stuff. What's more, against Denmark, it nearly came undone when England's much-vaunted defence started shaking and even Harry Kane missed the lucky penalty before scoring on the rebound. It will be much harder to bore Italy into submission in Sunday's final.
Yet hope springs eternal in football. Some of us remember not only the legendary World Cup win of 1966, but also past upsets in Euro finals – Denmark beating Germany, Greece beating Portugal, Portugal beating France. England beating Italy? Perhaps in a penalty shoot-out after a deathly draw? Dream on.
Either way, despite all the mixed feelings, when kick off comes on Sunday night I will be shouting for England with the best and worst of them. They might be boring, woke, sanctimonious celebrities, but they're our boring, woke, sanctimonious celebrities. In the words of the other classic anthem we sang joyfully outside the pub after last night's semi-final victory, 'We're shit / And we know we are!'.
To enquire about republishing spiked's content, a right to reply or to request a correction, please contact the managing editor, Viv Regan.