The myth of racist England
The commentariat has only exposed its own prejudices.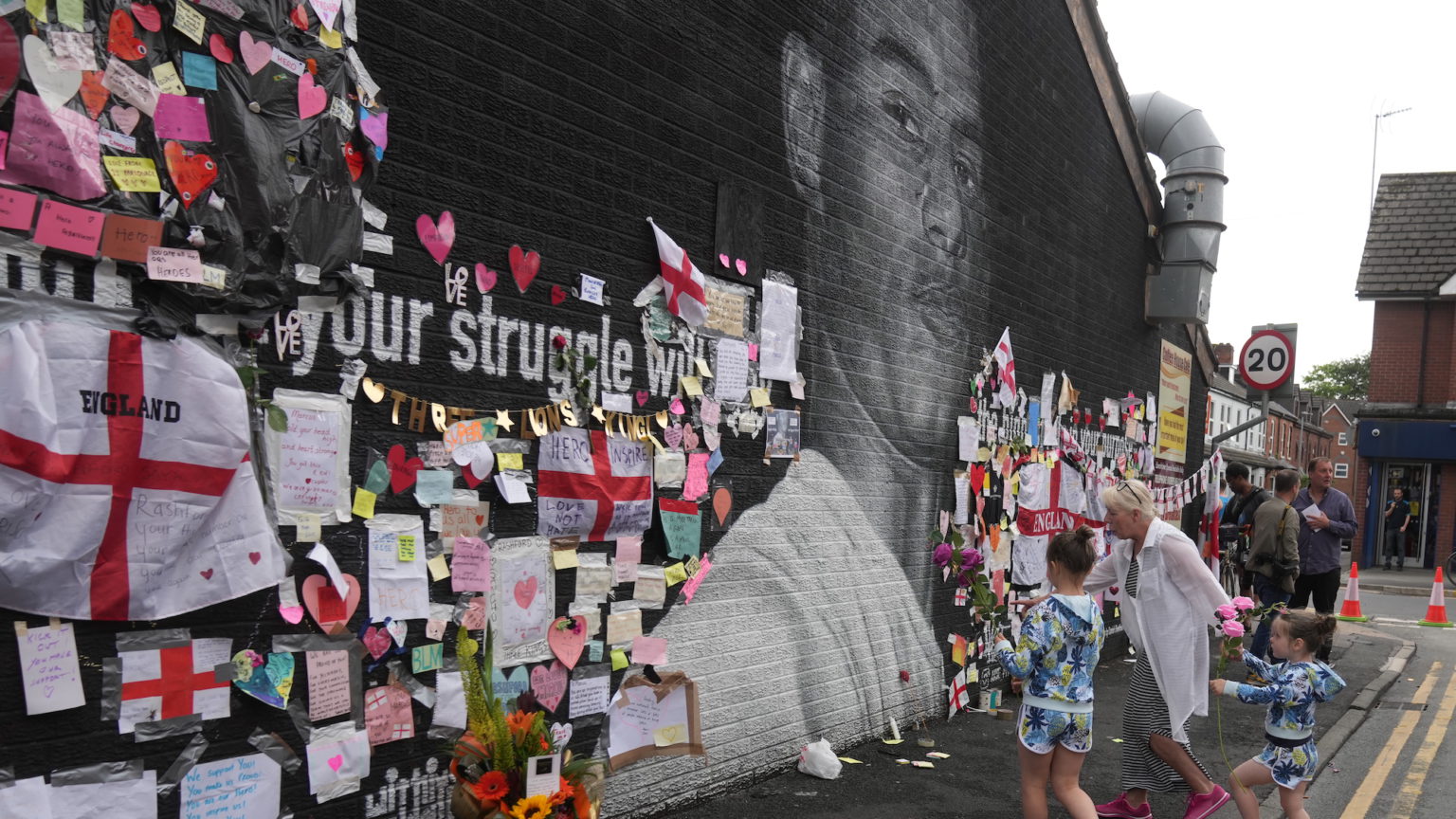 Perhaps I am too naive. I really did think that the Euro 2020 final would escape the relentless racialisation that has infected our society. I thought the England team would bring the nation together in a collective moment of shared euphoria. And I thought this really would drown out the tired attempts to shoehorn race into yet another national occasion.
After all, England had reached the final of an international football tournament for the first time in over half a century – and they were playing out the climax at Wembley, no less. Surely that would be enough to silence the tired, divisive bullshit we have had to endure since the killing of George Floyd kickstarted a ceaseless 'racial reckoning' over a year ago.
For a while during the final, this all looked possible. Luke Shaw scored, England were winning, and a nation was united in hope and expectation. Until we lost. On penalties. Three England players – Marcus Rashford, Jadon Sancho and Bukayo Saka – missed theirs, and that was that.
Then as the shock of defeat passed, the realisation hit me that those who have tirelessly sought to insert race and racism into just about everything were soon going to be out in force, all because the three players who missed their penalties are black.
And sure enough, within minutes of England's crushing defeat, the leftish Twitterati went to work. They urged fans not to be racist 'towards those players', all the while desperately looking for evidence that fans were doing precisely that. After all, this was too good an opportunity to miss for Twitter's virtue-signallers, always keen to berate England as a nasty, bigoted backwater.
They quickly found the instances of online racism they were looking for. It didn't seem to matter that most of the tweets seemed to come from fake accounts – recently activated and with low follower counts. Nor did it matter that these accounts often originated overseas, often in countries with significantly more racist populations than England – such as Italy, where fans still throw bananas at black players.
Then a mural in Manchester of penalty-misser Marcus Rashford was defaced. This was eagerly denounced as yet more evidence of racism by the right-on, and as a hate crime by Manchester police. That this vandalism consisted of the words 'shite' and 'bastard', rather than any actual racist terms, seemed to pass the Twitterati by. It was still treated as yet more proof of England's endemic bigotry.
There was one confirmed instance of an Englishman posting a racist remark about one of the three black England players who missed their penalties. It spread across the internet like wildfire. Within an hour, the Twitter warriors had his name, his work, and his family – enough to hang him with. That didn't sate the racist-finder generals, though. It just fuelled their hunger for more.
Momentum continued to gather around this overhyped tale of the racist abuse of England's footballers. Downing Street and the FA rushed to condemn it, with Boris Johnson describing the abuse as 'appalling'. The team deserved 'to be lauded as heroes', he said, 'not racially abused on social media'.
Not that condemning the abuse helped Johnson. Others were quick to berate Johnson himself for not doing enough to stop it. 'While the government equivocates, it has been left to Gareth Southgate to give a clear lead on racism', said a Financial Times editorial. The Guardian said Johnson 'should have done more to defend the England team' from 'an outpouring of online racist abuse'.
Meanwhile, few have bothered to question whether there really was an 'outpouring of online racist abuse' as has been described. Commentators have just accepted that there was, largely because that is what they want to believe.
If they had spoken to industry experts and security professionals, as I did, they might have had a better understanding as to what was going on. Those experts told me that racist abuse of English footballers does exist, but that much of it comes from foreign accounts and bots. It doesn't come from frustrated and virulently intolerant English people firing off salvos of abuse while pissed up and pissed off.
Manager Gareth Southgate must have recently been told the same. He explained to no-doubt disappointed reporters yesterday that a lot of the abuse 'has come from abroad – people that track those things have been able to explain that'.
These are the cold and sober facts of the matter. The alleged 'outpouring' of racist abuse against black English players online by hordes of racist English fans simply did not happen. But few in the media seem interested in the facts. Instead, they continue to churn out headline after headline about the rising menace of online racism and hate.
If there is a blinkered and racist England, it does not exist out there, in our towns and cities. It exists in the heads of lefty activists and grandstanding columnists who really don't know England at all.
Charlie Peters is a writer. Follow him on Twitter: @CDP1882
To enquire about republishing spiked's content, a right to reply or to request a correction, please contact the managing editor, Viv Regan.