Fearmongering is no way to win over vaccine refuseniks
We need to appeal to people's reason – not batter them into submission.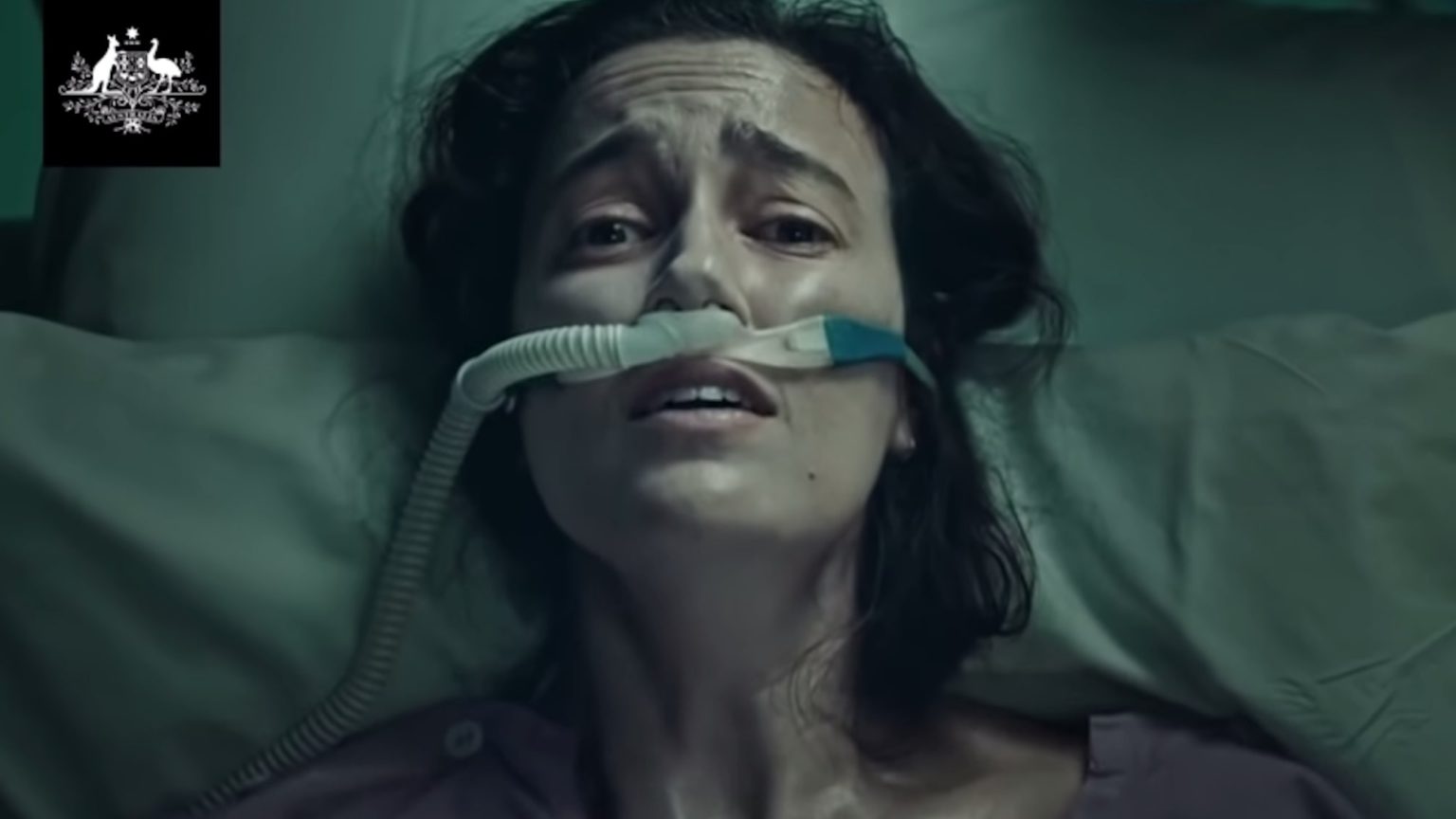 The Australian government has released an incredibly disturbing 'Covid awareness' advert. It shows a young woman lying in a hospital bed, gasping for breath, in a state of total panic.
It is distressing to watch. I know people who are terrified of getting Covid-19 and who would be profoundly affected by this video. That's not to mention how disturbing it might be for those who have lost loved ones to the virus.
The advert is supposed to improve vaccine take-up among young people. No responsible government should be using these tactics. They are authoritarian and manipulative. And they callously imply that unvaccinated people have themselves to blame if they become ill.
Sadly, the Australian advert is hardly the first of its kind. Last year in the UK an advert was released at Christmas time by an organisation called NHS Charities Together. It showed a Covid-stricken Father Christmas being wheeled into hospital, unconscious, with an oxygen mask over his face. The people who made the film clearly had no consideration for how their portrayal of Santa on the verge of death might affect young children who still believe he is real. After receiving a lot of criticism from parents, the video was taken down.
Of course, we shouldn't overestimate the influence of over-the-top adverts like these. Most of the time, people will dismiss them or forget about them. But we live in unusual times, and this kind of messaging is stoking fears that were already heightened.
This atmosphere of fear has consequences. Fearful people are more likely to support harsher restrictions on their fellow citizens. Fear-based messaging can be divisive and corrosive of social bonds. In my neighbourhood, during the lockdown, people called the police on a cancer-charity bake sale and on a children's birthday party – even though the latter was being celebrated by a large family who already lived together.
The ends do not justify the means. If you want people to take the vaccine, addressing their concerns is much more effective than trying to shame them into compliance. In fact, research shows that these tactics make people more likely to withdraw and become unreachable.
Jessica Kaufman, an Australian researcher looking into vaccine hesitancy, has heavilily criticised the Australian government's film. 'We've seen, with vaccination in particular, that fear campaigns or scary messages about diseases can actually cause people to become more fearful of vaccine side-effects', she told the Guardian. She has also argued that this kind of video makes people more distrustful of the government.
An endocrinologist once told me that the best way to help someone manage diabetes is not to shame them for their diet, but to try to understand their lifestyle and help them make the adjustments that will improve their condition. The same is true for all health problems. People need to be able to think clearly and calmly, especially during a pandemic. They should be empowered to assess risk for themselves so that they can make the right decisions.
We must treat people like adults, appeal to their reason and respect their autonomy. Any other approach is counterproductive and wrong.
Candice Holdsworth is a writer. Visit her website here.
To enquire about republishing spiked's content, a right to reply or to request a correction, please contact the managing editor, Viv Regan.