How did the experts get Freedom Day so wrong?
Fears of reopening – and the effectiveness of restrictions – were greatly exaggerated.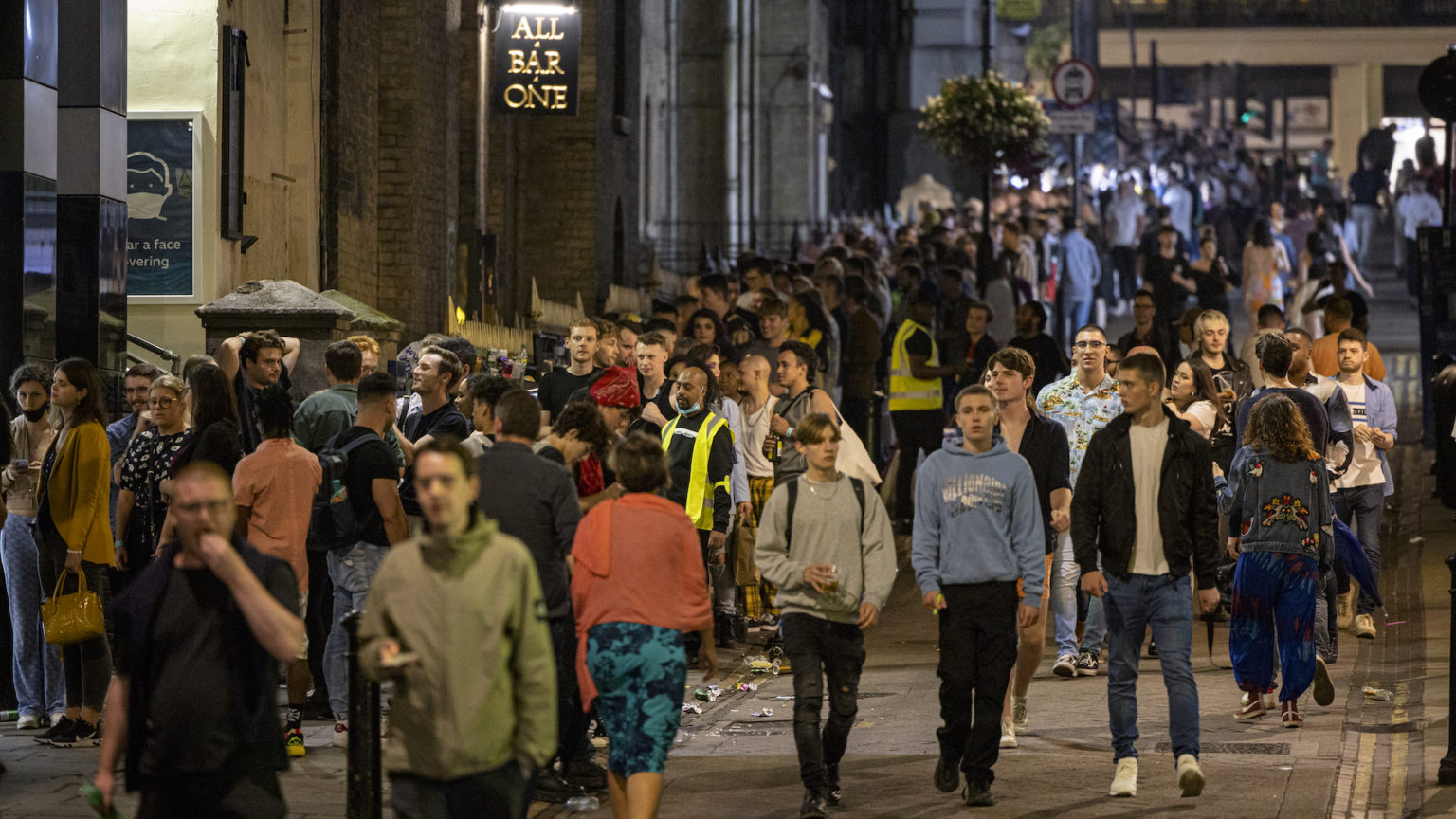 Those of us who are sceptical about the use of lockdowns, mask mandates and other restrictions in dealing with Covid-19 have no reason to be afraid of data. We know cases can go up and down, and that these movements may coincide with both the imposition and lifting of restrictions. We can even accept that some restrictions may have a causal impact on cases in some instances.
Our contention, supported by the evidence, is that lockdowns do not have enough of an impact on deaths or hospitalisations that would come close to justifying the huge costs they impose on society.
Proponents of lockdown measures have no such luxury. Unless restrictions have a large impact on hospitalisations and deaths that can be clearly observed in the data, the whole basis for lockdown disappears.
Perhaps that is why some lockdown extremists have reacted with dismay to the fact that Covid cases have fallen so sharply in England over the past week. The seven-day average of reported cases has decreased by a quarter since its peak on 18 July.
Those clinging to the bizarre hope that the fall will be temporary might want to avoid glancing northwards. Cases in Scotland have also been falling rapidly for nearly four weeks, while hospitalisations and deaths also appear to have peaked.
It is possible that factors like the Euros, school holidays and the large numbers of people isolating are playing some role in the reductions. But if you look at the global picture, England is not alone. For instance, India – where the Delta variant originated – experienced a rapid, sustained reduction in cases from early May. Cases have peaked and are now falling in other countries, such as the Netherlands, Malta, South Africa, Greece and Portugal. Some of these were in the Euros, but others weren't.
Whatever the reasons for the recent fall in Covid cases in England, it is striking that it has happened without any additional restrictions. The BBC suggests that this is the first time infections have fallen without a lockdown, conveniently ignoring the evidence that infections were falling in England before each of the previous national lockdowns. And still there is little mention in most of the British media of the fact that infections fell for some months in many US states after they ended all restrictions.
Putting these media blind spots to one side, the English data make it impossible to sustain the position that lockdowns and restrictions are needed for cases to fall.
Let's also not forget that, despite a very high level of cases in recent weeks – not far off the peak levels we had back in January – deaths rose much more slowly. Currently there is an average of just over 40 deaths per day in England. Given the lag between infections and deaths, this will increase over the next week or two before falling in line with the cases. The peak of deaths during this current wave will almost certainly end up being less than 10 per cent of what we had back in January.
This is important for several reasons. First, it means we can say with some confidence that even if there is a bigger wave of cases in the autumn or winter, hospitalisations and deaths shouldn't rise enough to spook the government. Indeed, the latest data should convince the government to rule out any return to serious restrictions, whether at national or local level, once and for all.
The lack of deaths also shifts the cost-benefit balance of the whole test, trace and isolation strategy. The so-called pingdemic is currently placing an enormous strain on the hospitality industry, on supermarket supply chains and on the NHS. The health benefits of track and trace have always been questionable relative to its huge cost. But when the link between infections and deaths has been weakened, this, in turn, reduces the marginal benefit of compulsory isolation. The government can now safely move towards a voluntary system of advice and guidance – both for those testing positive and, especially, for their contacts.
The recent good data should also blow any case for vaccine passports out of the water. The public-health case for vaccine passports has always been weak. Yes, the vaccines protect people from serious illness. But they do not prevent infection entirely, and even vaccinated people can be at least somewhat infectious. The costs of vaccine passports – to the economy and to civil liberties – seem even more pointless now that England has shown it can ride out a significant increase in cases, without the serious health consequences of earlier waves.
The modellers and lockdown enthusiasts were adamant that Freedom Day on 19 July would lead to huge increases in cases and deaths. As recently as last week, Neil Ferguson claimed that the full reopening would lead to at least 100,000 new cases per day and quite possibly 200,000. While it is true that the majority of the fall in cases can be traced back to infections that occurred before the reopening, the very latest data suggests that infections continued to fall in the first few days after Freedom Day. New positive tests seem to have peaked with an average of well under 50,000 per day.
Who knows if this fall will be sustained. But if it is, there is going to be a lot of egg on a lot of faces.
David Paton is professor of industrial economics at Nottingham University Business School. He tweets as @CricketWyvern. He is a member of the Health Advisory and Recovery Team (HART).
To enquire about republishing spiked's content, a right to reply or to request a correction, please contact the managing editor, Viv Regan.