Stop blaming Brexit for supermarket shortages
The pandemic is still causing extraordinary disruption to supply chains.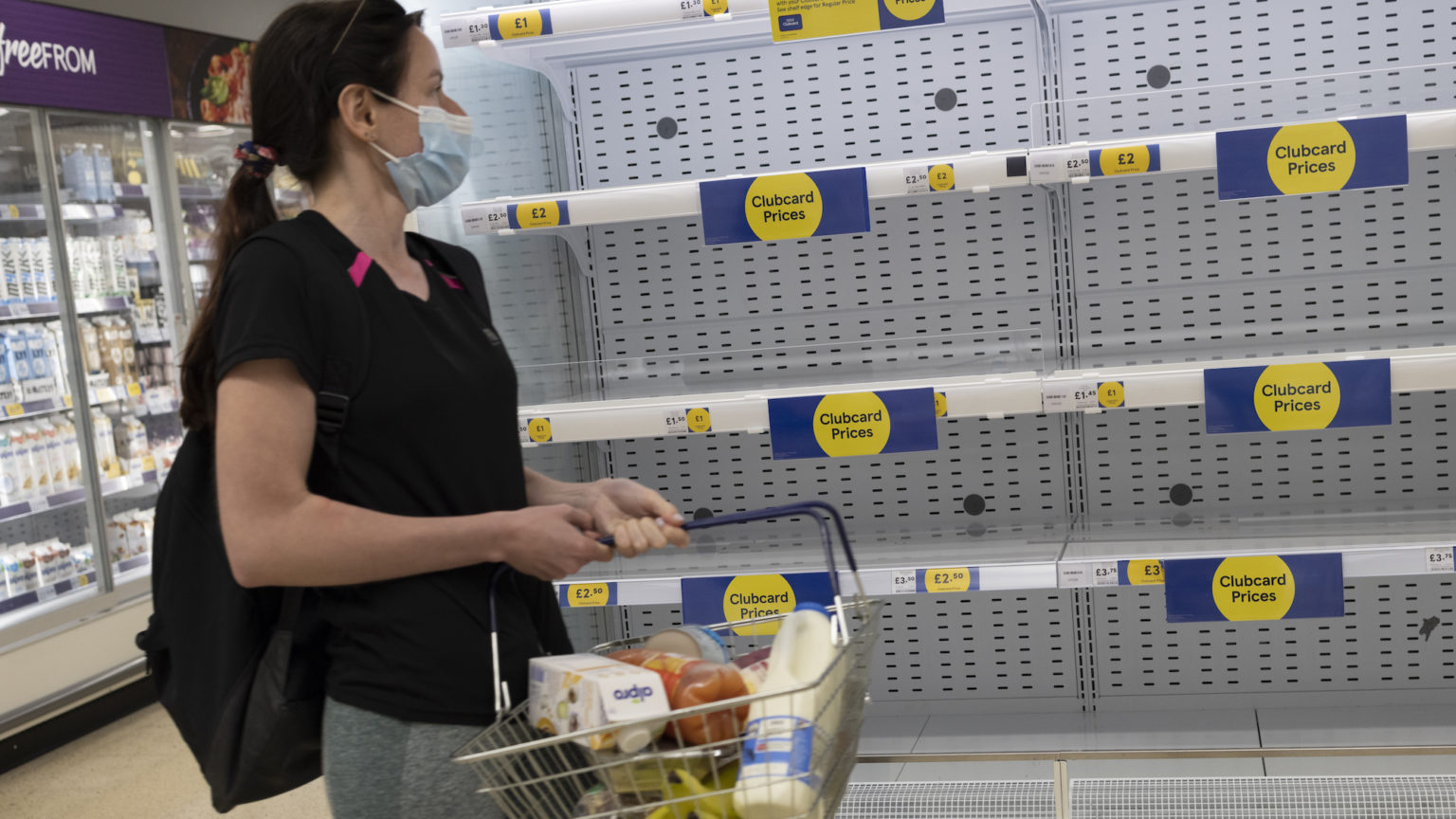 'Brexit caused this… If you voted for Brexit you can fuck off out of here… You thick twats.'
These are a few of the captions photoshopped on to an image of empty supermarket shelves that is doing the rounds on #FBPE Twitter. The message is clear: shortages in British shops are a result of Brexit and those who voted Leave are now reaping what they sowed. The image has been retweeted by Labour MP Chris Bryant and other prominent Remainers.
Over the past few weeks, a narrative has been gaining ground that, for some reason, Brexit is the real cause of the shortages. AC Grayling said last week that Brexiteers are 'falling over themselves to blame Covid and pings for empty shelves. Truth: Brexit: shortage of HGV drivers. Brexit: delays at ports. Brexit: food rotting in fields.' Similarly, Dragons Den star Deborah Meaden claimed that the shortage of lorry drivers – a key reason for the shortages in shops – was 'pure Brexit'.
But is Brexit really to blame for the shortages? What do the statistics actually tell us? Industry body Logistics UK estimates that we need 90,000 more heavy-goods vehicle drivers. Around 25,000 of these drivers are likely EU citizens who haven't returned to work since Brexit (ie, slightly less than a third of the total). But there are other factors at work here, as Logistics UK points out. One of the many things the pandemic has disrupted is the recruitment of new lorry drivers. There is currently a massive backlog of lorry-driving tests – around 45,000. These tests are expected to result in around 25,000 newly qualified drivers when completed. In other words, getting on top of the testing backlog could single-handedly make up for the emigration of EU drivers.
That's before we get to the so-called pingdemic. In the week to 21 July, nearly 700,000 people were asked to self-isolate by the NHS Test and Trace app. More than 500,000 were contacted directly by Test and Trace call handlers, which carries a legal obligation to isolate. And over 300,000 people tested positive for the virus. In other words, around one-and-a-half million people were either advised or ordered to stay at home in a single week.
These are staggering numbers of people missing from the workforce. Pressure on key sectors including food and logistics is so intense that the government has been forced to start exempting some workers from self-isolation, if they can provide a negative Covid test. Retailers say the current amendments don't go anywhere near far enough and are demanding more exemptions.
It's not just the UK that is struggling. Those blaming the shortages on Brexit face a tough time trying to explain why there has been similar supply-chain disruption in other countries, too. In the US, there are huge labour shortages. In April alone, four million people quit their jobs. Between mid-February last year and mid-June this year, job openings in transportation and logistics more than doubled. Last month, some petrol stations almost ran out of petrol due to a lack of tanker drivers. Is Brexit to blame for all this, too?
Blaming Brexit for everything that goes wrong inevitably means failing to tackle the problems we face head on. First, the government should seriously consider making self-isolation voluntary, especially now that most of the country is double-jabbed. Second, it must do more to ease pressure on the haulage industry. Thankfully, the Department for Transport has recognised the HGV testing backlog.
Companies should do their bit by paying higher wages to drivers. Tesco, for example, is offering a £1,000 'signing-on fee' to new lorry drivers. Initiatives like this will help to spur on the recovery of our supply chains. Moaning about Brexit will not.
It would be foolish to say that Brexit has had no impact on the economy at all. Leaving the world's largest trading bloc after decades of market integration was never going to be an entirely smooth process. But these teething problems pale in comparison to the impact of the pandemic – one of the most economically disruptive events for centuries.
There will always be those who want to blame everything bad on Brexit – but the evidence just doesn't stack up.
Paddy Hannam is editorial assistant at spiked. Follow him on Twitter: @paddyhannam.
To enquire about republishing spiked's content, a right to reply or to request a correction, please contact the managing editor, Viv Regan.