Mother Teresa: from saint to sinner and back again
Teresa has long been attacked by the smart set – but now one of her foremost critics has changed his mind.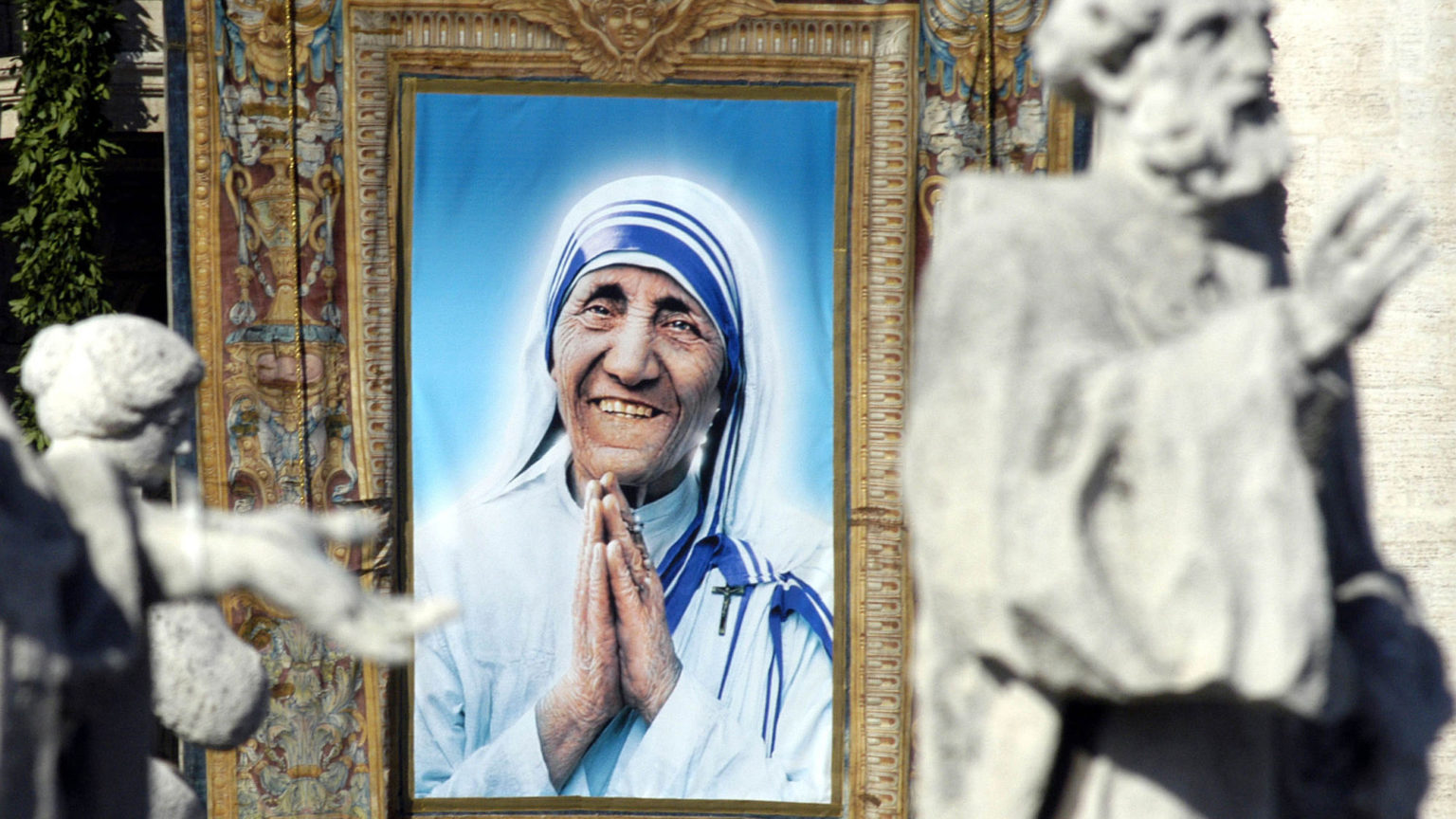 Gëzim Alpion's previous monograph on Mother Teresa – 2007's Mother Teresa: Saint or Celebrity? – painted a far from favourable portrait. Alpion described how Teresa had carefully managed her image and 'brand' in a similar way to modern celebrities. And he cast her as self-serving and somewhat narcissistic.
Alpion's latest work, Mother Teresa: The Saint and Her Nation, is much more sympathetic towards its subject. In part, this is because Alpion has access to new information and sources.
Both Celebrity and Nation place great emphasis on the early part of Teresa's life, from her birth on the eve of Albanian independence in 1912 to the death of her father when she was 12 years old. And both explain Teresa's calling and commitment to God as her way of managing her grief. But whereas Celebrity never questioned Teresa's religious commitment, Nation describes her faith as tormented and plagued by doubt.
This shift in perspective is mainly the result of the discovery of a family member previously unknown to Alpion. Teresa's first cousin, Filomena, who lost her parents and siblings to the Spanish flu, was taken in by Teresa's mother in 1922. Filomena and Teresa then shared a room for six years and became close enough to consider each other sisters.
Alpion travelled to Melbourne to interview Filomena's surviving family members (she settled in Australia in 1952, and died in Melbourne in 1979). He was also able to review archival documents with new details about Teresa's background, as well as personal correspondence between Teresa and Filomena. This new material has resulted in some factual changes. For example, in Nation, Teresa is referred to by her childhood name, Gonxhe, rather than Agnes, as in Celebrity. Nation explains that Gonxhe was the name Teresa believed her father gave her, and it was the name she grew up with and the one used by her family members throughout her life.
In addition, Alpion also uncovered new material regarding Teresa's grandparents, which is where Nation really starts to diverge from Celebrity. Celebrity framed Teresa as a product of 'celebrity culture', and explored how she actively constructed her celebrity status. Nation, in contrast, seeks to understand her in terms of her cultural and genetic inheritance.
Teresa's Albanian ancestors were among the many Roman Catholics forcibly evicted from Kosovo in 1690, during the period of Ottoman rule. Alpion explains that many refused to 'forget the places they had been forced to leave behind in Kosovo'. And so, when it was relatively safe to do so, they migrated back. Teresa's grandparents did precisely this in the mid-19th century.
The move was not to last. Teresa's paternal grandfather, Ndue, was almost certainly involved in one blood feud following the murder of his father, after which he was probably paid off to put an end to any vendetta. Any payment, however, is unlikely to have been sufficient to fund the large house that Ndue built in Kosovo. Rumours spread about a second blood feud, along with more outlandish claims of Ndue being a middleman for feuding families, or even a hitman. In his late sixties, Ndue avenged his father's death and was then himself killed in retaliation. The blood feud continued via Ndue's 16-year-old son, who quickly avenged his father's death only to be himself killed shortly afterwards. Teresa's grandmother and her remaining two children fled Kosovo and returned to Albania in the early 1890s.
Alpion argues that we can understand Mother Teresa 'through the study of a special "DNA"… so-called "sociological fossils". Such "fossils" are transmitters of a collective depository, which – sedimented in the subconscious of the members of a particular group – are perpetually passed from one generation to another.'
Alpion argues that these 'sociological fossils' – from the long history of Albanian Catholics' repression to the painful experience of her father's death – compelled Teresa towards spirituality. By the age of 12, death, mourning, mystery, intrigue and religion had become fixtures in Teresa's life. It was then that she announced her wish to become a nun, a wish she fulfilled six years later.
Teresa characterised this 'first call' to God not as a 'vision', but as an epiphany. Alpion says this was 'a subconscious reaction to what was going on in her worldly life when she was becoming a teenager'. Alpion also reveals that Teresa's effort to resolve her grief through spirituality was never entirely successful. Throughout her life as a nun, Teresa suffered from the 'dark night of the soul', doubting God's existence and questioning her faith.
In 1946, Teresa witnessed the Day of the Great Killing in Calcutta, the huge Hindu-Muslim riots in Bengal, India, which left between 5,000 and 10,000 dead. This triggered a 'second call' to deepen her devotion to Jesus in service to the poor, and to overcome her 'dark night of the soul'. Teresa then left her Loreto convent, moved into the slums of Calcutta, and continued her own version of missionary work through her Missionaries of Charity, founded in 1950.
Nation casts Teresa as a vehicle through which psycho-social events play out. This makes her more passive than the Teresa of Celebrity, who was an active creator of a persona. In Nation Teresa is no longer acting to protect her celebrity image. Instead she's motivated by a 'fossilised' psychosocial desire to protect her family honour and heritage:
'Rather than simply an indication of her modesty or piety, her reticence about her private life and family members was related to three "weakest links". She avoided talking about her childhood as she never came to terms with losing her father. She kept quiet about her brother because he had served in Mussolini's army. She remained silent about her mother and sister, living in Tirana during the Communist regime, [so as] not to make their life more difficult.'
The Teresa of Nation is a far more sympathetic figure than that of Celebrity. For example, when the then president of Albania, Sali Berisha, offered Teresa an apology for the mistreatment she and her family suffered under the Communist regime, Alpion writes that the 'offer was declined by the nun with her characteristic humbleness by saying that she had forgiven them all'. The Teresa of Celebrity was never humble, let alone possessed of 'characteristic humbleness'.
What's remarkable about all this is that Alpion never addresses the profound alteration in his view of Teresa in Nation. Celebrity is not indexed, and is only mentioned in Nation once – in the short conclusion. One might even think the two books were written by separate authors, except for the fact they share the same difficult, dense style.
Nevertheless, serious scholars and casual readers alike will find much to ponder in Nation – a book that at the very least enriches our understanding of one of the 20th century's most enduring figures.
Stuart Derbyshire is an associate professor of psychology at the National University of Singapore.
Mother Teresa: The Saint and Her Nation, by Gëzim Alpion, is published by Bloomsbury Academic India. (Order this book from Amazon(UK).)
Picture by: Getty Images.
To enquire about republishing spiked's content, a right to reply or to request a correction, please contact the managing editor, Viv Regan.