The manufacturing of a hate-crime epidemic
Rainbow police cars are patrolling the streets to tackle a crime wave that isn't happening.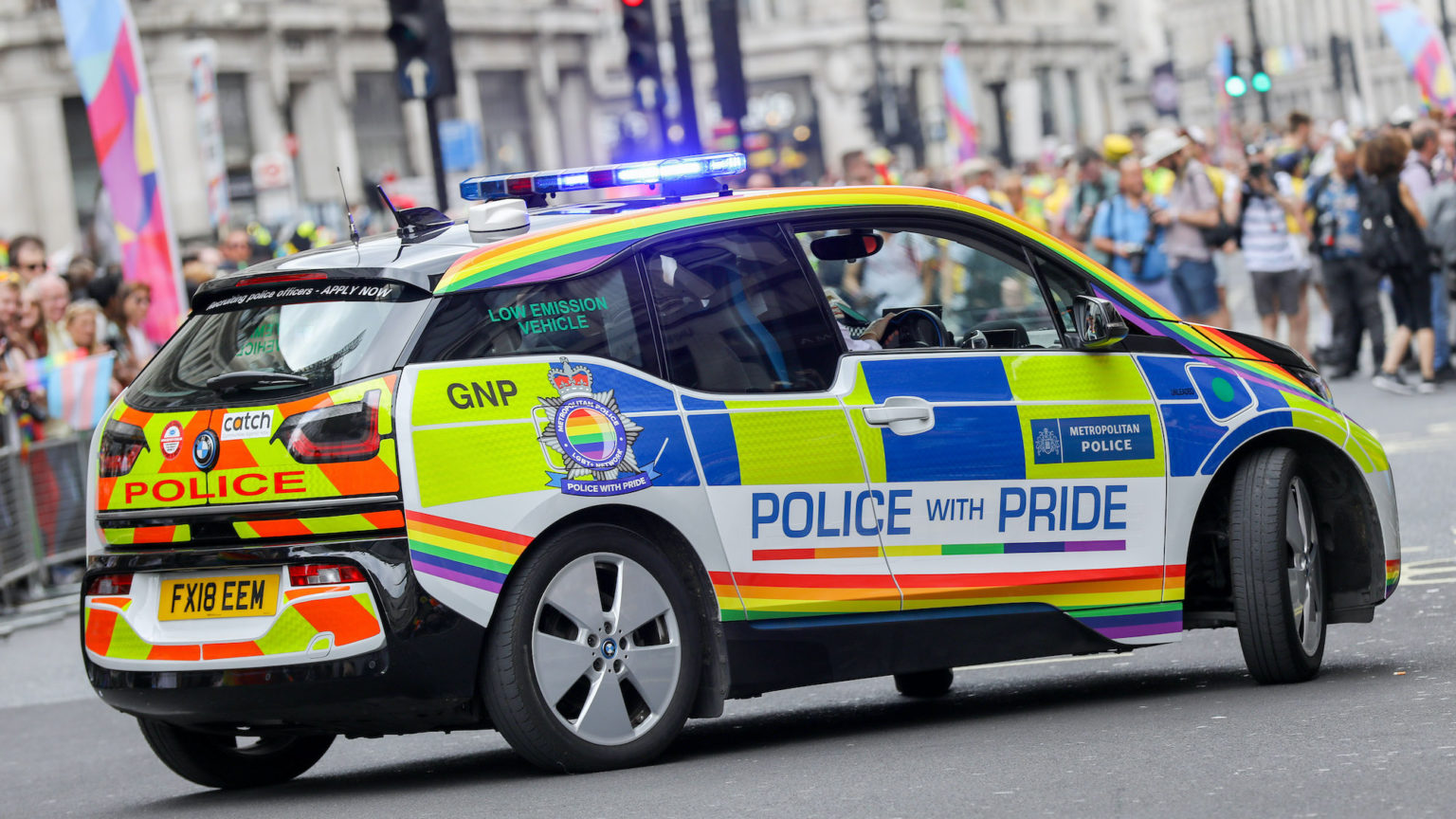 The British police have had a fabulous rainbow makeover. You may have even seen a rainbow-coloured 'hate-crime car' patrolling your neighbourhood.
Defending the rainbow cars, Julie Cooke, the LGBT+ lead for the National Police Chiefs' Council, says they are necessary to raise awareness of hate crime. In a video for social media, Cooke – dressed in rainbow epaulettes and a rainbow lanyard, sitting in front of a rainbow flag – claims that when people see these rainbow cars in the community, it gives them the 'confidence' to come forward and report hate crimes to the police.
The rainbow-car campaign rests on the assumption that too many hate crimes go unreported. The police seem to have convinced themselves that there is a hidden epidemic of hate crime. And so they have devoted a huge amount of effort and resources to 'raising awareness' of these crimes to encourage more reporting.
In truth, this is a largely manufactured problem. The authorities, wittingly or not, have exaggerated the scale of hate crime. We can see this in the way that, every year, the number of police-recorded hate crimes rises while other indicators of hate crime continue to fall. Every year, there is a media outcry when the police release their hate-crime statistics. And every year, those same statistics are accompanied by an important caveat that gets lost in the hand-wringing over what a nasty, racist nation we are apparently becoming.
According to the Home Office, 'increases in police-recorded hate crime in recent years have been driven by improvements in crime recording and a better identification of what constitutes a hate crime'. In contrast, measures of hate crime that are unaffected by changes in policing or recording methods, such as the Crime Survey for England and Wales, show a 'long-term decline in hate crime'. Between March 2008-09 and March 2019-20, the number of hate crimes actually fell by an extraordinary 38 per cent.
Much of the explosion in police-recorded hate crime can be traced back to guidance produced by the College of Policing in 2014. The 'Hate Crime Operational Guidance' makes clear that hate crime is an entirely subjective category. The 'defining factor' in whether something is measured as a hate crime, it says, is 'the perception of the victim, or any other person'. The guidance also says that 'targets that see success as reducing hate crime are not appropriate'. On the contrary, police are supposed to measure their success by 'increas[ing] the opportunity for victims to report'. This is what the Home Office means when it says that improvements in recording hate crimes cannot be taken as evidence that hate crime is increasing.
There is also a large discrepancy between the rising number of police-recorded hate crimes and the falling number of hate crimes that are successfully prosecuted. Despite the fact that the Crown Prosecution Service (CPS) has put a great deal of focus on hate crime, hate-crime prosecutions peaked in 2015-16 with 15,442, falling to 10,679 in 2020-21. The CPS, in its most recent annual report on hate crime, expresses concern about a 'growing gap between the number of hate crimes reported to the police and the number of cases being sent by the police to the CPS for prosecution'. This seems to suggest that the police are recording weaker cases of hate crime that are unlikely to result in prosecutions.
But the authorities continue to insist that the real problem is that not enough people are coming forward to report hate crimes, or that the police are not doing enough to investigate them. The 'solution' to this perceived problem is always more 'awareness-raising'. Hence the rainbow patrol cars. But what if the awareness-raising is actually part of the problem? People do not need their awareness to be raised to know that burglary or assault should be reported to the police. But when it comes to hate crime there is a great deal of confusion about what constitutes a crime. And much of this confusion is coming from the police themselves.
Many police campaigns over the years have encouraged people to come forward to report things that are not crimes at all. For instance, earlier this year, a group of police officers turned up outside an Asda in the Wirral with a digital advan, warning unsuspecting shoppers that 'being offensive is an offence'. Most of us might instinctively think of a hate crime as someone being beaten up or harassed on the street, but the van made clear that what the police are really interested in tackling is offensive comments. Following a backlash to the campaign, superintendent Martin Earl released a statement attempting to clarify that '"being offensive" is not in itself an offence'.
This was no isolated incident. In 2016, Greater Glasgow Police tweeted an ominous warning to social-media users: 'Think before you post or you may receive a visit from us this weekend.' This was posted alongside a graphic that told users to consider if their posts were 'true', 'hurtful', 'illegal', 'necessary' or 'kind'. In 2018, South Yorkshire Police, as part of its Hate Hurts campaign, called on social-media users to refer any 'offensive or insulting comments' to officers. Instead of providing clarity for the public about hate crimes, these awareness-raising campaigns reveal that not even the police actually know what is and isn't a crime.
This line between crime and non-crime is blurred even further by the Orwellian phenomenon of 'non-crime hate incidents'. These are incidents logged by the police that are 'hateful' but do not meet the threshold for an actual crime. Much like actual hate crimes, the only criteria for deciding whether an incident is hateful is the perception of the accuser. Since anything can be hateful, and any non-criminal act can be an incident, literally anything can be recorded as a non-crime hate incident.
The category of non-crime hate incidents was actually created by the 2014 College of Policing hate-crime guidance. Between 2014 and 2019, 34 police forces recorded almost 120,000 non-crime hate incidents. The growth of these incidents also adds to the false impression of rising hate crime. And although the recording of these incidents is not supposed to affect the data on police-recorded hate crime, a Telegraph investigation revealed that at least one police force, Cheshire Police, has admitted to conflating crimes and non-crimes in its hate-crime records.
Rainbow patrol cars are merely the most absurd and visible expression of the dangerous feedback loop the authorities have created here. As more resources are piled into 'raising awareness' and investigating hate crime, the police end up with more reports. The rise in reporting then feeds into yet more demands for awareness-raising and more resources to tackle hate crime. All the while, the police insist the the true scale of hate crime remains hidden.
Ironically, the hysteria over hate crime springs from a kind of prejudice. The authorities are all in agreement that the British people are backward, bigoted and are consumed with hatred for minorities. The plain fact that hate crime is falling is not enough to shake this widespread and deeply held belief. Perhaps this calls for an awareness-raising campaign?
Fraser Myers is assistant editor at spiked and host of the spiked podcast. Follow him on Twitter: @FraserMyers.
To enquire about republishing spiked's content, a right to reply or to request a correction, please contact the managing editor, Viv Regan.