A rotten deal for Scotland
The new SNP-Green pact will push Scotland down an even more authoritarian path.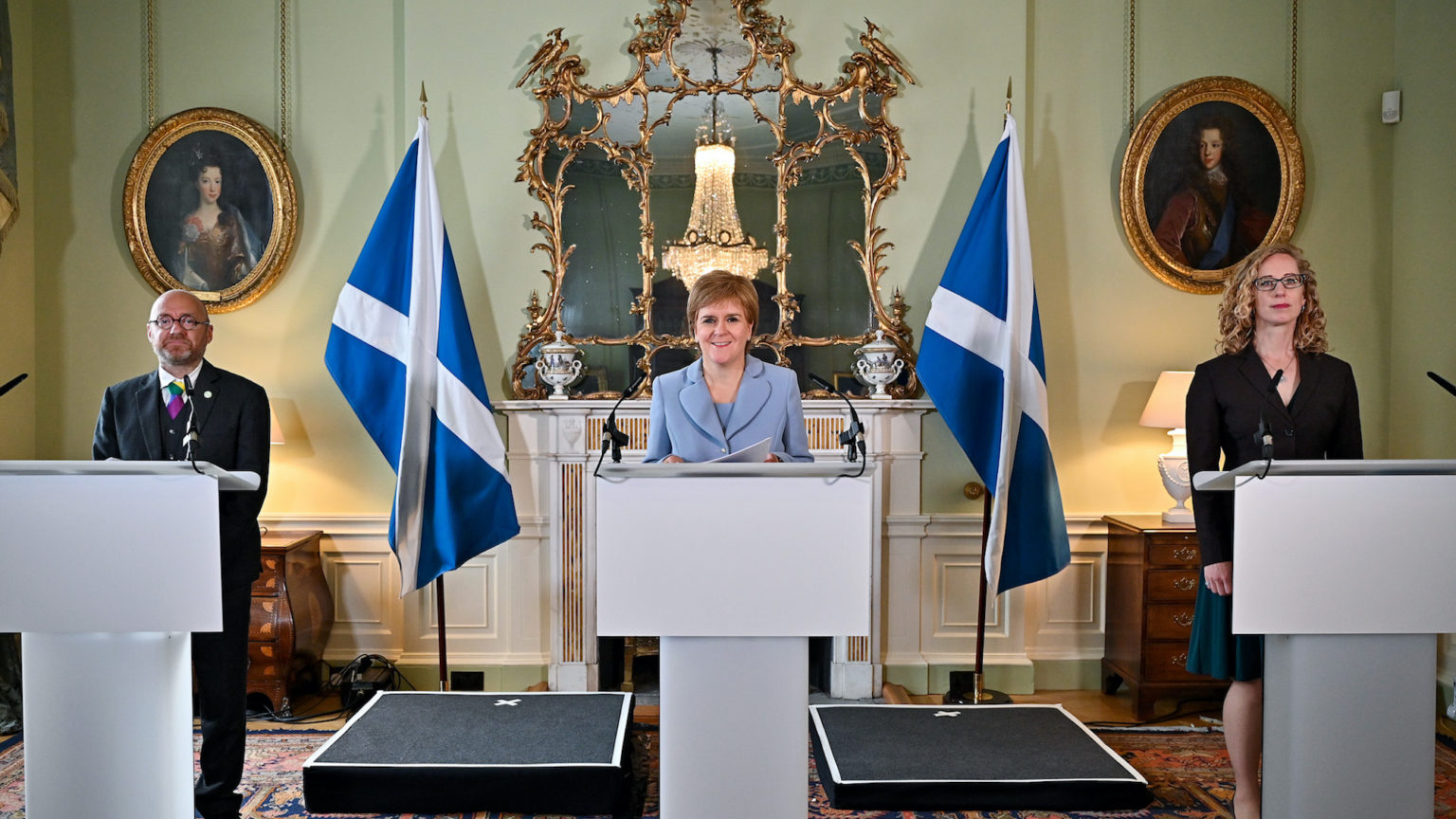 A power-sharing agreement between the SNP and the Scottish Green Party was announced on Friday. For the first time in British history, Green Party politicians have been welcomed into government. Scottish Green co-leaders Patrick Harvie and Lorna Slater are expected to be given roles as junior ministers. On paper, the coalition is a means of achieving a pro-independence majority at Holyrood. The Scottish government will use this to pressure Westminster into endorsing a second independence referendum.
But before independence supporters get too excited, they must ask themselves: where's the catch? The Scottish Greens have been pro-independence for years. Backing the SNP in its quest for another referendum is not a compromise for the Greens. They will have demanded far more from the SNP in return for their allegiance. Environmental policies will certainly have featured in discussions. But a glance at the official 'Draft Shared Policy Programme' shows that it is on social policy, more than anything else, that the SNP has given the most ground.
For example, the agreement states that legislation to reform the Gender Recognition Act will be introduced. The Greens have long called for changes to the Act, while some in the SNP have opposed this. The agreement also announces legislation to implement a ban on so-called conversion therapy. This legislation could be used to shut down critics of trans ideology as well as religious believers who voice traditional church teachings on sexuality.
The Scottish government may have wanted to introduce some of these policies even before it made the agreement with the Greens. But regardless, the deal ensures that these policies will be prioritised in the current parliament. They will also be crafted in a manner that is acceptable to the Green Party. Given the illiberal and identitarian tendencies of the Greens, this is a deeply worrying prospect.
Maggie Chapman, one of the party's newest MSPs and its equality spokesperson, embodies this identitarian zealotry. She recently defended the head of a rape-crisis centre in Scotland who said that 'bigoted' rape victims seeking support from the centre should have their 'unacceptable beliefs' challenged. The 'bigots' she was referring to were women who expect rape-crisis centres to be female-only spaces.
Under Harvie's long tenure as co-leader, the Green Party has become profoundly intolerant. He refuses to entertain any dissenting voices on trans issues. In 2006, he also infamously attempted to get a Catholic archbishop prosecuted for arguing that civil partnerships undermine marriage.
This hostile atmosphere towards dissenting voices drove former MSP Andy Wightman to resign from the Greens last year. He said there was a 'bullying' culture in the party. Wightman was attacked for attending an event about women's sex-based rights. In a blog post about his resignation, he wrote: 'I resigned because I could no longer work in such an environment… I need an environment that is more tolerant, more questioning, more critical, more empathetic and more willing to listen.' Given the party's intolerant culture, having Green MSPs at the heart of government can only be bad news for free speech.
It's also worth noting which policies are conspicuously missing from the SNP-Green Party agreement. Arguably the biggest crisis facing Scotland is the scourge of drug deaths. In 2020, 1,339 people died due to drugs in Scotland. This was the worst rate of drug deaths in Europe. Yet there is no mention of drugs policy in the draft policy programme. The plight of drug users and other people in need has been pushed aside in favour of a woke agenda.
The SNP may view an agreement with the Greens as a necessary step towards the next independence campaign. However, many Scots, including some supporters of independence, will wonder if it is worth the cost of inviting the profoundly illiberal Scottish Greens into the corridors of power.
This is a rotten deal for Scotland.
Jamie Gillies is a campaigner and political commentator.
To enquire about republishing spiked's content, a right to reply or to request a correction, please contact the managing editor, Viv Regan.