The madness of Australia's Covid rules
Aussies have been told to avoid talking to their neighbours and to wear a mask when driving alone.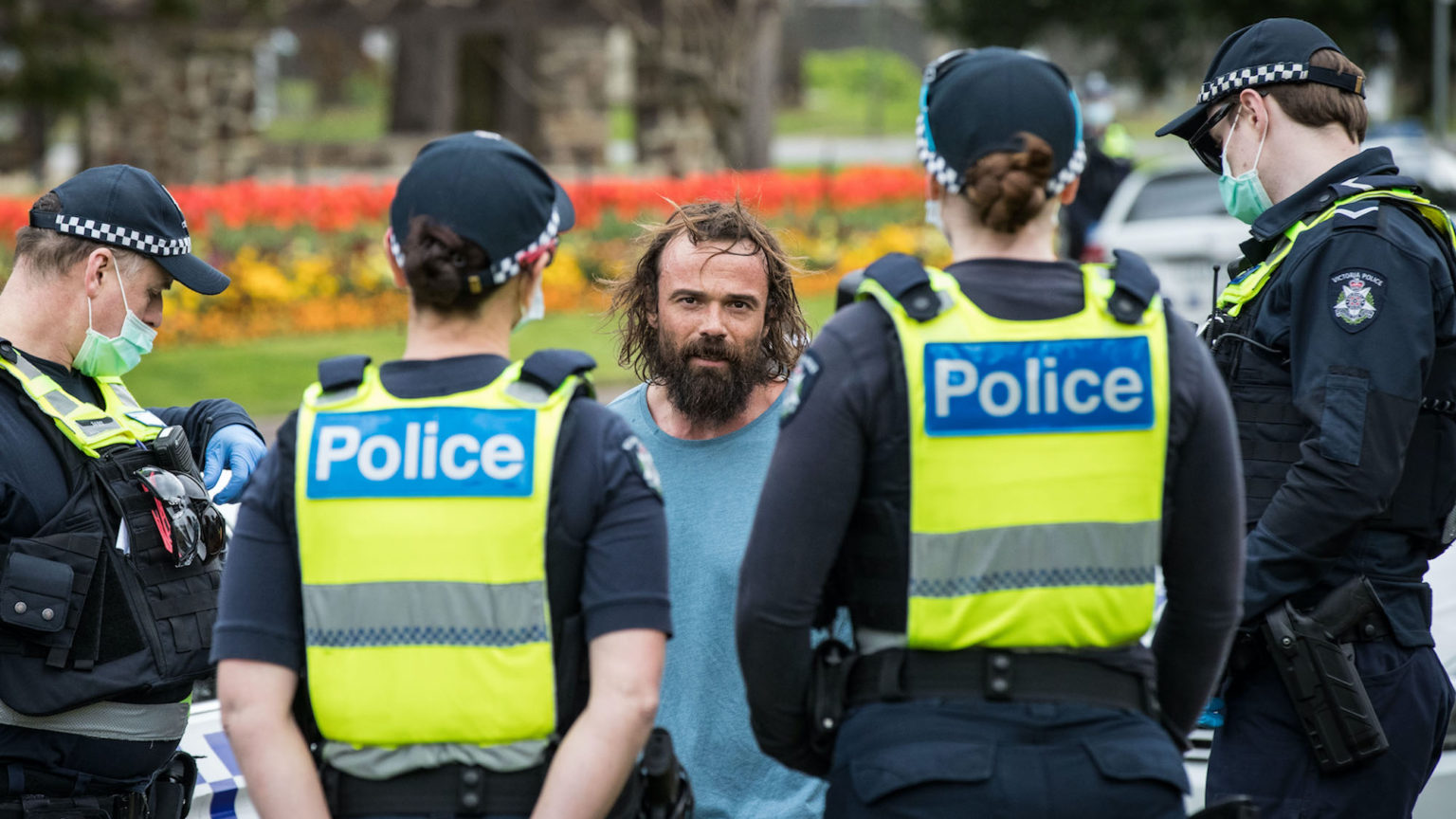 'There will be no removal of masks to consume alcohol outdoors.'
Australia was the subject of international mirth a couple of weeks back when the premier of my native Victoria, Daniel Andrews, appeared to tell citizens they must leave their mask on even if they are 'getting on the beers', as we say in these parts.
Yes, Australia may have made international headlines for its rather tyrannical response to Covid – for firing rubber bullets at protesters, shooting rescue dogs and deploying the bomb squad to deal with teenagers at the beach. But, as Andrews reminds us, this tyranny is often taking an absurd form.
And there's plenty more absurdity where 'Keep your mask on while boozing' came from. Here are a few more farcical examples of corona authoritarianism from Down Under.
Take the beautiful, football-mad state of South Australia. Its chief health officer, Professor Nicola Spurrier, had a warning for footy fans before a big match in June: 'If you are at Adelaide Oval and the ball comes towards you, my advice to you is to duck and do not touch that ball.'
Not one to buckle as the nation laughed at her, the good professor doubled down the next day: 'When you touch an object – and in this case, this is an object touched by I don't know how many very sweaty men on a football field – sanitise your hands afterwards. And that's advice I would give pre- or post-Covid.'
We have come to expect this from South Australia. This is the place where 1.7million people were ordered into lockdown, with even outdoor exercise banned, after the authorities came to believe that a bloke had contracted an especially virulent and hitherto unidentified strain of Covid… from a pizza box. It later turned out he had actually been working alongside an infected co-worker and had caught it the normal way.
Now let's look at sunny Queensland. In January, the state's health authorities made it compulsory to wear a mask while driving alone. Health minister Yvette D'Ath explained the reasoning as follows: 'We want clear, concise instructions for everyone to follow… So if you put on your mask as soon as you leave the front door – no questions, no exceptions – then that's much easier to follow.' This certainly reveals the health authorities' low view of people's intelligence. If they don't trust Queenslanders to operate a mask, why trust Queenslanders to operate a car?
Australia's most populous state, New South Wales, is not immune to such absurdity, either. In July, chief health officer Dr Kerry Chant provided the ultimate excuse, in the name of tackling Covid, for ignoring people you don't want to talk to: 'If you run into your nextdoor neighbour, in the shopping centre, at Coles or Aldi or any other grocery shop, don't start up a conversation.'
Not content with getting you out of awkward interactions with people you haven't seen since school, she also banned browsing in shops. 'If you are going shopping, think about what you absolutely need, do the list, get in and out. This is not the time for browsing.'
So you're allowed to go out and purchase the perfect oyster sauce to top off your restaurant-quality pak choi. But don't you dare stand there pondering your purchases.
Then, finally, there is my native Victoria, where premier Andrews was at it again last month. 'There's a bunch of people down the Rye Beach last night who thought the best thing to do was to watch the sunset', he said. 'I'm sure it was a beautiful sunset. But that's not in the spirit or in the letter of these rules.'
Quite how standing outside, watching the sun go down, can give you Covid is unclear. But then nothing should surprise us where the Australian authorities and Covid are concerned. It seems the country that gave the world Crocodile Dundee, Errol Flynn and the bushman's hanky (don't Google it) now thinks sweaty men, drinking beer or driving alone without a mask on are all huge risks.
We'd love to have overseas visitors back here one day. Perhaps we'd all head to the pub for some 'vertical consumption' (which is what our governments now call having a drink while standing up). But for that to happen we will first have to free ourselves from the farcical tyranny under which we're now living.
Peter Gregory is a researcher from Melbourne.
To enquire about republishing spiked's content, a right to reply or to request a correction, please contact the managing editor, Viv Regan.