Joe Biden's class war
He cannot be an ally of oligarchs and blue-collar workers. Time to pick a side.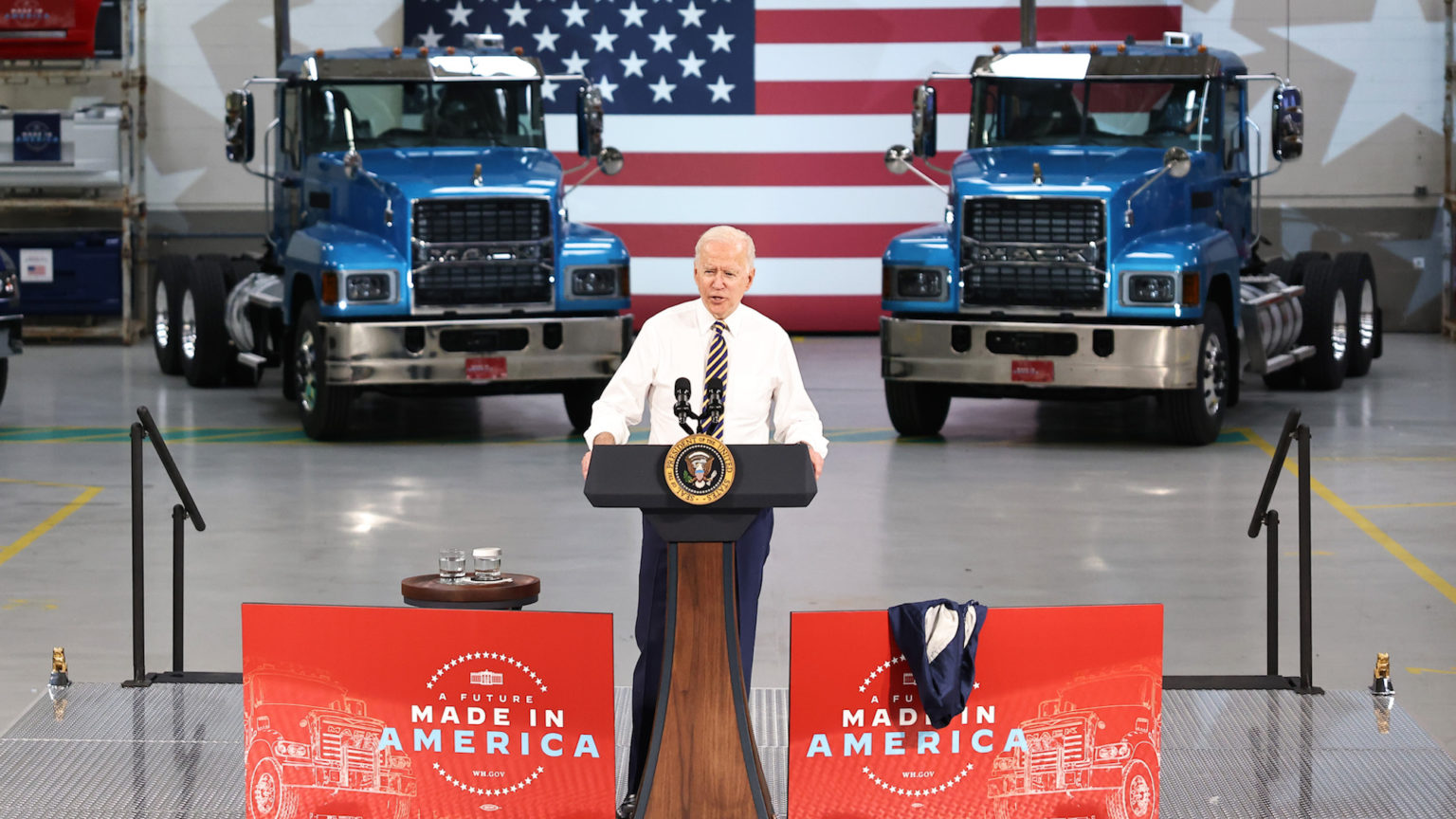 Joe Biden may present himself as a 'working-class hero', a claim reiterated recently in the leftist American Prospect, but increasingly America's workers are showing signs not of common cause but disquiet. Hollywood workers just announced a large-scale strike, some of whom blame their hard times on the 'disruption' to their industry wrought by tech firms, which are distinctly hostile to unions. There's also increased tensions at Disneyland, as well as numerous organising efforts targeting Biden's oligarch allies like Amazon and Starbucks.
One possible cause for the unrest lies with inflationary pressures that have cancelled out any income gains for most people outside the oligarchic elites. The sad economic reality of today – real wages are in decline – contrasts uncomfortably with the far better performance for working people under the pre-pandemic Trump administration.
High inflation – notably for food, rent and housing – cutting against working- and middle-class budgets seems likely to spread more labour unrest across the country. Today only 22 per cent of Americans express optimism about the economy, and confidence in Biden's economic leadership has fallen to nearly 40 per cent.
This grassroots unease poses a major challenge to a man who some see as the reincarnation of Franklin Roosevelt. Indeed, Biden's programme, shaped by Senator Bernie Sanders, is far more aggressively socialist than many expected. This is quite a transition for a man once widely castigated on the left as a predictable 'corporate hack', particularly subservient to credit-card companies based in his home state. In 2019, the Guardian accused Biden of 'dressing up his candidacy in a blue-collar costume' – adding that 'he's never taken a political risk for workers'.
Biden clearly lacks FDR's charm, easy-speaking manner and vision, which were critical to the New Deal's political legacy. Unlike FDR, who enjoyed huge congressional majorities and widespread public support, Biden faces a divided congress, backing a programme that polls poorly outside his own party. Roosevelt dealt with a global economic catastrophe where deflation and mass unemployment were the key challenges. Biden's spending programme comes amid a labour shortage and high inflation now rising faster than at any time in 30 years (as also seems to be the case in Europe).
Biden's programme of massive new spending and tax increases has been criticised not just by conservative economists, but also by veterans of the Clinton and Obama eras. Former Treasury secretary Larry Summers has criticised Biden's multi-trillion-dollar spending programme as inherently inflationary. This is not the medicine an economy choked by supply issues, rising commodity shortages and low labour participation needs, he argues.
Since 2016 the seeming unity of the Democratic coalition lay in common detestation for Donald Trump, which motivated a wide array of people. Yet as soon as Biden was in power, his coalition began to fracture, as Big Tech companies, Wall Street and well-to-do taxpayers rallied to make sure that progressive reform does not morph into a democratic socialism.
Biden's dual identities – ally of oligarchy and friend of the working class – are in fundamental conflict. On green, gender and other gentry-liberal issues, the progressive left and the oligarchy are in fundamental agreement. But when it comes to class issues, like taxes and labour organising, the new oligarchs, however sartorially modest they are these days, still think like corporate aristocrats. They are desperate to preserve their quasi-monopolies and unorganised workforce, and often use groups like the Business Roundtable as convenient fronts.
Democrats are also looking to make life easier for the highly affluent metropolitan population that now makes up much of the progressive fundraising base. Expanding the welfare state to the affluent may make them both complacent about fiscal impacts and politically compliant. Reinstating write-offs for local taxes and subsidies for electric vehicles will greatly benefit this distinctly non-proletarian constituency.
In contrast, the Democrats' Green New Deal – now repackaged as the $3.5 trillion Reconciliation Bill – threatens the interests of many in the working class, and many among Biden's staunch labour-union allies. The Sanders-inspired bill has at its base a transformative programme that would all but eliminate fossil fuels from the economy. Biden's genuflection to the green cause has already resulted in the loss of some 10,000 high-paying, mostly union jobs, due to the cancellation of the Keystone pipeline.
The headlong shift to 'zero carbon' and a fracking ban could translate into as many as 14million job losses, concentrated in places like the Rockies and Oklahoma. In Texas alone, as many as a million good-paying jobs could be lost. So it's no surprise that there is mounting opposition to these policies even from Democrats in these states. You could argue these are states that are now lost to the Democrats. But cheap and reliable energy, as well as fracking, has been critical to industrial revivals in Ohio, Michigan and Pennsylvania, which are central to the Democrats' electoral success. The usual progressive response – repeated by Biden – is that lost jobs in aviation, oil, gas and manufacturing across the board would be replaced with good 'green jobs'. This is not what we have seen in California, where a Green New Deal is already up and running. The vast majority of new jobs are in low-wage services and industrial growth has basically stagnated. Green jobs, admits even the Biden-friendly Vox, do not pay as well as those in the old fossil-fuel economy and are far less unionised.
Perhaps the most politically vulnerable spot for Biden will prove to be immigration. The administration's botched border policy has allowed large numbers of undocumented migrants into the country – often without Covid screening. Contrary to notions of racial solidarity, many American border residents, who are overwhelmingly Latino, are not thrilled with the prospect of millions more undocumented people, many with health problems and at least some criminals among them, coming into their communities.
Latino voters, the key to the Democrats' future in states from North Carolina to California, have already been hit hard by tough lockdown rules. They also tend to work in industries like energy and agriculture, which could be adversely impacted by draconian climate policies. In Texas, Latinos are shifting towards the GOP, even in the historically solid-blue Rio Grande Valley.
Over time, the shift of Latino and other immigrant voters may be amplified by the woke social gospel of Biden's progressive cadre. Despite the assertions of intersectional academics and their media offspring, immigrants for the most part are more conservative on key social issues – such as abortion, the value of work, sex education, religious values – than the native born. Even the turn-of-the-century 'sewer socialists' – who built Milwaukee's public-water system – were more socially conservative than contemporary conservatives. They would be horrified by the progressive advocacy of basically unrestricted abortion, graphic sex education and racially tinged political indoctrination. Immigrants do much of the labour in production industries and operate many Main Street businesses. Their work ethic suggests they will not support the kind of lavish welfare state being proposed by the Democrats, which would involve no requirement for work.
In the coming months, particularly if inflation continues to mount, Biden's class dilemma will get worse. The assault on energy production, attempts to eliminate contract work, and tough environmental standards, may all have their positive aspects. But the political impact, particularly in the middle of the country, could be severe and politically crippling for him.
In reality, Biden and the Democrats cannot win without maintaining his albeit modest 2020 gains among middle-class suburbanites and the white working class. This was hardly a massive reversal, as media hype suggested, but it expanded the Democrats' share of the white working-class electorate from 23 to 28 per cent of the vote. If minorities continue to see more promise in the GOP, any erosion could prove catastrophic in 2022 and beyond.
Looking forward, Biden's biggest hope may then lie in the predictable stupidity of the right, which might allow the president to pivot from his mounting litany of failures. Texas' recently passed draconian abortion law, sure to be duplicated across the red states, hands the Democrats a great issue with which to win over middle-class suburban women and keep the young in their corner.
But ultimately the economy will determine the final result. History may judge Biden's potential failure as a reflection of a great strategic mistake. He has focused not just on legitimate social concerns – healthcare, roads and bridges, creating higher-wage blue-collar jobs – but also on the impractical social agenda of what Democratic pollster James Carville derides as the politics of the 'faculty lounge'.
To recover his cred as 'working-class Joe', the president needs to prioritise the concerns of the middle and working classes – such as homeownership, higher-paying jobs, useful education and public safety. But if his administration continues to wag to the tune of the progressives, it will find itself fighting a rebellion from its own historic base.
Joel Kotkin is a spiked columnist, the presidential fellow in urban futures at Chapman University and executive director of the Urban Reform Institute. His latest book, The Coming of Neo-Feudalism, is out now. Follow him on Twitter: @joelkotkin
To enquire about republishing spiked's content, a right to reply or to request a correction, please contact the managing editor, Viv Regan.