Liberty after lockdown
This unprecedented experiment could cast a long shadow over our freedoms.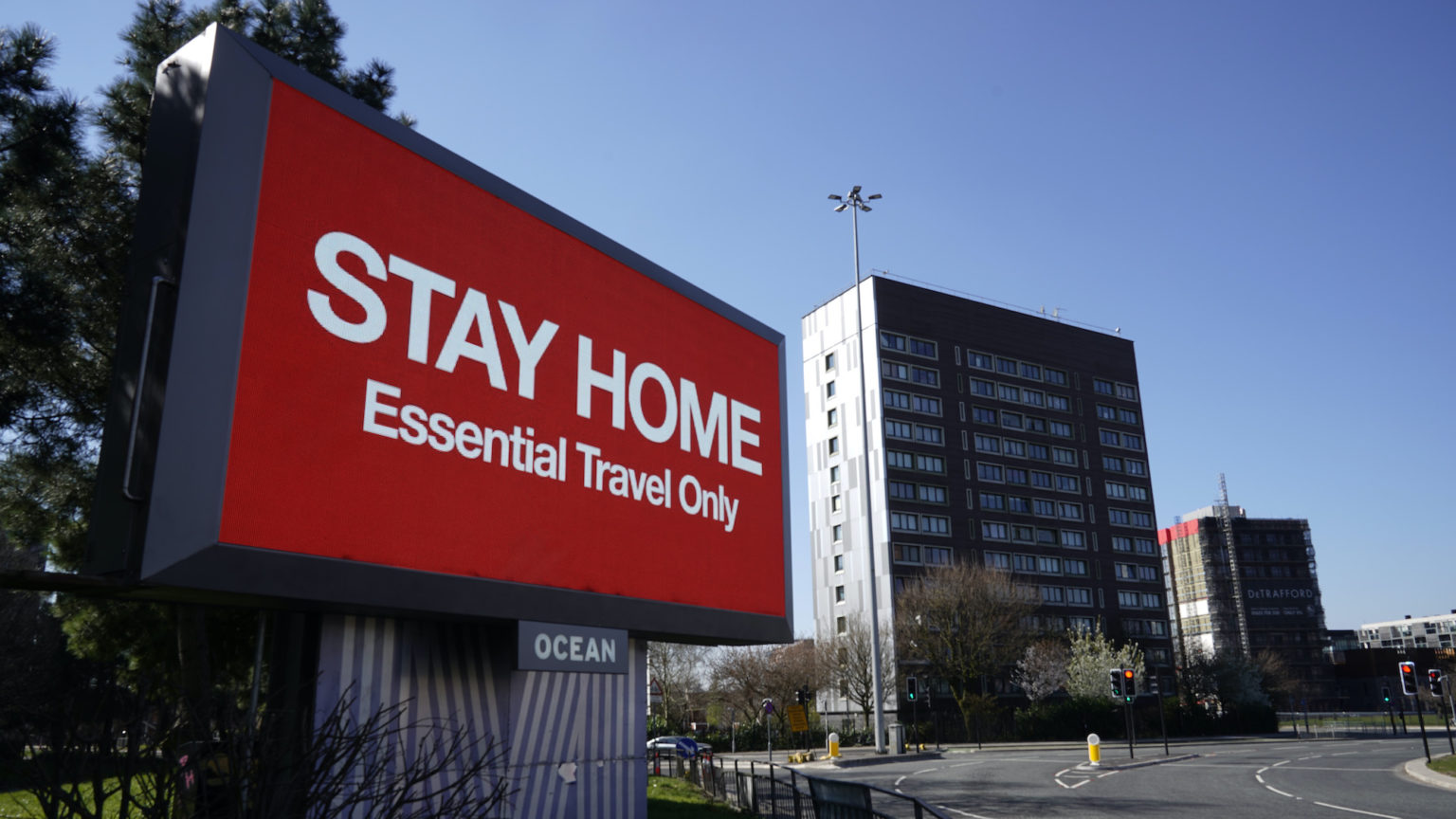 The pubs are open, Tube travellers are semi-masked at best, crowds throng in crisp October sunshine. Things might not have gone back to 'normal' after the pandemic, with the government currently enveloped by various crises, some but not all of its own making. But things certainly feel freer again, society feels more itself again, after 18 months of lockdown.
Most of the Covid restrictions on our day-to-day lives have fallen away, becoming a matter of guidance. Now that the vaccines have smashed the relationship between infection, hospitalisation and death, Covid no longer colonises our minds in the way it once did. Our anxieties and civil liberties no longer hang perilously on a line on a graph on television.
But relief at the return of our freedoms shouldn't blind us to how much liberal values have been undermined during the pandemic. To assume that an unprecedented experiment in disease control by diktat would simply come and go without leaving any trace would be painfully naive. Lockdown could cast a long shadow over our civil liberties, if we let it.
The report this week from the health and science select committees reminds us just how narrow the debate about lockdown is. The only thing you're allowed to say is that of course we should have locked down earlier (a truism Andrew Lilico took apart on spiked this week). Never are we invited to question whether it was legitimate to begin with.
As of early 2020 it was unimaginable that a Western nation would lock its citizens down in the way that we and most other countries have now done. When the Chinese state was welding people into their homes, the West looked on in horror. Even Professor Neil Ferguson's infamous Imperial College study didn't call for a full lockdown, so unthinkable it was.
But unthinkable it is no longer. As Ferguson put it in an interview in December, it was Italy's decision to follow authoritarian China into lockdown that made him and his colleagues realise they could 'get away with it in Europe'. Our lockdowns might not have been anywhere near as severe as those in China, but they were breathtaking nonetheless.
As the Joint Committee on Human Rights has put it, the lockdown ushered in 'the most wide-ranging restrictions on individual liberties, affecting the greatest number of people, since the Defence Regulations made during the Second World War'. In the words of Lord Justice Hickinbottom, this was 'possibly the most restrictive regime on the public life of persons and businesses ever'.
More than that, in banning people from leaving their homes without a 'reasonable excuse', the lockdown 'reversed the usual presumption that people are free to do what they like unless the law prohibits it'. It was a regime that then health secretary Matt Hancock reportedly referred to as 'Napoleonic'.
What began as 11 pages of regulations soon swelled to well over 100. Lockdown not only became remarkably punitive, at one point mandating £10,000 fines for having a house party or lying on a travel form. It was also vague, unwieldy and, in its ever-increasing bloat and complexity, almost impossible to comprehend, even by police, prosecutors and politicians.
The authorities routinely confused lockdown guidance with the law. Police engaged in acts of authoritarianism that would be funny if they weren't so terrifying – from sending drones after dog-walkers in the Peak District to threatening to inspect shopping baskets for signs of illicit Easter eggs.
False prosecutions abounded. Crown Prosecution Service figures suggest a fifth of prosecutions under the lockdown regulations were wrongly charged. Every single prosecution under the Coronavirus Act 2020 was struck down. Apparently the police confused this separate piece of legislation for the public-health regulations which enforced lockdown.
As human-rights barrister Adam Wagner has pointed out, none of this bodes well for the tens of thousands of people who were issued with fines, in some cases for thousands of pounds, for allegedly breaking lockdown rules. These fines 'cannot be appealed', Wagner noted earlier this year, 'the only way to challenge them is to not pay and risk prosecution'.
There are those who will say that this was all regrettable, but that lockdown itself was necessary – that even liberal, democratic societies must sometimes impose emergency measures to avoid catastrophic harm. And they're absolutely right, in principle. But was there really no alternative here? Was putting the nation under house arrest – three times over the course of a year – really the only option?
spiked made clear from the beginning that Covid was a serious public-health threat that required unprecedented action. The question is: what action, and by whom? For our part, we argued that we should rely as much as possible on people's sense of personal responsibility and community solidarity to follow guidance and to keep each other safe.
Mobility data from the height of the crisis suggests that the public could have been trusted to do the right thing. When lockdown came in on 26 March 2020, public transport usage had already fallen by around 70 per cent and had been going down for the previous two weeks. People were locking themselves down before there was a government-mandated lockdown.
But no debate about voluntarism v compulsion was ever really had. Lockdown went from being unthinkable in a country like Britain to a matter of obvious common sense. In the days leading up to the lockdown, the media were essentially demanding it. And in the weeks after that they expended most of their energy shaming handfuls of rule-breakers.
Even if you think that lockdown had to happen, that there was no other choice given the situation we were in, the way in which it was done should still horrify you. Where lockdown was concerned, the government ruled by decree – law was made and unmade at the stroke of Matt Hancock's pen, when those wandering hands weren't otherwise engaged.
The government chose to bring in the lockdown using powers reserved in the Public Health Act, rather than other pieces of legislation designed to deal with emergencies, because it allowed them to dodge parliamentary scrutiny or approval for at least 28 days. Parliament, for its part, just let this all happen; MPs packed up and went home.
There has barely been any resistance to the government ruling in this way. Those on the liberal-left, wont to smear Boris Johnson as a proto-fascist during the Brexit wars, seemed remarkably chilled out about his government banning protest and locking everyone up. (It was almost as if they didn't believe what they were saying about him to begin with.)
In 2020, we realised how feeble the defence of liberal values is in this country, and how few defenders these values have in politics and positions of influence. There was hardly any scepticism, hardly any pushback to what was happening, barely any demands for accountability or proportionality in response to such authoritarian and oftentimes irrational measures.
Lockdown has legitimised authoritarianism in the eyes of the elites. Unquestionably. For one thing, the government's winter plan envisages ruling by decree again if it feels restrictions need to be reintroduced. I'm also struck that lockdowner liberals and leftists seem to make no connection between the bans on protest during the pandemic and Priti Patel's latest clampdown on the right to protest in the Policing Bill.
I'm not one of those people who thinks another lockdown is just around the corner. The legacy of lockdown could well make itself felt more subtly. But authoritarian powers do have a habit of hanging around. The wartime Defence Regulations didn't fully lapse until 1964. And as Lord Sumption has pointed out, the powers reserved in the Terrorism Acts of 2000 and 2006 have been repurposed time and again in recent years.
Suspending civil liberties, expanding police power, ruling by decree – we cannot let this become the template by which we deal with crises, real or puffed-up, in the future. We desperately need to liberate the lockdown debate from the mind-numbing bounds it is currently confined to. And then we need to make the case that freedom isn't just for the good times.
Tom Slater is editor of spiked.
Picture by: Getty.
To enquire about republishing spiked's content, a right to reply or to request a correction, please contact the managing editor, Viv Regan.