This wasn't a political protest – it was shameful mob behaviour
The hounding of Tzipi Hotovely confirmed how prejudiced anti-Israel sentiment has become.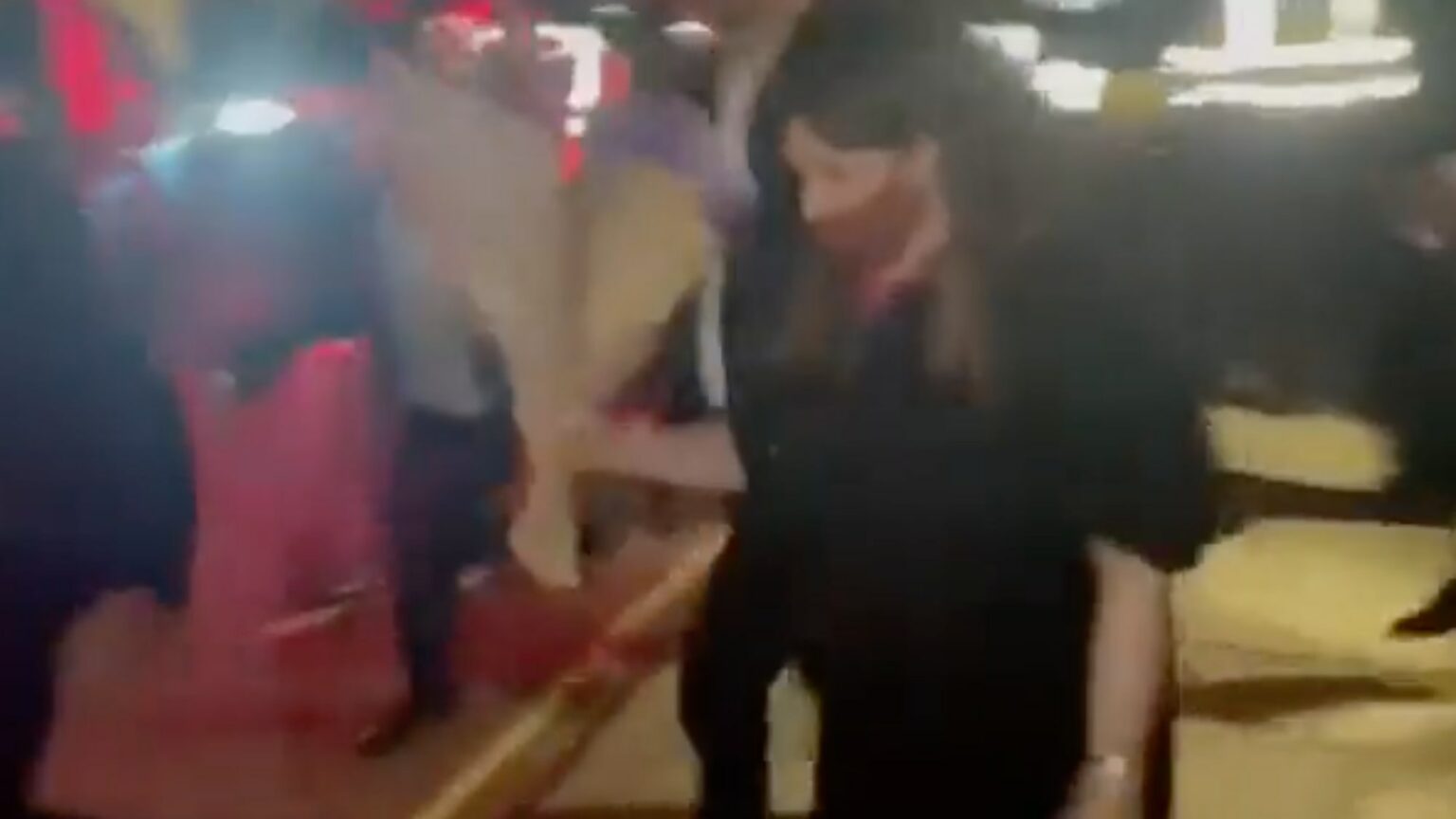 It was the visceral, aggressive vibe at the protest against Tzipi Hotovely at the London School of Economics last night that was most disturbing. The Israeli ambassador to the UK was chased by a mob of howling students. 'Shame!', they screamed. One seemed to lunge towards her, but was blocked by a member of her security detail. A long line of police officers had to hold others back. 'Whoever smashes the ambassador car window… gets pints', said a group called LSE Class War on Instagram. It posted the name of the street her car was parked in and said: 'Let's fuckin frighten her… Let's make her shake.' A mob calling for the terrorising of a Jewish woman? Classy.
The whole thing seemed to drip with hatred. This rowdy hounding of an Israeli diplomat wasn't just an expression of opposition to Israeli policies. It was more like a primal scream of rage. A physical manifestation of some kind of emotional fury. Anyone who has watched the video of Ms Hotovely being rushed from an LSE exit to her waiting car, bombarded from all sides by screams and jeers, must surely have asked themselves why no other kind of foreign diplomat is subjected to this kind of treatment by so-called radicals. When's the last time a representative of China was set upon by fuming students? Or a Saudi plutocrat? In fact, the last time there was a public protest in the UK against the barbaric practices of the Saudi regime – when some Crystal Palace fans held up a banner slamming the political oppression and capital punishment that are widespread in Saudi Arabia – the protagonists were investigated by the police for possibly being racist.
The alarming scenes at the LSE summed up how mad and contradictory student politics has become in the 21st century. The woke student set is obsessed with 'microaggressions', with protecting members of ethnic minorities from any word or idea that might feel even a tad offensive. And yet the same people are happy to scream blue murder in the face of the Israeli ambassador and to invite violence against her personal property. Today's socially aware students see racism in everything – in statues of long-dead colonialists, in white students wearing sombreros, in the mildest political criticisms of mass immigration. And yet they think nothing of visiting fury upon a representative of the Jewish State in a way they wouldn't do for the representative of any other country on Earth. They live their lives in a Safe Space in which no cross word or mean statement may ever be uttered, lest it rattle their fragile self-esteem. And yet they'll happily break out of that Safe Space to demand that people 'fuckin frighten' a female diplomat. Emotional safety for me, not for thee.
None of this is to say there shouldn't be protests against representatives of the Israeli state. Protest away. Knock yourselves out. The right to protest is incredibly important. And, yes, protesters have every right to get angry and emotional. None of the students engaged in last night's demonstration, however febrile it might have become, should be punished by the LSE (though the LSE might want to have a word with whoever it was in LSE Class War who incited violence). But here's the question, a question to which I have not once heard a satisfactory answer: why is it Israel and Israel alone that receives such wrath and spleen from the radical left? Why is it this nation and this nation only that incites such fury and passion among the protesting set?
They boycott Israel, making sure to keep their bodies free of Israeli food and their minds unsullied by Israeli books, but they don't boycott America or Britain, nations that have caused far more destruction in the Middle East in recent years than Israel has. They cheer Sally Rooney when she refuses to work with Israeli publishers but never stop to ask why she hasn't done the same with Turkish publishers, given Turkey's decades-long war of oppression against the Kurds. They hound Israeli speakers off campus but turn a blind eye when Islamist extremists turn up to talk crap. They rage against representatives of Israel in the name of the Palestinians but can never seem to muster the energy to protest against representatives of China in the name of the Uyghur people. What is this about? Why does Israel enrage you more than any other nation or issue in the world?
It is the dearth of adequate answers to these basic questions that makes some of us wonder if something questionable, something dark, is at play in these orgies of Israel-bashing. It is very difficult to watch something like the mob harassment of Ms Hotovely and not wonder if this is more an outburst of prejudice than a display of political displeasure. It is difficult to know for a fact that Israeli representatives like Ms Hotovely are always singled out for special opprobrium, treated virtually as the most evil political actors in the world, and not consider that there is at least an element of anti-Semitism here. It is hard to see Israel constantly being talked up as the most toxic nation on Earth – as the puppeteer of Western imperialism, the bringer of doom to global affairs – and not contemplate the possibility that for some people the Jewish State now plays the same role the Jews once played. That is, it is viewed as a singularly malevolent entity, controlling world affairs, consumed by bloodlust.
'It is not anti-Semitic to agitate against the policies of the Israeli government', protesters say. And they're absolutely right. But that isn't what is going on here, and it hasn't been for a long time. This isn't protest against Israel – it is all-consuming hatred for Israel. This isn't the raising of awareness about specific things Israeli officialdom has done – it is an obsessive crusade to depict Israel as a uniquely wicked nation. The modern hatred for Israel seems to come less from the realm of politics than from a well of prejudice that sadly still exists in certain sections of society. The hounding of Hotovely is being cheered as successful agitation by anti-Israel campaigners, but to many of us it looked like proof that today's loathing for Israel is becoming more transparently prejudiced, and more dangerous and unstable.
Brendan O'Neill is spiked's chief political writer and host of the spiked podcast, The Brendan O'Neill Show. Subscribe to the podcast here. And find Brendan on Instagram: @burntoakboy
Picture by: Twitter.
To enquire about republishing spiked's content, a right to reply or to request a correction, please contact the managing editor, Viv Regan.