FW de Klerk and the destruction of Apartheid
How the former South African president ushered in a new era.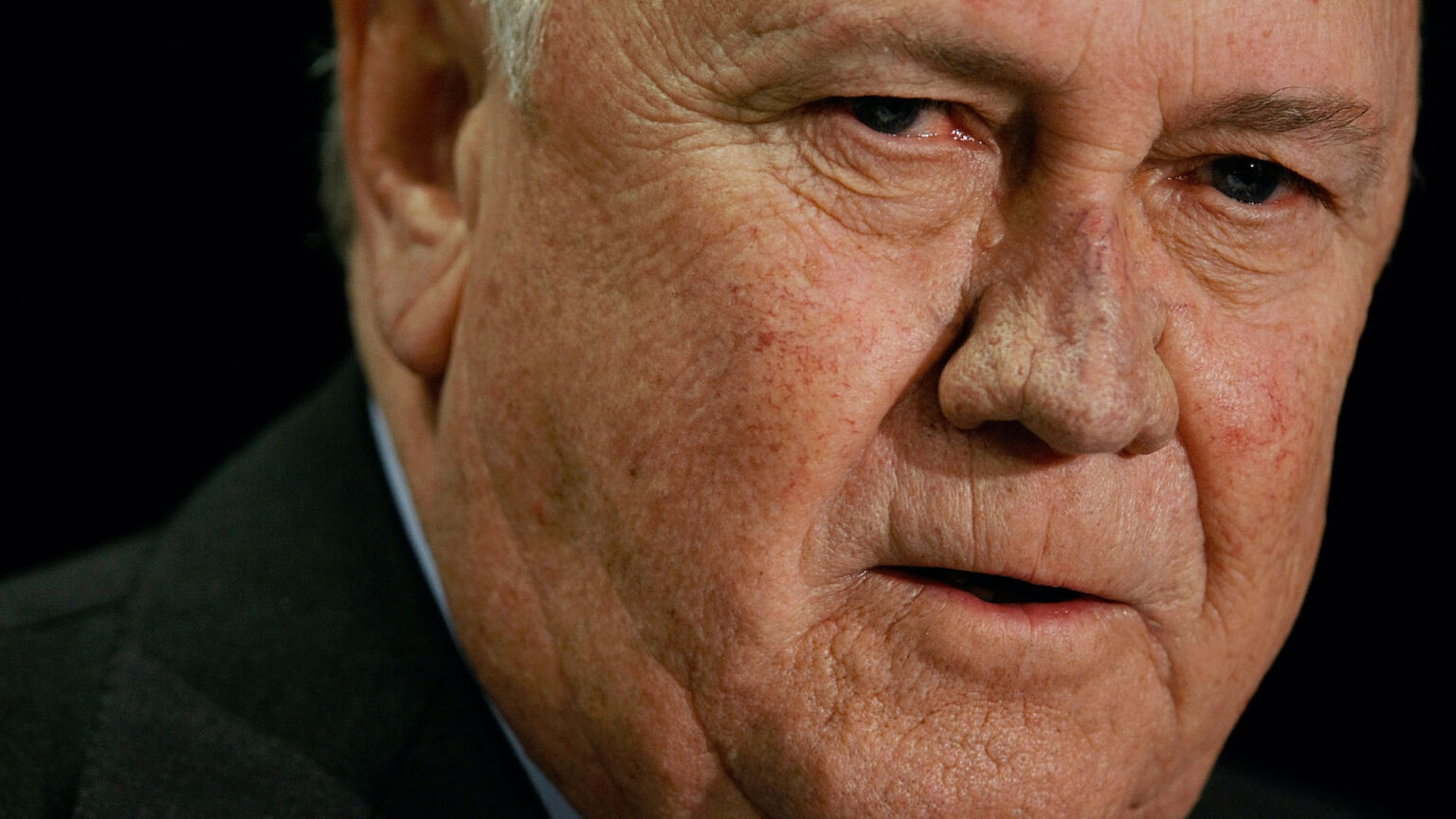 The death of Frederik Willem de Klerk at the age of 85 has once again focused attention on Apartheid in South Africa – an odious, oppressive regime which was genuinely rooted in white privilege.
The historical record is unequivocal. On 2 February 1990, de Klerk, in his first presidential address to parliament, announced the following: the release of all political prisoners, including Nelson Mandela; the unbanning of the African National Congress (ANC) and the South African Communist Party; and the abolition of more than 40 years of Apartheid restrictions. And with that, de Klerk officially killed Apartheid.
Four years later, the South African General Election was won by the ANC and Mandela became South Africa's first black president. All this ensured that white-minority rule was dead and buried forever.
Acknowledging that de Klerk was the formal destroyer of Apartheid is important. But it is even more important to recognise the historical forces that made this decision possible.
In an insightful interview from 2019, de Klerk played up his own role, and spoke of his gradual realisation that Apartheid was immoral. He also reflected on the broader context in which he came to his decision in February 1990 to end Apartheid. International sanctions and South Africa's growing isolation had little impact on his decision, he recalled. The critical development, rather, was the collapse of the Berlin Wall. 'I would not have been able to make that speech if the wall hadn't come down when it did', he said.
This is a rare moment of honest reflection and insight on the part of de Klerk – one that most commentators on the end of Apartheid have barely acknowledged. Because to do so would destroy the existing narrative of the end of Apartheid and, with it, the mythical, God-like role played by Nelson Mandela.
In the 1970s and 1980s, South Africa's white-minority rulers feared an increasingly radicalised youth and black working class. They recognised that repression was proving costly and increasingly destabilising, but they felt that any attempt at political reform could quickly morph into an anti-capitalist struggle.
This all changed with the collapse of the Soviet Union. De Klerk and his backers quickly realised that without the Soviet Union for support, financially and ideologically, the ANC might be more amenable to reform. After all, the fall of the Berlin Wall had ushered in a growing sense that there was no alternative to capitalism. This meant that, for the first time, it might be possible to introduce fundamental political changes in South Africa without potentially abolishing private property and the market.
But in order to introduce such political changes – and, in effect, end Apartheid – de Klerk knew he needed Mandela and the ANC onside.
De Klerk recognised that Mandela was a moderate politician whose capitalist aspirations had floundered in a racist system that could not accommodate them. In the negotiations between de Klerk and Mandela, de Klerk set about grooming Mandela. He came up with a decolonisation strategy that isolated and criminalised the more radical elements in the ANC while moderating its leadership. This led, first, to state-stoked violence, particularly in the province of Natal, between rival black groups. And it culminated in the criminalisation of Mandela's second wife, Winnie, and the Soweto youth during the 1990s.
De Klerk's strategy, which had the backing of the UK and US governments, worked beyond his wildest dreams. The ANC accepted a new constitution that fell short of black-majority rule. And it presented its compromises as a victory to black South Africa and therefore neutralised the only real threat South African capitalism had ever faced.
The relationship between de Klerk and Mandela has often been misinterpreted as antagonistic. De Klerk recognised and exploited Mandela's conservatism. He knew that Mandela would need no encouragement to moderate the ANC and immunise it from black grassroots pressure. After all, Mandela had been shocked by the new generation of Black Consciousness anti-Apartheid radicals he encountered while in prison in the late 1970s and 1980s. De Klerk's desire to contain these unruly youths was shared by Mandela. In many ways, then, theirs was a shared political project.
While there are many Apartheid-era atrocities for which de Klerk should have been held to account, it is important to highlight his sense of public service. Unlike many former African leaders – including Mandela, who had large houses in Johannesburg and Cape Town – de Klerk and his Greek wife Elita enjoyed a relatively modest lifestyle. His pension was about £60,000, which was less than that of an ordinary MP, and considerably less than that of his successors (ex-president Jacob Zuma, for example, has retained a full presidential salary of approximately £160,000 for the rest of his life, plus whatever else he has plundered while in power).
The current South African president, Cyril Ramaphosa, called de Klerk 'a committed South African who… placed the long-term future of the country ahead of narrow political interests'. Regardless of one's view of de Klerk, it is true he put the future of South Africa ahead of his own interests.
What de Klerk could not have anticipated is how the ANC, and the leadership he helped to mould, degenerated into a kleptocracy that has brought South Africa to its knees.
Moses Dube is a South African writer.
Picture by: Getty.
To enquire about republishing spiked's content, a right to reply or to request a correction, please contact the managing editor, Viv Regan.