Trans politics has driven the left insane
Labour MPs and lefty journalists are now denying basic biological facts.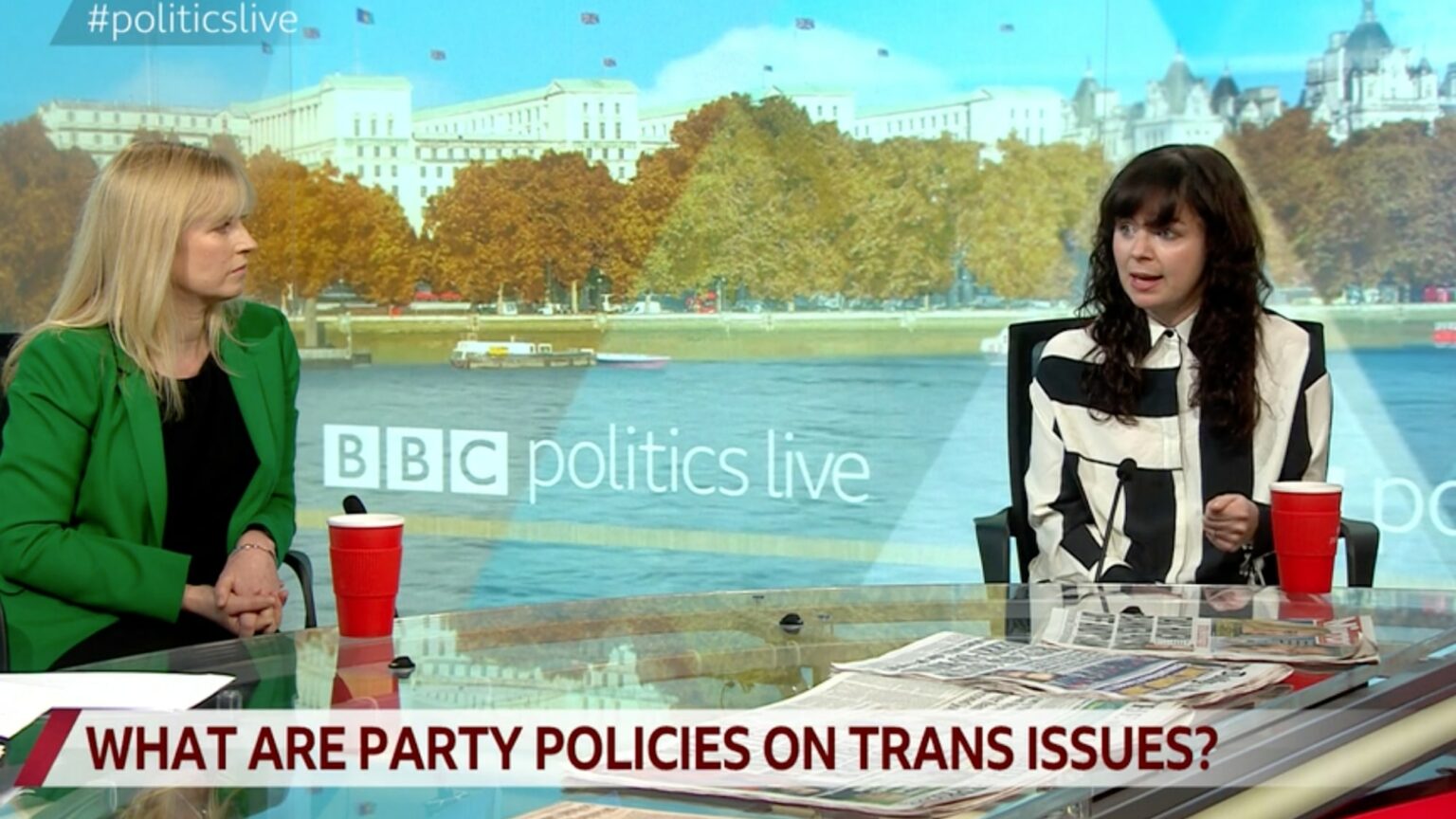 The BBC's Politics Live isn't billed as a comedy show. Yet Wednesday's edition left many viewers white-knuckled, gripping the arms of their sofas with laughter.
The moment of hilarity arrived when Ellie Mae O'Hagan, director of the think-tank CLASS, was asked by presenter Jo Coburn about the definition of 'woman'. In response she said: 'You know, I actually don't know why some people are women and some people are men.'
After claiming her view was shared by most women (though who knows if they were women), O'Hagan then said that those who claim to be able to tell a person's sex are 'liars'.
Clearly, O'Hagan either skipped the 'facts-of-life' talk with her mum or she was talking through her flaps. Interestingly, the management committee of CLASS is less diverse, in terms of sex, than many city law firms – just three out of the 19 members are 'vulva owners'.
O'Hagan's nonsensical comments were made during the course of a wider discussion on gender self-identification with the Labour MP Rosie Duffield. Duffield has been targeted by trans-rights campaigners who want her kicked out of the Labour Party for daring to suggest that 'only women have a cervix'. The threats she received for stating this fact have been so severe that, earlier this year, the police warned she was at risk if she attended the Labour Party conference. She subsequently stayed away.
O'Hagan is far from a lone voice on the biology-denying left. Following yesterday's Politics Live broadcast, former shadow chancellor John McDonnell gushed that he was 'impressed' with O'Hagan's 'empathy' and 'caring tone'. The increasingly irrelevant journalist Owen Jones chimed in to offer his support, too.
It would be comforting to imagine that such bonkers beliefs were confined to the fringes. But others within the Labour Party have made similarly deranged comments. Last year MP Dawn Butler asserted on live television to a gobsmacked Richard Madeley that 'a child is born without sex'. Not to be outdone, shadow cabinet minister Emily Thornberry claimed during this year's party conference that 'there are men who have cervixes'. For balance, it should be noted that when asked the 'cervix question', prime minister Boris Johnson lacked the requisite balls to answer that 'only women have a cervix'.
During Politics Live, Duffield made the point that those who are vulnerable, the very people the left claims to care about, can't afford such luxury beliefs as 'transwomen are women'. After all, it isn't professional leftist think-tankers like O'Hagan who are at risk of being locked in a cell with a convicted male rapist who identifies as a woman. No one can buy their way out of abuse, of course, but having money does mean you're less likely to end up in either a domestic-violence refuge or in prison.
While it might not be reported in the pages of the Guardian, according to the Crown Prosecution Service 436 'women' were convicted of rape between 2012 and 2018. Given that, according to the law, rape is defined as a crime that can only be committed by a man using his penis, that means 436 male rapists have been recorded as female, because they feel they have a female gender identity. Despite this, O'Hagan still claimed that she 'didn't know [of] a single incident where a woman has been put in danger because of a trans person'.
Had O'Hagan bothered to speak to women in prison she might have come across the victims of transgender rapist Karen White. After he was incarcerated in a women-only prison, he went on to sexually assault female inmates.
Today, outside of the Guardianista Twitterati clique, it is widely acknowledged that there is a clash between biological sex-based rights and the desire of some people to self-identify their 'gender'. But within the Labour Party even acknowledging that there is any sort of conflict between women's rights and trans rights is still verboten. Labour members are investigated, sanctioned and expelled for daring to say that biological sex matters.
Duffield has refused to be bullied into silence or out of the party. She remains one of the few politicians with the integrity to hold a view that is unpopular on the left, at great personal cost, in defence of those who are denied a voice. That she has been forced to protect the rights and dignity of women from those within her own party shows just how far down the identity-politics hole the mainstream left has fallen.
Jo Bartosch is a journalist campaigning for the rights of women and girls.
Picture by: BBC.
To enquire about republishing spiked's content, a right to reply or to request a correction, please contact the managing editor, Viv Regan.