The sad, painful death of Saturday Night Live
This once-brilliant comedy show is now lazy, unfunny and increasingly irrelevant.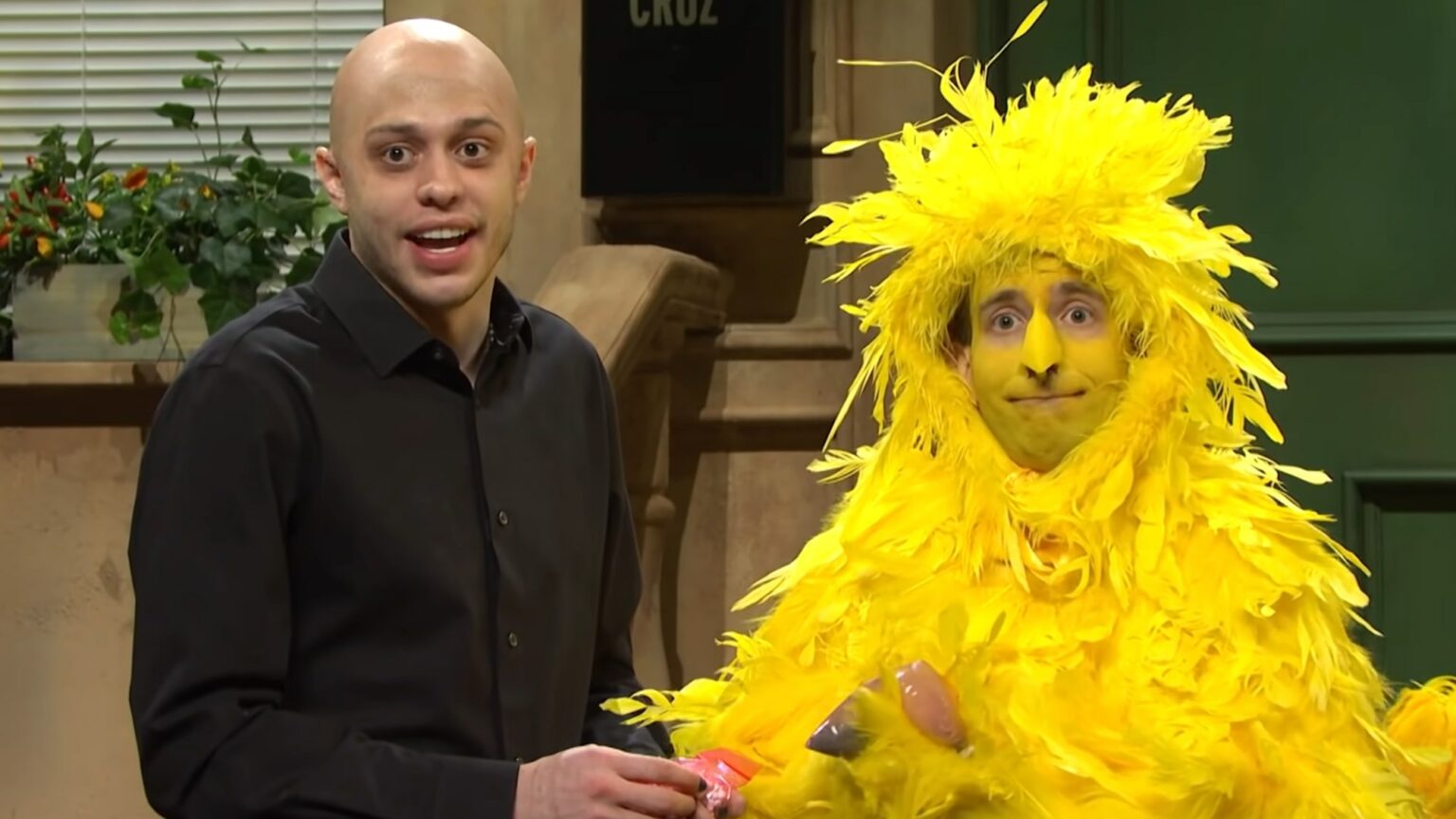 I don't remember the last time someone shared something from Saturday Night Live with me because it was funny. The only times I'm now reminded that SNL is still around is either when the show upsets conservatives – like with its recent 'Goober the Clown on Abortion' skit – or when it produces something so bad that baffled friends of mine force me to watch it. Last week's Sesame Street parody was the latest piece of SNL cringe to go viral for all the wrong reasons.
You may have seen the bit of it when Joe Rogan stops by on Sesame Street to join Big Bird and Senator Ted Cruz. In the clip – which has over 3.8million views on SNL's official Twitter account – cast member Pete Davidson plays podcast host Joe Rogan, who gives Big Bird medical advice on how to treat Covid. Davidson makes no attempt to sound like Rogan or to be familiar enough with his lines to not rely on cue cards. The only thing lazier than Davidson's performance is the sketch writing.
You can imagine the writers going to Joe Rogan's Wikipedia page to grab biographical details. For instance, they drop in the fact that Rogan hosted Fear Factor (the last time was in 2012), how he took down joke-thief Carlos Mencia (in 2007), and when he caught Covid earlier this year and took, among other prescription drugs, ivermectin. List the first two of these and then refer to Ivermectin as 'horse medicine' and BOOM, you have comedy worthy of an NBC budget.
A comedy show with young writers and cast members should have its finger on the pulse of US culture – of which, like him or not, Rogan is a prominent figure. You would think at least one person on staff would have listened to an episode or two of The Joe Rogan Experience, one of the most popular podcasts on the planet, and could mine Rogan's character for actual jokes.
You might also expect SNL to have some writers who are up on the news who might have known that it's been over a month since Joe Rogan called out CNN for claiming he took 'horse dewormer'. Surely someone on the team must have seen the viral clips of Rogan challenging CNN's Sanjay Gupta on his network's misleading claims.
At the very least, you would expect SNL to have someone around who can point out that the 'horse medicine' joke is hackish and has already been done to death. After all, SNL is supposed to be a cutting-edge comedy show.
Unfortunately, this Joe Rogan / Big Bird episode was not even the show's lowest point. Do you remember back in 2016 when the universe, in an act of incalculable cruelty, killed Leonard Cohen and Hillary Clinton's dream of becoming president of the United States in the same week? SNL's response to that synchronicity was to have cast member Kate McKinnon dress up as Hillary Clinton, an impersonation she had regularly done before, to sing Leonard Cohen's masterpiece 'Hallelujah'. Hillary's white power suit was now a funeral garb and there were no punchlines in McKinnon's performance – just grieving over the Donald Trump presidency to come.
The sorrow continued when President Obama vacated the Oval Office, and Cecily Strong and Sasheer Zamata sang 'To Sir, with Love' to him. If you don't get the reference, that's because it's from 1967. To Sir, with Love is a film starring Sidney Poitier.
Similarly, Bone Thugs-N-Harmony is a hip-hop group whose song 'Tha Crossroads' was released in 1996, when I was 14 years old. I only bring this up because in the most recent SNL – in 2021 – the show produced a musical parody where Bone Thugs opens a pet store called 'Dog Bones-n-Melodies'.
It's like the writers needed to fill airtime in between commercial breaks and the musical guest and found a dusty Mad TV script from 1996. To be fair, it took the show 25 years, but it does look as if it finally has enough black cast members to do this sketch. Maybe this weekend SNL will take 1990s sitcom Family Matters down a peg.
As a comedian who produces sketch comedy, I know my critique of the show may come off as jealousy – if you believe that, then there really is nothing I can say to persuade you otherwise. But I do know current writers and cast members of SNL and I am happy that they are making a living doing comedy.
Comedy has changed significantly over the past 10 years. And I'm not even talking about political correctness and what you're 'allowed' to joke about. Thanks to advances in technology, filming and editing are so cheap anyone can create content. And social media have given creators the bandwidth to reach millions, if not billions of viewers. The fact is, SNL, like all established network comedy programming, has more competition than ever. Solid competition at that.
When I first started posting comedy sketches online over a decade ago, I would rush to get a new video out by Saturday morning at the latest – out of fear that Saturday Night Live might do the same joke and then I would be out of time, money and in the terrible position of being accused of stealing jokes.
For at least the past five years, I haven't had that thought. I don't even see SNL as competition any more. Nowadays, whenever I'm about to post a new sketch, I'm praying that Ryan Long, Kyle Dunnigan and other independent comedy creators don't beat me to the premise. If our stuff bombs, well, at least our bombs are way cheaper than a Bone Thugs-N-Harmony parody a quarter-century in the making.
Recently, comedian and podcaster Tim Dillon got into a Twitter fight with SNL cast member Michael Che. Che took issue with Dillon for tweeting, 'The show now is just lazy mediocre hacks'. In response, Che attempted to take Dillon down a peg by claiming Dillon got nowhere in stand-up and instead became a 'media personality'. It turns out Dillon is actually a headlining stand-up and his podcast rakes in $190,262 a month on Patreon, because he grinded hard and built up his fan base.
Comedy being the small world that it is, I remember the first time I saw Tim Dillon do stand-up. It was probably 12 years ago and we were both performing in the backroom of a fondue restaurant in Great Neck, Long Island. The gig was unpaid.
At the time, I bet if you asked either of us or the other comics on the lineup what success in comedy looks like, we would have said, Saturday Night Live. If asked that question today, I would still say, Saturday Night Live. But I would also say, 'Real success looks like what Tim Dillon and many other independent comedians are doing'.
Saturday Night Live might not be dead yet, but it is definitely not in a good condition. Fortunately, comedy is still in rude health – you just have to find it elsewhere.
Lou Perez is a comedian, producer, host of The Lou Perez Podcast and author of the forthcoming book, That Joke Isn't Funny Anymore. Follow him on Twitter: @TheLouPerez
To enquire about republishing spiked's content, a right to reply or to request a correction, please contact the managing editor, Viv Regan.