Kyle Rittenhouse and the hysteria of the elites
Under extraordinary pressure, the jurors showed us the quiet wisdom of the people.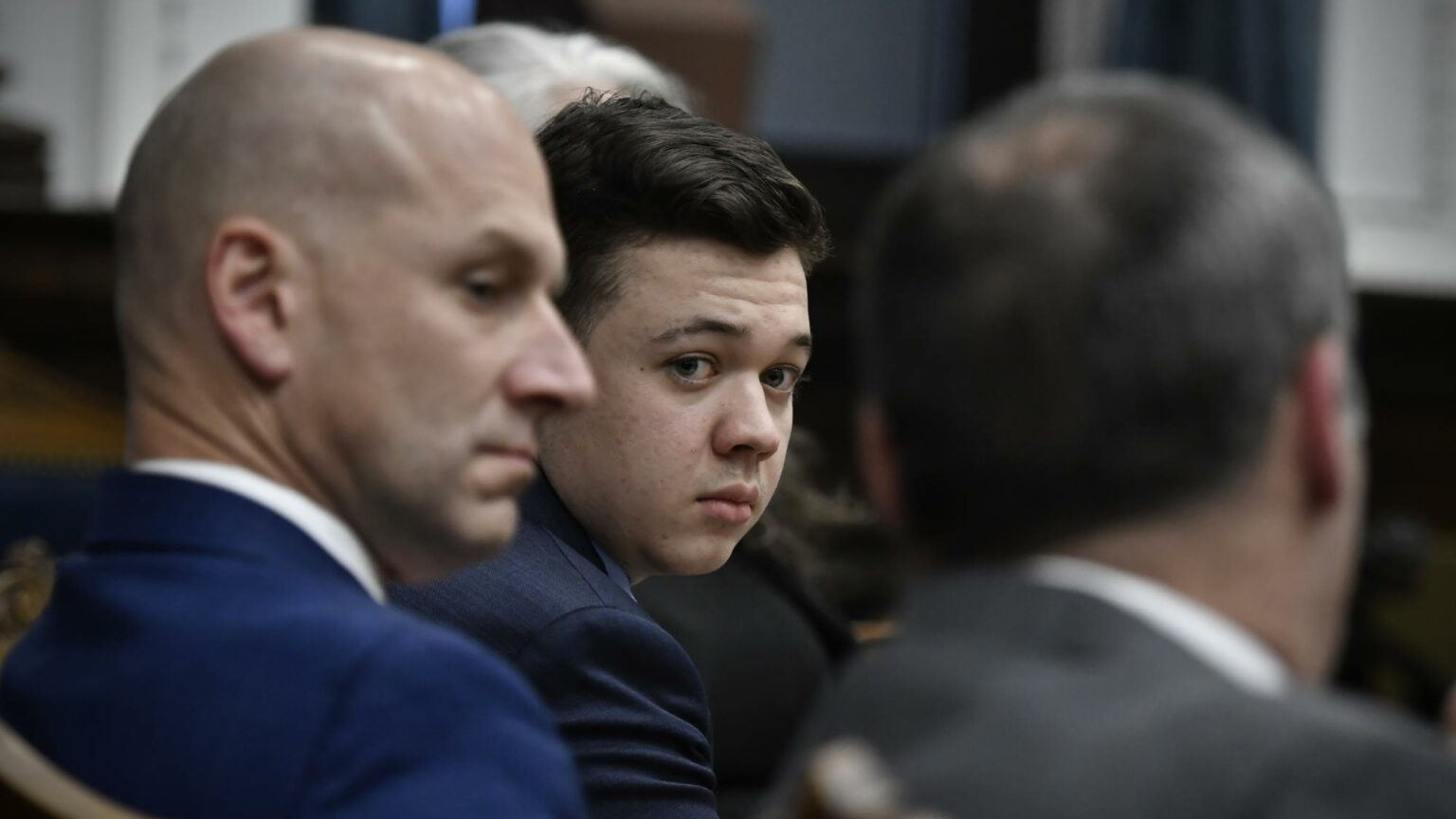 America's liberal elites are broken. They are now totally deranged and detached from reality. That's become brutally clear in the past 24 hours. While we all knew it was coming, the collective media and political meltdown over the acquittal of 18-year-old Kyle Rittenhouse has revealed a ruling class so warped, so unprincipled, so governed by partisan prejudice, that it essentially lives in a parallel universe.
Yesterday in Kenosha, Wisconsin, a jury found Rittenhouse not guilty of homicide and attempted homicide over his shooting of three men, two of whom he killed, amid riots in the city on the night of 25 August 2020. The riots erupted after a police shooting of a black man, Jacob Blake. Unrest ripped through the city. The defence successfully argued that Rittenhouse fired in self-defence, while he was being chased and attacked.
That night Rittenhouse was guarding local businesses, armed with a rifle, along with a few others. Kenosha had descended into chaos after police lost control of the streets. This painfully naive teenager seemed to fancy himself as some plucky keeper of the peace. Footage shows him wandering around offering medical assistance and trying to put out fires. Tensions flared and two people ended up dead.
That night was a tragedy that should never have occurred. Rittenhouse should have stayed at home and police should have sent him home as soon as they spotted him. Politicians should have focused on keeping order rather than pretending, along with the media, that the lawlessness that was spreading across the US was the righteous anger of the oppressed. But anyone who watched the footage from that night could see the defence had a case.
The first man Rittenhouse shot and killed, Joseph Rosenbaum, chased Rittenhouse and tried to grab his gun. The second, Anthony Huber, hit him with a skateboard after he had fallen to the ground. The third, Gaige Grosskreutz, who survived, was aiming his pistol at Rittenhouse's head when Rittenhouse fired. Grosskreutz admitted as much on the stand this week, bringing the prosecution crashing down.
As the trial wore on, it became all the more clear that the narrative cast about Rittenhouse and that night last August was utterly false. A narrative neatly summed up by Democratic congresswoman Ayanna Pressley, who said Rittenhouse was a '17-year-old white supremacist domestic terrorist' who 'shot and killed two people who had assembled to affirm the value, dignity and worth of black lives'.
There is no evidence that Rittenhouse has white-supremacist leanings. Unless being pro-cop and pro-Trump counts, which apparently it does for many allegedly intelligent people. The idea that he was some out-of-towner who went to Kenosha just to take aim at protesters is also nonsense. While he lives in nearby Antioch, Illinois, his father, grandmother, aunt and uncle live in Kenosha. He also had a job there and was staying with a friend that night. Those he clashed with weren't all 'protesters', either. Joseph Rosenbaum was, by all accounts, a deeply disturbed individual who went downtown that night to look for trouble.
But, with some notable exceptions aside, much of the great and good doubled down on their ridiculous takes even as the trial disproved them. 'White supremacy maintains its cover', thundered one MSNBC contributor in the wake of the acquittal. The fact that the three people Rittenhouse shot were white continues to escape the attention of many, including the UK's Independent newspaper, which told its readers yesterday that Rittenhouse had killed two black men.
Democratic leaders have also been incredibly irresponsible, albeit in a more euphemistic fashion. 'I spent a majority of my career working to make the justice system more equitable, and clearly there is a lot more work to do', said vice-president Kamala Harris yesterday. President Biden put out a statement suggesting he was 'angry and concerned' about the verdict, before going on to urge people to accept it.
For much of the American elite, the Rittenhouse trial was not about proving him guilty beyond reasonable doubt. It wasn't about trying to uncover the truth of what happened that awful night. It was another showdown in some fantasy battle against white supremacy that exists entirely in their imaginations. The jurors were being called on not to weigh the evidence and testimony, but to deliver the 'right' verdict and so strike a blow against evil.
The weight of all this on the men and women of the jury must have been immense. According to the New York Times, jurors thanked sheriff's deputies yesterday for putting up a folding screen that blocked them from public view. 'It helps calm my nerves', one said. The 'media coverage is insane', said another.
This point was echoed by the judge, Bruce Schroeder, who blasted the media as 'grossly irresponsible'. He said he'd think twice about televising trials such as this again. On Thursday, he banned MSNBC from the courthouse for the remainder of the trial, after police caught one of its freelancers following the bus that was transporting the jurors. Police believe he was trying to photograph them. The jurors were supposed to be anonymous by order of the court, such was the pressure heaped on them and the potential for reprisals.
In the face of all of this, these 12 men and women did what corporate media and many politicians fundamentally failed to do throughout the Kyle Rittenhouse saga: focus on the facts rather than the narrative. Gun-toting teenagers won't protect America from the hysteria that is ripping it apart. But the quiet wisdom of ordinary people just might.
Tom Slater is editor of spiked.
Picture by: Getty.
To enquire about republishing spiked's content, a right to reply or to request a correction, please contact the managing editor, Viv Regan.