A tyranny of hurt feelings
In 2022, we must challenge the cult of 'emotional safety'.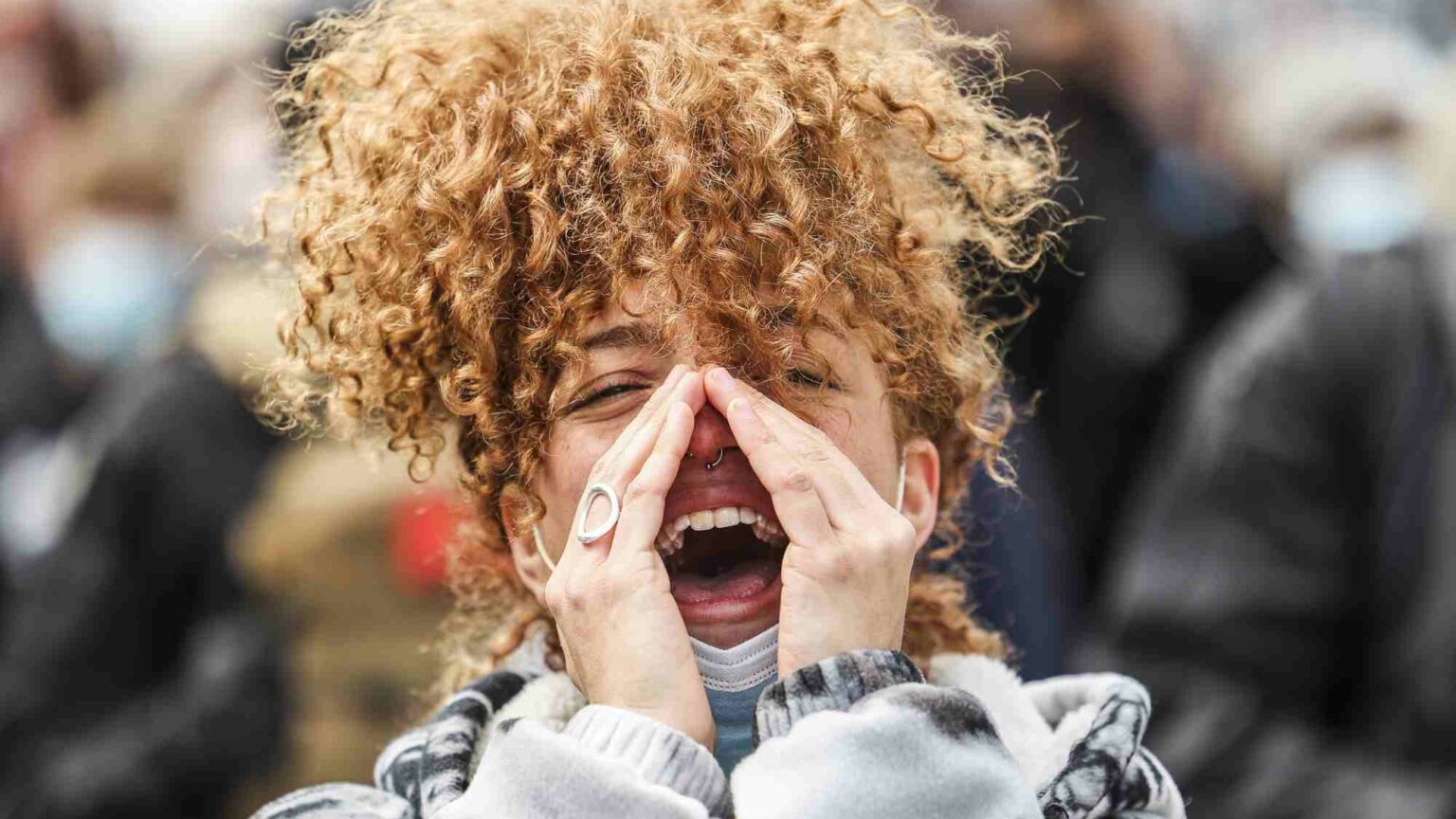 Are you a regular spiked reader? Then please consider making a Christmas donation. You can do so here. Thank you!
'Liberty lies in the hearts of men and women; when it dies there, no constitution, no law, no court can even do much to help it.' So said Learned Hand, American jurist and judicial philosopher, in 1944. If that is the case, then things are looking bleak in Britain at the end of 2021.
Capping another year of unhinged censoriousness, raging in one institution after another, we now have a YouGov poll showing that the public is not that enamoured of free speech, either. Those who believe we should prioritise 'stopping offensive and hateful speech' apparently beat those who prefer 'protecting free speech' by 43 to 38 per cent.
Free speech clearly isn't living in the hearts and minds of British men and women nearly as much as we might hope. Though, going by the breakdown, it is women who are really letting the side down, along with Labour voters and 18- to 24-year-olds.
The extent to which free societies like Britain ever really lived up to their liberal values is up for debate. But at least liberty was until recently the aspiration, the story we told ourselves. Increasingly, that doesn't seem to be the case, as many sinister moments in 2021 made abundantly clear.
Remember Batley Grammar? You could almost be forgiven for forgetting that in March, in Yorkshire, in 21st-century Britain, a teacher was ousted for blasphemy, forced into hiding following threats from Islamists and protests outside the school gates. All because he showed cartoons of the Prophet Muhammad in a religious-studies class.
Religious fanatics shut down the school for days on end and terrorised a much-loved teacher. And everyone involved essentially gave in to them. The local Labour MP condemned the lesson as 'inappropriate'. The headteacher issued a grovelling apology. The teaching unions stared at their shoelaces as one of their own feared for his life.
The struggle for freedom of speech was built on mocking gods and prophets. That punishing blasphemy made a comeback in Britain this year shows how profoundly we have lost faith in freedom of speech. But there was something very modern, as well as ancient, about this particular scandal.
The protesters in Batley, masquerading as representatives of British Muslims, appealed to a modish sense of victimhood and emotional fragility. The teacher and his supporters were 'using freedom of speech as an excuse' to justify 'hurting somebody's emotions and sentiment', one alleged 'community leader' told a crowd of protesters.
'We, the Muslim community, object and condemn the use of all and any religoius offensive material in schools', said another, claiming to speak on behalf of all Muslims, as he read out a pre-prepared statement. The blasphemous lesson, he claimed, had left the children 'concerned for their safety and wellbeing', and the police should get involved.
Muhammad cartoons are no longer just blasphemies against the prophet – they are emotional assaults on believers. Labour MP Naz Shah said something similar in July, when she called for the criminalisation of those who 'defame, slander or abuse our prophet'. 'The emotional harm caused upon our hearts is unbearable', she said.
Here we see the religiously intolerant cottoning on to how the game is played today. If you want someone silenced you insist that their words wound, that they threaten your 'emotional safety'. 'I hurt, therefore I censor' has become the motto of our age, and it cuts through many of the disparate free-speech battles of the past 12 months.
When Kathleen Stock was hounded out of the University of Sussex this year, a similar charge was laid at her door. 'Kathleen Stock makes trans students unsafe' read one of the more polite posters lining her walk into campus. 'If I was being taught by her, academically I wouldn't feel safe', a member of Sussex's LGBTQ+ society told the Financial Times.
'Feel' is the key word here. Stock has never endorsed or incited violence against trans people. She has never said anything remotely transphobic. She just believes that sex is immutable, and that certain rights flow from that. But for refusing to go along with gender ideology she was presented as a threat to students' safety.
Across the pond, for the crime of telling jokes about transgenderism in his latest Netflix special, the uncancellable Dave Chappelle was all but accused of murder earlier this year. 'We're here today not because we can't take a joke', said Ashlee Marie Preston, organiser of an anti-Chappelle rally outside Netflix's offices in October. 'We're here today because the jokes are taking lives.'
Speaking in defence of Chappelle, Netflix boss Ted Sarandos insisted that comedy did not contribute to 'real-world harm'. This is essentially what freedom of expression rests on: the distinction between words and violence, and the principle that if someone does atrocious things, it is on them – it cannot be blamed on the books, the music, the videogames or the comedy they like.
But this is anathema to the would-be censors of today, who see practically anything as incitement to violence and whose sense of what constitutes harm is increasingly nebulous. As Lourdes Ashley Hunter, from the Trans Women of Color Collective, told the Washington Post during the Chappelle scandal: 'Harm is not always physical… It's psychological, it's emotional.'
Freedom of speech simply cannot survive this notion. The conviction that words can wound and kill like bats and bullets is a blank cheque for censorship, with who is allowed to speak determined by whatever group or ideology happens to hold enough sway, or inspire enough terror, among the ruling class at any given time.
Even the state censors of today read from this therapeutic script. Witness the UK government's Online Safety Bill, which aims to curb 'legal but harmful' speech. Or English police forces' collection of so-called 'non-crime hate incidents' – an Orwellian practice that was thankfully defeated by ex-cop Harry Miller in the courts this week – which the police still maintain was necessary to 'protect vulnerable people and communities from harm'.
The paradox in all this is that the fetishisation of emotional harm seems to be fuelling a fair bit of physical harm, or at the very least threats of it. This year, from Batley to Sussex to JK Rowling's mentions, many of those claiming to have been 'hurt' by words or images felt little compunction about threatening actual harm on others. We also seem to have forgotten about Hatun Tash, the ex-Muslim turned Christian preacher who was slashed with a knife at Speaker's Corner earlier this year. Such conflict is fuelled by the blurring of the line between speech and violence. For if words are violence, then violence is a legitimate response to words.
There is potentially no end to this. And a society that trades freedom of speech for emotional safety will soon find out it has neither. This self-victimisation can only beget more self-victimisation. The more you insist people are vulnerable to words, the more you encourage them to crush ideas that rankle them, the more brittle and hysterical they'll become.
In 2021, we glimpsed what a tyranny of hurt feelings might look like. In 2022, we need to make sure that liberty lies in the hearts and minds of people again.
Tom Slater is editor of spiked.
To enquire about republishing spiked's content, a right to reply or to request a correction, please contact the managing editor, Viv Regan.