Is the university over?
In 2021, campus cancel culture took an ugly turn.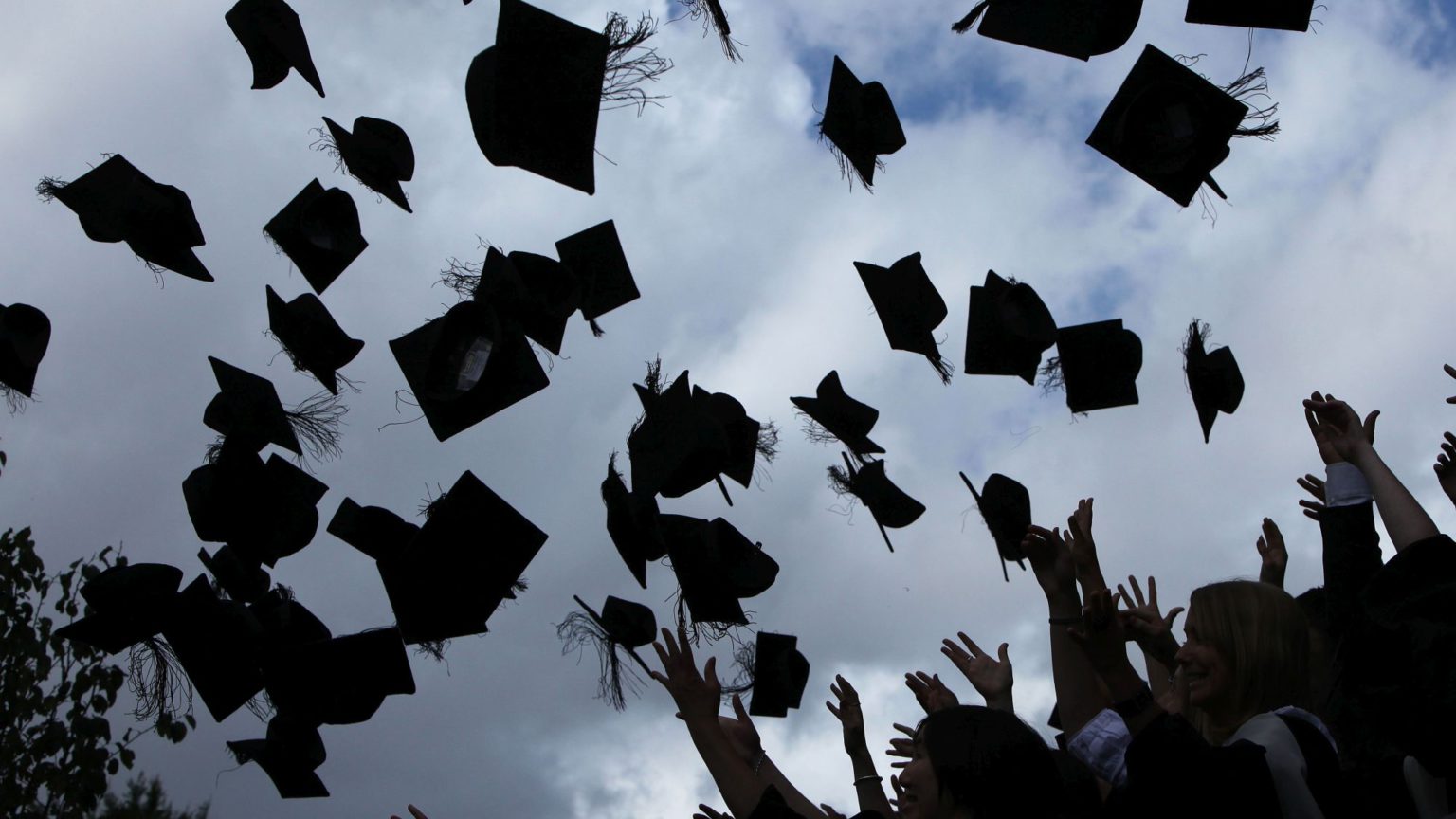 Are you a regular spiked reader? Then please consider making a Christmas donation. You can do so here. Thank you!
Lockdown kept Britain's students off campus for much of the past 12 months, but universities still kept hitting the headlines for all the wrong reasons. 2021 was the year No Platforming turned ugly.
This year's season finale was performed by students at Durham University, with Rod Liddle superbly cast as pantomime villain. Liddle's mere presence on campus was probably triggering enough for many of the north-east's poshest students, but it was his quips about the university's fully trained-up student sex wokers that led some to flounce out midway through his after-dinner speech. He was invited by Tim Luckhurst, the principal of Durham's South College. Luckhurst branded those who left 'pathetic'. Events then spiralled.
Hundreds of students joined protests calling for Luckhurst's resignation while Durham's acting vice-chancellor provided reassurances that safety was his top priority, as if Liddle and Luckhurst had somehow dangerously imperilled the students. With tragic predictability, academics backed the protesters rather than defending free speech. Dr Susan Frenk, another of Durham's college principals, declared: 'The pain cannot be erased, but we can try to play our part in healing the wounds.' Spare us, please! Liddle gave an after-dinner speech, he didn't open fire into the crowd. Meanwhile, Luckhurst has 'stepped back' from his duties pending an inquiry.
In the month before the Durham drama kicked off, Cambridge treated us to this year's life-imitates-art moment. In what looked like a re-enactment of Netflix's campus comedy, The Chair, art historian Andrew Graham-Dixon, addressing the Cambridge Union while 'quite drunk', attempted to 'underline the utterly evil nature of Hitler' through the medium of impersonation. Big mistake. The union's president then promised to 'create a blacklist of speakers never to be invited back', with Graham-Dixon the first to go on the list. In response, comedian John Cleese proffered his own name for the blacklist, forcing the president to back down.
We need to find humour where we can because, for feminist scholars in particular, this year has been anything but funny. Professor Kathleen Stock resigned from her post at the University of Sussex back in October, following a campaign of intimidation co-ordinated by students. They were determined to have her ousted for her gender-critical views (that is, her belief that biological sex is real). Her detractors said they were protesting for the 'safety' and 'protection' of the vulnerable, which masked a great deal of vicious abuse targeted at one named individual. Shamefully, even when Stock received death threats, this was not enough to elicit unconditional support from her local branch of the lecturers' union, the University and College Union (UCU).
Stock's resignation was followed by professor of criminology Jo Phoenix, another gender-critical feminist, quitting her position with the Open University. Phoenix pointed to abuse not from students, but from colleagues. In 2021, it has become increasingly clear that universities are at the forefront of preaching a modern-day version of transubstantiation and disciplining heretics, be they staff or students.
The hounding of gender-critical feminists exposes the disingenuous notion that the university today is an inclusive 'safe space'. The idea of an emotionally safe campus has always been antithetical to education. But the experiences of Stock and Phoenix demonstrate that the dubious privilege of emotional safety extends only to those who share the same set of woke values. Protecting some means silencing and excluding others, by any means necessary.
In 2021, some universities came up with a cunning plan to ensure ignorance was no excuse for transgression. Thanks to mandatory, woke induction modules, new students are no longer left with any doubt as to the narrow selection of views they are permitted to hold.
At the University of Kent, all new students were expected this year to complete a compulsory course on diversity, covering topics such as white privilege, microaggressions and pronouns. An example of white privilege presented on the course was the capacity to wear second-hand clothes without this being blamed on 'the bad morals of my race'. Meanwhile, at the University of St Andrews, students wanting to score full marks had to know that equality doesn't mean 'treating everyone the same', but rather 'treating people differently and in a way that is appropriate to their needs so that they have fair outcomes and equal opportunity'.
When woke views are taught as fact those who veer off-script even slightly are open to attack. Edinburgh's Neil Thin, a senior lecturer in social anthropology, stood accused of making 'racist' comments and for tweets said to be 'triggering', 'offensive', 'bigoted', 'racist', 'misogynistic' and 'transphobic'. Among the evidence against him was his Twitter biography's declaration that 'civilisation is for everyone', a defence of JK Rowling, and a joke questioning whether NASA will announce that the 'man in the moon' is 'actually non-binary'. When universities enforce ideological conformity they become humourless and deferential seminaries, not intellectually inspiring institutions designed to push the boundaries of knowledge.
This year has shown once and for all that lecturers in Britain cannot turn to their union, the UCU, to support academic freedom. UCU activists are more likely to have joined protests calling for colleagues who hold the wrong views to be sacked than to have taken a principled stand for intellectual diversity. This has, bizarrely, cast Conservative government ministers in the role of campus free-speech champions. A raft of new measures designed to enforce academic freedom was announced back in May, in the Higher Education (Freedom of Speech) Bill.
Imposing free speech on reluctant universities is far from straightforward, however. Back in 2019, the University of Essex invited two gender-critical scholars – including Jo Phoenix – to give guest lectures. After student protests, the lectures were cancelled. Following an independent review that reported back this summer, the vice-chancellor of Essex apologised to the cancelled speakers. This apology was swiftly followed by an open letter from academics expressing their 'deep disappointment' at the apology. These academics demanded a further apology be made to the university's transgender community – which was duly given. Legal impositions in the absence of broader cultural change seem likely only to result in more institutions tying themselves in knots, apologising for apologies.
Fortunately, 2021 has shown some signs that cultural change may slowly be taking place. The Free Speech Union has successfully defended both students and academics under attack for expressing their views. At Cambridge, professors called for a website that would have allowed students to report microaggressions anonymously to be taken down, and they won. Meanwhile, Jordan Peterson finally got to speak at Cambridge this year, two years after his invitation was withdrawn. Finally, in the US, the announcement of the University of Austin, a new university that will prize intellectual freedom, has given many people hope for the future of academia.
Perhaps the university is not dead yet.
Joanna Williams is a spiked columnist and the director of Cieo.
To enquire about republishing spiked's content, a right to reply or to request a correction, please contact the managing editor, Viv Regan.