Why China haunts America
America's growing antagonism towards China is a reflection of its domestic malaise.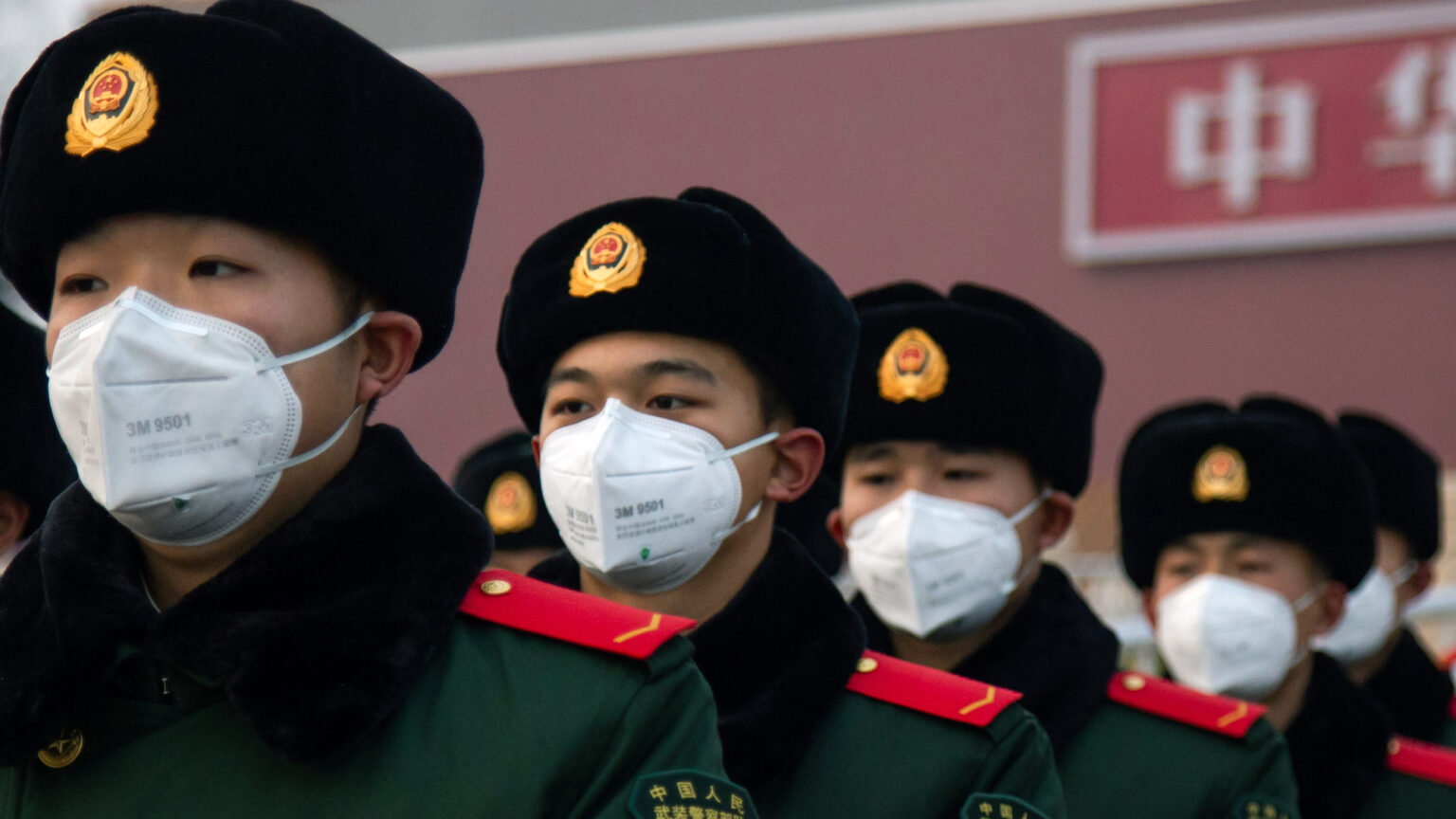 Are you a regular spiked reader? Then please consider making a Christmas donation. You can do so here. Thank you!
The events of 2021 confirmed that the US political class sees containing China as its No1 foreign-policy goal. Indeed, China is now one of the few issues that publicly unites Republicans and Democrats. Treating China as the biggest external threat to America can no longer be regarded as a Trumpian aberration. The Joe Biden administration has been similarly focused on China, building on a theme that goes back at least to Barack Obama's 'pivot to Asia' 10 years earlier.
It is true that 2021 is ending with Western diplomats' attention focused on the possibility of a Russian military invasion of Ukraine. And this could turn into a major flashpoint – either by design or, more likely, miscalculation on one actor's part. However, this potential for an eruption of conflict in eastern Europe poses nothing like the threat to international stability arising from the heightened rivalry between the world's two biggest economies.
At his first White House press conference in March, President Biden described 'stiff competition' with China as being at the heart of an epochal contest between democracy and autocracy. He stated that his objective was stopping China from becoming the wealthiest and most powerful country in the world, and pledged to make Beijing 'follow the rules' of the existing global order. He continued Trump's project of 'decoupling' America's economy from China's by banning Americans from investing in scores of Chinese technology companies. By September the US had signed the Aukus security pact with Australia and Britain to reinforce a militarist edge to its China focus. The year ended with another Biden attempt to rally support in countering China's rise, with his awkward online Summit for Democracy, which even sympathetic voices saw as 'ill-conceived'.
Over the course of the year, the Biden White House was easily able to point to continued actions by the repressive Chinese Communist Party to justify branding it as autocratic and oppressive. Beijing continued its despicable crackdown on pro-democracy campaigners in Hong Kong and its harsh maltreatment of Muslim Uyghurs in Xinjiang, and it adopted an increasingly aggressive military stance towards Taiwan. However, as in so many other areas of politics, the impact of the Covid-19 pandemic also helps explain the recent marked escalation of geopolitical tensions.
The ebbing of American authority
Commentators have been talking about the end of the American century for some time. But these past two years made it seem more real. America's failure to lead a global response to Covid made its waning as the hegemonic power appear as a fact of international life.
This perception of a diminished America, though, owes less to the rapidly evolving world than to the domestically driven insecurities and drift afflicting the US elite – a situation with parallels in Britain and the other ageing Western powers. An anguished American political class has sought refuge in the conventional pursuit of foreign scapegoats for its internal troubles. With China in their sights, US politicians combine a self-flattering belief that the US should remain the global hegemon forever with a self-doubt that hampers their ability to negotiate a changing international landscape.
The US is still the biggest economy in the world by the normal measure of gross domestic product. Given the perceived existential threat China is thought to pose to America, it is worth noting that this economic weight enables Washington to spend more on its military than the next 11 countries combined, and about three times as much as Beijing does.
However, even before the pandemic, many forecasters anticipated that China would overtake the US in nominal annual output at some point in the early 2030s. Following the uneven economic impact of the pandemic on the two countries, some have already brought forward these projections to the latter part of this decade.
That China was the only major country that grew in 2020 is a striking illustration of international unevenness. China was also the first big nation to make up for the losses during the economic shutdowns, benefitting, ironically, from the emergency stimulus packages in the West that helped maintain demand for Chinese goods. The container ships pictured queuing up to dock at the Californian ports of Long Beach and Los Angeles in October were full of Chinese goods for American consumers and businesses. And after the containers were eventually unloaded, many went back across the Pacific empty because China is not nearly as demanding of imports made in the US.
Indeed, at the start of the pandemic the United States' domestic productive decay was exposed, when American people, and the rest of the world, realised just how dependent the US had become on imported medical supplies and equipment, much of it manufactured in China. Another milestone in the US's relative economic decline was reached during the pandemic, when, for the first time, China overtook America as the European Union's biggest trading partner, highlighting the growing economic integration between Europe and Asia.
America's wider domestic troubles have also been undermining its reputation in the eyes of others. The US's handling of the pandemic displayed to the world its fading capabilities. Its levels of Covid cases and deaths relative to population were respectively fourth and top among advanced industrialised countries. And despite American corporate success in the development of a couple of the early vaccines, the broader deficiencies in its healthcare system showed that America could no longer be relied upon to command the world in medical technologies, or in technologies in general.
Prior to the pandemic, the US government's concerted attacks on Huawei, the Chinese telecoms-equipment producer, had already indicated that America's leadership in technology was under threat. This has become more obvious over the past two years. Indeed, America's earlier efforts at decoupling, which aimed to isolate China economically from the rest of the world, have only spurred China's pace of technological advance. They motivated Beijing to achieve self-sufficiency faster in crucial areas like semiconductors, robotics and cloud technologies.
China is increasingly recognised by others as leading global innovation not just in areas like solar-power technology, electric transport and battery storage, but also in the strategically vital areas of artificial intelligence, quantum computing, cyberwarfare and space-missile technology. Although some American companies retain the potential to match these advances, an overblown perception within the US ruling elite of technological defeat has become a self-fulfilling prophecy. This was illustrated in September when Nicolas Chaillan, the Pentagon's first chief software officer, publicly resigned his position.
While Chaillan's decision was no doubt fuelled by his personal frustration with the US Defense Department's deficiencies, his subsequent interview with the Financial Times pointed to a broader mood of elite despair. A man who a few weeks earlier had been leading his country's digital warfare capabilities claimed that the fight for technological leadership in artificial intelligence was already over. He said that the US had 'no competing fighting chance against China in 15 to 20 years. Right now, it's already a done deal; it is already over in my opinion.'
Chaillan is right in one sense. In geopolitics, technology can be more significant than national economic output, because sooner or later technological advances translate into visible forms of global power. However, his comments about America's technological decline being a 'done deal' epitomise the strong fatalist strain in US establishment thinking. Technological defeat is seen as almost inevitable.
Over and above the actual trends, it is the expectation of China's global economic and technological supremacy that has increasingly been concentrating minds within the US political class. The eclipse of American global leadership goes beyond narrow economics or even technological developments. It reflects how a deeply unsettled elite sees its country's prospects. And this, in turn, affects how Washington handles its challenges, and the way other countries perceive the US.
The overstating of the material reality of US decline can have destabilising repercussions for the international order. It generates a more reactive and less strategic US foreign policy, which fuels the unpredictability of international relations. This makes the world increasingly dangerous because it makes actual confrontations more likely, whether by accident, mistake or misjudgements by one or other of the involved parties.
With the American state now seemingly reluctant to lead the postwar order it created, this order is likely to fragment further, with divisions springing up between the West and the East, and within the old Western bloc. It is telling that during the pandemic cross-border cooperation has been in short supply, as divisive nation-first policies have prevailed.
If anything, the US government's actions over the past year have aggravated international frictions and tensions. Take Biden's chaotic unilateral withdrawal from Afghanistan this summer. It both angered many old American allies and reinforced, in Beijing and Moscow, an inflated sense of American weakness and incapacity. The mixing of these ingredients produces a highly inflammable brew.
Looking ahead
The US-China relationship looks like it will be the defining geopolitical issue of our times. However, it is not inevitable that these great-power tensions must dominate geopolitical affairs, let alone lead to war.
For a start, there is no inevitability about US economic decline. Despite the depths of America's economic, political and cultural malaise, its production machine could still be revitalised and re-energised. The US needs to initiate an overdue process of creative destruction, and to sponsor people through the transition to a new economy. But to do so would require political courage.
Nor is it inevitable that China continuing to economically outpace America will lead to military confrontation. Recall that 2,500 years ago, in his history of the Peloponnesian War, Thucydides explained how it was Sparta's 'fear' of the growth of Athenian power that made war inevitable. While tough to envision today, it is not impossible that domestic political transformations in the US, and in other Western nations, could dislodge today's pervasive culture of fear.
An incumbent global hegemon will always be tested by the arrival of a large new economic and political power. This shift in international relations could be managed effectively through collaboration with all nations towards the goal of creating a new international settlement – one based on the principles of non-interference and the national sovereignty of all countries. This agreement would, of course, need to correspond to the configuration of countries today, not as things were in the very different world of 1945.
For America, and the other smaller old Western powers, to entertain such a shift would again require a level of political courage and vision that has been lacking for decades. But when better than a new year to set out on an alternative international path, not least when the stakes for humanity are so high.
Phil Mullan's Beyond Confrontation: Globalists, Nationalists and Their Discontents is published by Emerald Publishing. Order it from Emerald or Amazon (UK).
To enquire about republishing spiked's content, a right to reply or to request a correction, please contact the managing editor, Viv Regan.