The hell of 'Zero Covid'
China shows just how dangerous public-health fanaticism can become.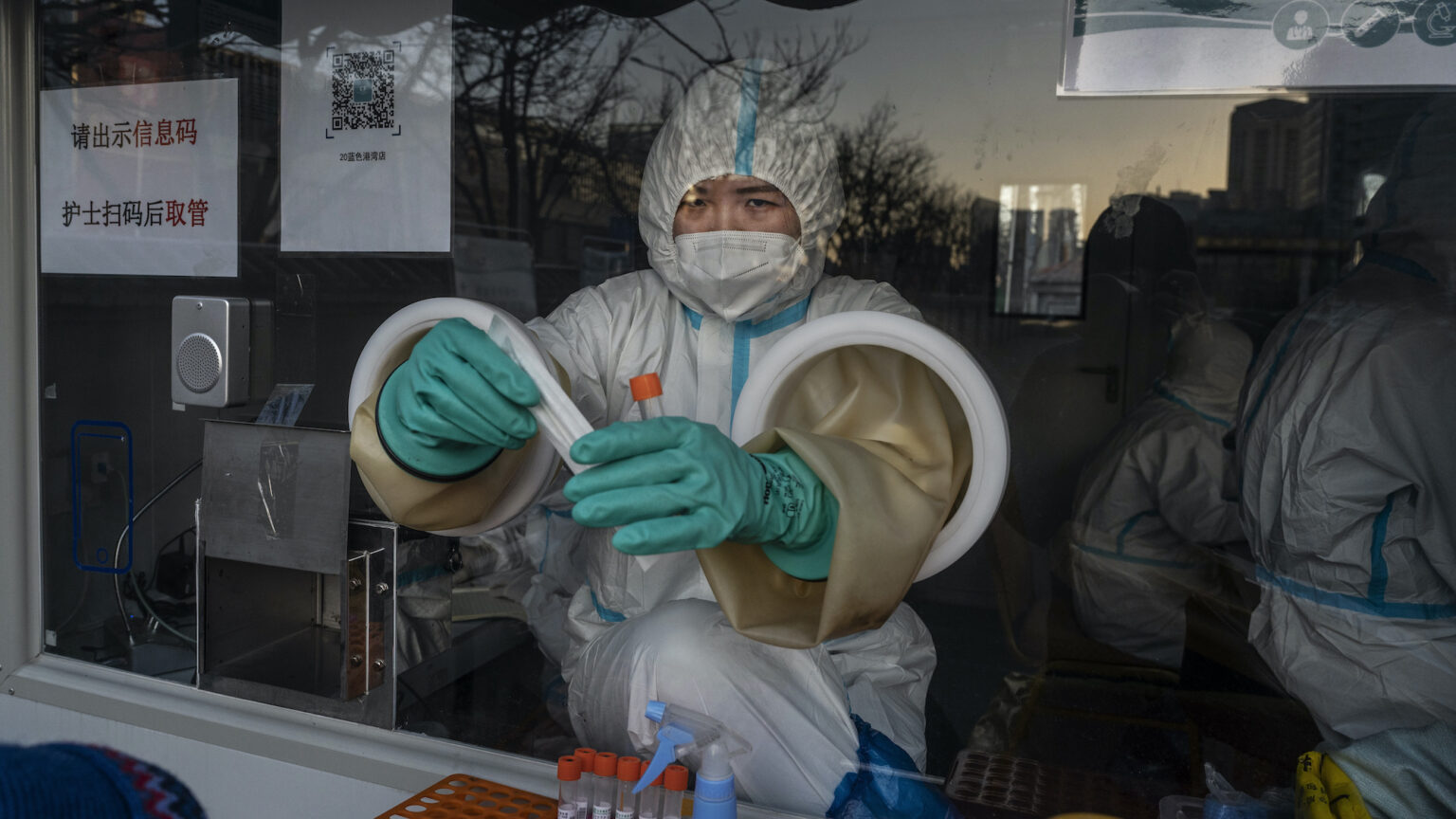 Imagine a nation in such a state of distress that its citizens were reduced to bartering for food. A nation where women were so desperate for something to cook and eat that they started swapping sanitary towels for vegetables. A nation where families were so hungry that they would trade their cigarettes for a cabbage. This country actually exists. And it isn't one of the poor, sometimes famished nations of the global South. It's China. More accurately, it's China under the policy of 'Zero Covid'. If you want to witness the hell of Zero Covid, the dystopian derangement of subordinating every facet of life to the crusade against coronavirus, look no further than the country where this virus first emerged.
The bartering for grub and other basic supplies is taking place in the city of Xi'an in north-west China right now. There has been a spike in community Covid infections in Xi'an and the authorities have responded with ferocious authoritarianism. Thirteen million people have been confined to their homes since 23 December. Initially they were allowed out once every two days to buy food, but even that infinitesimal scrap of liberty was done away with on 27 December. Since then, the people of Xi'an have been under literal house arrest. They are not permitted to leave their place of residence for any reason, not even to buy food. Yes, for the past nine days 13million people have been locked in their own homes; if they take so much as a step outside, they risk arrest.
To get around the rather important matter that people will become gravely ill if they don't have food, officialdom in Xi'an has arranged to deliver essentials to people's front doors. Not surprisingly, this hasn't gone entirely smoothly. Residents have complained about not receiving enough to eat. Others say they have received no aid at all. Citizens have taken to Weibo to share images and videos of themselves bartering for foodstuffs. In one clip, a desperate man offers a Nintendo console for some instant noodles and steamed buns. Another offers dishwashing liquid for apples. People 'no longer have enough food to eat', one Xi'an resident told Radio Free Asia. Another said Xi'an has witnessed a 'return to primitive society'.
It isn't only Xi'an that is suffering under the boot of Zero Covid. This week, the 1.2million residents of the city of Yuzhou in the Henan province have been locked down following the discovery of three Covid infections. And asymptomatic infections at that. The rules are severe. All public transport has been suspended. Driving has been banned. All schools, shops and leisure venues have been closed. Mercifully, unlike the arrested citizens of Xi'an, residents of Yuzhou are allowed to go out to shops that provide 'the supply of daily life materials'. That is, they're permitted to buy food. And that's all. Under Zero Covid you are allowed to eat and nothing else. You may sustain your body but every other human pursuit – education, association, leisure, work, protest – is denied to you. Everything is ruthlessly subordinated to public health. Life is denuded of all the things that make it worth living; only corporeal preservation is permitted.
And woe betide citizens of China who agitate against the tyranny of Zero Covid. In a creepy echo of the Mao era, public shaming has made a comeback. A few days ago footage emerged of police in the city of Jingxi in southern China parading alleged Covid criminals through the streets. Four people in hazmat suits and face masks were marched by cops through an area of the city as others looked on. All four had placards hanging from their necks displaying their names and photographs of their faces. Their alleged offence was to help people cross the border into China – the gravest offence in a Zero Covid country. The aim of this Maoist spectacle of public-health shaming, in the words of CNN, was to raise awareness about 'border-related crimes' and encourage 'public compliance with epidemic prevention and control measures'. Maybe going outside to partake in a Two Minutes Hate against Covid criminals will soon be permitted in Xi'an? Any species of relief from the nine dark days they've been locked in their homes would no doubt be welcomed.
In some ways, these unforgiving, misanthropic restrictions are specific to China. China is, of course, an authoritarian country – most of its rulers have few qualms about depriving people of their most basic freedoms. Also, the CCP has its political reputation to consider. As the Guardian reports, for the past 20-odd months, state media in China have pushed the message that the spread of Covid in other countries is down to 'poor leadership and bad decision-making'. Abandoning Zero Covid now, and allowing community infection, would threaten the standing of President Xi and his administration. Most worryingly of all, precisely as a result of its Zero Covid policies – and also the fact that its vaccines are not as effective as Western-produced vaccines – China has low levels of population immunity against Covid. This is the trap of Zero Covid, as Australia and New Zealand have discovered: in the process of protecting the citizenry from infection, which is the justification for these intolerable policies, you hamper people's biological ability to deal with Covid when it inevitably arrives.
But in another, very important sense, Zero Covid is not just a 'Chinese thing'. No, here in the supposedly free West, too, numerous experts and observers openly lobbied for Zero Covid policies, for the subjugation of liberty and the joys of life to a programme of ensuring that Covid could never gain a foothold in our society. 'Zero Covid', over the past year, has become a little like the campaign slogan 'Defund the police', in that the people who pushed this policy now deny that it is actually what they wanted. Just as BLM's media supporters say 'We didn't really want to defund the police, you just don't understand the nuances of our position', so the Zero Covid lobby in the UK and elsewhere insist they didn't actually want to enforce such severe restrictions that Covid cases would be reduced to zero. But the truth is, they did.
Indeed, it is worth remembering that numerous British experts praised China's fearsome response to Covid. Professor Neil Ferguson of Imperial said he and his colleagues never thought they could 'get away with' the kind of ruthless policies China was enforcing in early 2020. '[And] then Italy did it. And we realised we could.' Omnipresent doom-monger Professor Christina Pagel cooed that China is 'tak[ing] its Covid approach very seriously' when it was revealed the Chinese had built a 5,000-room quarantine centre for overseas arrivals. 'China has a socialist, collective system… not an individualistic, consumer-oriented, profit-driven society badly damaged by 20 years' [sic] of failed neoliberal economic policies', tweeted Professor Susan Michie in March 2020. To drive home her message, she included the hashtag #LearnLessons. That is, the UK should learn from China. Michie is one of the SAGE advisers to the UK government. Anyone who doubts that liberty is in a precarious position in modern Britain should just consider this fact that a fan of China's 'system' has been advising the government throughout this blasted pandemic.
This is the truth: if we had followed the advice of Britain's own Zero Covid fanatics, we would be in a similar position to China right now. We would have accepted that nothing is more important than preventing infection with this coronavirus. We would have reorganised society in such a way that health was preserved but at the expense of life – at the expense of education, human interaction, the right to walk outside of your front door. We did this for periods of time, of course, during the various lockdowns. And future generations will surely look back and wonder why we in the supposedly liberal West copied, in Ferguson's frank admission, the policies of the CCP. But for now, as we read of the desperate straits that the good people of Xi'an find themselves in, let us remember that we have our own Zero Covid authoritarians, and that their unhinged policies would have propelled us into a similarly dystopic situation. That scares me more than Covid itself. Restoring liberty to its rightful place – as the most important feature of our society – will be the key task of 2022.
Brendan O'Neill is spiked's chief political writer and host of the spiked podcast, The Brendan O'Neill Show. Subscribe to the podcast here. And find Brendan on Instagram: @burntoakboy
To enquire about republishing spiked's content, a right to reply or to request a correction, please contact the managing editor, Viv Regan.