Woke's latest victim? Sex and the City
And Just Like That… is a woke hot mess.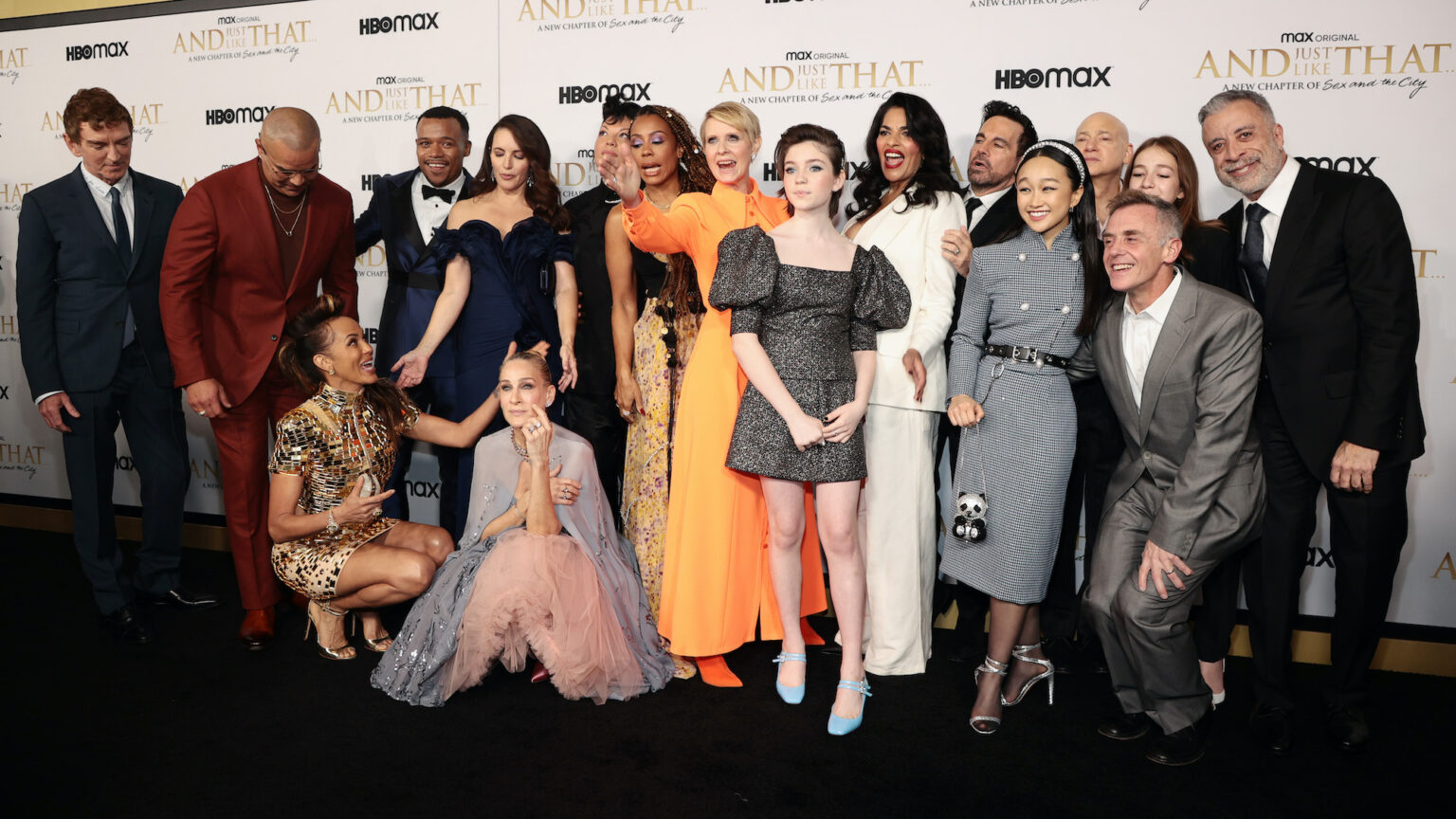 Woke has claimed another scalp. Sex and the City's. Yep, not content with raiding and plundering campuses and corporations across the Anglosphere, now the cult of correct thought has slain one of the best TV shows of the late 1990s / early 2000s. The SATC reboot, And Just Like That…, is bad. Really bad. There's no Samantha, Carrie is in mourning, Charlotte has been outed as a cultural appropriator, Miranda has been turned from a go-getting lawyer into a wobbling jelly of a crisis-ridden middle-aged woman who falls in love with a non-binary podcaster called Che, and all of them are forever putting their Jimmy Choo'd feet in their mouths by getting things wrong on race, gender and all the rest of it. Seriously, HBO, after all the privations of the Covid era, you couldn't have thrown us a bone?
It's such a depressing show. Big dies in episode one, dropping dead from a heart attack after pedalling too heartily on his Peloton. I'm convinced the reason for this opening-show shocker is that Chris Noth saw the scripts and said: 'Kill me.' Carrie gets over Big's death strangely fast – faster than she got over his jilting of her at the altar in the first SATC movie – but she nonetheless spends every subsequent episode moping around and occasionally bursting into tears. Though whether this is because her husband died or because her only job now is a weekly stint on the most insufferable podcast in Christendom – and that's saying something – is not clear. The pod is called X, Y and Me and it features the aforementioned Che (Sara Ramirez), a queer, non-binary, Mexican-Irish diva, naturally. Che is one of the most irritating characters I've ever seen on a TV show. She's a self-righteous, butch, unfunny comedian who presses a buzzer labelled 'TRIGGER WARNING' if any of her pod guests go too far. Sorry, they are a self-righteous, butch, unfunny comedian. Much is made of Che's pronouns because this is 2022 and HBO doesn't want to be cancelled.
Every new character is basically the show's writers shouting at the audience: 'See! We're not racist!' There's Seema (Sarita Choudhury), a chain-smoking, Indian-heritage, ball-breaking realtor who bonds with Carrie over interior decor. There's Lisa Todd Wexley (Nicole Ari Parker), a hyper-successful black woman who is Charlotte's new best friend. 'Black Charlotte', Anthony calls her. The episode in which Charlotte tells husband Harry that they have to go out and find some black people to invite to dinner, lest Lisa think they're white supremacists or something, is truly bizarre. 'Anyone read the new Zadie Smith?', says Harry in an awkward effort to break the ice when he's in a room full of black people. We're expected to believe that these characters, lifelong New Yorkers, beating the streets of Manhattan day in, day out for 50-plus years, have never met black people before and don't know how to behave around them. It's nuts.
Then there's Dr Nya Wallace (Karen Pittman), a black law professor. Miranda joins her class as a postgrad student. The scenes between them give new meaning to the phrase toe-curling. In their first class together Dr Wallace walks in and Miranda can't believe she's the actual professor. 'Why not?', asks Dr Wallace. 'Well, your braids!', shouts Miranda. Which is definitely something a 55-year-old high-flying lawyer who's been around the block a few times would say to a black academic in New York City in the third decade of the 21st century. These absurdities have one purpose and one purpose only – to 'acknowledge past mistakes with regards to race in Sex and the City', as one observer puts it. AJLT feels like one, long, mirth-free apology for SATC, which of course is now judged by the woke mob to be a cultural crime because it focused on the lives of four white women, featured the word tranny, contained stereotypical gays, allowed Carrie to say bisexuality doesn't really exist (biphobic!), and had Samantha saying things like 'I wanna get me some of that' in relation to a black dude she fancied.
So it's not really a reboot at all – it's an act of penance. You tune in expecting to see a sequel to SATC but what you actually get is a mea culpa for SATC. 'Sorry we made that show', every scene screams. It all unwittingly highlights how tokenistic wokeness can be. Every major new character is a person of colour but they exist exclusively to correct the attitudes and lives of the white ladies from the original show. 'Black Charlotte' educates Charlotte on the etiquette of socialising with black folk. Seema is a Samantha replacement for bereft Carrie. And Dr Wallace is a prop for the racial awakening of Miranda. The Re-Education of Carrie, Miranda and Charlotte, they should have called this crap. No wonder Samantha ran away to London. ('Sexy sirens in their sixties are still viable there!', says one character, and there go my toes curling again.)
We are constantly reminded not only how out of time the three women are but also how old they are. The show's treatment of age is crackers. They've made Steve completely deaf, even though he's only in his mid-50s. Fiftysomething Harry has trouble pissing. 'A lot of men my age can't pull off a stream like this', he says when Charlotte complains about a long pee he takes. You'd think he was 80. 'Ooh, my knees', says Miranda after walking slightly faster than normal for three seconds. Carrie even has a hip operation! We're a long way from the time Samantha told an upstart shop assistant, 'I am fifty-fucking-two and I will rock this dress'. Now when you're fifty-fucking-two you apparently lose your hearing and your ability to walk at a normal pace. The show's ageism is so incongruous that I can only conclude that it is yet another way of distancing SATC's creators and writers from the original show. 'Look, we're really old, we don't know what we're doing', the show basically cries, all the time.
But forget race and age – it is AJLT's treatment of gender that is its most galling component. Sex and the City was famously a show about women, about 'single girls' negotiating mad, mettlesome New York City, and having fun and tribulations as they did so. Now they can't even say the words 'women' and 'girls'. I'm serious. Charlotte's daughter Rose has become non-binary and is now a TikToking irritant called 'Rock'. Which means Charlotte has to remind herself to stop using the word 'girls' when calling her two daughters. She says 'children' instead. As for Carrie, modern culture's most famous single woman – she's not a woman anymore; she's a 'cis woman'. On X, Y and Me she's the token 'cis woman'. Che calls her 'Miss Cis'. In this show Carrie 'represents the cis woman perspective', as one cultural writer approvingly says. This is where we're at, folks – the woke erasure of womanhood to preserve the feelings of blokes who identify as women has reached even into the modern era's best-known show about women. Sorry, about cis women.
At one point it just all gets a bit sad. Harry and Charlotte visit Rose's school where a teacher lectures them about the importance of referring to Rose as 'Rock'. Harry is unhappy, because he loves his daughter and he believes she's a girl, the regressive, old, urine-hesitant, Nineties throwback that he is. In that episode we're encouraged to feel a sliver of sympathy for Harry, which suggests someone in the writers' room must have wondered out loud if wokeness might sometimes be a bad thing. Braver writers – the old SATC writers, perhaps – would have gone much further down this route and made Harry the hero and Rose the silly little girl who needs a talking-to. But not this lot. Rock wins, Harry is sidelined, and yet another girl becomes post-female. Yay!
Maybe HBO made this dross in a sly effort to encourage more people to download the original series. I've certainly rewatched a few old episodes of SATC – sweet comic relief from the depressing world Carrie, Charlotte and Miranda now inhabit. One of the best episodes is 'Cock-A-Doodle-Do' in which Samantha has a bust-up with the transsexual prostitutes in her neighbourhood. 'I am paying a fortune to live in a neighbourhood that's trendy by day and tranny by night', she says. She overhears one of the pre-op prossies saying about a client: 'He was all up in my stuff once. I told him, "You'd better get that thing out of my ass or I'll shit on it".' Eventually they all become friends and Samantha holds a rooftop barbecue at which she offers one of the transsexuals a hot dog. 'Who wants a weiner?' 'Girl, I'm trying to get rid of one', her new trans friend says. Politically correct? Nope. Funny? Abso-fucking-lutely. God I miss the Nineties.
Brendan O'Neill is spiked's chief political writer and host of the spiked podcast, The Brendan O'Neill Show. Subscribe to the podcast here. And find Brendan on Instagram: @burntoakboy
To enquire about republishing spiked's content, a right to reply or to request a correction, please contact the managing editor, Viv Regan.