Whatever happened to the fighting Irish?
We have become the most subservient lickspittles on the planet.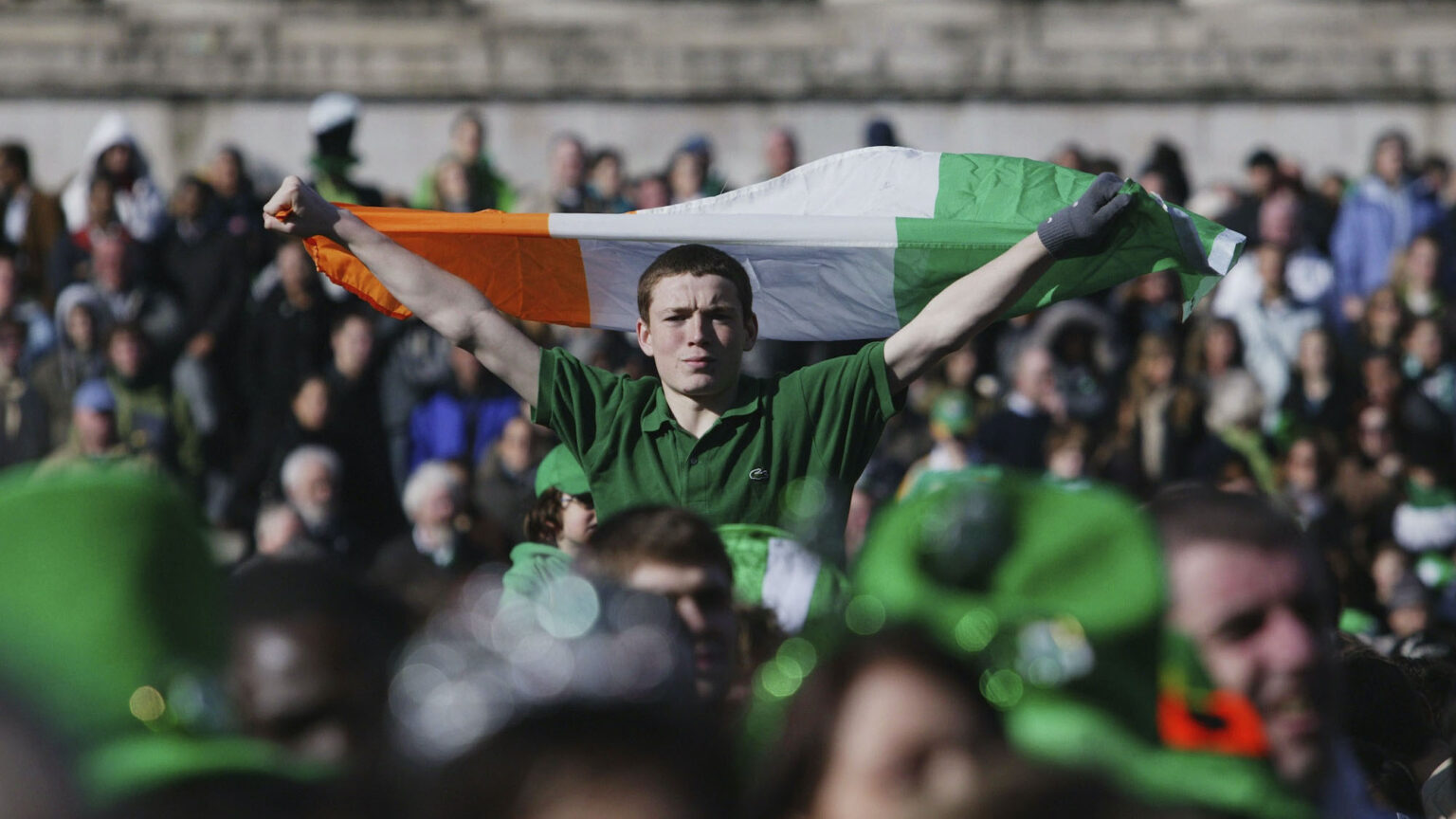 The 'Rocky Road to Dublin' isn't a rebel song – but it sure sounds like one. It's actually a 19th-century song about an Irishman travelling to seek work in England. But the tempo, urgency, exuberant wildness, reeling melody and rousing chorus make it feel like something erupting from the collective heart of 800 years of Irish revolutionary passion.
Don't take my word for it: watch any one of the several excellent versions on YouTube and, regardless of nationality, I defy you not to be stomping your feet, singing along and raising a glass and / or fist by the end. The comments, from all over the world, are glorious, many in praise of the song's brilliantly pugnacious spirit: 'This makes me want to fight the British – and I am British.'
Ah, that's the fighting Irish, though, right? That's how we're known, always have been.
Our forebears battled the British Empire, against ridiculous odds, until finally this place, 'long a province', could become 'a nation once again' – a century ago last month. In modern times, republicans in Northern Ireland carried out an unyielding and, in retrospect, probably unwinnable war for decades.
Ireland's 'fight for freedom' inspired similar crusades for self-determination elsewhere: India, Egypt, Israel. Meanwhile this political history – plus a general perception of Irishness as courageous, rebellious, intoxicated (whether by booze, poetry or dreams of sedition), smart-arsed, indomitable – has inspired a million films, books, songs and sketches.
Martin Scorsese's The Departed kicks your balls into your brains with its violent story of 'Southie' criminals and use of 'Shipping Up to Boston', a song impeccably described (YouTube again) as being 'more Irish than Ireland itself'. The Simpsons had the 'Drunken Irish Novelists of Springfield' kicking off a St Patrick's Day riot and blowing up 'John Bull's Fish & Chips'.
The Pogues were fighting Irish with a chaser of melancholy. Richard Harris was fighting Irish with an undercurrent of dignity. Oscar Wilde was fighting Irish in an ironic sort of way. Conor McGregor is fighting Irish with a twist of gangsta. Liam Neeson is fighting Irish, fighting everybody. Katie Taylor is fighting Irish literally made real in sporting form; as is hurling, that ancient game of the gods. (Non-aficionados should note that it's not as dangerous as it looks if you know what you're doing. But it's still cool to see doughty little girls walloping leather balls and clashing ash sticks.)
Notre Dame University in Indiana even calls their athletic teams the Fighting Irish, complete with cartoon mascot of a leprechaun, brow furrowed and fists aloft in the Queensberry stance.
We always took a bit of sly pride in the idea of the 'fighting Irish'. Alright, so nobody alive now manned the barricades in Easter 1916, and none of us can really claim credit for the rousing rebel chic of Dolores O'Riordan or Peter O'Toole or Brendan Behan. But we could feel a little vicarious, not unjustified, satisfaction. These people are of us, we felt. They came from our culture. They're individuals who symbolise the nation.
So, the fighting Irish, a world-famous phrase and well-earned reputation… until modern times, that is. These days I sometimes feel that Irish people are the most subservient lickspittles on the planet.
The Covid clusterfuck is a depressing exemplar. Irish people have accepted, with virtually zero protest, unbelievably restrictive measures from the government for almost two years.
The constitution, rule of law and everyday freedoms have been torn to shreds, and hardly anyone has uttered a peep in protest. I don't just mean there's been no rioting in the streets. But hardly anyone has been writing to politicians, calling into radio stations, or showing solidarity with those who refuse to conform and insist on individual rights.
The authorities keep taking more, we keep giving more and are grateful for the scraps thrown back from the table. They're now 'discussing' mandatory vaccination, in a country with class-swot compliance already. (Indeed, it already is mandatory to a degree: the vaccine pass introduced last summer excludes unvaccinated people from many areas of public life, reducing them to a subclass of citizenship.)
But it's not just Covid – we've been like this for decades. In 2001, for instance, Irish people voted the 'wrong' way in a referendum on the Nice Treaty, rejecting the EU. So the EU and our own ruling classes made us vote again in 2002. Rather than kick up a fuss, we duly voted the 'right' way this time.
In 2010 the economy tanked and the EU put us in the naughty corner. We sucked it up and said thank you very much. There were no major protests, by politicians or the populace, against EU-imposed austerity.
Meanwhile the 'laptop classes' have just introduced minimum pricing on alcohol – for our own good, of course. And they are now considering an outright ban on tobacco – same deal. Nary a word of concern about individual rights and freedoms.
But why am I surprised? Ireland was the first country to ban smoking in pubs in 2004. Back then I naively assumed we'd all ignore the dictate and happily puff away, in defiance of The Man. Reader, I was wrong.
There used to be a fighting-Irish spirit. Centuries of doomed rebellion and still coming back for more is the proof. But nowadays it makes me nauseous to hear my fellow 'citizens' – a category now dependent on vaccine compliance! – lay claim to it.
Our ancestors kicked ass. Their descendants are whipped dogs, masochistically happy with our submission and enthusiastically offering up our asses to be kicked.
Darragh McManus is an author and journalist. Visit his website here.
To enquire about republishing spiked's content, a right to reply or to request a correction, please contact the managing editor, Viv Regan.