It's not up to Dominic Cummings to pick our PM
The spurned adviser seems to have appointed himself as the nation's kingmaker.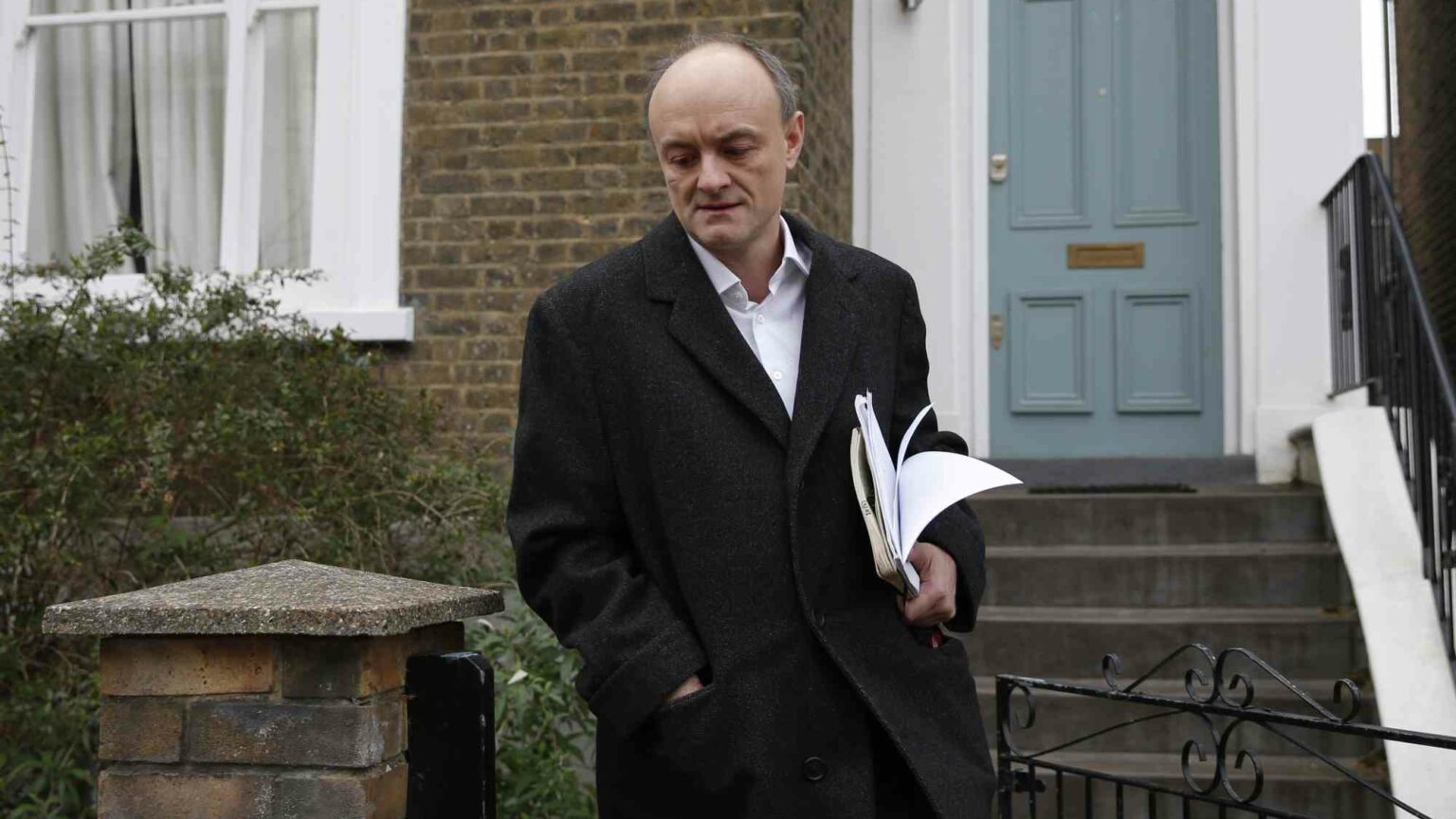 Dominic Cummings has never been elected to parliament, and is apparently not even a member of a political party. Yet over the past few years, we have heard more about what he thinks of the workings of government and the Tory party's internal machinations than we have from every MP combined. As the furore over Downing Street's socialising rumbles on, it becomes increasingly clear that while Cummings' continued meddling might titliate the media, it is hindering democracy.
Since news first broke of the Downing Street lockdown parties, rumours have swirled that Cummings was the one responsible for leaking dates, times and photos. He has used his Twitter and Substack accounts to fuel allegations and to nudge the press in particular directions. Today's headlines centre on his accusation that Boris Johnson knew that the now infamous 'bring your own booze' garden party was indeed a party and not a 'work event' – as if a thousand amateur meme-makers hadn't already arrived at this conclusion.
Cummings' accusation that the PM 'knew he was at a drinks party cos he was told it was a drinks party and it was actually a drinks party' is significant, of course. As Cummings points out on his blog, if true it contradicts Johnson's statement to MPs, in which he said he 'implicitly' believed the gathering was a 'work event'. This would mean that, as Cummings puts it, 'the PM lied to parliament about parties'. Parliamentary convention, as set out in the ministerial code, suggests that ministers who knowingly mislead parliament are expected to resign.
It doesn't seem far-fetched to conclude that bringing down the prime minister is Cummings' ultimate goal. He has previously revealed that he discussed ousting Johnson within just days of the Conservatives' landslide December 2019 election victory. Since his 2020 departure from Downing Street, Cummings has acted as the spurned lover, going all out to secure Johnson's downfall through insults and allegations. His blog fixates on the PM's weaknesses, highlighting his indecision and deriding him as a 'shopping trolley smashing between aisles'.
This psychodrama would be funny if it wasn't all being taken so seriously. Of course Cummings is free to say anything he likes about the prime minister. And of course we should know if those around No10 were not following the rules they were happy to set for the rest of the country. But Cummings' hissy fits are being lapped up by adoring media elites high on both the plot twists and the opportunity to take down the PM who got Brexit done. They scent Johnson's blood in Cummings' endless tweets and rambling blog posts. Few ask why Cummings deserves to be taken so seriously – even if he is telling his truth.
It's hard to remember just how hated Dominic Cummings once was by the exact same people who now hang off his every word. He was presented as an evil genius and a master manipulator – as if he alone was single-handedly responsible for all 17.4million votes to leave the EU. Cummings seemingly revelled in this image, even when he had to contend with anti-Brexit protesters and press outside his home. When Covid-19 came along, Cummings was blamed by some for the UK government not taking the pandemic sufficiently seriously and potentially delaying the first national lockdown. When news of his Barnard Castle jaunt broke, yet more protests were staged outside his home and the media cheered on his eventual resignation. Since then, the revelation that Cummings was actually a lockdown hawk, and his willingness to say anything to get Boris Johnson out of No10, began his rehabilitation. With his vendetta against the PM now in full swing, the media's loathing of Cummings has turned into something of a love affair.
The truth is, no one needs Dominic Cummings to point out that Boris Johnson is doing a terrible job as PM. We have all seen the government lurching from one crisis to the next, in a seemingly never-ending series of cock-ups and u-turns. The prime minister has shown himself to be incapable of ending Covid restrictions, while also failing to protect vulnerable care-home residents and to stop the spread of the virus in hospitals. He has failed to get a grip on the situation in Northern Ireland, and has done nothing to ameliorate the energy crisis and escalating cost of living. Stories around Downing Street parties join free school dinners, HS2, Afghanistan and the Owen Paterson affair in a long line of political disasters of Boris Johnson's own making. As Tom Slater points out, the 'government stands exposed as dishonest and hypocritical, with no purpose beyond its short-term survival'.
But no matter how bad Boris is, more of Dominic Cummings is not the answer. He may be a self-styled political genius but he is no democrat. His preference is for a country led by scientists and experts, rather than elected representatives, presumably with himself in the role of appointee. Cummings has long held grandiose fantasies about his role in putting Boris Johnson into No10 and his capacity to oust him on demand. Perhaps he should discuss this self-aggrandisement with his therapist. The media should leave the rest of us out of it.
It was the people who gave Boris Johnson his majority government – not Dominic Cummings. And it should be down to us if Johnson stays or not. If our elected representatives want to get rid of the PM, they should call for a vote of no confidence and push for a General Election. Cummings has said enough. It's time the people had their say.
Joanna Williams is a spiked columnist and the director of Cieo.
To enquire about republishing spiked's content, a right to reply or to request a correction, please contact the managing editor, Viv Regan.