No, we shouldn't boycott Neil Young
His attack on Joe Rogan was uncool – but we should separate the art from the artist.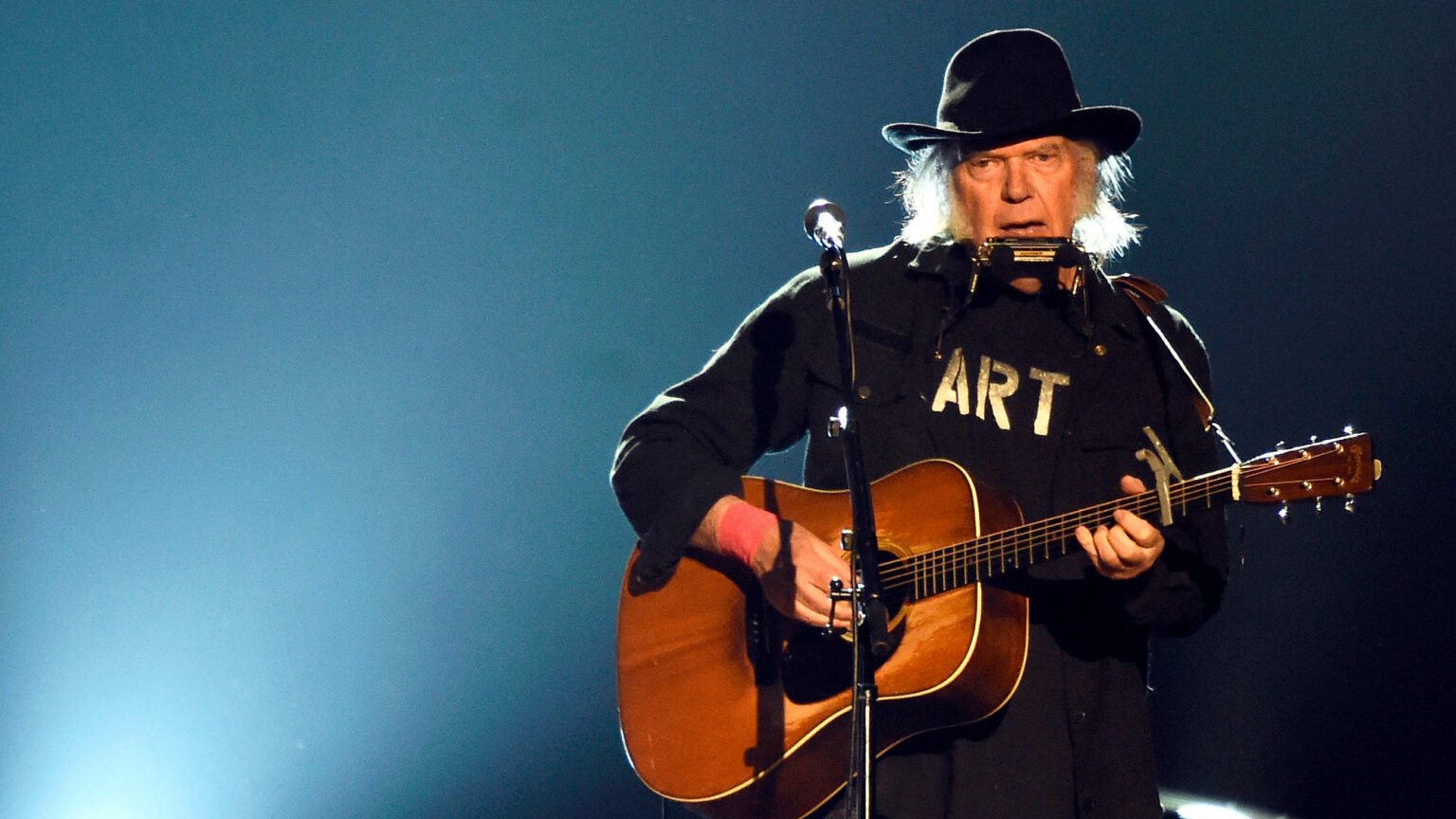 The ongoing Neil Young / Joe Rogan / Spotify snafu is one of the most dismal entertainment stories for ages. Young has now removed his entire back catalogue from Spotify in protest at alleged Covid misinformation on The Joe Rogan Experience podcast. About the only good thing to emerge from the whole mess is that it reminded us how funny James Blunt is – and, with apologies to the yodelling songster, how surprising that continues to be.
Blunt – who joked a few years back, 'If you thought 2016 was bad, I'm releasing an album in 2017' – responded to Young's ostentatious act of seppuku by tweeting, 'If @Spotify doesn't immediately remove @JoeRogan, I will release new music on to the platform'.
Arf. Remind me again when James Blunt got this cool?
Neil Young, on the other hand, is definitively no longer cool. Advocating censorship (which is what this was, regardless of how subtle and Jesuitical the arguments claiming otherwise)? Siding with The Man (every mainstream media outlet, governmental agency and Big Tech)?
Shutting down dissent? Making unprovable (maybe this is their point and their power) claims about alleged Covid misinformation – 'possibly causing death', at that – like Stalinist commissars of yore screeching about the lies of wreckers and reactionaries who must be crushed?
Ugh. What happened to you, man? You used to be… well, cool.
The multiple layers of hypocrisy make it even more dismal, if possible. This, remember, is Young, the hippy icon, who had an album called Freedom and a tour called 'Freedom of Speech', and implored us to 'keep on rockin' in the free world'. The word 'freedom' is literally there all over his career. Not 'freedom, but qualified by me', or 'freedom but subject to amendment in the event of certain medical emergencies'.
And now he's been joined by the mighty Joni Mitchell, which makes it dismal cubed. But most dismal of all is how this sort of controversy affects the consumer of art. Politics poisons everything, and people mentally bind together the work and the artist as an individual.
You know how it goes: Morrissey says he doesn't feel unlimited immigration is a good idea and social media is full of 'Johnny Marr was always the talented one in the Smiths!'. The bloke out of Mumford & Sons expresses support for Andy Ngo – possibly the only 'alt-righter' on the planet who's gay and ethnically Vietnamese – and it's all 'I always hated them anyway!'.
This reaches ridiculous levels when it's someone like Van Morrison, who may well be a dislikeable curmudgeon but who is also, by wide agreement, one of the titanic geniuses of modern music. 'He's only had two good songs', claim the naysayers, 'and one of those was a cover!'.
And this nonsense comes from both sides, not just the regressive-progressive left. George Clooney suddenly can't act or direct and isn't ridiculously good-looking after he said something stupidly right-on about Viktor Orban. Gary Lineker is suddenly remembered as a bad footballer because he is an annoyingly woke broadcaster.
Why do people insist on being this childish and small-minded? Personally, I hate Neil Young's censoriousness. But it wouldn't stop me listening to his music (if I'd liked it – sadly, I just can't get past that weird mewling voice). And it shouldn't stop anyone else listening to it, either.
Jesus, lads, grow up and separate the art from the artist. I couldn't care less what celebs think about anything. I'm solely interested in their work. They're not my friends and they don't sit in government, therefore it really doesn't matter except in the broadest, most abstract way. Certainly, it is nauseating how some of them lecture the proles, but that's a separate argument.
So revelations about, say, Michael Jackson's – how do I phrase this in a legally diplomatic way? – 'unusual behaviour' shouldn't stop you bouncing around when 'Beat It' comes on the radio. Because it's a great song. Most fundamentally, the artwork is not the same as the person's thoughts or acts.
It's the same deal with any artist and their 'sins', whether venal or full-on mortal. Bono comes across as a bit of a sanctimonious tit sometimes, but U2 made some fantastic records which I often listen to. No problem reconciling the two.
Ezra Pound was a fascist. So was Martin Heidegger. Michel Houellebecq seems to be the most misanthropic being this side of Hell. Caravaggio committed actual murder. So did Phil Spector.
The list goes ever on. Let it. Art is not the same as the artist.
And while it's fine to disagree with, or even loathe, someone's beliefs or actions, retrospective reassessments of the quality of their work just make you look stupid. If the movie or book was good before its producer declared himself Supreme King of the Misogynist Cabal of Neo-Totalitarians, it remains so afterwards. Nothing has changed in the thing itself.
In conclusion, artists should 'shut up and rock' – God bless you, Alice Cooper – and the public should ignore the political / personal stuff and enjoy whatever the hell we like.
So long as I don't have to actually listen to Mumford & Sons; there's only so far any man can go in the cause of freedom.
Darragh McManus is an author and journalist. Visit his website here.
To enquire about republishing spiked's content, a right to reply or to request a correction, please contact the managing editor, Viv Regan.