Big Tech vs the working class
GoFundMe's withholding of donations to the Canadian truckers is a foul, classist attack on democracy.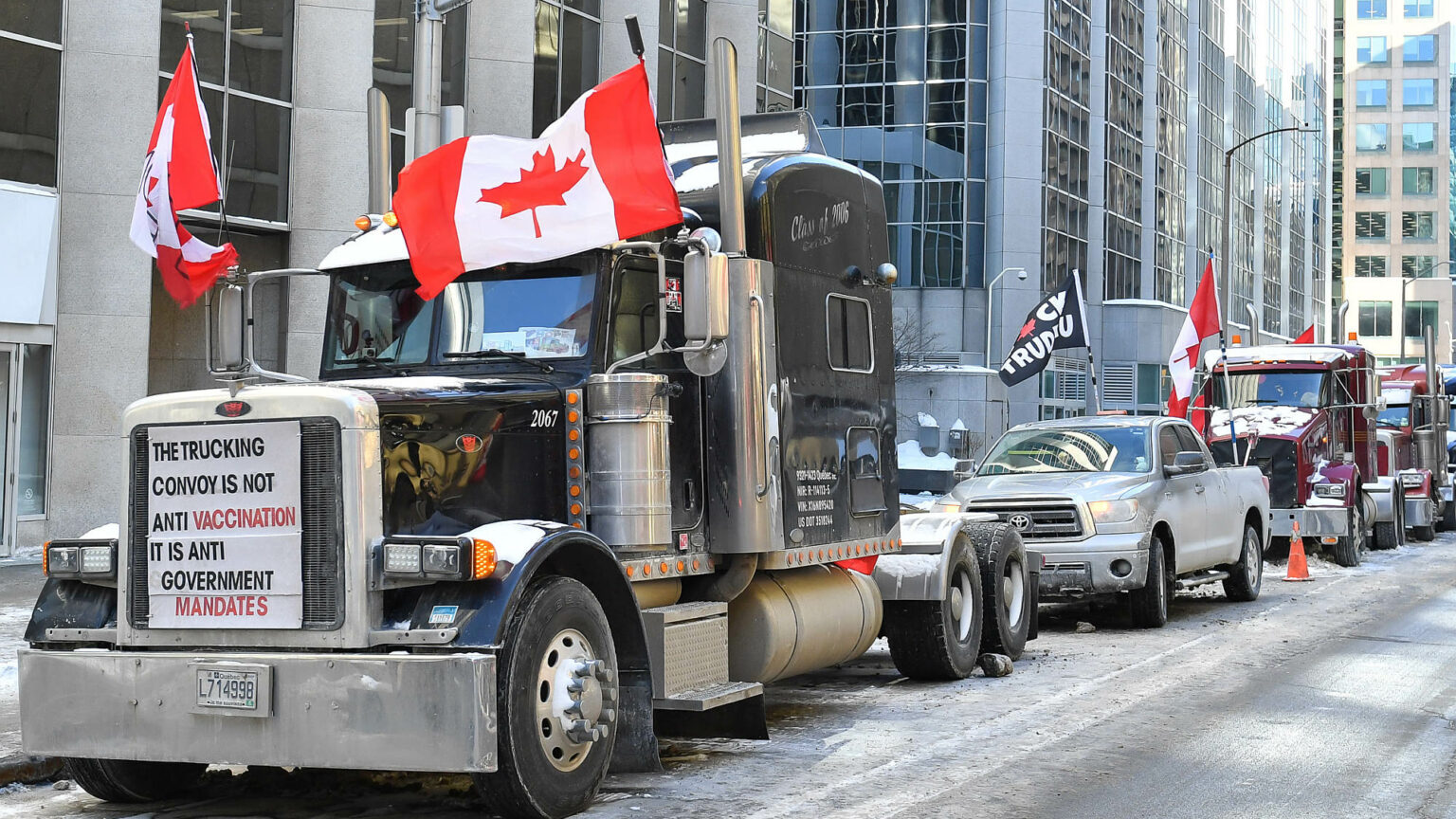 We need to talk about GoFundMe's withholding of millions of dollars from the Canadian truckers protesting against vaccine mandates. This is union-busting 21st-century style. This is a multimillion-dollar company using its corporate clout to starve working-class activists of funds. This is a signal from Silicon Valley, clear and loud, that it will wield its power to crush any form of political agitation from 'the lower orders' that pushes too hard against the political consensus. Anyone who thinks this clash between a profit-making fundraising website and drivers pissed off at being pushed around by Covid authoritarians is just another weird online spat needs to think again. This is far more than that. It is a scoping out of the battlelines over freedom and power that are likely to define the internet era.
GoFundMe's deprivation of funds to the truckers protesting against Canada's vaccine rules is, to my mind, one of the most egregious and anti-democratic acts yet carried out by the California-based elites who oversee the World Wide Web. These truckers, such essential workers, are revolting against Canadian PM Justin Trudeau's introduction of a new rule earlier this month stipulating that truckers who cross the Canada-US border will need to be vaccinated or else go into quarantine after every trip. This is a mad demand. It would severely undermine some truckers' ability to earn a living. So truckers have risen up. They drove their vast rigs across Canada in what came to be known as the Freedom Convoy before stopping in the capital Ottawa where they have been blocking roads and causing fainting fits among middle-class liberals who cannot understand why these oiks won't just carry on dropping off sacks of kale to the local Whole Foods and stop going on about their pesky rights.
There has been an outpouring of support for the truckers. Canadians and Americans tired of corona-authoritarianism are cheering the truckers for honking a huge collective horn at the elite consensus on Covid. Despite the best efforts of woke politicians and columnists to depict the truckers as QAnon on wheels, as a motorised version of Mussolini's March on Rome, many people know that in truth they are decent working people who simply object to the state making their lives that bit harder. People also know that the woke set's attempts to delegitimise the Freedom Convoy by flagging up 'far-right' comments made by a tiny handful of the truckers is a tactic as old as capitalism itself. Elite opponents of working-class organisation have always used smear and innuendo to try to nullify the throng. Seeing this smear campaign for what it is, lots of folk decided to give the truckers a few bucks. But GoFundMe had other ideas.
GoFundMe says the 10million Canadian dollars raised via its website, on a page titled 'Freedom Convoy 2022', will not be given to the truckers after all. It cited police reports about 'violence' in the convoy. What violence? Where? Thousands and thousands of people have joined the truckers' protest and yet there have only been three arrests. One person was arrested for being in possession of a weapon, one for causing 'mischief', and one for making a threatening comment on social media. As far as mass protests go, this is a staggeringly low level of allegedly criminal behaviour. I once visited the Occupy camp at St Paul's in London and witnessed at least three misdemeanours in the one hour I was there (public urination, threatening speech, and a disturbing of the peace by a man on smack who kept shouting 'GET TAE FUCK'). For a mass, angry, revolting movement, Freedom Convoy is uncommonly peaceful. GoFundMe's 'violence' blather is clearly a jumped-up pretext for its political decision to punish the truckers.
On Friday, GoFundMe issued a statement saying that Freedom Convoy was a peaceful movement when it first started but it has since 'become an occupation'. And so, 'no further funds will be directly distributed to the Freedom Convoy organisers'. Instead, the $9million that remains in GoFundMe's coffers will be distributed to 'credible' charities or refunded to the people who donated if they fill in a form. As if to make it super clear that this is all very political, Facebook has now removed a page promoting a Freedom Convoy in Washington, DC and deleted the personal account of the trucker who set it up. 'It's censorship at its finest', he said, and he's not wrong. This looks like a cut-and-dried case of the new capitalist oligarchies siding with the political establishment – in this case, Justin Trudeau – to shrink and silence the consensus-threatening cries of ordinary people.
The woke assault on the Freedom Convoy, whether it's coming from the terrifyingly powerful guardians of the World Wide Web or from the trucker-bashing commentariat, is so blatantly classist. The people tut-tutting over the truckers' blocking of roads in Ottawa are the same people who will have cheered the posh muppets of Insulate Britain when they held up the M25 and other major throughways in the UK. The correct-thinkers agog that the Freedom Convoy has now become an occupation – the horror! – will unquestionably have been fans of Occupy Wall St and Occupy St Paul's. The reasons for these hypocritical double standards are as clear as day. Insulate Britain and the Occupy movement were made up of well-spoken, well-educated people who, for all their radical pretensions, actually echoed the self-loathing consensuses of 21st-century capitalism. Whereas the cap-wearing, horn-honking truckers of the Freedom Convoy and Ottawa occupation are 'lower' folks who bristle against the political and moral consensus of the new ruling elites. So the former are cool and can carry on, while the latter must be stopped by any means necessary.
GoFundMe's anti-working-class meddling in the distribution of funds is of a piece with the growing arrogance of Silicon Valley. These unaccountable millionaires and billionaires who control key sections of the World Wide Web have made patently clear their willingness to interfere in democratic life. We've had Twitter and Facebook censoring the then sitting president of the United States, Donald Trump. Spotify is currently under pressure to silence or at least reprimand anti-woke voices like Joe Rogan's. Numerous social-media outlets strictly control what we can say about sex, gender, race, immigration and other issues, and will silence anyone who deviates from the 'correct' line. These companies exercise an enormous amount of control over the 21st-century public square, and they are unilaterally, and happily, punishing and expelling anyone who deviates from the moral diktats of the new ruling class.
The deprivation of funds to the rebellious truckers takes this all a step further. This is a for-profit company (capitalism) acting against the interests of angry truckers (the working class). In the past, people would boycott union-busting companies and corporations, in an effort to send a message to the arrogant kings of capital. I propose we do the same now. I, for one, will no longer use GoFundMe now that I know it is willing to withhold millions of dollars from working people whose only crime is to believe that their medical status should not be a barrier to their right to earn a living.
Brendan O'Neill is spiked's chief political writer and host of the spiked podcast, The Brendan O'Neill Show. Subscribe to the podcast here. And find Brendan on Instagram: @burntoakboy
To enquire about republishing spiked's content, a right to reply or to request a correction, please contact the managing editor, Viv Regan.