Hands off Ukraine
Russia must immediately withdraw from Ukrainian territory.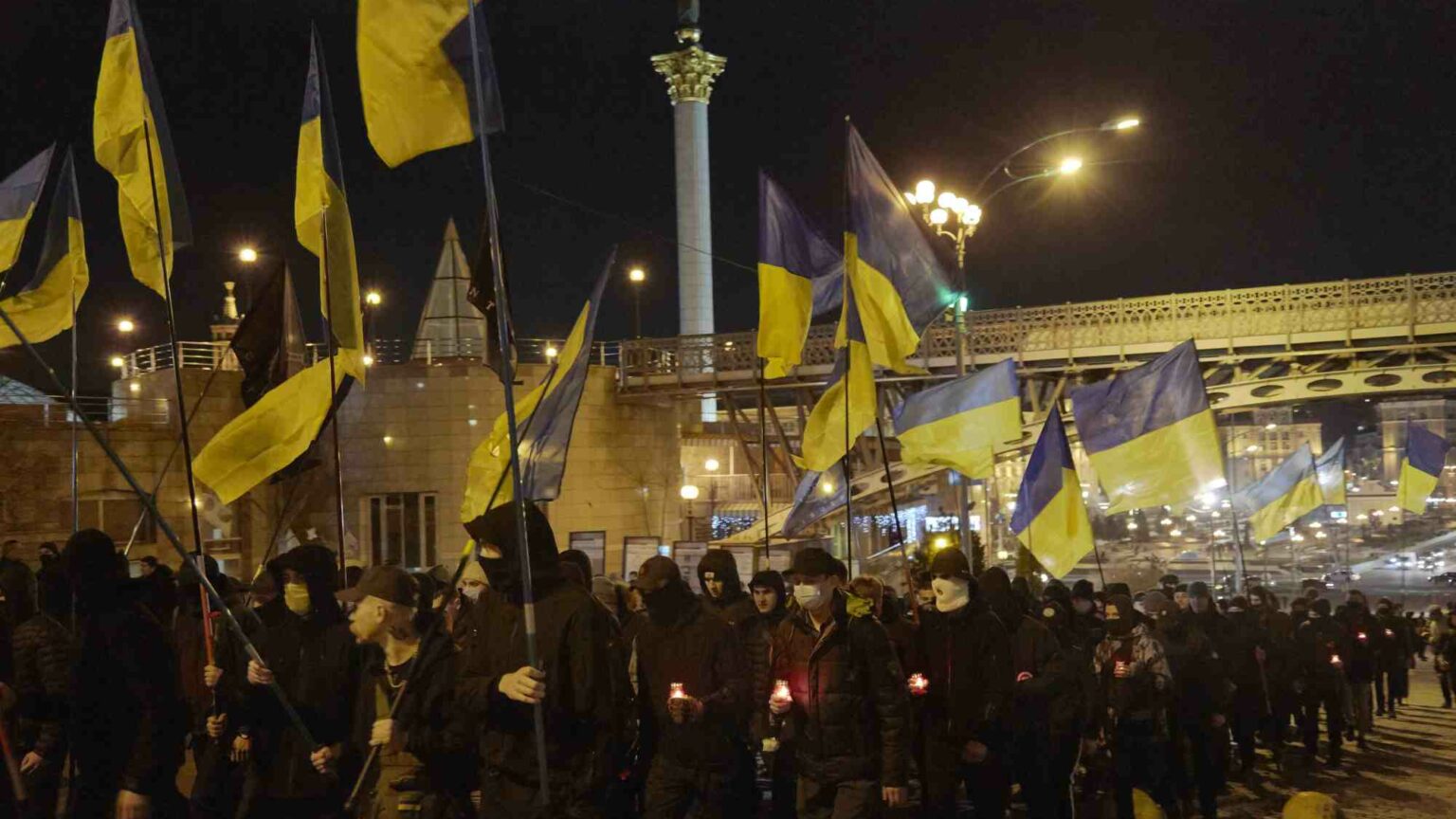 Vladimir Putin's ordering of troops into the breakaway regions of Donetsk and Luhansk in eastern Ukraine is an outrage. It is an outrage against the sovereignty and territorial integrity of Ukraine. It is a grave assault on Ukraine's right to self-determination, which is a right every nation must enjoy. This right is non-negotiable. Every violation of it, wherever it takes place in the world, should be treated as a serious offence against nationhood and democracy. That is an offence that Putin's Russia has now committed, and it must be reversed immediately before the situation spins even further out of control with potentially dire consequences for the people of Ukraine.
The stakes have been well and truly upped. Yesterday, Putin sent a loud and firm if somewhat rambling message not only to Ukraine but to the watching world, too. He gave a speech in which he openly mocked and undermined the sovereignty of Ukraine. This nation has no historical right to exist, he said. It is a 'colony with a puppet regime', he claimed. He then recognised Ukraine's breakaway pro-Russian 'republics' of Donetsk and Luhansk and ordered his troops to enter these territories in order to keep the peace. 'Peacekeeping', as we all ought to know by now, is an Orwellian euphemism for war. In both word and deed, Putin derided the national sovereignty of a neighbouring nation, treating Ukraine as a mere piece of land that he has the right to impinge on at will. No democrat can support or tolerate such an ideological and militaristic erosion of a nation's right to sovereign control over its territory and its affairs.
To be clear, the Ukraine crisis is strange and complex. It is not, as foghorn anti-Russian voices in the Western media would have us believe, a simple case of Russian imperial nostalgia riding roughshod over Ukraine and threatening Europe itself. It is not 1939 all over again. It is not fascism. And the West is not blameless in this debacle. Nor is the Ukrainian government, for that matter. NATO's eastward expansion, its 20-year militaristic approach towards Russia's borders, its flirting with Ukranian officialdom in an effort to create yet another pro-NATO, pro-EU state on Russia's doorstep, played a very significant role in stoking tensions in this part of Europe and inflaming all-out war in 2014. So we could do with far less of the pearl-clutching and vapours from Western leaders as they watch Putin roll into Donetsk and Luhansk, given that their own territorial ambitions and crude Cold War nostalgia did so much to light this dangerous fire in Europe.
Then there is the extraordinary stench of hypocrisy in the Western commentariat's condemnation of Russia for its militaristic incursion into Ukraine. These people have no shame whatsoever. The truth is this: what Putin is currently doing to Ukraine they have already done to many other nations, and with far deadlier consequences. They're guilty of the very offence that they want Putin to be sidelined, sanctioned and criminalised for. From Afghanistan to Iraq, Syria to Libya, and in a milder way through the EU's overriding of democratic decisions made in 'problematic' member states, these centrists repulsed by Putin's disregard for Ukraine's right to self-determination have spent the past 20 years throttling the right to self-determination, often with extreme violence.
Answer me this: why is Putin's assault on Ukrainian sovereignty deemed any worse than Western governments' destruction of Iraqi sovereignty or Libyan sovereignty? Is it because the nations whose sovereignty they treated as a sick joke, to be overridden at will, are largely non-white, and thus less important? Is it because they were poorer countries? Is it because they are not in Europe, and who gives a damn about nations outside of civilised Europe, right? While we're at it, why is Putin's support for breakaway regions in Ukraine so much worse, apparently, than Western centrists' support for so-called 'rebel' forces in Syria that included Islamist fanatics who slit the throats of teenagers and violently subjugated women? This is more than hypocrisy, of course. It is flagrant Western chauvinism, motored by a warped conviction that when we do things, it is good, but when other nations do the same things, it is criminal, intolerable, deserving of the severest punishment. How these people feel about Putin's current actions is exactly how we felt about theirs for the past two decades, and their inability to understand that is quite remarkable.
And yet for all the hysterical 1939-talk of Western officials, for all the double standards of our very own destroyers of sovereignty and wagers of war, and even for all of NATO's reckless expansion into the east, the fact remains that it was Putin and Putin alone who made the decision to encroach upon Ukrainian sovereignty. We can, and we should, discuss the events and the ideas and the infantilism of contemporary diplomacy that nurtured the conditions in which the geopolitical stakes are focused on Ukraine right now. But it was Putin who wrote that arrogant speech he gave yesterday, it was Putin who made fun of Ukraine's right to self-determination, and it was Putin who sent troops into the eastern part of a sovereign nation. It was Putin who committed this intolerable act.
We need a new movement in defence of national sovereignty. This progressive, democratic principle of global affairs has been under assault for more than two decades now. From the era of Western 'humanitarian intervention', during which Tony Blair and others openly questioned the principle of 'non-intervention' into other states' affairs, to the fallout from the vote for Brexit, when the elites depicted the defence of national sovereignty as a species of racism and xenophobia, the right of nations to determine their own futures has been dramatically and sometimes violently subverted. Whether it's done with guns – the NATO way, the Saudi way, the Turkish way – or with pressure and threats – the EU way – the elite movement against the principle of national sovereignty has been gathering pace. This has unquestionably emboldened someone like Putin to openly mock Ukraine's sovereignty. Non-interference is nonsense, right? That's what our intellectual betters have been saying for years.
Enough. We at spiked are no fans of the Ukrainian government. And nor do we have much in common with those in the Western media elite who are condemning Russia's actions but who next week will be demanding that 'we' do the same, and worse, to some Middle Eastern or North African state. But we do believe that national sovereignty ought to be an inviolable principle of world affairs. National sovereignty both empowers a people within an agreed territory to have a say in their nation's affairs and it also protects that nation from the attentions and attacks of more powerful regimes. If national sovereignty becomes a negotiable commodity, that can be erased at the whim of the Kremlin or the White House or the European Commission, then nationhood itself is called into question, and democracy and freedom will suffer. Putin's forces have no right to be even an inch within Ukrainian territory. Russia, out.
Brendan O'Neill is spiked's chief political writer and host of the spiked podcast, The Brendan O'Neill Show. Subscribe to the podcast here. And find Brendan on Instagram: @burntoakboy
To enquire about republishing spiked's content, a right to reply or to request a correction, please contact the managing editor, Viv Regan.