Scotland is still hunting witches
Nicola Sturgeon should apologise to the 'TERFs' her party is demonising.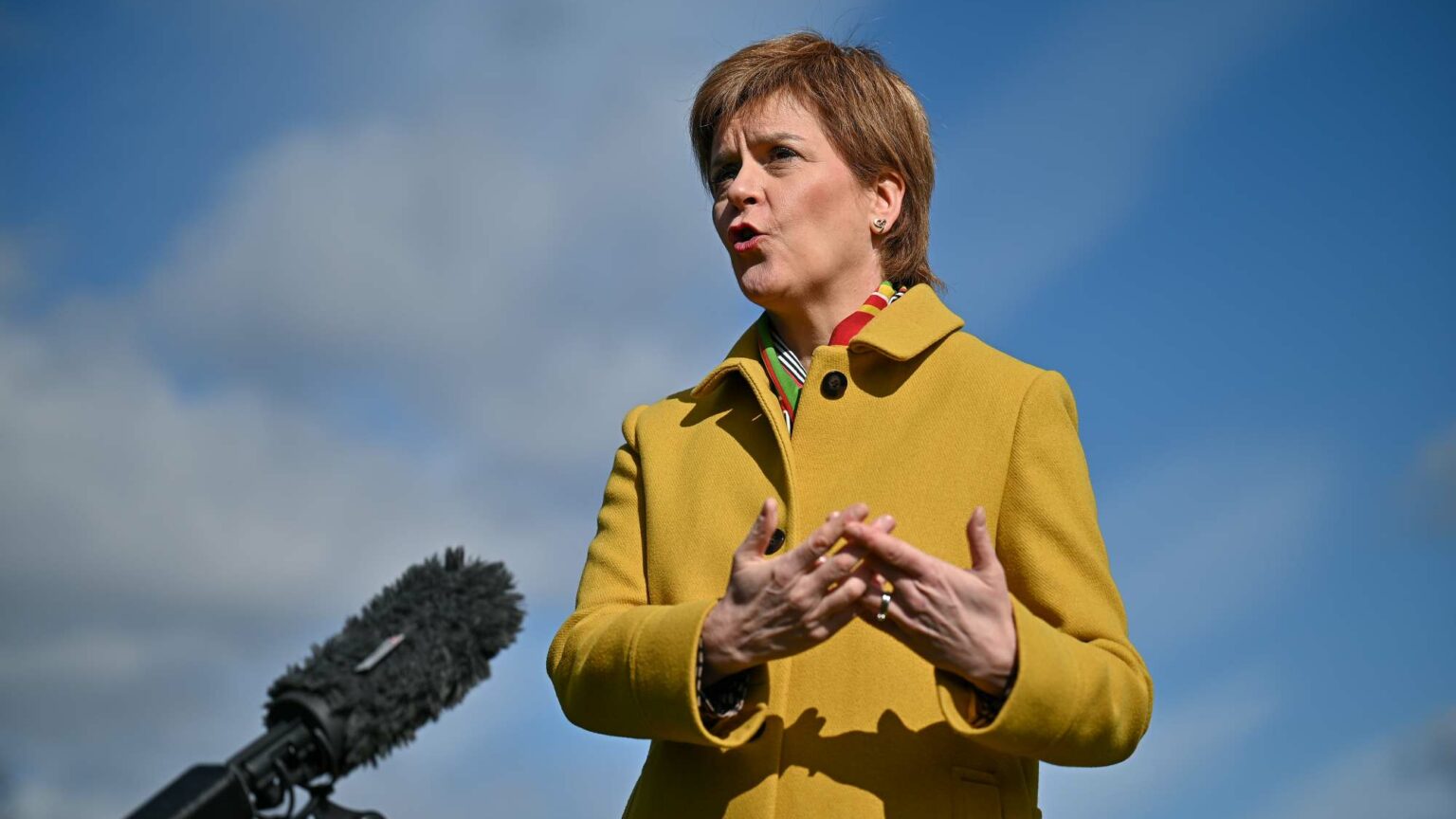 Scotland's first minister, Nicola Sturgeon, surpassed satire this week, by using a speech on International Women's Day to formally apologise to women accused of witchcraft.
Posthumously making amends to those convicted and executed under Scotland's Witchcraft Act of 1563, Sturgeon usefully clarified: 'Those women who met this fate were not "witches". They were people. And they were overwhelmingly women.'
While witch-burning is thankfully a thing of the distant past, a very modern form of witch-hunting is taking place today in Scotland and Britain more widely. But sadly, Sturgeon's empathy does not extend to those people – mainly women – who are routinely demonised simply because they are concerned about protecting their sex-based rights from erasure.
Of particular concern is Scotland's Gender Recognition Reform Bill. This bill essentially allows for gender self-identification in Scotland. It eliminates any need for someone wanting to change gender to undergo medical and psychiatric assessments. And it reduces the time a person is required to live as their 'acquired' gender, from two years to three months.
These moves have been criticised by a growing number of women's rights activists and feminists, including author JK Rowling, for putting women in harm's way – particularly women in prisons and those women seeking refuge from male violence.
Their concerns around safeguarding are well-grounded. After all, how can we trust that women's sex-based rights will not be eroded when we have a political class that hides behind the couch at the mere mention of the word 'woman'.
There have been two examples of such cowardice this week alone. On Tuesday, Labour shadow equalities minister Anneliese Dodds refused to give a definition of the word 'woman' on BBC Woman's Hour. When pressed, she gave a bizarre and equivocating reply that suggested she was really not on top of her brief: 'Well, I have to say that there are different definitions legally around what a woman actually is. I mean, you look at the definition within the Equality Act, and I think it just says someone who is adult and female, I think, but then doesn't say how you define either of those two things.'
The next day, fellow Labour frontbencher Yvette Cooper refused to define the word woman on Times Radio. 'I think people get themselves down rabbit holes on this one… I'm not going to get into rabbit holes on this. Why are we all getting ourselves tangled up?', she said.
Why, indeed? Last September both Liberal Democrat leader Ed Davey and Labour leader Keir Starmer were similarly stumped by questions about womanhood that should not have been difficult to answer.
In today's climate, it has become almost impossible to have any discussion about women or womanhood, without the focus quickly changing to trans issues. You could hardly ask for a starker illustration of this than when the Vagina Museum in London chose this year's International Women's Day to announce it would be tweeting exclusively about trans women for the day. Is it any wonder women are feeling erased?
Some institutions have tried to stop using the word 'woman' entirely. Leading medical journals have grotesquely reduced biological women to 'bodies with vaginas'. NHS Trusts have been known to use dehumanising terms like 'chest-feeding' and 'birthing parent' to refer to what we'd normally call mothers. In every case, it is biological women who are being erased and excluded in the name of 'inclusivity'.
Yet women who object to this are demonised and silenced as 'TERFs' and their reasonable concerns are dismissed as bigoted.
For instance, in response to Labour's struggles to define the W-word, JK Rowling joked that International Women's Day could be renamed 'We Who Must Not Be Named Day'. Predictably, she was tarred and feathered as a 'transphobe'.
Or take the treatment of Professor Kathleen Stock, who experienced years of bullying and harassment until last year, when protests eventually pushed her to resign from the University of Sussex. She became a target simply because her views on gender identity didn't conform to the orthodoxy pushed by trans activists or lobby groups like Stonewall.
In Scotland, the danger to women doesn't just come from the SNP government's Gender Recognition Reform Bill. There is also the recently passed Hate Crime and Public Order (Scotland) Act, which has the potential to silence the views of gender-critical feminists in Scotland. Some Scottish women have already faced police questioning for expressing their beliefs. So while Sturgeon apologises for persecutions past, she fails to recognise – in fact, she encourages – the demonisation of wrongthinking women right under her nose.
'While here in Scotland the Witchcraft Act may have been consigned to history, the deep misogyny that motivated it has not', Sturgeon said. Historic evils must be exorcised, she argued.
Yet the Scottish government seems perfectly happy to pursue a modern-day witch-hunt – and root out every modern blasphemy you can imagine. The Witchcraft Act may be a thing of the past, but the hunt for the invisible evil spirits of our own age is still pursued with dangerous zeal.
Emma Webb is a commentator and broadcaster.
To enquire about republishing spiked's content, a right to reply or to request a correction, please contact the managing editor, Viv Regan.