The New York Times' mask has slipped
A senior Times journalist has been caught on tape admitting his paper overreacted to the Capitol riot.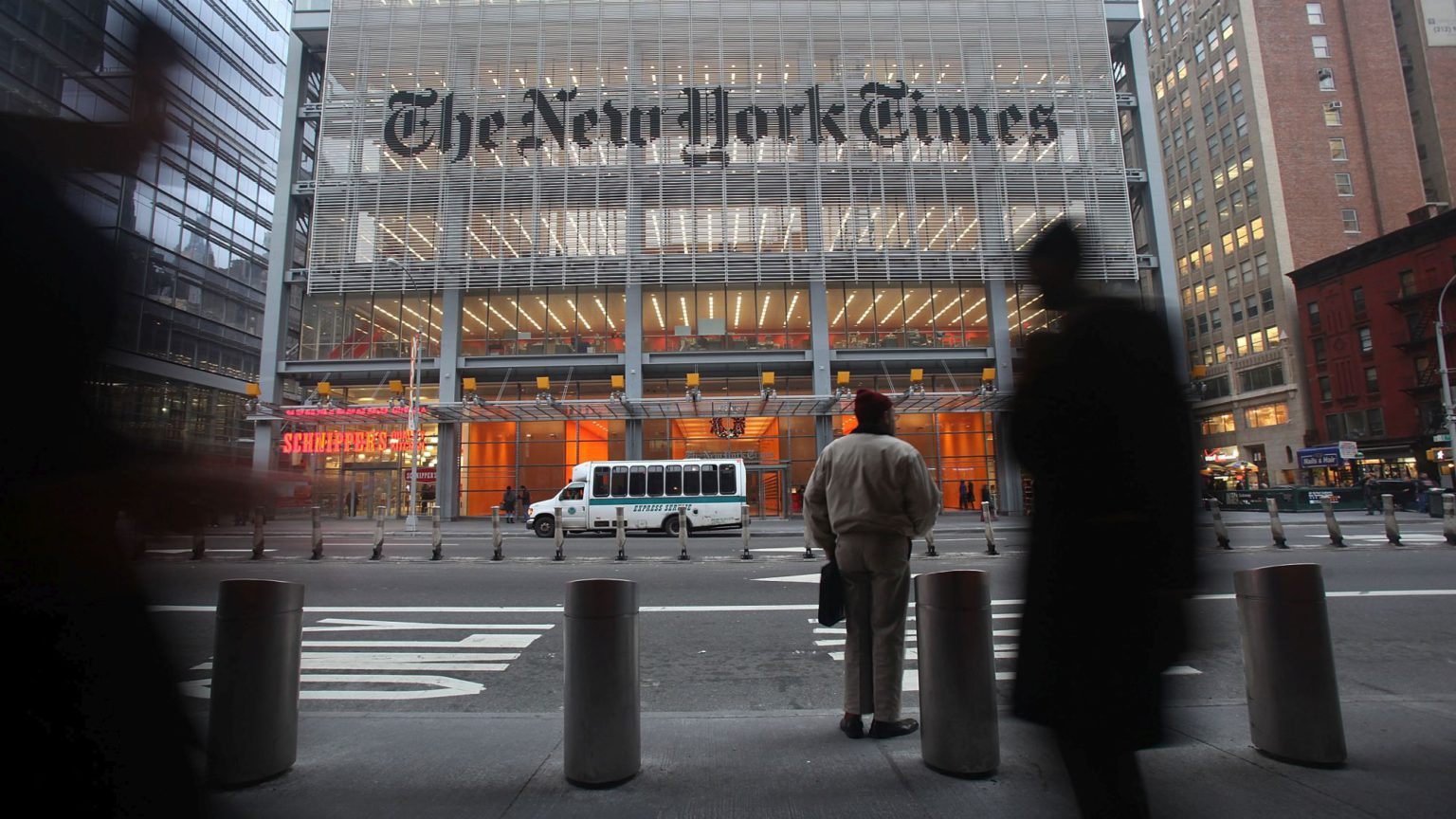 It was like a scene from a political black comedy: a senior journalist for the most powerful newspaper in the world getting doorstepped, like a grubby politician caught with his pants down.
Matthew Rosenberg, the Pulitzer Prize-winning war journalist turned national-security correspondent for the New York Times, was secretly recorded running his mouth to an unidentified female companion. Videos of their conversations were released last week by the controversial group Project Veritas. And in one in particular, Rosenberg gives a jaw-dropping interpretation of the events of 6 January 2021, when some Trump supporters rioted at the US Capitol building as Congress was voting to ratify the 2020 election. What makes Rosenberg's interpretation so shocking is that it is quite at odds with his own reporting in the Times.
The Times and the political and media classes in general have conjured up 6 January as an insurrection, a sign of the dark menace posed by rabid, violent right-wingers. Vice president Kamala Harris even talked about it in the same breath as Pearl Harbor and the terrorist attacks of 9/11.
Rosenberg's Times pieces on the Capitol riot have reinforced this narrative. On the first anniversary this year, Rosenberg and two other reporters even wrote an article attacking right-wing attempts to downplay and misrepresent the riot using a 'furious array of rumour, innuendo, partial facts and outright lies'.
In another piece from last October, co-authored with two long-time staff reporters, Rosenberg wrote breathlessly of the heroic police officers who 'fought to keep the hordes from storming the Capitol and upending the routine transfer of power'. And he described how 'sprayed chemicals choked the air, projectiles flew overhead and the unbridled roars formed a battle-cry din'.
But in the recordings of a private conversation, he describes that day very differently. 'It was, like me and two other colleagues who were there, who were outside [the Capitol] and just having fun.' And he also does not seem to think it was an insurrection: 'they [the left] were making too big a deal. They were making this into some organised thing that it wasn't.'
Rosenberg doesn't just undercut the liberal-left narrative on the Capitol riot. He also dishes major dirt about the behaviour of certain colleagues that day. 'But like all these colleagues who were in the building, and they're young and are like: "Oh my God, it was so scary." I'm like, "fuck off…" [The Times] is not the kind of place I can tell somebody to man up, but I kind of want to be like, "Dude, come on. Like, you were not in any danger."'
It's impossible to surmise what Rosenberg was thinking when he made these comments. Maybe he was changing his story to impress his companion. Or maybe he was telling the truth, and his original reporting, after undergoing a thorough Timesian editorial clean-up, came out of the machine an entirely different story. Whatever the case, it's deeply disturbing to hear such a frank admission that the Capitol riot was exaggerated by his own paper.
Rosenberg also reveals the internal conflict at the Times, between the attitudes of the old guard, whom he describes as 'reasonable people', and the hypersensitive woke culture prevalent among younger staff members – or as he puts it, 'some of the crazier leftist shit that's worked its way in there'.
The sad thing is, under normal circumstances, in a healthy media and political climate, nothing Rosenberg said would be that controversial. What he says is interesting and reasonable. The problem is that what he's saying is considered verboten in mainstream discourse — whether it's true or not.
This reflects the wider reality of the media, in the US and in the UK. Any mention of a fact that doesn't neatly fit within the permitted narrative — on race, on gender, on the Capitol riot — and you are instantly transformed into a wild-eyed right-wing nutjob.
Some might claim we should shrug all this off as an internecine media squabble. Project Veritas, the outfit behind the Rosenberg sting, has a long history of catching people out. It has carried out recent hit-jobs on CNN (where one producer admitted that CNN's coverage of Trump was 'propaganda', and another where a producer appears to proudly detail his sexual attraction to minors) and on Facebook and Pfizer. In response, liberal-left media outlets decry Project Veritas and its founder, James O'Keefe, as shady right-wing peddlers of fake news.
Project Veritas certainly practises subterfuge in order to get its subjects to speak candidly. And it is difficult not to feel uneasy about the way it sets up unsuspecting individuals and then exposes them publicly. But I don't buy the 'fake news' claims levelled against its exposés – primarily because the videos, even if edited, tend to get the targets bang to rights. Instead of demonising the messenger, the liberal left would do well to listen to the message once in a while.
Because Rosenberg's story is significant. It exposes the fact that America's newspaper of record tells one thing to the public, but presents a very different view in private. The implication seems to be that us rubes can't handle the truth. We must let the professionals massage reality for us, lest we try – God forbid! – to make up our own minds.
Thus far, most media are ignoring the Rosenberg story, with only right-leaning outlets talking about it. This is a dismal state of affairs. Truth is not a partisan issue.
Many years ago, I met Rosenberg in the Times newsroom. I was the news assistant on the Metro desk, a job he had held the year prior. We had a brief conversation in which it was clear how driven and ambitious he was, willing to do just about anything for the story. In the recordings, Rosenberg comes across as decent and sensible. Given what's happened to him here, I can't help but feel for the guy.
But the discrepancy between the public message and the private reality is damning, not just of him, and not just of the New York Times – but also of the entire liberal-left media.
Jenny Holland is a former newspaper reporter and speechwriter. Visit her Substack here.
Picture by: Getty Images.
To enquire about republishing spiked's content, a right to reply or to request a correction, please contact the managing editor, Viv Regan.