The Godfather: high art for the masses
This 50-year-old epic hails from a time when Hollywood made grown-up films for grown-up audiences.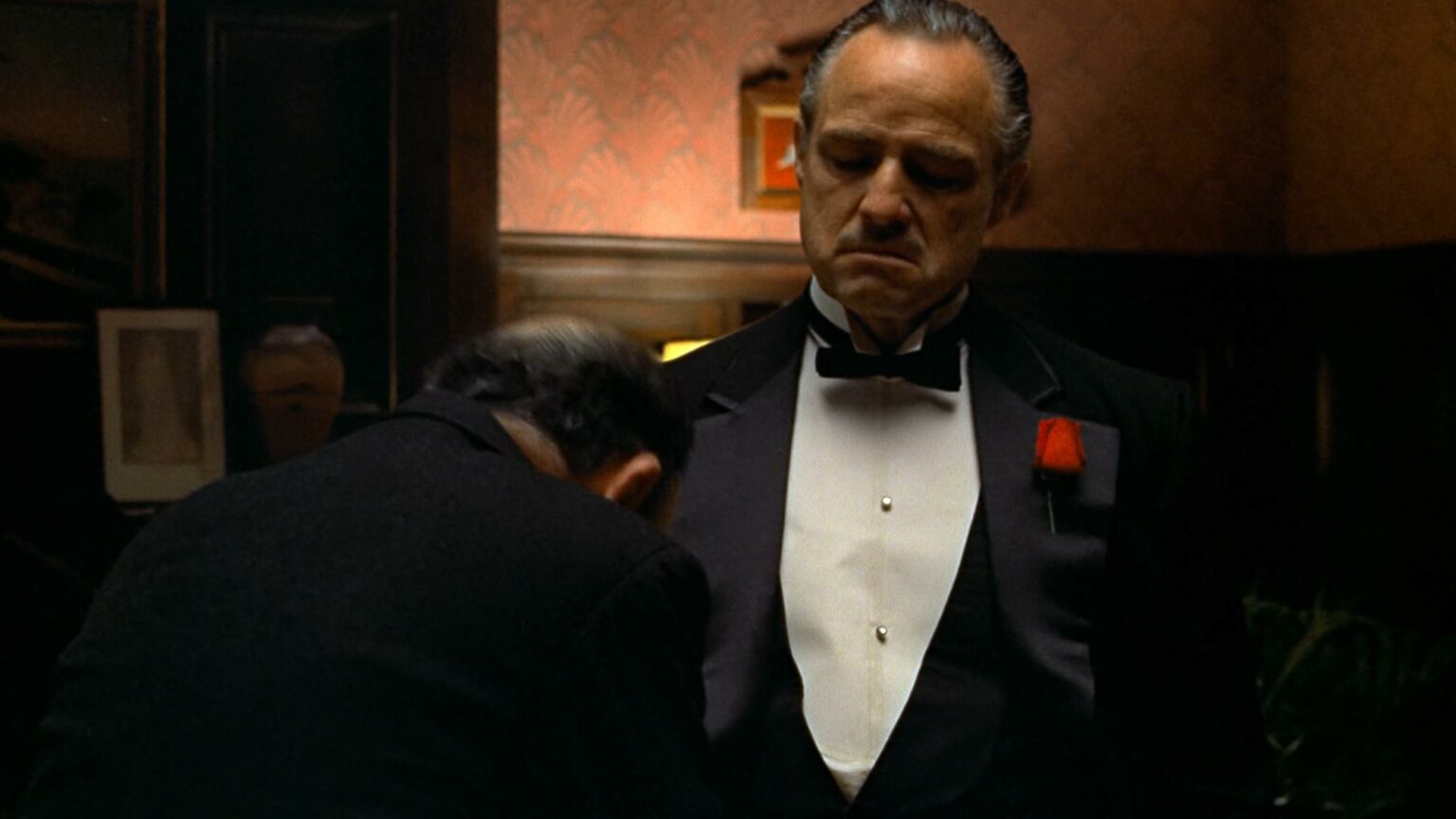 The Godfather turns 50 today. It premiered on 14 March, 1972.
The film took the base metal of Mario Puzo's schlocky source novel and alchemised it into something grand and operatic, even Shakespearean. Francis Ford Coppola and most of the cast returned for two further pictures. I love the series with a passion bordering on the deranged (Yes, even Part III – it's better than you remember!).
The Godfather films aren't just gangster flicks, they are high art. Love and death, hate and obsession, sin and redemption, life and everything it encompasses – it's all in there.
My dream wasted day would be spent slouched on the couch, watching the Godfather series for the infinitieth time with a full pack of smokes and the curtains drawn. I'm the kind of eejit who can't go to a christening without croakily whispering, at the baptismal font, 'Tonight the Corleone family settles its accounts'. I can't wait for my little girl to get married, just for an excuse to respond to anyone asking if I want a drink at the reception: 'You come and ask me this… on the day my daughter is to be married?'
The Godfather is amazing. But perhaps most amazing is that this was, at one stage, the highest-grossing film of all time. Can you imagine that happening now? Here we have a murky, oblique, morally conflicted drama, where bad people do bad things for bad reasons. It moves at a stately pace. Parts are in Italian (actually Sicilian, so even more obscure to your average viewer). The violence is hair-raising. The hypocrisy is breath-taking. It's all very… grown-up. And more people paid to see it than anything else up to that point.
The Godfather's moral ambiguity might be disturbing, but the ticket sales prove it was also attractive to audiences. And Coppola's epic wasn't alone.
Previous highest-ever grossing flicks included Gone with the Wind (a four-hour melodrama about war and slavery and wide-scale misery) and The Sound of Music (a three-hour melodrama about war and fascism and close-harmony inter-familial singing).
But since Spielberg's (admittedly great) blockbuster, Jaws, in 1975, the record for highest-grossing film has been taken by what are essentially kids' films: Star Wars, ET, Jurassic Park, Avatar, Avengers: Endgame. We'll give Titanic a pass. As sentimental and simplistic as it was, at least it attempts something that might appeal to adults, not just their tweenie kids. The rest of it is sharks, space aliens, dinosaurs, superheroes and whatever the hell those blue yokes in Avatar were.
This cultural shift, from grown-up to infantile, can also be seen in each year's most-popular film. Between the Second World War and 1975, we see movies like The Red Shoes, Rear Window, The Ten Commandments, The Bridge on the River Kwai, Lawrence of Arabia, Who's Afraid of Virginia Woolf?, The Graduate, 2001: A Space Odyssey and The Exorcist topping the box-office. Some of them are stone-cold classics. Some less so. But if nothing else, they are all films for grown-ups.
Now contrast that with the year-end box-office toppers since. It's an endless parade of Star Wars, Indiana Joneses, James Bonds, Harry Potters, Transformers, Marvel stuff and cartoons. Again, some are classics and some are awful. But all are films for children, be they actual kids or developmentally retarded adults acting like kids.
The last time a properly 'grown up' movie outsold the rest was 2008's The Dark Knight, which doesn't really count as it's based on a comic book. Ditto with 2003's Return of the King (elves, magic etc). So really we're going back to Titanic (1997), then Ghost (1990), Rain Man (1988) and Fatal Attraction (1987) to find films for adults (and they say the 1980s was a poor era for cinema!). Other than that it's been, well, sharks, aliens, dinosaurs, superheroes and those blue yokes in Avatar, all the way.
Now, there is nothing wrong with this stuff as children's entertainment. But there is something depressing about it colonising almost every screen at the multiplex, which is supposed to cater to all demographics.
Was the broader culture much more mature back then, when The Godfather came out? Cinema certainly was. Audiences were, too. And they demonstrated it by handing over money at their local picturehouse.
These days Hollywood indulges society's worst impulses towards infantilisation. And ironically, at the same time, it inserts 'adult' concerns into children's films – see the latest Pixar effort, Turning Red, with its menstruation theme. What kind of tragically maladapted imbecile parent needs a cartoon to 'teach' their children some 'life lessons' about periods? Jeez, just talk to them – it's not rocket science.
Filmmakers still produce arthouse cinema, of course. There are lots of great avant-garde pictures 'off Broadway'. But in terms of mainstream movies for adults, to quote your average reputable Sicilian businessman, eh, fuggedaboudit.
Hollywood hardly even bothers with proper genre entertainment anymore, never mind moody, hard-hitting dramas or existential reflections on the human condition. I recently watched The Rhythm Section with Blake Lively, and enjoyed it mainly because it wasn't superheroes; it wasn't an animation with lame moral instruction for kiddies added on; and it wasn't supernatural or fantastical. It was just a half-decent, gritty, realistic-ish thriller for 'big people' – job done, thank you and goodnight.
Hollywood used to make grown-up films for grown-ups. Now they make childish gibberish for everyone. Oh, infamia. Where's that horse's head when you need it?
Darragh McManus is an author and journalist. Visit his website here.
Watch the 50th-anniversary trailer for The Godfather here:
To enquire about republishing spiked's content, a right to reply or to request a correction, please contact the managing editor, Viv Regan.