Labour is betraying women… again
Keir Starmer and his woke Daleks are marching to the tune of the trans lobby.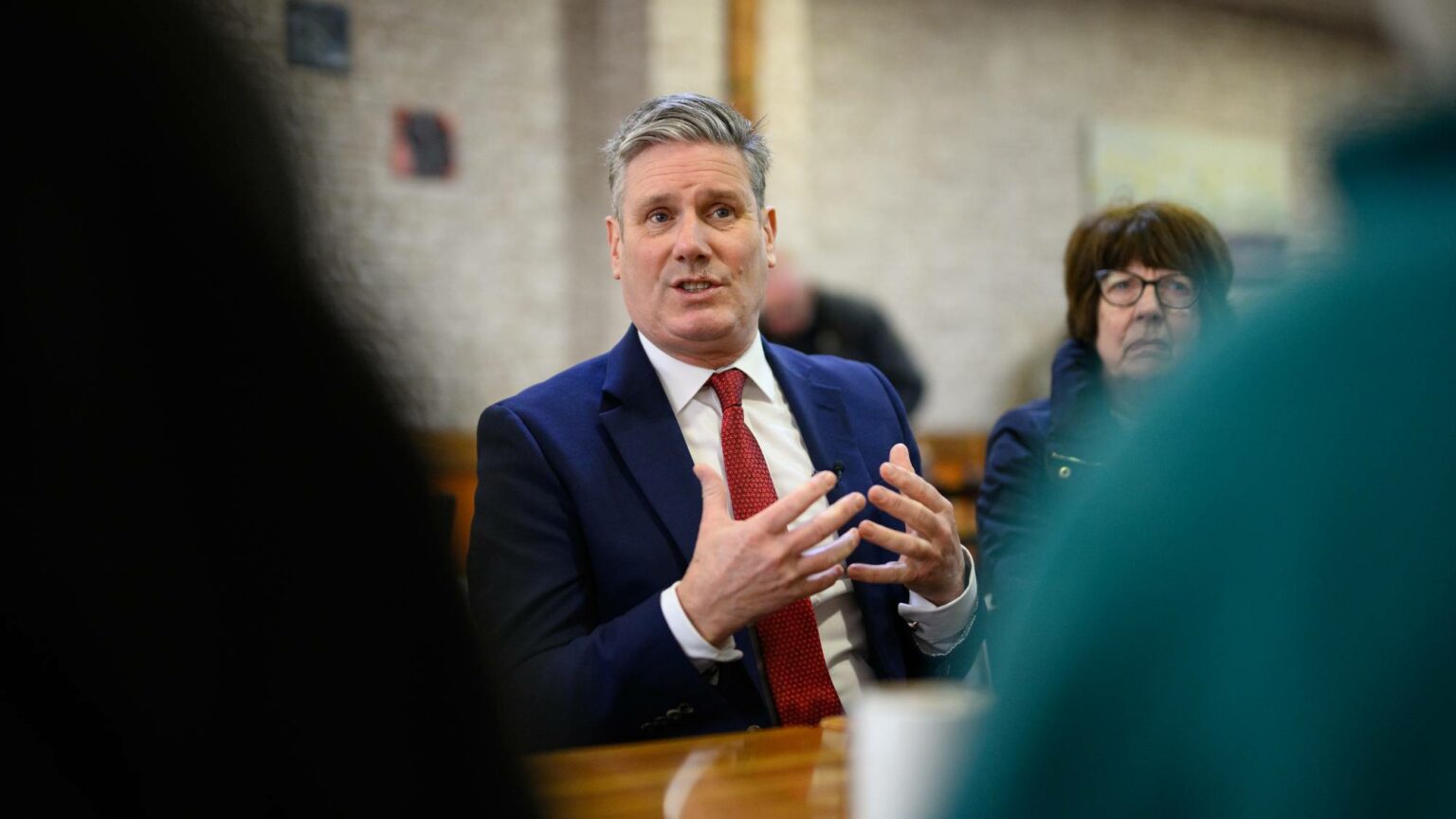 When Tony Blair chirped 'education, education, education!' back in the 20th century, even those of us who had swerved university appreciated the sentiment. Surely book-learning couldn't hurt people – the more the merrier! But with Keir Starmer this week on LBC radio, tying himself up in knots over whether or not women can have penises ('I don't think that discussing this issue in this way helps anyone in the long run'), the folly of higher education for the greatest number has become horribly clear.
With ineffable weariness, yet more in sorrow than in anger, Sir Keir sighed as though host Nick Ferrari had demanded that he do an extremely difficult mathematical task on the spot – in the manner of child protégé Priyanshi Somani, perhaps – rather than answer a simple question about whether ladies have testicles. 'It doesn't help!', he reiterated, testily. But it does. It helps women not to be done out of everything from sporting trophies to toilet-related privacy. The only thing it doesn't help is perverted, predatory men.
When people were the first in their family to go into higher education – something Labour politicians are especially keen to boast of – we were meant to get a warm fuzzy feeling and offer up a silent prayer of solidarity that they had escaped the indignity of physical labour. But looking at the state of Labour today, maybe it would be more electable (and wouldn't have totally alienated the people it was formed to represent) if its current incumbents had left school at 17 and started making their own living, like me, rather than doss about for three years being filled up with daft ideas and becoming over-dependent on thinking the same as their peer group.
We were always told that university opens up and exposes young minds to rigorous argument, but anyone who has seen gangs of students attempt to cancel and / or harass speakers with different views on sex and gender will know that if this once was the case, it isn't any more. Our mothers' bleak query, 'If X jumped off a cliff would you do it?', has become 'If X had her breasts removed would you do it?'. And the answer is a somewhat creepy, 'Yes!'.
What's the point in staying in education until your mid-twenties if you come out blinking into the daylight of reality uncertain whether or not only women have cervixes? (Starmer again, on The Andrew Marr Show last year: 'It's something that shouldn't be said. It isn't right.') I bet his dad (a toolmaker) and his mum (a nurse!) knew who had cervixes, and they didn't go to the Guildhall School Of Music and Drama, the University of Leeds and the University of Oxford – as their son did – in order to reach this baffled state. What's the point in being the first in your family to go to university if you're also the first in your family to be unsure as to whether men can get pregnant?
If it's annoying to see Labour men repeating 'trans women are women' like woke Daleks, it's downright astonishing to see Labour women doing it. We all know that Labour has had a long and abusive relationship with women ever since Mrs Pankhurst was stopped from joining due to her sex. I'm old enough to remember the left-wing sniggers that the Tories elected Thatcher as leader of their party because they had weird fantasies about strict nannies. But what weird thing does it say about my erstwhile comrades that they needed to pathologise a woman having power and men accepting a woman as boss? And what does it say about their cowardice that they're afraid to support Labour MP Rosie Duffield, who for simply telling the truth – that 'male-bodied biological men' allowed to self-identify as female may well do so in order to access women-only spaces such as prisons and domestic-violence refuges – receives such a level of threats of violence from these men and their 'Transmaids' that she is too wary to attend her own party conference?
The Clownfish Tendency embraces the vast majority of Labour women now, including everyone from shadow home secretary Yvette Cooper ('I'm not going to get into rabbit holes about this') to shadow minister for women and equalities Anneliese Dodds ('it does depend what the context is, surely'). But the most disappointing quaffers of the Kool-Aid are self-identified feminists, such as Jess Phillips and Lisa Nandy, who will quite rightly bemoan the low conviction rate for rape, and then appear intensely relaxed about male rapists being sent to women's jails, where they may effortlessly exercise their power to assault vulnerable women.
It says much about the current sacrosanct position of the powerful trans lobby in the Labour Party that Angela Rayner was happy to break ranks over crime and punishment to an extraordinary degree last month ('On law and order I am quite hardline… shoot your terrorists and ask questions second… If you are being terrorised by the local thug, I want a copper to come and sort them out'), but then on trans issues will be a good little girl again, telling Sky News this week that 'when we debase [the question] to whether or not… what genitalia you've got, I think all that does is damage people and it doesn't help us go forward on some of the real issues that people are facing'. The police are going to have a hard time catching all these violent criminals Rayner has warned us about while they're wasting their time and our money sending uniformed coppers round to people's houses to warn them not to 'misgender' men in make-up on the internet.
Sadly, Labour women have been groomed to believe – uniquely, in British politics, where every party from the Greens to the DUP has had a female leader – that a woman cannot reach the top position in their party. I suppose we can't blame them for internalising this contempt for their sex and sucking up to men in order to guard their seats. But of course the poison doesn't end there. People can now be shunned for stating what until recently was accepted by everybody on the political scale – that facts were more important than feelings and that biology was a basic bitch – but is now considered hate speech. Father Ted creator Graham Linehan can be given the cold shoulder by fellow 'creatives' who are now creative mainly with the truth. I can be suspended from Twitter for saying that an unarmed Ukrainian facing down a Russian tank is braver than a male in drag. Dostoevsky said it well: 'Tolerance will reach such a level that intelligent people will be banned from thinking so as not to offend the imbeciles.'
The past few years seem like a fever dream, but when we should be navigating out of the madness, there is worse ahead, as the political party that was founded to forward the rights of the oppressed drinks the Kool-Aid, jumps behind the wheel and throws half the world's population under the magic bus rather than offend a tiny group of fetishists. 'Nobody's perfect', says Joe E Brown to Jack Lemmon in drag at the end of Some Like It Hot, when the latter reveals that he's not a woman. In the topsy-turvy world of over-educated, under-informed Labour, he's just about as perfect as a 'woman' can get. If the Labour Party can be led by a knight who identifies as a socialist, surely it can be led by a man who identifies as a woman? And the cry of 're-education, re-education, re-education' will ring across the land.
Julie Burchill is a spiked columnist. Her book, Welcome To The Woke Trials: How #Identity Killed Progressive Politics, is published Academica Press.
To enquire about republishing spiked's content, a right to reply or to request a correction, please contact the managing editor, Viv Regan.