Now we know just how dehumanising the 'Nazi' slur can be
Both the Putin regime and woke Westerners are addicted to branding their opponents 'Nazis'.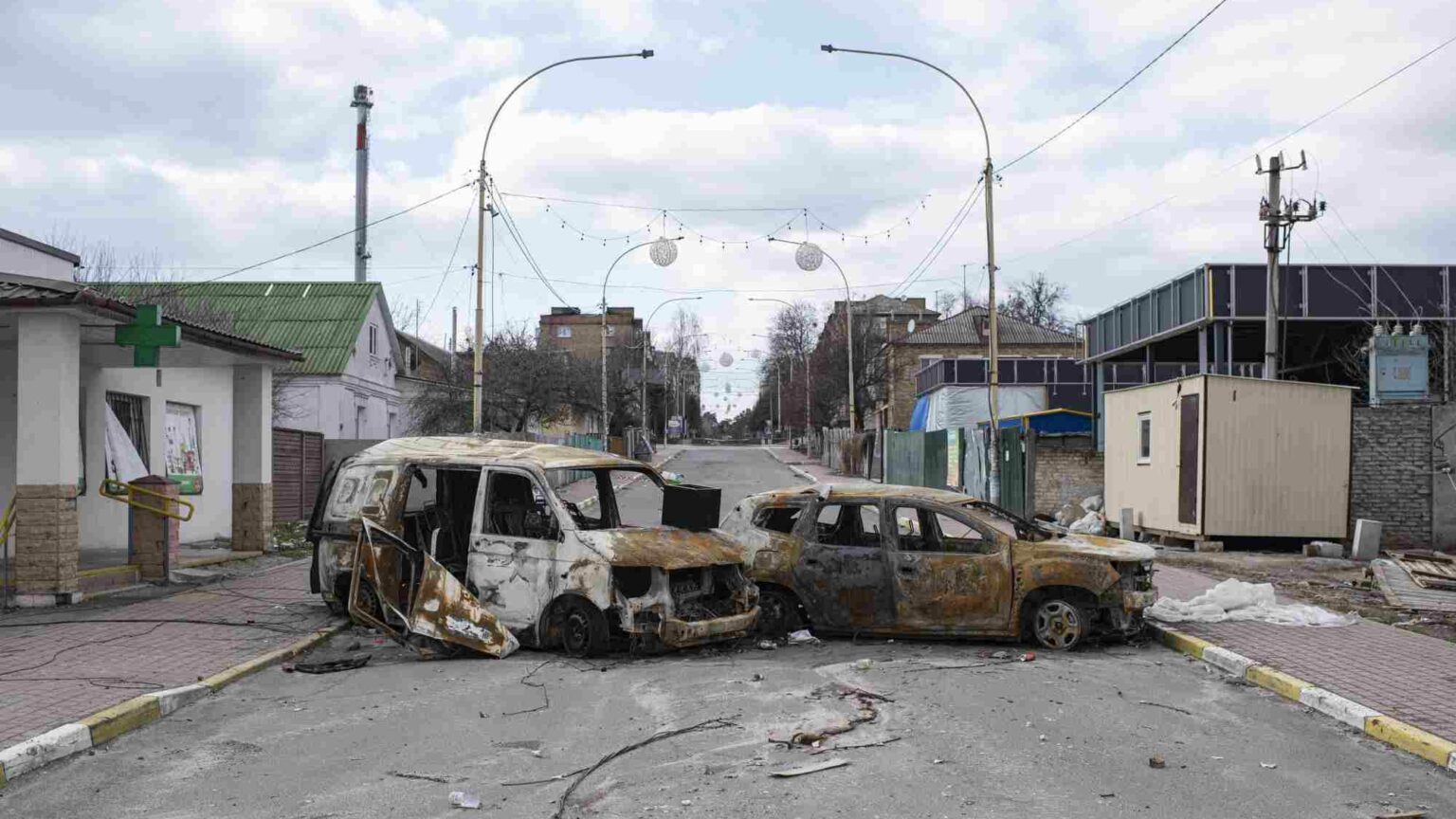 Woke Westerners had a field day when Vladimir Putin criticised the attempts to cancel JK Rowling. This was proof, they said, that Putin is anti-woke, and therefore that anti-woke people in Britain and the US are his bedfellows, whether they realise it or not. There was a grim irony to this smearing by association, to this nonsense claim that anyone who thinks it is wrong to hound, demonise and threaten the likes of Rowling for stating biological facts is basically in the same moral camp as Moscow's warmonger-in-chief. Which is that if anyone in the West is borrowing from the Putin playbook, it isn't the critics of wokeness – it's the intolerant left itself.
There is a moral tactic that binds together the woke set in the West and the supposedly unwoke regime in Russia – 'denazification'. Both the moral crusaders of the West's new elites and the authoritarians of Putin's regime share in common an unhinged obsession with 'Nazis'. Both see Nazis everywhere. Putin sees Nazis in every nook and cranny of Ukraine, while our censorious new establishment sees them in the throngs of people who voted for Trump and Brexit or who bristle against global institutions like the European Union. And both have set themselves the moral task of standing up to these 'Nazis', of eradicating them from public life. Now that Putin's barbarous war in Ukraine has made clear just how dishonest and dehumanising the false accusation of 'Nazism' can be, will Westerners who cynically fling this insult around stop and think about what they are doing?
No, this is not to say that every Westerner who promiscuously uses the 'Nazi' slur against people they dislike or disagree with is a Putinist. Just as Putin's disapproval of the deranged campaign against Ms Rowling does not mean he's an ally of hers, so the fact that both he and our own historically illiterate elites seem to believe we're on the cusp of a rerun of the 1930s does not make them best mates. And yet Putin's justification of his invasion of Ukraine in the language of 'denazification', his smearing of President Zelensky and others as modern-day Nazis, is unquestionably a morally confronting moment for those in the West who seek to win political arguments and build up moral authority through falsely branding their opponents as fascists. It ought to make clear to them the dire and dangerous consequences such a bad-faith political strategy can have.
The linchpin of Putin's propaganda on Ukraine is that this is a good, anti-Nazi war. He has frequently referred to the Ukrainian government as 'neo-Nazi'. As one observer summarises it, 'The Holocaust, World War II and Nazism have been important tools for Putin in his bid to legitimise Russia's war in Ukraine'. In a way, this makes sense – the Second World War is a key part of modern Russia's identity. The enormous sacrifices made by the Russian people in the war against Nazi Germany are central to Russia's national memory. In presenting his invasion of Ukraine as a small-scale replay of the historic battle against Hitler, Putin is cynically marshalling the heroism of the past to try to give his unprovoked, imperious assault on a sovereign nation the appearance of legitimacy. The impact of this dishonest dressing-up of the war on Ukraine as a crusade against fascism has been dreadful.
The Nazi slur is designed to dehumanise the people of Ukraine, to depict them as the lowest of the low. This became clear this week with the revelation of a deeply hateful article published by the Russian state-owned media agency, RIA Novosti. Written by the political consultant Timofey Sergeytsev, it insists on 'the necessity for denazification [in] Ukraine'. It explicitly argues against making any distinction between the Ukrainian government and the Ukrainian people, claiming that 'a significant part of the people – most likely the majority – has been absorbed and drawn into the Nazi regime'. So we cannot say 'the people are good, the government is bad', it says. The 'Nazified mass of the population', the corrupted 'popular masses', bear some responsibility for the wickedness of the Ukrainian government, says Mr Sergeytsev, and so they must be punished. To fully denazify the warped masses of Ukraine, Ukrainian sovereignty must be suspended and ideological repression and censorship must be enforced, he says.
It is a deeply chilling piece. It confirms the true purpose of the 'Nazi' accusation in Russian propaganda on Ukraine – to paint the people of Ukraine as a race apart, as having been so corrupted by poisonous belief systems that they must be deprived of the freedoms and respect accorded to other nations. It is of course a naked lie to depict Ukraine as a neo-Nazi state. Yes, Ukraine has a far-right problem, as do many nations in Europe, including Russia. Yet since Ukraine gained independence from the Soviet Union, the radical right's showing in elections has rarely exceeded three per cent. Much is made of the Azov battalion, a wing of Ukraine's National Guard that has far-right origins. Azov is definitely concerning. Yet as Ros Atkins points out, Azov has around 1,000 members, where Ukraine's total number of armed forces is 250,000. Even within Azov itself, a minority has far-right tendencies these days – most of its recent recruits signed up not from any love of fascism but because of Azov's 'reputation as a particularly tough fighting unit', as one expert says. As Sergeytsev's vile piece makes clear, the Russian regime's branding of Ukraine as a Nazi hellhole is not based in facts but rather on a warped intention to rob the Ukrainian people of their humanity and reduce them to a Nazified mass requiring severe and violent reprimand.
Yet even as I bristled at Mr Sergeytsev's article, I also thought it sounded familiar. Haven't we heard talk about Nazified masses before? About the popular mass of society having been intoxicated by far-right delusions? About the necessity of re-educating the throng out of its hateful, 1930s-style madnesses? Yes, we have. Right here at home. For decades now, and especially since the Trump and Brexit quakes of 2016, elites in the West have promoted the idea of a Nazified mass of society. Trump was accused by serious historians of working from 'the playbook [of] Mein Kampf'. He was branded a 'fascist authoritarian'. Anti-Trump protesters waved placards claiming we were heading back to the 1930s and depicting Trump with a Hitler moustache. We are reliving 'the dark days of the 1930s', said Prince Charles at the end of that tumultuous year of 2016.
As for the masses who voted for Trump, or for Brexit, clearly they had been brainwashed by neo-fascistic propaganda. The vote for Brexit was 'in the fascist tradition', said the Archbishop of Canterbury. Then there were self-styled 'anti-fascists' like Paul Mason, who said Trump had tapped into a 'plebeian mass base for American fascism'. Those fascist-leaning masses. Mason also argues that in modern-day Britain 'the psychological traits' that made Nazism possible in the 1930s are now most commonly found among 'working-class people and the urban poor'. This is surely only a more polite way of saying 'Nazified masses', of suggesting that the throng, the mob, is susceptible to fascist-style brain invasion. Pro-war Russian thinkers claim the people of Ukraine have been corrupted by Nazi thought; our own chattering classes claim the people of Britain and the US, especially the poorer ones, posses the 'psychological traits' that are amenable to far-right ideology.
No, our elites are not agitating for violence against the 'Nazified masses'. And yet they share something deeply disturbing in common with the Putin regime and its extremist supporters – an addiction to writing off vast swathes of people as fascists, or at least 'fascist-adjacent'; a compulsion to dehumanise certain politicians and their voters through the language of the 1930s. The tragedy of Ukraine has shown just how toxic the Nazi slur can be. Those Russian soldiers who appear to have murdered citizens in Bucha will have been fed the lie that these people, like all Ukrainians, are a Nazi menace to civilised society. They will have been told, essentially, that they're subhuman, for that is the role the Nazi accusation plays today – to depict certain people as morally inferior, as lesser, as lacking the intellectual and moral resources required to function as a decent member of society. It seems to be a terrifyingly small step from believing that somebody is a Nazi to believing that they deserve to be shot like a dog in the street.
To enquire about republishing spiked's content, a right to reply or to request a correction, please contact the managing editor, Viv Regan.