The sad demise of Jon Stewart
This once agreeable, sceptical liberal has become a tiresome, hectoring woke scold.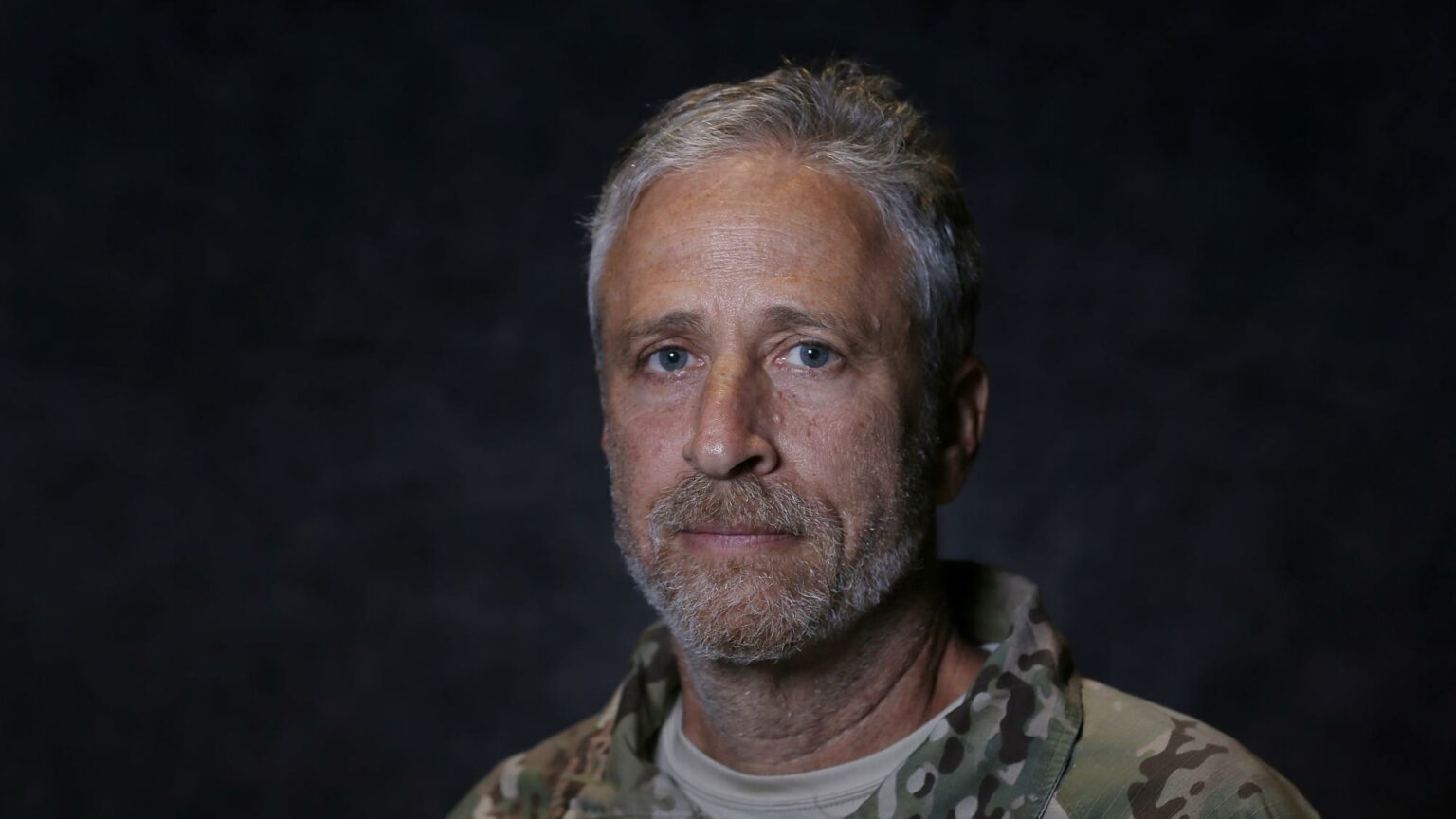 Former Daily Show host Jon Stewart has a new current-affairs comedy / debate show on Apple TV, called The Problem with Jon Stewart. And on last week's racism-themed episode, titled 'The Problem with White People', he treated one of the guests, Andrew Sullivan, like the resident maggot. He drew him in, lured him out and then bit his head off.
Unusually, those of us who do not subscribe to Apple TV are able to watch the entire stitch-up on YouTube. It is, in its own grim way, essential viewing – if only to reassure yourself that I am not exaggerating when I say this was a disgrace.
This is actually the eighth episode of the series. And it is telling that, until now, many of us had been unaware that Stewart had even returned to our screens for pretty much the first time since leaving The Daily Show in 2015.
Sullivan was the only remote, video-link guest, and the only one making the reasonable argument that the US is not a 'white supremacist' nation. He faced a three-strong panel – of Stewart himself, Race2Dinner's 'resident white woman' Lisa Bond, and Yale professor Chip Gallagher. These three were as close to an Inquisition in their inflexible orthodoxy as you are likely to see outside of an actual liberal-arts college. The studio audience, meanwhile, bayed and jeered to a degree that Torquemada himself might have regarded as overly enthusiastic.
No one expected that from Jon Stewart. Certainly, according to his widely shared Substack, Sullivan did not. What Sullivan did expect was a degree of human sympathy. Instead, Stewart essentially called him a racist, agreed with a fellow guest that all whites 'uphold' white supremacy, and then acted like he was the one who had been insulted, by Sullivan's merest hesitation to agree.
Of course, the incident quickly achieved the only thing anyone wants now: Stewart became a trending topic on Twitter. As I write, he's well into his third day on the sidebar of my particular algorithmic leaderboard. Apple must be glowing like a cherry. After all, just because you can no longer weigh your press, rather than read it, doesn't mean the fundamental calculations have changed.
And much as with Chris Rock's rocketing gig sales after last week's Oscars incident, I would wager that Andrew Sullivan's Substack has done business every bit as brisk as Stewart's own ratings. No doubt people will find more carefully considered and well-evolved arguments there, against the prevailing liberal dogma on race, than Sullivan was able to make on Stewart's three-on-one all-in wrestling show. So there could be some good news from this.
The downsides, meanwhile, have as ever been socialised. The cumulative damage to our culture, of watching yet another scrappy, bad-faith ambush, another round of snark and counter-snark, the deepening reservoir of bile and spite sloshing around in the guts of the debate, have been outsourced. To us.
And yet Stewart fiercely maintains that he is on the side of the angels. Well, greater philosophers than I have long reflected that intellect's highest evolutionary benefit is that of providing us with a smooth-running engine of hypocrisy, and Stewart has intellect to burn. 'So convenient a thing is it to be a reasonable creature, since it enables one to find or make a reason for everything one has a mind to do', as that sly old 'white supremacist' Benjamin Franklin put it.
But inviting a colleague, a mutually respected commentator on to a TV show, in front of an incredibly polarised, partisan audience, and then gleefully exposing him, for laughs, to a belittling, dehumanising scorn, and baselessly charging him with what is for now at least the worst moral flaw one can possess and remain at large in America – that sets a bad precedent to my mind. One I really hope we don't feel the need to compete with.
This approach creates something much closer to a Cultural Revolution struggle session than a productive exchange of views and reasoned argument. Yet it is, for those who have such tastes, and see their biases affirmed, dangerously compelling. Going back to the comparatively mannered discussions hosted by Bill Maher, say, might begin to look a bit, well, white bread.
The trend illustrated by Stewart's drift from agreeably sceptical liberal into vicious, hectoring hard-left scold is all too familiar, and all too easy to see beckoning to other hopeful, would-be comedy provocateurs.
There was a time back in the early 2000s when The Daily Show was perhaps the single most widely praised and highly regarded thing out there, and the one format we in the UK just couldn't quite convincingly replicate. Just as recreating the Late Show with David Letterman, sans Letterman, remained elusive in the Nineties, Stewart's enormous and seemingly effortless talent to communicate, illustrate, inform and amuse just would not clone, and show after British show failed to land.
Still, given Stewart's undoubted influence, as the endless row now roils and boils, it is all too easy to see how, for producers with a woke agenda, but still with a quota of conservatives to fill, taking a bite out of this Apple could become a temptation hard to resist. That really would be a problem.
Simon Evans is a spiked columnist and stand-up comedian. He is currently on tour with his show, Work of the Devil. You can buy tickets here.
To enquire about republishing spiked's content, a right to reply or to request a correction, please contact the managing editor, Viv Regan.