Why it's wrong to call this a proxy war
Ukrainians are defending their nation – they are not doing the West's bidding.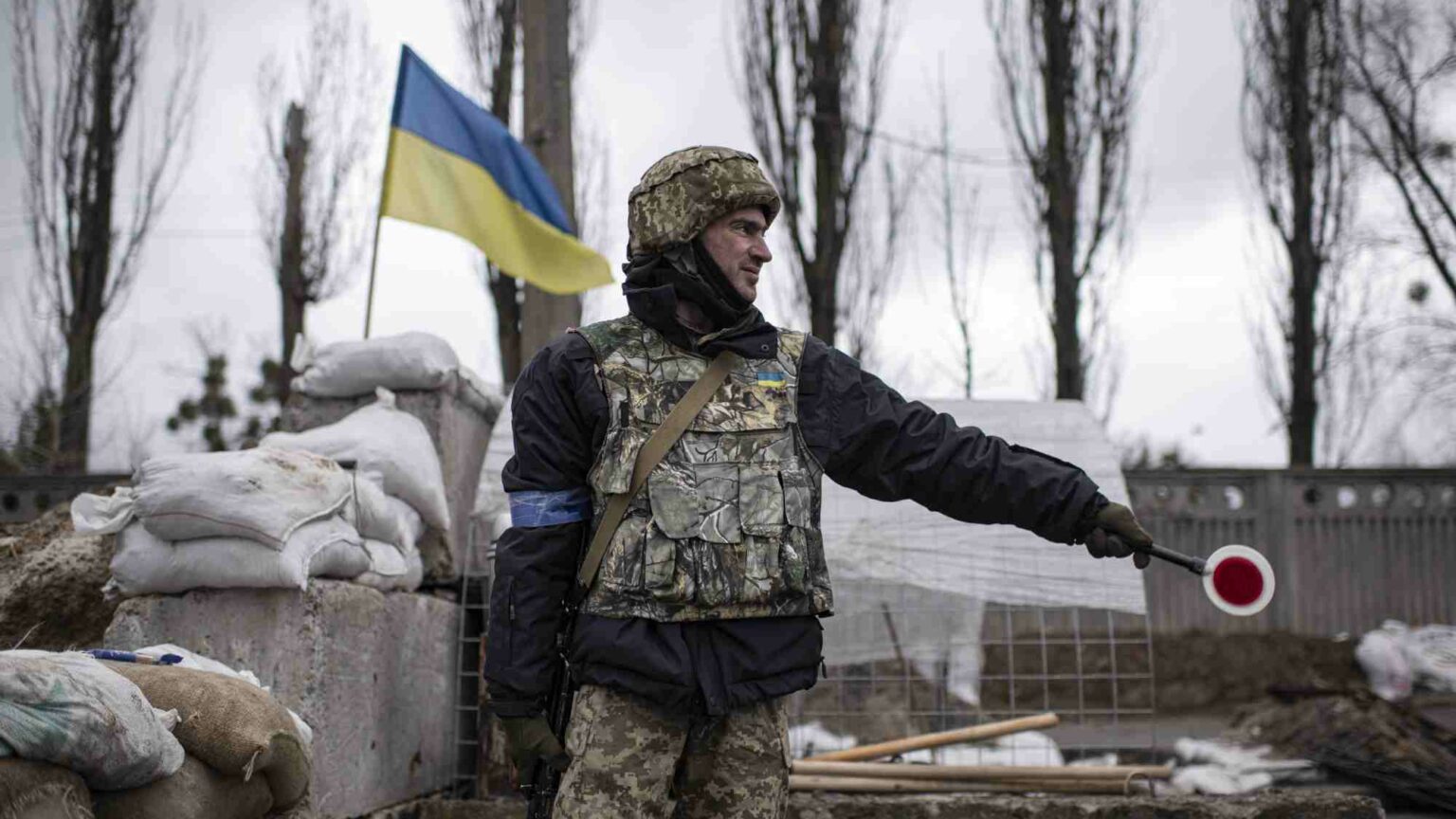 Russian foreign minister Sergei Lavrov told state media this week that 'NATO, in essence, is engaged in a war with Russia through a proxy and is arming that proxy'. He added ominously, with a nod as ever to a future nuclear conflict, that 'war means war'.
When making such claims, Russian officials point to the NATO members who are sending weapons to Ukraine. The US has recently announced that it will funnel a further $713million in military aid through NATO to aid the Ukrainian war effort. And it is also set to approve the sale of $165million worth of ammunition for howitzers, tanks and grenade launchers. Britain is now excitedly mooting the possibility of sending over warplanes in addition to all the military hardware it has already delivered. Even Germany, which seemed to be dragging its heels, announced on Tuesday that it will ship anti-aircraft cannon tanks to Ukraine.
So, Western powers are certainly playing a substantial role in the war in Ukraine. But that does not necessarily mean that the West is now using Ukraine, as a proxy, to wage a war against Russia, which is what Lavrov is claiming.
Western powers and Russia have certainly fought many proxy wars in the past. But this is not 1980s Afghanistan, where the US used the nationalist, Islamist Mujahideen to further its own Cold War aims against the Soviet Union in a distant foreign land. And this is not Syria either, where, for much of the 2010s, Western powers backed a conflicting array of Islamist and then Kurdish groups to further their own shifting, chaotic objectives.
This is different. This is Ukraine, a sovereign nation which, following Russia's invasion, asked for Western arms in order to pursue its own objectives. To defend itself against an imperial aggressor. To survive as a democratic, self-governing nation. To preserve its independence. These aren't the particular aims of just one section of society. Or of a rebel group. Or of a militia. They are the aims of the Ukrainian people and their democratically elected government.
To dismiss Ukraine as a mere proxy, a front for the nefarious activities of NATO, as Lavrov and certain commentators in the West are wont to do, is wrong. And it can even look a little like wishful thinking on the Kremlin's part. Putin and Co seem to want this to be a proxy war. Hence they repeatedly, absurdly present their invasion of Ukraine as a response to NATO aggression, and the Ukrainian fightback as a West-backed front.
But calling the Ukrainian resistance a proxy is as insulting as it is misleading. The government, armed forces and people of Ukraine are the principal source of agency here. It's the Ukrainian state directing the war effort, the Ukrainian people fighting back against the Russian invaders. Not the CIA or some other foreign entity.
Yes, NATO members are 'pouring' arms into Ukraine. And yes, they are training up Ukrainian soldiers, versing them in new hi-tech weapons. But this does not amount to an attempt to militarily pump up and then use Ukraine to pursue NATO's ends. It is principally an attempt to help Ukraine pursue its own ends, an attempt to help it defend its national sovereignty.
Of course, no one should be naive about Western powers and institutions like NATO. They have shown little respect for national sovereignty in even the recent past, arbitrarily invading countries and indulging in 'regime change'. And they helped to bring the Ukrainian crisis to a head over the past three decades – often seemingly treating Ukraine as a mere pawn in their complacent, reckless attempts to order the post-Cold War world at Russia's expense, promising successive Ukrainian governments NATO membership while showing no inclination to deliver on these promises.
Even now, some in the West seem to be considering using Ukraine to achieve their own vague, anti-Putin objectives. President Biden intimated as much when he let slip, during a recent visit to Poland, that '[Putin] cannot remain in power', only to then walk the comments back. Then, this week, US defence secretary Lloyd Austin explicitly stated that 'We want to see Russia weakened to the degree it can't do the kinds of things it's done in Ukraine'. In other words, they're increasingly seeing the Ukrainian conflict as a stage on which to fight Russia.
All this is no doubt music to the ears of the West's hawkish retinue of Cold War revivalists, many of whom have long wanted the US and its allies to resume battle with the not-so-red menace. 'As long as Russia is ruled by Putin, then Russia is at war with us too', wrote anti-Russia ideologue Anne Applebaum in the Atlantic recently, adding: 'There is no natural liberal world order, and there are no rules without someone to enforce them.' Elsewhere, former CIA director Leon Panetta declared, 'We are engaged in a conflict here. It's a proxy war with Russia, whether we say so or not.'
This misses the point. For as long as this is a war not only waged by Ukraine, but also waged according to Ukraine's own, self-chosen objectives, then it is wrong to call it a proxy war. It is a war for and by Ukraine. It is an act of self-defence. An attempt to fight off an invading force.
The moment Ukrainians' bravery and courage are turned into a means for the West to do battle with Putin is the moment this becomes a proxy war. In that moment, the risk of fuelling a further continent-wide conflagration increases rapidly. And, worse still, Ukraine's future becomes something the West and Russia determine, rather than the Ukrainian people themselves.
We can't let that happen. This is a fight for Ukraine's right to exist as a sovereign nation. It is not a war against Russia. If we forget that then all is lost.
Tim Black is a spiked columnist.
To enquire about republishing spiked's content, a right to reply or to request a correction, please contact the managing editor, Viv Regan.