The Republicans are crushing women's rights
The repeal of Roe v Wade could just be the start.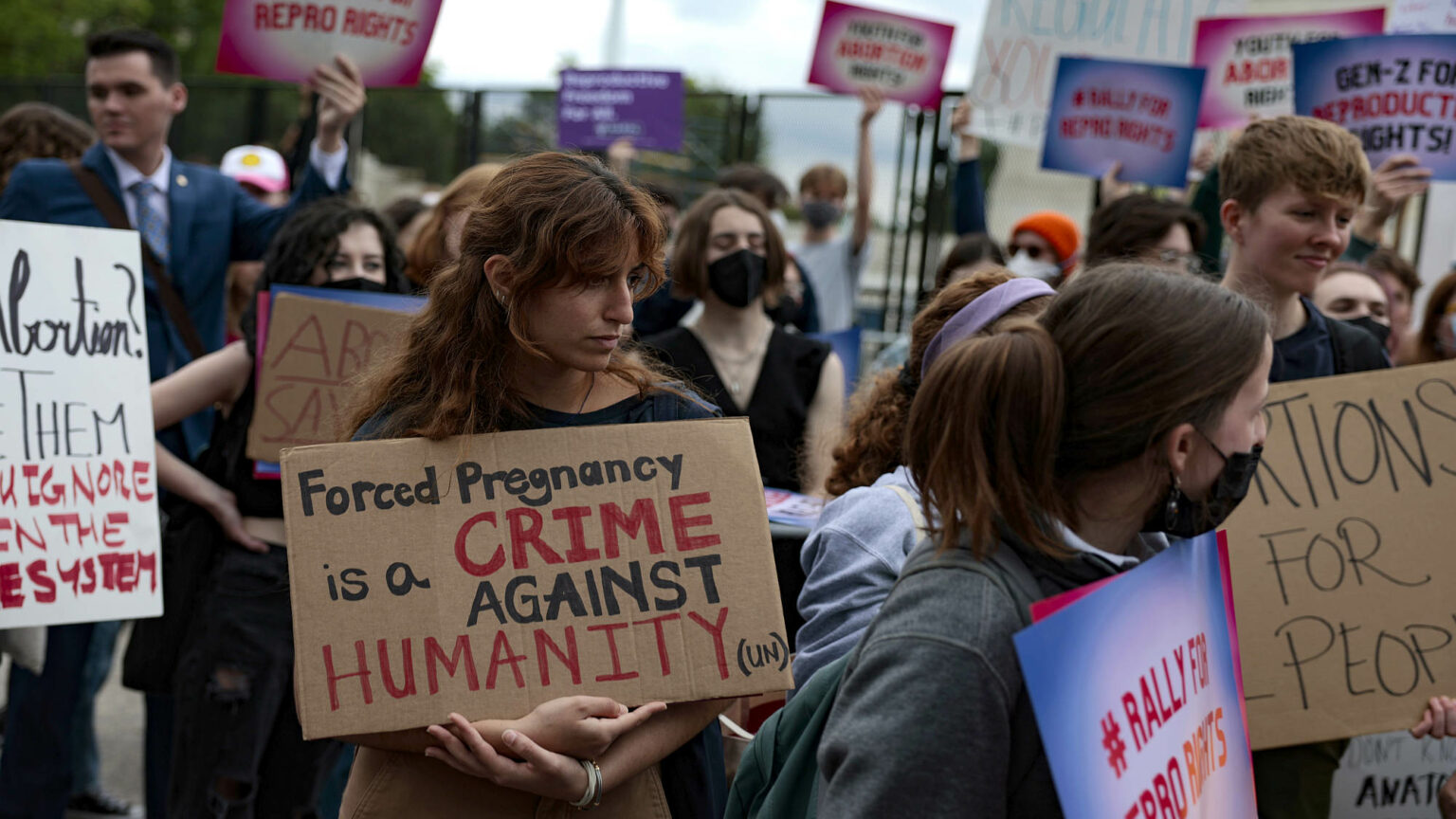 Maybe one or two anti-choice Supreme Court justices will retreat from the complete abolition of abortion rights announced by Justice Alito's leaked draft opinion in Dobbs v Jackson. Maybe they'll join Chief Justice Roberts in a more politic decision upholding Mississippi's ban on abortions after 15 weeks, but not before. Maybe not. Either way, in the best-case scenario for women – the post-15-week ban – reproductive choice will be eviscerated but not entirely eliminated, at least not yet.
Public opinion generally favours abortion rights 'in all or most cases' involving adult women, although support wavers for rare, late-term abortions. Progressive extremists will depress pro-choice support if they harass anti-choice justices and legislators and resort to violence. Still, with the Midterm elections looming, Democrats hope to harness public opinion.
Republicans hope to finesse it. While Democrats denounce the reversal of abortion rights, Republicans fulminate about the leak of a draft Supreme Court opinion (attributing it to a liberal justice or clerk, on the basis of no evidence). They're avoiding any celebrations of their long-sought defeat of reproductive choice, or any acknowledgement of the draconian laws being advocated and enacted by Republican state legislatures.
'Be the compassionate consensus-builder on abortion policy', the National Republican Senatorial Committee (NRSC) shamelessly advises its candidates, while red-state legislatures advance laws banning abortions with no exceptions for rape and incest victims. 'Forcefully refute Democrat lies' that Republicans want to 'throw doctors and women in jail', the NRSC urges, while red states prepare to criminalise abortions. Last month, the governor of Oklahoma signed a law making abortion a felony with a possible 10-year prison sentence for abortion providers. Louisiana is considering a law classifying abortion as homicide, for women as well as their doctors; the Louisiana bill declares the fetus a person, from the 'moment of fertilisation'. In Michigan, a nearly century-old law will make abortion a felony as soon as Roe v Wade is reversed. In Tennessee, it's a crime to provide abortion-inducing drugs by mail.
'Republicans do not want to take away contraception', the NRSC talking points declare. In fact, some do, promoting fetal personhood and fetal rights, equating birth control with abortion, and successfully challenging requirements for contraceptive coverage under the Affordable Care Act. Moreover, Justice Alito's draft opinion reversing Roe provides the legal argument for reversing rulings recognising a constitutional right to use contraceptives. Abortion rights are not mentioned in the Constitution and are not 'deeply rooted' in our history and traditions or 'implicit in the concept of ordered liberty', he asserts. He could easily use the same argument to erase the constitutional right to birth control. Alito disavows any intention to do so. But his excuse for distinguishing the right to obtain contraceptives from the right to obtain an abortion is sophistry, and entirely untrustworthy. Unlike abortion, contraceptive use does not involve 'potential life', he asserts, contrary to biology.
Still, Alito and his fellow Republicans may be sincere in trying to limit the anti-choice movement to eliminating abortion rights, for now. Depriving women of a right to use birth control would hurt Republicans electorally much more than banning abortion. But they may eventually gain the political power to attack contraceptive rights without suffering the consequences.
Women have the power to vote, Alito reminds us, and Republicans join his infuriatingly disingenuous call to submit questions of abortion rights to the 'democratic process' – three of the justices constituting the majority in favour of reversing Roe (so far) were nominated by a president who lost the popular vote. The Senate that confirmed them also represented only a minority of Americans, thanks to the disproportionate allotment of two senators to both large and small states. Republican power at the state and federal level derives in no small part from anti-democratic rules and processes. As the Atlantic reports, 'Republican operatives have been building an apparatus of election theft'. Their efforts pre-date Trump. The majority Republican Supreme Court has previously defanged the Voting Rights Act and allowed anti-democratic, partisan gerrymandering. It shields state and federal legislatures from popular, pro-choice opinion and enables minority rule in some Republican-dominated states aiming to ban abortion, even beyond their own borders. A Missouri proposal would empower private citizens to sue any out-of-state person who helps a Missouri resident obtain an abortion. Meanwhile, Senate minority leader Mitch McConnell (chief engineer of the Supreme Court's anti-abortion majority) has acknowledged that a Republican Senate could push for a federal anti-abortion law, which would nullify rights in pro-choice states.
Abortion rights will soon be history for many if not most American women, and they may not be restored for years, or even decades. For all its many failings and faults, the Democratic Party remains the party of reproductive choice, and it faces formidable structural challenges in securing and maintaining political power, even with majority support. Popular opinion will become increasingly irrelevant as we enter an era of entrenched minority rule. The worst is yet to come.
Wendy Kaminer is an author, a lawyer and a former national board member of the American Civil Liberties Union.
To enquire about republishing spiked's content, a right to reply or to request a correction, please contact the managing editor, Viv Regan.