Jeremy Hunt is not the answer to the Tories' woes
Only a party with a death wish would pick this Remainer lightweight as leader.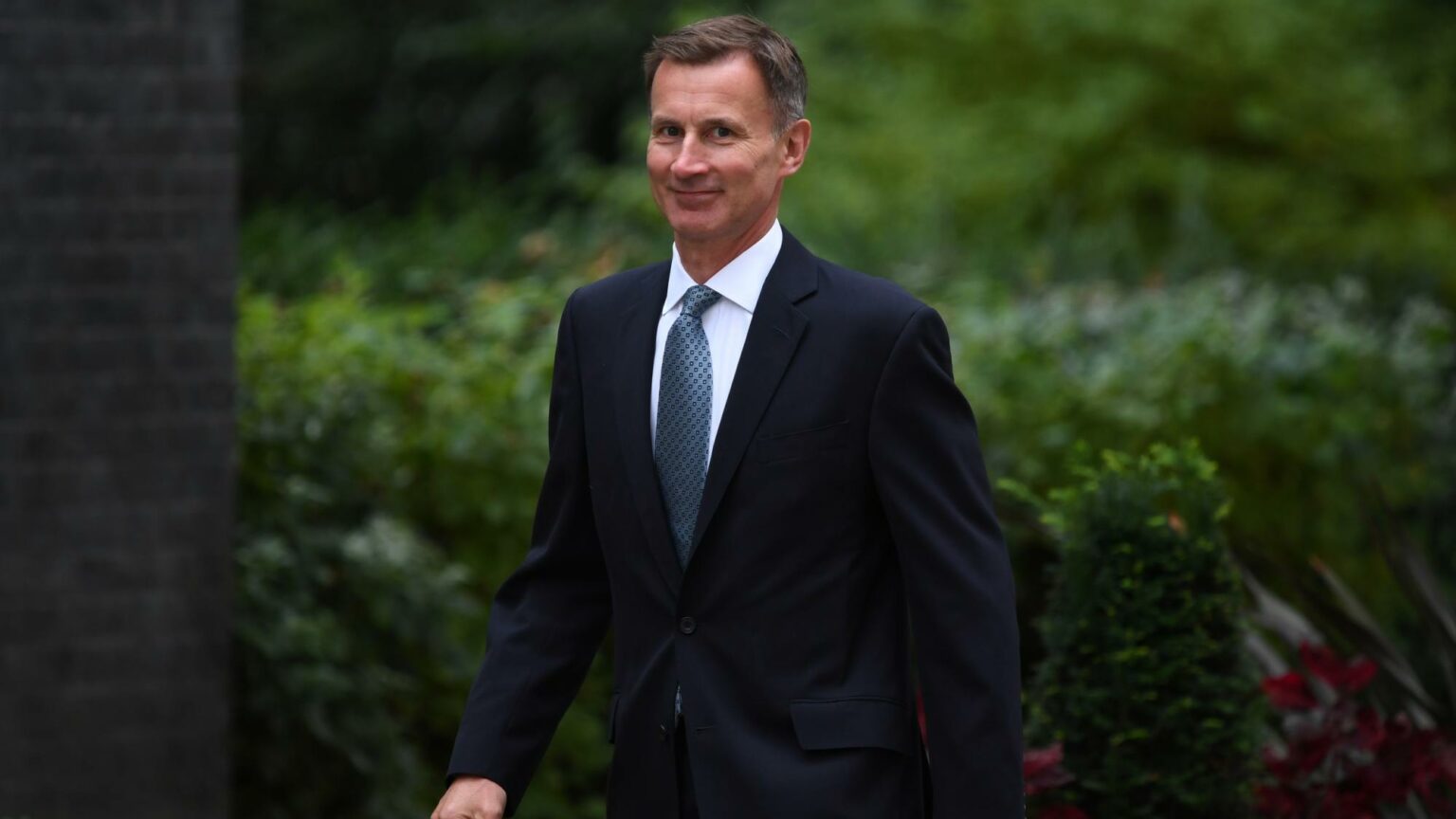 Congratulations are due to Jeremy Hunt for setting a new personal best when it comes to the issuing of implausible claims.
It was way back in May 2012 when Hunt admitted to the Leveson Inquiry that he had hid from journalists, possibly behind a tree, shortly after he had been appointed secretary of state for culture, media and sport in 2010. But he denied that this was to avoid being seen going to a drinks party to meet Rupert Murdoch's son, James. Cue the onset of widespread mirth and ridicule among the not-born-yesterday community.
This mark of improbability stood unchallenged for 10 years. But this weekend Hunt surpassed it with an even more unlikely story that surely set off bullshit detectors across the land.
Appearing on BBC One's Sunday Morning political show, Hunt told interviewer Sophie Raworth that he hopes Boris Johnson will lead the Conservatives into the next election.
When she quite understandably asked 'you don't hope to be doing it yourself?', a beam of pure pleasure could be seen on Hunt's face in response to the raising of such a scenario. But he replied: 'Well, I know you would like to create a suggestion that I would want something different, but I really hope he can.'
Immediately afterwards he observed: 'We have a big mountain to climb in terms of winning back the support of many of our core voters, not just in the south of England, but particularly in the south of England.'
One did not need Bletchley Park levels of code-breaking prowess to understand that this was Hunt on leadership manoeuvres, advertising himself as the man to rescue the so-called Blue Wall – that is, the traditional affluent Tory strongholds now proving susceptible to the Lib Dems.
There is no doubt that Britain's traditional protest party is setting off mid-term jitters among Conservative MPs across the Home Counties, sitting for what they once regarded as impregnably safe seats.
Yet to have lived through the past few years in British politics – with its radical realignment based on Brexit preferences that presented the Tories with a winning electoral coalition – and come out the other end thinking Jeremy Hunt is the way to go would imply having been on the receiving end of a frontal lobotomy.
That a Cameron-era, pro-Remain Tory described by no less an authority than the Financial Times as a 'metropolitan liberal' should even be thought in the running to inherit Johnson's 2019 majority is baffling.
Hunt, remember, called for a second referendum on the terms of our EU departure, signalling that he would back an option in which the UK would stay in the Single Market, and would thereby be bound to uphold freedom of movement and a host of Brussels regulations. In terms of disrespecting the votes of Leavers, he is almost as culpable as Labour leader Keir Starmer.
An admiral's son, former head of school at Charterhouse, Oxford PPE graduate and MP for filthy rich South West Surrey, he ticks all the boxes of establishment entitlement. Despite his ability to appear plausible – as a kind of welterweight, low-wattage version of David Cameron – he actually has numerous blots on his political copybook, from having to repay to parliamentary authorities money wrongly claimed on his Additional Costs Allowance to inadvertently breaching money-laundering legislation by failing to declare in timely fashion an interest he had in a property company.
As a former long-serving health secretary, he must surely take a share of the blame for the woeful inadequacies of the UK's pandemic plan when Covid struck, and his 'Mr Reasonable' persona slipped when he seemed to celebrate the stringency of China's early lockdown in one TV interview in 2020.
Quite how much further he would have gone on lockdowns in the UK than Boris Johnson did we shall mercifully never know. Johnson's defeat of Hunt by a margin of two-to-one among Tory grassroots members in the leadership contest of 2019 spared us from finding out.
But having made the final two back then, Hunt retains preeminent status among the self-described 'One Nation' wing of the party.
Could he be a better bet than Boris in the dozen or so Blue Wall, Remain-leaning seats that the Lib Dems could feasibly hope to win from the Tories at the next election? Quite possibly. But what about in the near four dozen, pro-Brexit Red Wall seats across the Midlands and the north that Johnson won from Labour in 2019?
There it is hard to conceive of someone less likely to resonate with voters in a positive way. The elevation of a Hunt – or a Tugendhat or an Ellwood for that matter – would send a message that the idea of a blue-collar-focused Levelling Up agenda, with an added dash of cultural conservatism, was always a mere confection designed to get the Tories through another election.
Surely only a party with a death wish would so carelessly and so soon cast aside a winning formula, stumbled upon largely by accident and after three decades of failing to secure a stable Commons majority. Whatever the Tories' woes, Jeremy Hunt is not the answer.
Patrick O'Flynn is a former MEP.
To enquire about republishing spiked's content, a right to reply or to request a correction, please contact the managing editor, Viv Regan.