Finland, Sweden and our new divided world
NATO's northward expansion is nothing to celebrate.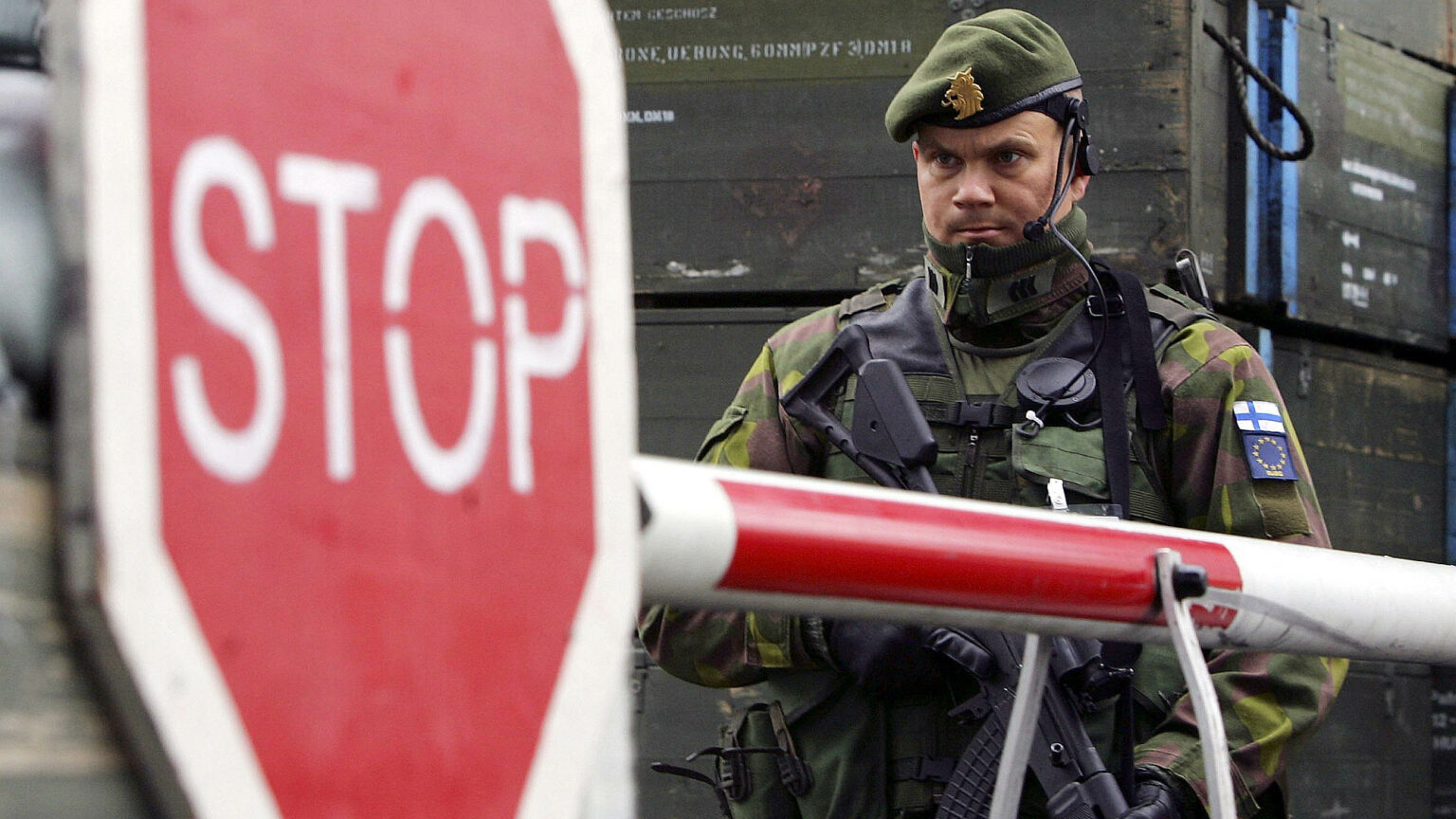 'There is a before and after 24 February.' So said Swedish prime minister Magdalena Andersson when she announced Sweden's intention to apply for NATO membership last week. Finnish prime minister Sanna Marin voiced a similar sentiment when she announced her country's NATO application. 'Our security environment has fundamentally changed', she told parliament.
All this is true. The Kremlin's decision on 24 February to launch a full-scale invasion of Ukraine has proven a singularly transformative event. In a very real sense, there is a before and an after Putin's act of aggression.
Before, tensions between Western powers and Russia were high, but seemingly manageable. Before, the risk of a military conflagration was latent, with NATO and Russian forces frequently performing wargames in their mutual borderlands, but the prospect of an actual war seemed distant. Before, Sweden and Finland, while working closely with NATO, would never have considered joining it.
To do so back then would have overturned Sweden's centuries-long commitment to non-alignment, a position which its advocates claim spared their nation involvement in a conflict for more than 200 years. This policy endured for two world wars and the Cold War. And, in Finland's case, joining NATO would have been seen as an unnecessary provocation to neighbouring Russia, with which it shares a 1,300-kilometre border. After all, neutrality was a price the Finns had long been willing to pay the Soviet Union and later Russia in return for their independence.
But after 24 February, everything changed. Deeply ingrained national outlooks have evaporated almost overnight. Support for NATO membership in Sweden, which had always been a minority position, has surged, with nearly 60 per cent now favouring it. In Finland, the about-turn has been even more dramatic. Support for joining NATO, which had dipped as low as 20 per cent in the months preceding Russia's invasion, now stands at nearly 80 per cent.
And it is Russia's leadership that has done this. It is the Kremlin that has transformed the national outlooks of Finland and Sweden. The terrible decision to visit destruction on a sovereign country has fuelled these two nations' insecurity and played upon their fears to such a profound extent that a hitherto unpalatable position has almost overnight become desirable. NATO membership now makes sense to them in a way it never did before.
The Kremlin, as is its wont, is now playing the role of the wronged party. The Russian foreign ministry has talked darkly of having to take 'retaliatory steps, both of a military-technical and other nature, in order to stop threats to [Russia's] national security arising'. And it has warned of 'far-reaching consequences', of the possibility of deploying nuclear missiles on its Western borders and of withholding energy supplies to Finland (which it has already started doing). Kremlin spokesman Dmitry Peskov even complained that 'NATO expansion does not make our continent more stable and secure'.
The Kremlin now seems to inhabit a world of almost absurd double standards. It seemingly believes that it should be able to wage war with impunity. That it should be able to march hundreds of thousands of troops into a neighbouring country without the faintest consequence. That it should be allowed to bombard cities and towns without facing any repercussions.
And yet should any other nations respond, defensively, to Russia's act of aggression, as Sweden and Finland are now doing by applying for NATO membership, then, as Moscow sees it, they must be held accountable for their actions. They must face the consequences. They must endure the repercussions.
Russia's leaders seem to be constantly denying their own role in a conflict they themselves embarked upon. Indeed, Putin and his cronies can often be found blaming the world, and NATO in particular, for a war their own army is waging. They think they should bear no responsibility for their own act of aggression and its ramifications. But as Finnish president Sauli Niinistö said in response to Putin's threats after Finland signed a security pact with the UK: 'You caused this. Look in the mirror.'
But at the same time there's nothing to celebrate in NATO's expansion, despite its cheerleaders' best efforts. Should Finland's and Sweden's applications be successful – and given Turkey's objections, it's not a done deal yet – then we will see a missile-fringed border cleaving West from East. This will entrench and give institutional and military form to a geopolitical antagonism that NATO has already done so much to inflame.
NATO, a Cold War hangover created for Europe 'to keep the Russians out, the Americans in, and the Germans down', remains a chuntering vehicle for America's now fading global hegemony. In search of a purpose after the expiry of its old Soviet adversary, NATO arbitrarily intervened abroad and recklessly expanded throughout eastern Europe during the 1990s and 2000s. It has been a source not of security but of instability for much of the post-Cold War period. Indeed, its very expansion, justified as an answer to eastern European nations' security concerns, has helped to create threats rather than protect against them. Above all, it effectively alienated Russia over decades and helped conjure it up in the Western imagination as the adversary it has since become.
None of this is to exculpate Russia – the Kremlin alone is responsible for the barbarism in Ukraine. But the expansion of NATO in Europe doesn't help. It amounts to a projection of US power, no matter how incoherent, in an increasingly explicit anti-Russian form – hence the talk by the likes of US defence secretary Lloyd Austin of using the war in Ukraine to weaken Russia. NATO's expansion cannot but add fuel to the fire already burning hot in Ukraine. And this risks turning the Ukrainian people's struggle for their freedom into something else – a struggle between the US-led West and Russia for geopolitical power and influence, with China watching on and waiting.
This new divided world will soon be all too palpable in Finland. Before 24 February, its long border with Russia was sometimes marked by little more than a farm fence designed to control wildlife, not hold back soldiers. High-speed trains linked St Petersburg to Helsinki and Finns and Russians enjoyed each others' vast nations as tourists rather than combatants. Since 24 February, that has all had to change. NATO's planned presence will turn that fence into a militarised barrier between East and West.
One can certainly understand why Finland and Sweden have decided to take this step. But there's nothing to celebrate about the divided, antagonistic new world their ascension to NATO represents.
Tim Black is a spiked columnist.
To enquire about republishing spiked's content, a right to reply or to request a correction, please contact the managing editor, Viv Regan.