Jamie Oliver and the culture war against the working class
The mockney millionaire – like most woke activists – is repulsed by the tastes of ordinary people.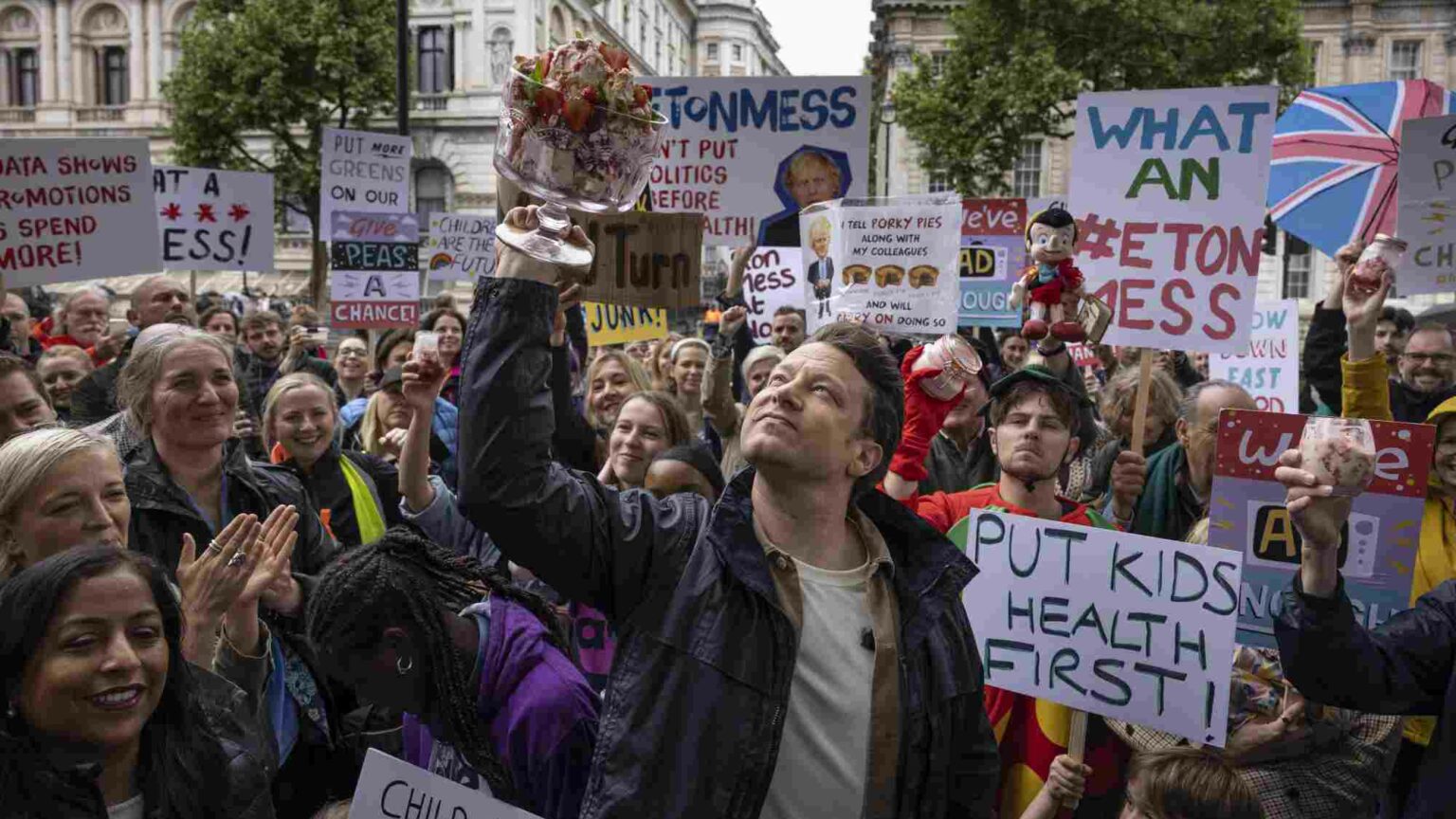 Jamie Oliver is outraged that supermarkets can continue to promote 'buy one, get one free' deals on food. In fact, the government's about-turn on its anti-obesity strategy has so angered the podgy chef that last week he marched on Downing Street in protest. In what must surely have been the most middle-class demonstration ever, people carried placards stating 'Slow down fast food' and 'Give peas a chance'. Oliver led the crowd, holding aloft a big bowl of Eton Mess dessert. Because Boris Johnson and a couple of other cabinet ministers went to posh schools and they've messed up, geddit?
At first glance, the Eton Mess gag made it look as if the celebrity chef was having a pop at out-of-touch Tories. But don't be fooled. As Oliver's Guardian article begging us to think of the fat-but-poor children reveals, the mockney millionaire's real target is not posh people at all, but those of us who start our weekly shop by looking to see what's on special offer, not what's currently in season. Oliver expresses pity for the deluded masses, too foolish to realise that 'multi-buys are carefully designed to make people spend more money not less'. But pity is only ever one small step away from contempt. As we've long since known, it's the Turkey Twizzler-eating hordes that truly disgust Oliver. He is cross with the government for not forcing ordinary people to change their ways.
A quick flick through one of his cookbooks is enough to make clear that it is the people who consume cheap food, rather than the cheap food itself, that gets Oliver riled up. Chicken giblets and scrawny turkey neck bones are absolutely fine when lightly roasted and mashed into wine and shallots to make gravy, but they are appalling when covered in breadcrumbs and shaped into nuggets. It's the exact same food, with the exact same nutritional content. So what's the difference? Chicken nuggets are cheap to buy, quick to cook and easy to eat. They're immediately satisfying in a way that a plate of raw veg can never be. But thanks to Oliver and other culture warriors, whether you opt for a red wine jus with your free-range, organic roast chicken, or nine of McDonald's finest, is not simply a matter of personal preference but a major political statement.
Food has long been a focal point in the culture wars. These disputes over competing lifestyles may seem petty – a distraction from real politics – but they have become a key feature of political debate. For several decades now, commentators have interpreted class tensions and social inequalities through the lens of culture. With identity increasingly to the fore in public life, cultural differences rapidly become personal. Decisions about what to eat, read, watch, wear and buy are judged not as personal choices, or decisions taken in a particular context, but as political statements that reveal a person's moral character.
The solidly middle-class Oliver is ideally positioned to tilt at both the posh public-school culture of Boris and his chums and at the tastes and dispositions of the working class. In appearing to criticise the Tories, while expressing pity for the poor, he perfectly taps into the vibe of today's cultural elite. This is a shtick Oliver has long been practising. Almost as soon as he burst on to the scene in 1999 with his TV series, The Naked Chef, he became an activist, hectoring parents about school dinners while berating government ministers about obesity. Oliver's combination of campaigning and cooking takes personal decisions about what we eat and puts them squarely in the realm of politics. He has helped make food a key part of the culture war.
Now, with spiralling inflation leading to an escalating cost-of-living crisis, there are some on the left who think the time has come to shake off the culture wars and get back to real politics. They argue that a focus on values, identity and lifestyle is a right-wing ploy to distract people from proper economic issues. The more we talk about flags and statues, the argument goes, the less likely we are to notice the huge profits made by energy companies, or the chancellor of the exchequer's fabulous personal wealth.
But these activists only tend to notice the 'distraction' of the culture wars when it is their side that is being called into question. Indeed, they are the ones who made statues and flags contentious issues in the first place. Wishing the culture wars away ignores the fact that such disputes are how class politics plays out nowadays. And whether they realise it or not, many left-wing activists are on the opposite side to ordinary people in this new fight. Those who have spent decades waging a culture war against working-class people, expressing horror at what they say, think and eat, are in no position to empower working-class people.
There is no way of simply bypassing the culture wars now. This is the terrain on which today's political and class battles are being fought. So the culture wars must be fought – and they must be won.
Joanna Williams is a spiked columnist and author of the upcoming book, How Woke Won, which you can pre-order here.
To enquire about republishing spiked's content, a right to reply or to request a correction, please contact the managing editor, Viv Regan.