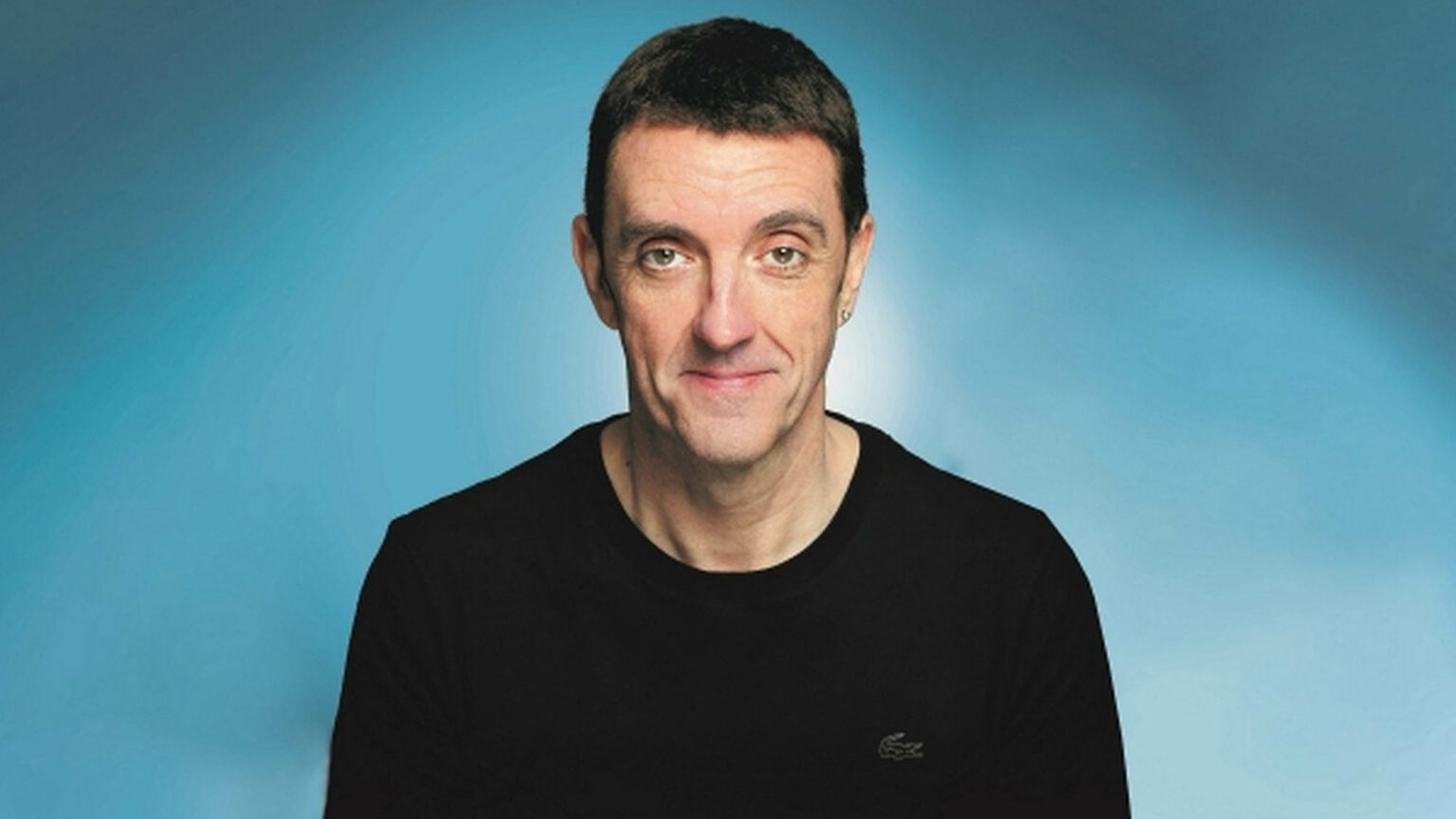 Chris McGlade's class war
The cancelled Redcar comic talks to spiked about wokeness, class and forgiving his father's murderer.
'Working-class people are sick of being told what they are, and what they aren't. Working-class people are sick of being branded by these progressives, who tell us what we can say and tell us what we can't – who are always calling us racists and are always looking down their noses at us.'
So says Chris McGlade, the 57-year-old Redcar comedian and lifelong class warrior, over a cup of tea in King's Cross. It's early, on a drizzly Sunday. He's in London to promote the upcoming tour of his remarkable show, Forgiveness. Sparked by his father's murder in 2011, it tells the story of how he forgave the killer. But if McGlade has any anger in his heart it is directed squarely at the woke elites, who from Brexit to Black Lives Matter seem intent on demonising working-class people.
'All working-class people are getting tarred as racist – and we're just not', he tells me. 'You'll have an element of working-class people who are racist, the same as you'll have an element of middle-class people who are racist, and you don't get any more racist than the fucking upper class within this country. But nobody says fucking anything to them, do they?'
Forgiveness is as much a defence of working-class culture, drawing on McGlade's upbringing in blue-collar, multicultural Middlesbrough, as it is about his father's awful end. For all the talk these days of cancel culture being a rich person's invention, something multimillionaire children's authors invoke to deflect public criticism, McGlade says it is working-class people who are on the sharp end of the intolerant woke movement.
To working-class people, the metropolitan elites increasingly appear like moralists and preachers, dictating what everyone should say and think and how they should live. 'You will fucking think like us and you will fucking talk like us, and you will laugh at the things that we laugh at and you will find it funny, and you will do this and you will do that', says McGlade, channeling the cancellers.
He knows of what he speaks. There was a long road to the Forgiveness tour, which might have happened earlier were it not for McGlade's own brush with cancel culture.
He cut his teeth as a working men's club comic, working with strippers at stag dos and experiencing more than his fair share of glassings. ('Dave Chappelle? Chris Rock? Give over! They want to get themselves up to the north-east of England', he jokes.) McGlade then fused that style, of un-PC humour and sharp one-liners, with the storytelling and reflection of the more middle-class circuit.
After a critically acclaimed run in Edinburgh in 2019, the taste-making Soho Theatre snapped up Forgiveness for a four-night run in February 2020. It was a big hit, and a big departure for the venue. 'They said we had people in this theatre that we never had before', he says, by which they meant the working classes.
The Soho Theatre wanted to bring Forgiveness back for a second run. There was also talk of a tour and filming a special. In a career marked by professional highs followed by devastating personal lows – McGlade was acting on the West End in Billy Elliot when his father was killed in 2011 – this was a huge moment.
'It was everything', he tells me. 'It was acceptance from that comedy establishment, that middle-class, progressive comedy establishment that doesn't let people like me in… They will let the working classes in if it suits their narrative, if it ticks a box. So if you're gay or lesbian or Asian or black or whatever, you might be included. But as a white, middle-aged, working-class idiot who's never been to university… you've got no chance.'
But then it all went up in a puff of stage smoke. 'Two weeks later, lockdown stopped everything. What are the fucking chances of that?' More than a year of waiting ensued, until McGlade got a call from his agent in June 2021, telling him the show had been pulled over complaints about racism and anti-Semitism.
After the story broke, the Soho Theatre put out a statement, explaining its decision: 'After careful consideration and much private consultation with [McGlade], his agents, promoters and wider communities on language around racial slurs and anti-Semitism, we decided against putting the show on again.'
This related to McGlade's use of racial slurs in one part of the show – in the context of reflecting the 1970s Teesside of his youth – and to a poem incorporated into the show titled 'The Right to Hate', which tackles the demonisation of the working class and the use of identity politics to silence and divide people.
The poem went viral in 2020, after McGlade uploaded a video of it online. But one particular passage, about the Rothschilds banking family 'influenc[ing] the dollar, pound and yen', understandably raised eyebrows. Among anti-Semites, endless chatter about the Rothschilds has become a neat stand-in for the old conspiracy theory about Jews controlling the world financial system.
McGlade says he is aware of the trope and was making a point about working-class people being reflexively smeared as racists just for speaking their minds. He tells me that he invited two members of the Israel Advocacy Movement, who after the Soho Theatre incident were keen to do an interview with him, to a performance of Forgiveness last year. Context being everything, McGlade says they left the show seeing the offending poem in a very different light.
'He said, I'm glad that I've seen that before I interviewed you', McGlade recalls. 'Because our interview will be very different now… you've made me realise that you can say anti-Semitic things but not be anti-Semitic. You can say anti-Semitic things out of ignorance, or you can say anti-Semitic things out of a lack of education. I said, well, thank you very much. Because I've tried to educate myself all my life, and sometimes, you know, you make mistakes.'
Of course all the material the Soho Theatre was concerned about was in the show during its first run at the theatre. It is perhaps a grim testament to how much the world changed for the worse in 2020 – the year of the Black Lives Matter protests and the rampant cancel culture that followed – that in the space of a year McGlade went from edgy to unconscionable in the eyes of the comedy world.
In truth, Forgiveness is a perfect demonstration of how you sometimes have to offend in pursuit of making a progressive point. In the show, he recalls the racial banter between his father, the grandson of Irish immigrants, and his accountant Mo, originally from Pakistan. In a beautiful moment retold in the show, the two blast Bhangra music to 'piss off the Tories' in the neighbourhood.
'They both used to take the piss out of each other in equal measure and laugh. And you see, seeing that as a kid… it taught me so much. It taught me how to laugh at somebody properly, because you can laugh at somebody wrongly.' Un-PC humour, he says, is like a 'release valve' in Britain's multicultural communities, undercutting any tensions that might otherwise arise.
'I'm not advocating anybody going out and calling people names', McGlade says. It's just that 'before the introduction of political correctness and cancel culture and all this, people used working-class slang, and they used to tell jokes about different strands of working-class culture, and they all laughed together'.
Hilarious, big-hearted and deeply human, Forgiveness clearly comes from a good place, whatever you might make of McGlade's style: 'I'm a liberal man. I don't give a fuck what anybody is. I'm that liberal I forgave the man who murdered my dad. You don't get much more liberal than that, do you?'
The show is also much more than un-PC agitprop. It's also a loving portrait of his father – exploring his humour, his idiosyncrasies and the tragic circumstances of his death. In 2011, Terry McGlade was strangled to death and then set on fire in his home by a homeless, alcoholic friend who was staying with him. An argument had ensued after McGlade's father refused to give him any booze.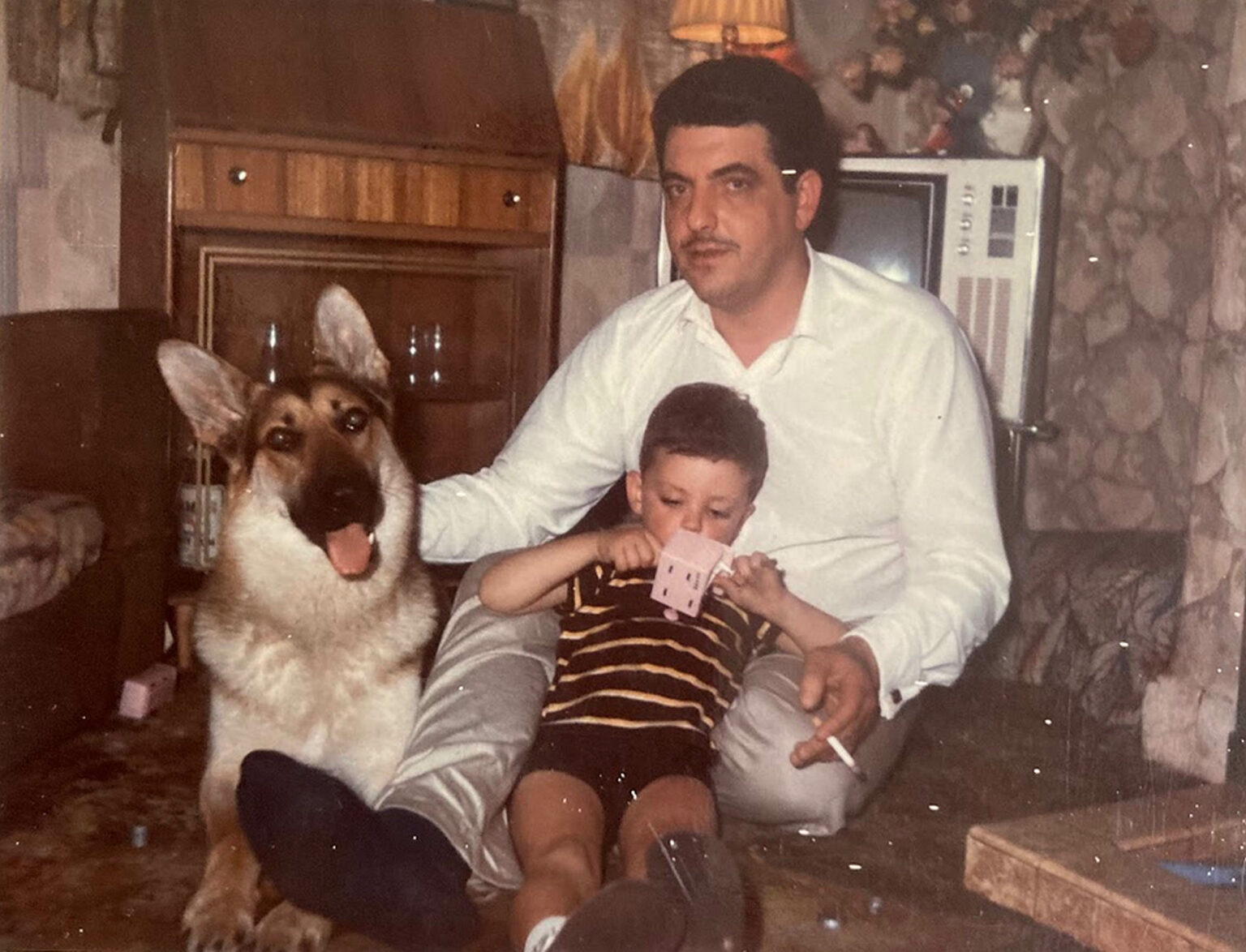 A young Chris McGlade with his father, Terry.
McGlade has a brilliant eye for the humour of everyday life, to be found even in the midst of unimaginable tragedy. The police coming to tell him about his father's death and the murder trial that followed provide some of Forgiveness's best moments. McGlade's first instinct upon hearing the tragic news was to joke with the detectives about whether his dad should be cremated.
What a pity more Soho Theatre-goers were deprived of seeing it. But now, thanks to an unlikely sequence of events, Forgiveness is going on a nationwide tour, kicking off next month. McGlade has effectively been uncancelled, thanks to a popular YouTube channel and an anonymous benefactor.
In July 2021, shortly after the Soho Theatre pulled the plug on Forgiveness, McGlade appeared on Triggernometry, the YouTube show hosted by Francis Foster and Konstantin Kisin. A sold-out performance of Forgiveness at Comedy Unleashed, a free-speech night at Bethnal Green's Backyard Comedy Club, followed. He was inundated with messages of support and even some donations, including a particularly generous one over Christmas.
'People say miracles don't happen. But miracles do happen. A miracle happened to me on Christmas Day', he tells me. A new fan got in touch and offered to put £2,000 in his account. McGlade doesn't want to reveal his patron's identity – 'somebody in the medical profession in a foreign country' is as much as he will let on – but he / she has now bankrolled the entire tour.
'They have similar views to me, in as much as they believe that cancel culture is very unforgiving… They loved the message of Forgiveness and wanted to help get that message of forgiveness out there', he says. 'So all this opportunity has come from… Well, I was gonna say nowhere. But it has all come from being cancelled in the first place – that's the irony of it.'
Other opportunities are flowing McGlade's way, too. He has just landed a part in Ken Loach's upcoming film, The Old Oak, telling the story of a Syrian migrant's experiences in a County Durham mining town that has seen better days – the latest in a series of films the acclaimed director has set in the north-east.
'I visited this lady in County Durham' as part of the filming, McGlade says. 'She lived on Ninth Street, and they're all mining houses. I'm 57 and I've never been anywhere in this country before called Ninth Street. And I'm thinking, what's all that about? Is it just a one off? No, there's also a First Street, Second Street, Third Street, Fourth Street, all the way through to Twelfth and Thirteenth Street.'
It sparked a revelation: 'That's how much contempt the people who built those pits, the owners of them, the rich, the establishment, that's how much contempt they had for working-class people. They didn't even give their streets a fucking name. They just gave them a number, because that's all they regard us as – a fucking number.'
McGlade comes close to tears talking about the grinding poverty still experienced by people in the area, while bourgeois commentators bang on endlessly about the evils of white privilege and obsess over niche identitarian issues:
'There are people in this country that are trying to stir white up against black… They're going on about transgender this and transgender that and all this fucking stuff that really has no bearing on anything these days because we live in a fucking tolerant multicultural society. And yet there's children, in this country, that have absolutely nothing… Shame on those cunts who are doing that. Shame on those people who are stirring up the working classes and dividing and conquering them.'
'Working-class people hold the balance of power, not just in this country, but in the world', he goes on. 'And if they got a sense of that, if they got a sniff of that, then the man at the top would be fucked… So that's why they make sure to divide us… We'll stir our group up and you stir your group, we'll all piss in the same pot and our communities will fight each other.'
But the winds of change are blowing. 'You must be able to see it?', McGlade says. 'People saying, oh they're talking about class more, they're talking about working-class more.' Working-class people, sick of being sneered at, are starting to push back, he says.
Which brings us neatly on to the Labour Party, the old party of the working class that was abandoned by millions of working-class people at the last election. By backing a second EU referendum, Labour put two fingers up to Leave voters in the so-called Red Wall, leading to a historic exodus to the Conservatives.
McGlade left school at 16 and was straight into a steel mill. He has been a trade unionist and socialist all his life. But he voted Conservative for the first time at the last election to secure Brexit and to turf out Redcar's anti-Brexit Labour MP, Anna Turley. Redcar backed leave by 66 per cent and in 2019 elected its first Tory MP.
'We've always had it off the fucking Tories. Tories have given us fuck all', he explains. 'And yet, we expect that from the Tories. We don't expect it from our own. The Labour Party is supposed to be our own and they're not anymore.'
'I hope Labour get beat at every single election. People will say, oh yeah, fucking Tory sympathiser. No, I'm not. It's the only way we're going to win the [Labour] party back… And yeah we're inflicting ourselves with more Tory rule, but when the Labour Party is backing up the Tories, what have we got to lose?… You couldn't put a Rizla between Labour and Tories these days.'
'I wanted to leave the European Union, because I just see it as an extension of that globalism that wants to control everybody and everything, that wants us all down, all the time', he says. 'And people will say, yeah, but you've got the Tories now and they're doing the same. But it's one fight at a time.'
'If you want to fight for democracy, if you want democracy to mean something, then it's one battle at a time. And Brexit was that battle. And that's why I voted Brexit. That and I wanted curly bananas. I wanted fucking curly bananas.'
And with that punchline, he rolls on to the next battle.
Tom Slater is editor of spiked. Follow him on Twitter: @Tom_Slater_
Forgiveness is on tour from June until September. You can buy tickets here.
Pictures by: Chris McGlade.
To enquire about republishing spiked's content, a right to reply or to request a correction, please contact the managing editor, Viv Regan.